Last week we took a look at a group of forwards who seem poised to have breakout campaigns this season. While they go about doing it in different ways, the common theme is they all have a certain nuance to their game that makes them even more effective than you may realize at first glance.
It's time to transition over to the blue line and shine a light on a few defencemen who have promising years on the horizon.
HAMPUS LINDHOLM, ANAHEIM DUCKS
If it feels like I've written a lot of words about Hampus Lindholm over the past year or so, it's because I have. That's been intentional on my part, because despite his best efforts, Lindholm still remains vastly underrated in most circles.
There's a case to be made that he's the mission statement of this list personified. His playing style doesn't necessarily lend itself to accumulating gaudy counting stats, which can cause him to slip under the radar for those looking at 'traditional' performance markers. Just last season he was 53rd in points, 69th in plus-minus, 124th in hits, 65th in blocked shots, and 89th in takeaways amongst all NHL defencemen.
It takes a little digging to unpack his true value, though. Only the Los Angeles Kings enjoyed a better percentage of shot attempts with Nick Shore (a depth forward playing sheltered minutes on a possession juggernaut) on the ice than the Ducks did with Lindholm out there. Accounting for Anaheim's strong performance, those figures look just as good even when you adjust them for quality of teammates. As a result, the impromptu top pairing of Lindholm and Josh Manson found themselves amongst some elite company last season (minimum of 500 5-on-5 minutes played together for the pair):
| PLAYER 1 | PLAYER 2 | TIME ON ICE | RELATIVE CORSI FOR % |
| --- | --- | --- | --- |
| JOSH MANSON | HAMPUS LINDHOLM | 798.28 | 9.5 |
| RYAN ELLIS | MATTIAS EKHOLM | 885.83 | 5.57 |
| BRAYDEN MCNABB | DREW DOUGHTY | 1079.15 | 5.47 |
| ANTON STRALMAN | VICTOR HEDMAN | 764.82 | 5.13 |
| DUNCAN KEITH | NIKLAS HJALMARSSON | 878.22 | 4.82 |
| MARC-EDOUARD VLASIC | JUSTIN BRAUN | 921.28 | 4.06 |
| JOHN KLINGBERG | ALEX GOLIGOSKI | 1163.24 | 3.91 |
| DION PHANEUF | JAKE GARDINER | 571.78 | 3.74 |
| OLIVER-EKMAN LARSSON | MICHAEL STONE | 502.1 | 3.18 |
| MARK GIORDANO | TJ BRODIE | 878.83 | 3.15 |
| RYAN SUTER | JARED SPURGEON | 1275.14 | 2.96 |
The Anaheim Ducks are playing with fire right now by even entertaining the idea of entering the regular season without Lindholm under contract and patrolling their blue line. Even though they're widely considered to have one of the best pipelines of talent on the back-end, Lindholm is their best.
While his individual skills aren't nearly as flashy as some other defencemen, his overall excellence makes him invaluable to a team that once again fancies itself a Stanley Cup contender.
COLTON PARAYKO, ST. LOUIS BLUES
As a general rule of thumb I tend to err on the side of caution when it comes to projecting the future performance of young players who we have limited information on. While it's fun being eternally optimistic and envisioning a bright future, it can make you susceptible to the unrelentingly fickle nature of prospects.
Developmental curves can be a tricky thing; a lot of different outside factors go into determining whether a prospect realizes his presumed potential. Even if everything goes right, the prospect doesn't necessarily always continue to improve by a set amount from one year to the next. Progression stagnates and plateaus and all too frequently fizzles out into less than what was initially expected.
With that said, it's impossible to look at what Colton Parayko was able to do in his rookie year and not be mesmerized by the thought of where his career could go. It's made even easier thanks to the legitimate season's worth of on-ice success he now has under his belt:
| STAT | RANK AMONGST NHL DEFENCEMEN |
| --- | --- |
| Goals | 29th |
| Goals/60 | 46th |
| Expected Goals/60 | 6th |
| Primary Assists | 9th |
| Primary Assists/60 | 8th |
| Primary Points | 10th |
| Primary Points/60 | 8th |
| Unblocked Shot Attempts/60 | 7th |
| Shots on Goal/60 | 8th |
| On-Ice Goals For % | 3rd |
| On-Ice Expected Goals For % | 8th |
| On-Ice Shot Attempts % | 7th |
| On-Ice Scoring Chance % | 6th |
(minimum of 500 5-on-5 minutes in 2015-2016)
The raw skills are astounding. He'll draw comparisons to Shea Weber if he hasn't already because of his stature and booming shot from the point, which makes sense. Like Weber he's already shown a knack for terrorizing opposing forwards who try to pass through the neutral zone with the puck on their stick. What makes Parayko even more exciting as a player, though, is that he's already displayed better mobility and more creativity on the fly than Weber ever really has:
It's still early in the game, but at this point it doesn't look like there's anything Parayko isn't capable of doing, which makes his outlook bright for the St. Louis Blues and frightening for the rest of the league.
BEN HUTTON, VANCOUVER CANUCKS
The Vancouver Canucks are a franchise currently spinning its wheels in the mud. For a team that doesn't have much to show for its efforts in terms of wins and losses over the past three seasons, they're not anywhere near as flush with young, promising talent as they should be.
Most of that can be directly attributed to the sloppy patchwork job they've done "retooling" rather than "rebuilding" in an attempt to ice a competitive product while the Sedins are still around. Instead of bottoming out and hoarding youth wherever they can get it like a few other savvy organizations that have been able to take a big picture view of the landscape, they've settled for the band-aid approach.
Truth be told, there aren't too many reasons for the average hockey fan to tune in to Vancouver Canucks games this season. But if you're looking for one, look to Ben Hutton, who was one of the few bright spots from season.
Hutton is a prototype of what a modern day defenceman should look like. That's to say he can skate like the wind, and he's supremely gifted with the puck. The poise and patience he has – whether it's in his breakouts out of his own end or when he's walking a tight rope on the blue line in the offensive zone – only supplements those physical gifts, making him a dangerous weapon for a team that is sorely lacking them.
JACCOB SLAVIN, CAROLINA HURRICANES
If you take a look around the league, it's pretty clear there aren't enough capable defencemen to go around. Whether it's because there's simply an imbalance between the supply and demand, or because most teams are looking in the wrong places (my money is on option B), young and cheap defenders are a hot commodity these days.
That puts the few teams that have done a savvy job of accumulating them in an enviable position of power. Near the top of that select list are the Carolina Hurricanes, who have invested prime draft assets into collecting a medley of refined puck-movers over the past half decade. A large part of that is presumably them acknowledging that prospect development is a numbers game, and that getting as many lottery tickets as possible goes a long way towards shielding yourself from uncertainty.
While some of those picks haven't paid dividends yet, at least based on the early returns it looks like they may've struck gold with the fourth round flier they took on Jaccob Slavin back in 2012.
In his rookie campaign, as Slavin got more and more comfortable on the ice while acclimating to the NHL, so did Bill Peters and his coaching staff to the idea of utilizing Slavin as often as possible: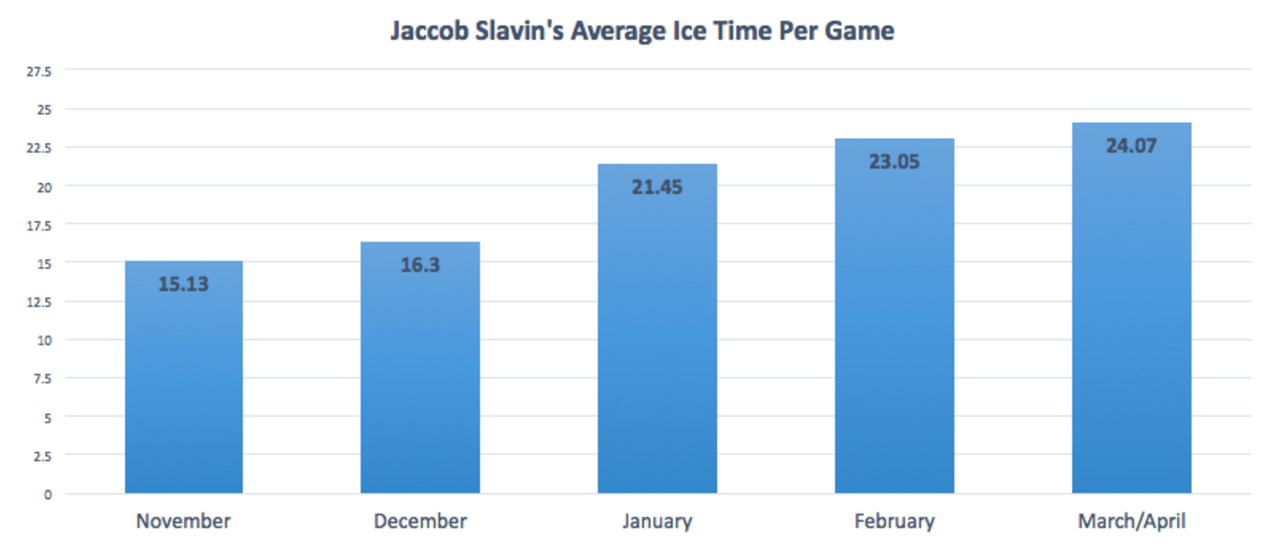 In large part, Slavin was able to stay on the ice as frequently as he did because of how rarely he put himself in the penalty box. To put his level of discipline into perspective, since the start of the 2007 season there have only been nine instances of a defencemen committing only two or fewer infractions while logging over 1000 minutes of five-on-five ice time, and Slavin is one of them.
It's an awfully encouraging sign that the added exposure didn't seem to adversely affect Slavin's performance in any noticeable way. Defending at the NHL level is difficult as is, but doing so without getting your hand caught in the cookie jar is even harder. Especially when you're asked to do more, against tougher competition.
It'll be fascinating to follow not only how Carolina's young defencemen develop moving into the new season, but also how their coaching staff decides to utilize them. While Slavin is just one of a few noteworthy names in the mix, he seems like the obvious candidate to shoulder an even heavier load next to Justin Faulk on the team's top pairing to begin the year. If last season is any indication, he appears to be ready for the task.
Honourable Mention: Nathan Beaulieu, Colin Miller, Stephen Johns, Mark Pysyk, Dmitry Orlov.