The Toronto Maple Leafs have made their first big move of the off-season, acquiring goaltender Frederik Andersen from the Anaheim Ducks in exchange for a first round pick in 2016 (30th overall, acquired in the Phil Kessel trade), and a 2017 second round pick.
The deal was contingent on the Leafs signing Andersen to a new contract, which they did, for $25 million over five seasons. The Leafs have stockpiled a ton of draft picks in recent years and their cupboard is already looking pretty full in terms of prospects, so even if the price was high in the trade, it's easy to rationalize paying a premium when you can afford to.
The contract, though, is a bit different. Andersen is by no means a bad goaltender, but a long-term contract worth $5 million per season is a big reward for a player who has only been a starting goaltender for one of his three NHL seasons. That season happened to be the one he struggled most in, playing 54 games and posting a below league average .914 save percentage.
Andersen's other two seasons were above league average, but as a rookie he was a backup, and last year he platooned with John Gibson, starting just 37 games, playing 43.
With such a short track record, the Leafs are taking a substantial risk in Andersen, but is he worth it? When evaluating goaltenders, obviously their performance is important, but what often isn't accounted for is their workload, specifically the difficulty of the shots they face. We'll look at both for Andersen, comparing him to Jonathan Bernier and league average.
As a refresher, when we break down the offensive zone into categories, this is what league average numbers look like for the full 2015-16 NHL season.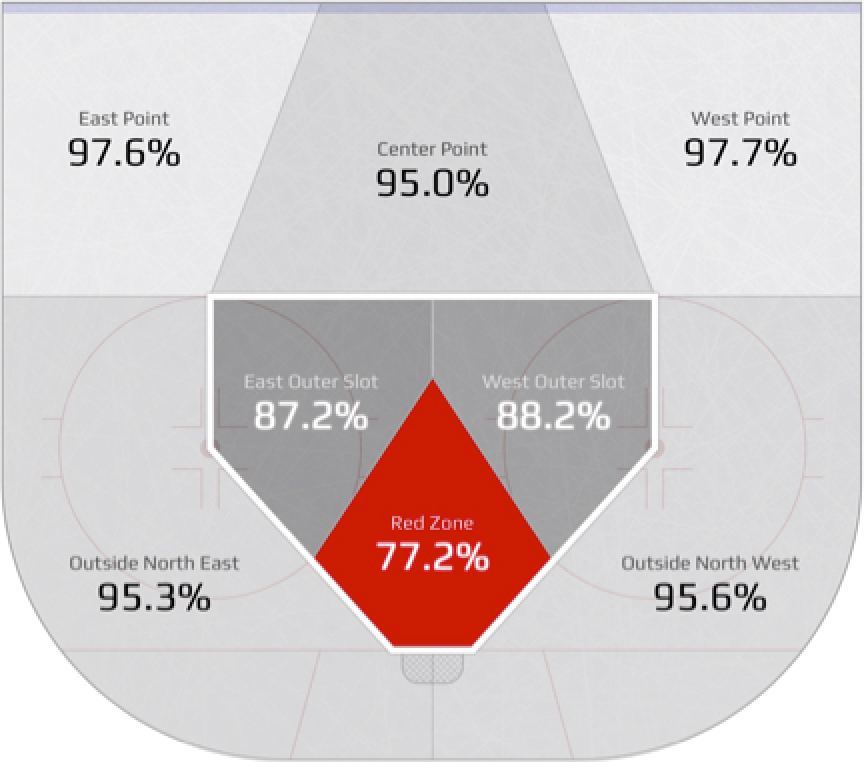 The most important area for goaltenders is the Red Zone, also referred to as the Inner Slot. Nearly half of all goals scored come from that area, and save percentages tend to be more stable there. So how does Andersen look?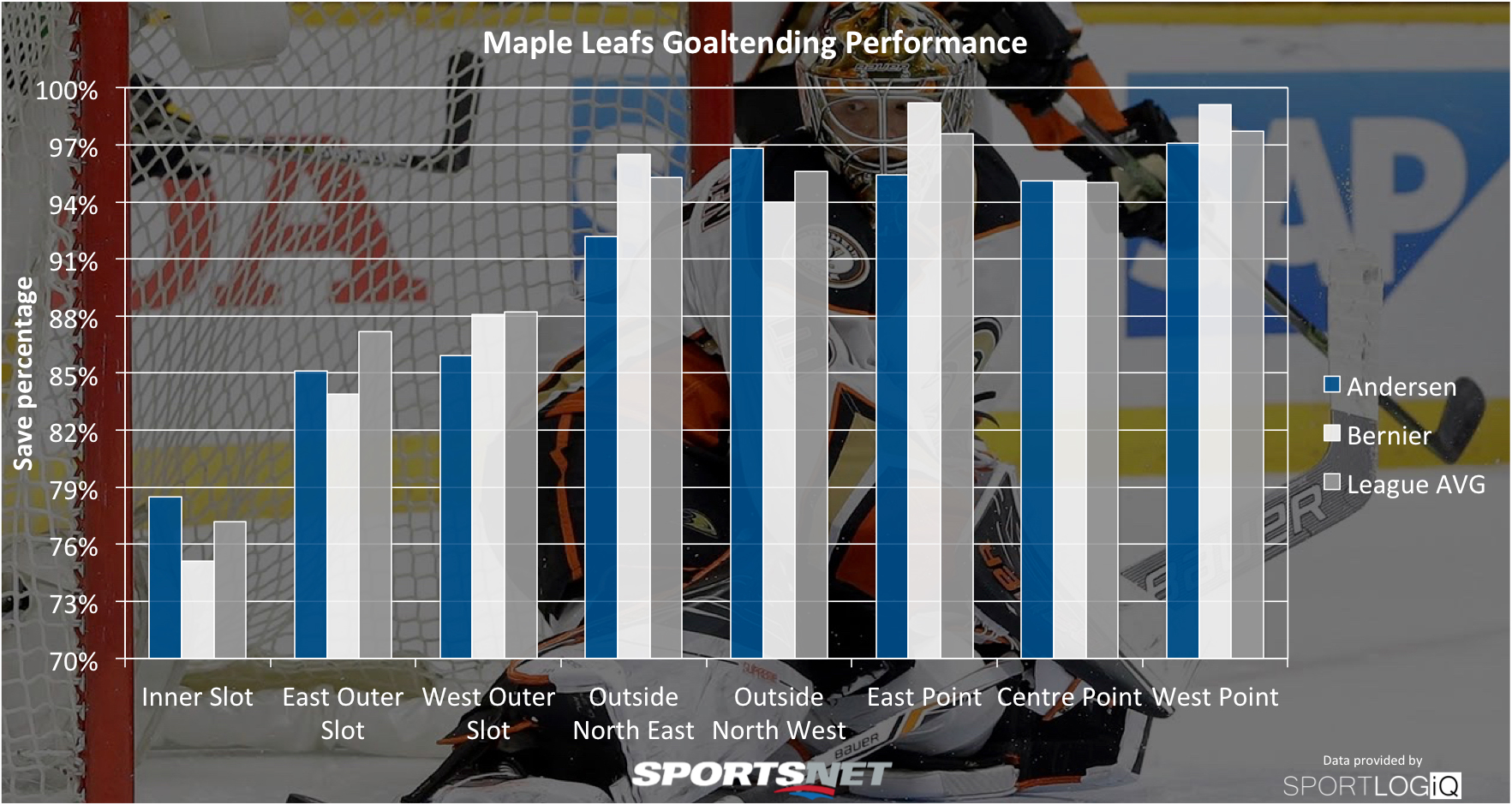 Andersen is a huge improvement in the Inner Slot over Bernier, and above league average, though his 78.5% mark last season was lower than James Reimer's 79.1%.
Slightly troubling though, is that Andersen is below league average in both East and West Outer Slot areas, and five of eight zones. In fact, he was only significantly above league average in the Inner Slot and Outside North West.
Andersen is certainly an upgrade on Bernier, but considering his season last year, that's not exactly saying much. But we also have to factor in Andersen's workload, if he was facing tougher shots than most goaltenders on average, he may be better than he looks in that graph.
As it turns out, Andersen faced a smaller portion of his shots against from the inner slot than the average goaltender does, and fewer from the slot in general as well. What this means is that while Andersen's save percentage last year was a solid .919, above the league average of .915, part of that was due to facing lower quality shots behind a stellar defensive club in Anaheim.
All this isn't to say Andersen is a bad goalie; his save percentage on Inner Slot shots alone suggests that he's at least an average NHL goalie. The question is whether average or even slightly above it, while playing platoon minutes, is worth mid-range starting goaltender money.
For a team like the Maple Leafs, who are in no rush to be competitive right away, dropping that much cash on a goaltender who isn't likely to live up to the cost doesn't fit very well with the precision moves the organization has made in the past year. It makes sense for the Leafs to roll the dice on a goaltender, but they rolled it with a sizeable chunk of change – and term – for a goaltender who hasn't proven much yet.
Andersen isn't likely to blow up in the Leafs' faces like Vesa Toskala or anything, but he also isn't likely to earn that pay check, even if his performance remains steady.
It's always more difficult to start the building after the tear down, but this one looks more like a shot in the dark than a calculated move.