After a flurry of activity early on Canada Day, things have started to slow down and the winners and losers of the first day of Free Agency in the NHL are beginning to emerge.
Let's end on a high note with the winners, so we'll start with the teams that did weird things that don't make a lot of sense today.
Maybe it's because this year's free agent class was low on impact players under the age of 30, but for the most part teams aren't giving out huge salaries and huge terms to players so far. Even the worst deals have avoided potentially crippling contracts, but there are some bad ones out there.
The Losers
The reigning, back-to-back Stanley Cup champions have been fairly candid in their intention to turn over the roster a bit this offseason and they're almost certainly not done, but their work so far isn't exactly inspiring.
They didn't lose much of value on the back end, and Matt Hunwick is a decent third pairing defenceman. But at his age and talent level, a three-year deal that takes him to age 35 with a $2.25M cap hit — isn't exactly great value, especially when you consider that it's nearly double the salary of his last contract and he struggled often in Toronto.
The Penguins also brought in Antti Niemi to replace Marc-Andre Fleury and back up Matt Murray, which is a fine contract at just one year and $700,00. But Jim Rutherford suggesting Niemi could play as many as 30-40 games next year is fairly shocking, because he has been in a steep decline for a few years now and doesn't seem capable of those kinds of minutes.
The biggest question marks for the Penguins though come at forward, where they've lost Nick Bonino and Chris Kunitz, two trustworthy veterans who were key contributors in their back-to-back Cup wins. The Penguins have cycled in youth this season, but they'll need to find a couple extra good forwards to remain a Cup favourite next year. One player to watch is Daniel Sprong, but as it stands the Penguins haven't improved yet.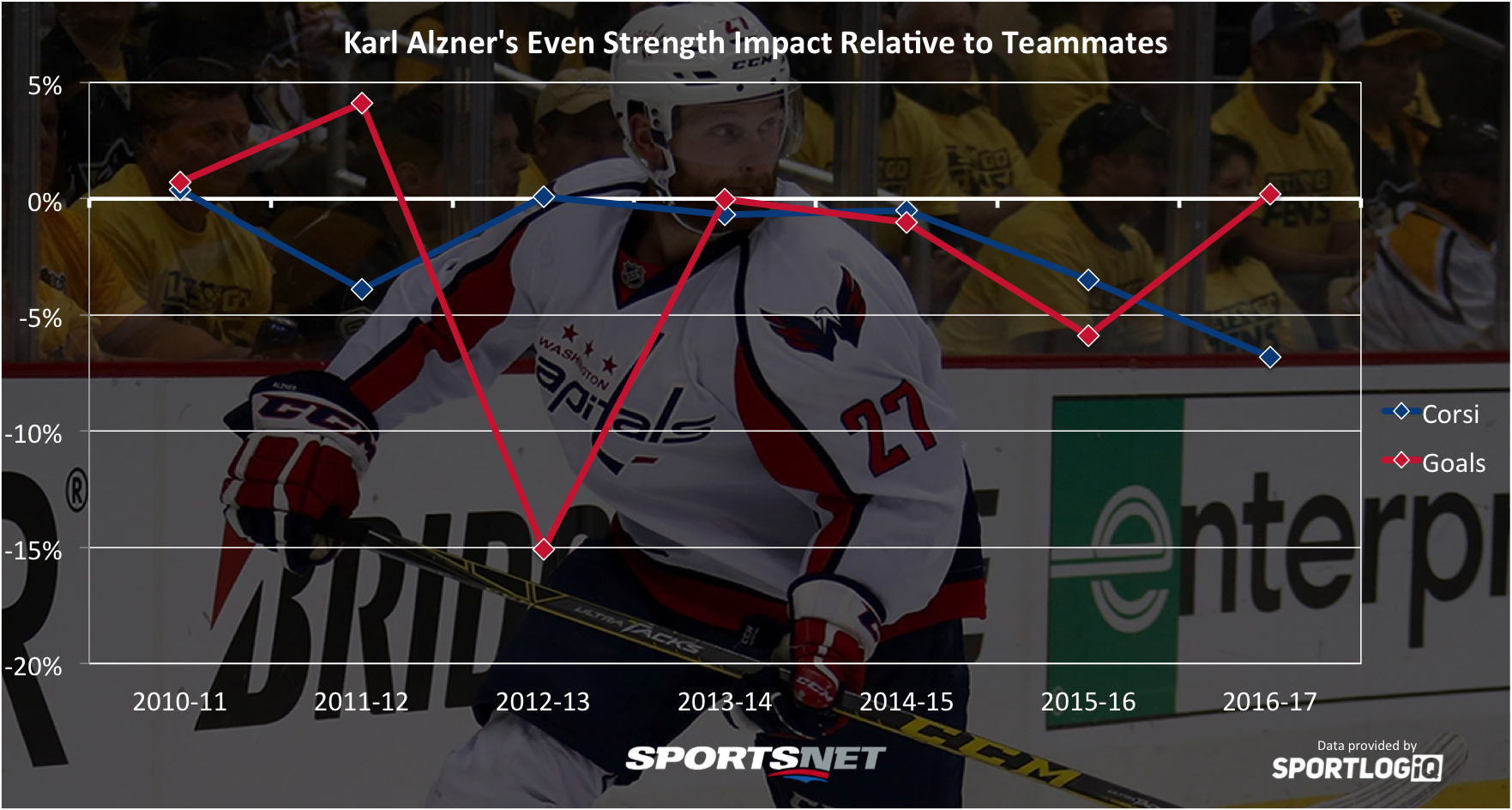 Impressions are subject to change quite a bit if the Canadiens can find a way to bring back Alex Radulov and Andrei Markov, and especially if they can sign Alex Galchenyuk to a reasonable deal, but those are all big ifs at this point in time.
The Canadiens made a couple good depth signings for the newly minted Laval Rocket, but they also bit on arguably the most dangerous contract of the free agency period with Karl Alzner.
Alzner hasn't had a particularly strong season relative to his teammates in pushing the needle in terms of possession or goals for and against since 2011-12. Even if you are hesitant to judge a player who plays on a team as strong as Washington has been too harshly, you have to take into account the kind of player he is.
Alzner is a rugged, defensive defenceman who lays it all on the line for his team. But he doesn't drive offence and doesn't really suppress opponents' offence to a critical degree. He plays relatively tough minutes, but not brutal ones in a mostly-second pairing role. Alzner also almost never misses time due to injury; he just plays through it all in pain, something hockey people absolutely love, but is often not the best course of action for a long career.
Players similar to him in style, role, and injury history in recent years were Dan Girardi and Josh Gorges. Alzner isn't old at 28, but both Gorges and Girardi fell off cliffs when it comes to even strength performance around 29-years-old.
That's a scary proposition for a player you just committed five years to at second pairing money. What's worse is if the Canadiens fail to bring back Markov, Alzner will be forced to likely play first pairing minutes, further hurting his ability to be a positive contributor.
The most confusing part of the move is that he doesn't exactly address a need for the team; they're loaded with relatively immobile, defensive defencemen, and are desperate for puck movers. It almost looks like the Canadiens are trying to build a wall of shot blockers around Carey Price, which seems like a major waste of resources.
[relatedlinks]
The Winners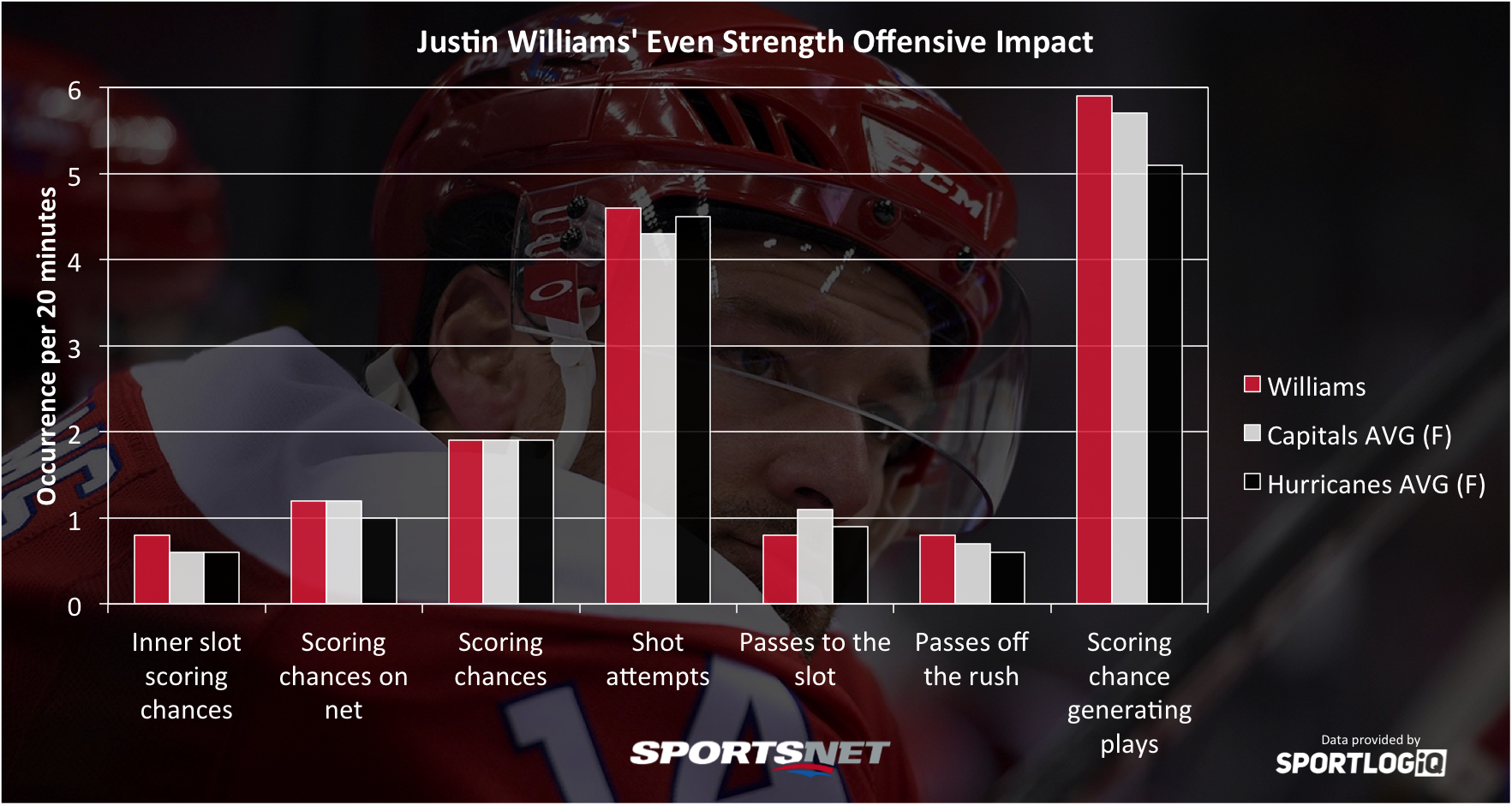 After looking at risks that are either unlikely to pan out or don't have much upside, one move that we loved was the Hurricanes bringing back Justin Williams for two years at $4.5M per season. At 36-years-old by the start of the season Williams is no longer in his prime, but he remains a solid second line offensive producer with about an average of 20 goals and 46 points per season the last four years.
Williams has seen his shot production decline from about 17.5 shot attempts per hour at 5-vs-5 through his prime down to about 14 per hour the last three seasons, but that's still a decent number, and it should be noted that he was never a primary shooter in Washington, so he may shoot a bit more in Carolina.
One area Williams hasn't declined is his impact on possession, where he's been at +5.7%, +3.1%, +2.7%, and +2.8% Corsi relative to his teammates over the last four years, putting up some of the best numbers of any forward in the league. That fits perfectly into the Hurricanes philosophy and they're a team that needs someone with his finishing ability.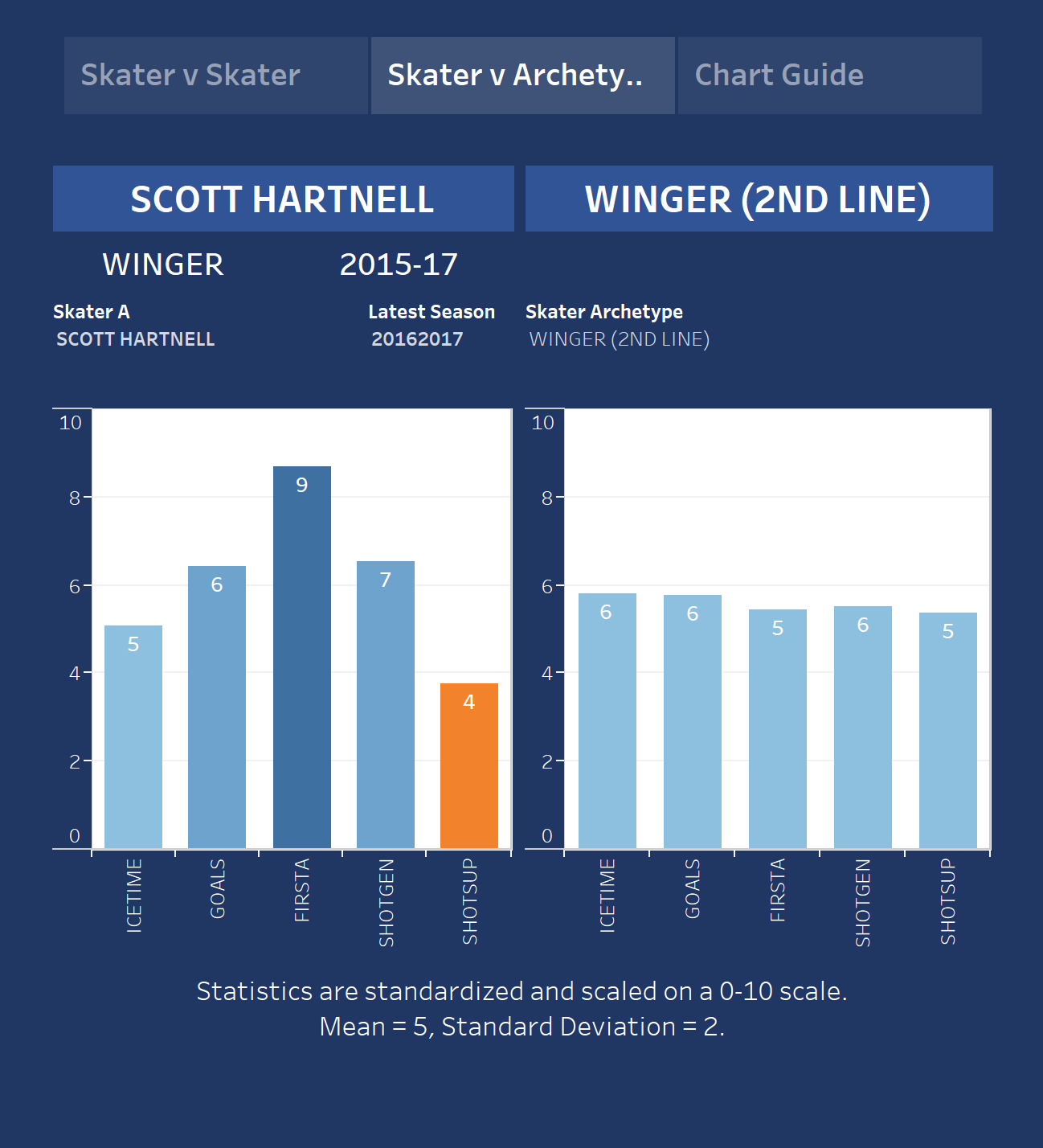 Another team in need of scoring depth, the Predators went back in time and brought in one of the best forwards they've ever drafted in Scott Hartnell, who was just bought out by the Blue Jackets.
Hartnell and John Tortorella didn't seem to get along, but Hartnell had a brilliant season in limited minutes for Columbus last season, leading the team in points and goals per 60 minutes at 5-vs-5 with 2.42 and 1.61 respectively while posting a positive possession impact of +2.2% relative Corsi.
You might be thinking that Hartnell didn't face hefty competition last season, and you're right, but at just $1M on a one year deal in Nashville, don't expect him to be a top of the lineup guy there either. Instead, he'll make the middle of their lineup more dangerous.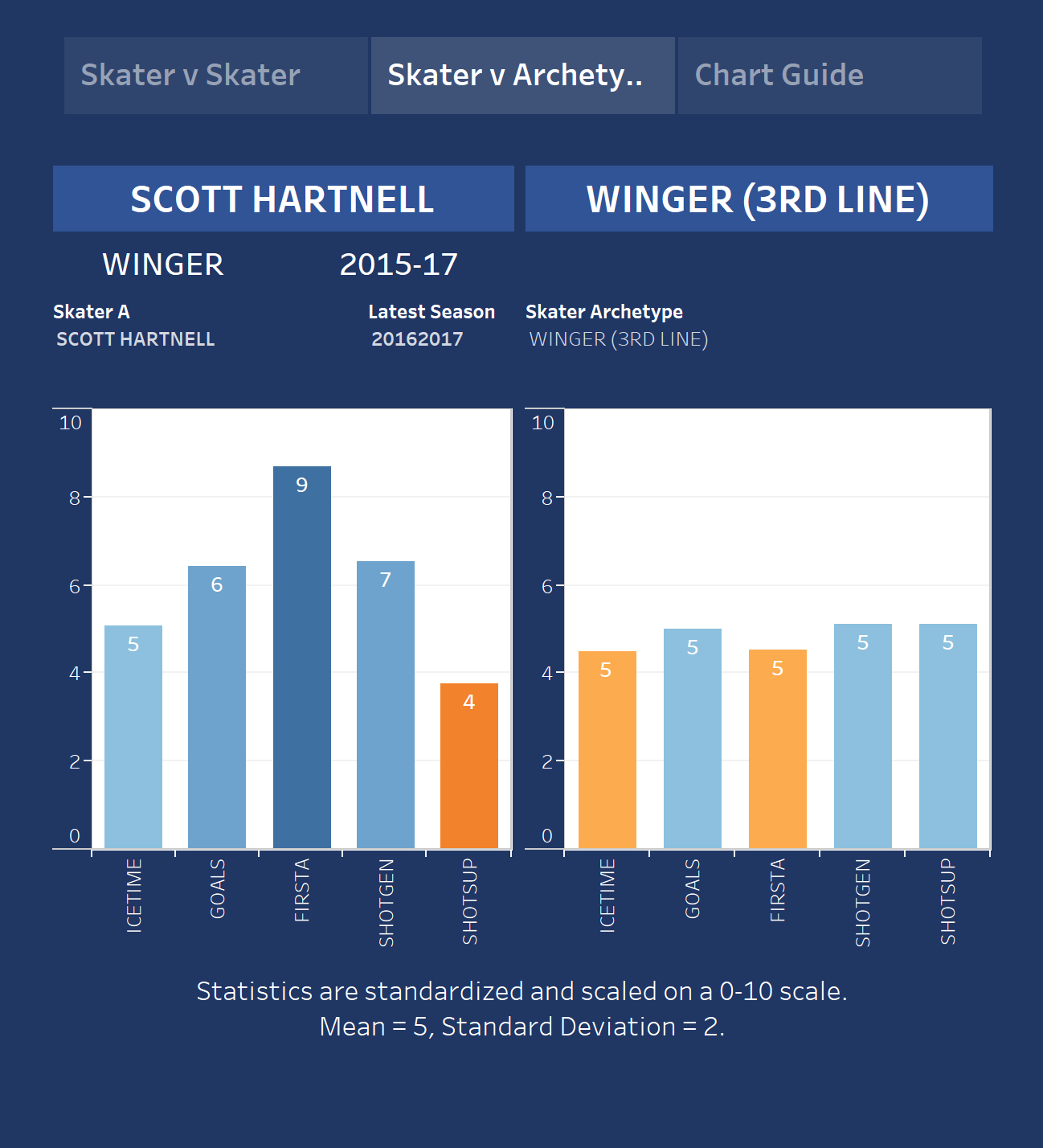 At 35-years-old you expect to see some decline in Hartnell's game, and his shot production has dropped to about 11 per hour at 5-vs-5 the last two seasons after sitting at around 13.5 per hour for the previous 8 years, but he's never been a huge volume shooter.
Where Hartnell stands out is his shooting percentage; he has scored on over 10% of his shots on goal at even strength the last three years, and is a career 11.7% shooter.
The main area Hartnell may help though is on the powerplay, an area where the Predators struggled mightily last year. Hartnell has typically been excellent with the man advantage, racking up tons of goals from in close. Hartnell's 2.28 goals per 60 minutes on the powerplay over the last four seasons ranks 21st in the entire NHL among forwards, something the Preds could certainly use.
Hartnell is no longer a first line guy, but he's either a decent second liner or an elite third liner. That's a steal at this salary.