Following each game of the Flames-Canucks series, Thomas Drance will be providing his post-game takeaways for sportsnet.ca. Follow him on Twitter @thomasdrance
VANCOUVER–The Vancouver Canucks spent 48 hours answering questions about a stale core and their lingering playoff losing streak.
No wonder they came out in Game 2 like uncaged gorillas.
STANLEY CUP PLAYOFFS: | Broadcast Schedule
Rogers GameCentre LIVE | Stanley Cup Playoffs Fantasy Hockey
New Sportsnet app: iTunes | Google Play
"We started quick," said Canucks head coach Willie Desjardins. "We knew we needed to. We didn't generate an awful lot last game."
Out of the gate Vancouver had the Flames' number, outshooting them 13-3 in the frame and building a two-goal lead that was never really threatened. It was men against boys in the opening 20. Gorillas against chimps.
"We didn't have it tonight," said Flames winger Brandon Bollig of the throttling Vancouver doled out. "They wanted it more."
Bob Hartley had his own spin on Vancouver's start.
"That first period the Canucks were flying," he said.
Once more, with feeling
Wednesday night's Game 1 was played at a fast pace, mostly, and the ending was exciting and dramatic. When judged against Friday night's passionate, kinetic, fight-filled contest though, it felt like an icebreaker. An amuse bouche at best.
The crowd was louder and more involved in Game 2, the end of the workweek perhaps helping to loosen up and lubricate attendees.
Fans even began chanting Canucks goaltender Eddie Lack's name – "Eddie! Eddie!" – before the starters were even announced, and then they did something even more surprising: they kept it up.
It's not often you'll see a crowd at Rogers Arena turn up the volume when the Canucks are doing something unremarkable, like regrouping with the puck and completing line changes, but Friday was the exception and for good reason.
The hits were plentiful, with Dorsett opening up the action with a mammoth hit on Sam Bennett, and Bennett answering with an even bigger hit on Jannik Hansen 200-feet away not 10 seconds later.
Then there were the plentiful scrums; the plethora of misconducts, the controversial plays. From a vicious cross-check, Deryk Engelland holding his own (and then some) against two Canucks, Lack earning Billy Smith comparisons from Flames head coach Bob Hartley and Alex Edler making sure everyone on the ice had their head up in the neutral zone.
Where Game 1 felt antiseptic but contained great drama, Game 2 had the rough and tumble aura one expects of a playoff game except that the result was decided early. Combine the two, and this series could deliver fireworks even beyond the fisticuffs.
"Ferkland"
Kevin Bieksa has spent his entire career having his name mispronounced by Don Cherry. On Coaches Corner nearly every Saturday night for the past decade, Canadians have known Bieksa as "Bieska."
So he knows how much it can sting to have your name mangled.
It's why we might want to read lots into Bieksa's post-game description of Calgary Flames agitator Michael Ferland, a thorn in the side of the Canucks since this series began.
"That Ferkland, or whatever his name is," Bieksa said, "was running around trying to get something going. It's not the first time we've seen that in playoffs. We've played against Ben Eager and some other dumb-dumbs like that before. We know how to handle that."
Ferland meanwhile was asked following Saturday's contest if he thinks he's getting under Vancouver's skin.
"I hope I am."
Banged up Flames
The worst kept secret in Vancouver at the moment is that something, widely presumed to be his shoulder, is wrong with Sean Monahan.
One of the best two-way centremen in hockey at the tender age of 20, Monahan has been a shadow of himself so far in this series. He's been unable to buy a win in the circle, and he's struggled to control play with his usual panache.
The face-off stats are the most revealing. A 49.3 percent face-off guy in the regular season – truly stupendous numbers for a player his age – Monahan has won 12 of 36 draws in the first two games of the series.
Meanwhile the Flames' cast of walking wounded expanded in Game 2 with an apparent but undisclosed injury to rookie sensation Bennett, who left the contest for a long stretch before returning in the third frame following a hit from Edler.
This was really the last contact that he took before leaving the ice, playing only two very short shifts before being evaluated.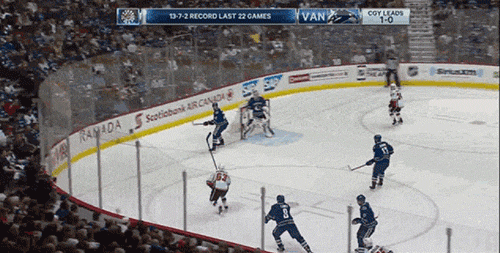 "He's good," Hartley demurred. "Just got bumped. There was no sense at the end of the game that I would expose him."
Key Flames defenceman Dennis Wideman also missed a stretch of action in the second period.
Calgary has been rolling with an incredibly short bench already in this series, and at some point it seems like they could run out of bodies here. Not like that would necessarily stop a team that has overcome longer odds with remarkable consistency all year.
Willie's Way
The Canucks' first-year bench boss was second-guessed incessantly in the Vancouver market after Game 1, particularly for his roster deployment and the predictable way he rolled his lines.
So how did the 58-year-old coach respond? He stuck to his guns.
In the first period Desjardins played Brad Richardson for more minutes than he played Henrik Sedin. He kept his usual rotation: Henrik, Bonino, Richardson, Horvat. Henrik, Bonino, Richardson, Horvat. Ad infinitum.
And the Canucks? As a team they responded with their best period of the year.
"Whenever you lose, like everybody else, you are going to evaluate what happened," Desjardins said postgame. "And maybe the Sedins did need a little more ice time.
"The biggest thing is they are fresh."
Desjardins might have copped to a deployment error, but his actual roster usage didn't change in the slightest.
He was stubborn, and it paid off.