The second-best scenario to guarantee excitement in NHL hockey is for the Stanley Cup to be awarded in a Game 7. The only way it gets better is if that game goes into sudden death overtime, to which I'm sure fans of both teams are screaming, "No please! Not that!"
The Blues and Bruins have traded dominant performances all series long, but heading into the biggest game of the season, which team has the advantage? Who is most likely to step up and be the difference maker for their team? Who can each team exploit on the other side?
First let's take a broad look at how the two teams have played each other so far.
It's a surprise to me considering how these teams lined up heading into the series, but after a split of uneven games has the Cup final deadlocked, the Blues are coming out slightly ahead in most categories.
They've managed to even up the Bruins in rush chances, an area Boston held a decided advantage in before the series. The Blues have also generated more quality looks at 5-on-5 and on special teams, though you wouldn't assume that from the massive gap in power play efficiency in the series. The Bruins are connecting on 30.4 per cent of their opportunities, whereas the Blues have only managed one goal on 18 power play chances.
The Bruins are getting slightly more chances off the cycle than the Blues have at even strength and overall, but it's St. Louis who has had more control over passes to the slot.
If fewer penalties are called it would seem to favour the Blues, because while the metrics suggest the gap on the power play isn't that large, Boston has charged through teams with the man advantage all playoffs and I'm not about to make a bet that's going to stop in the last game.
Getting into specifics, who are the players for each team that we could see being the X-Factors?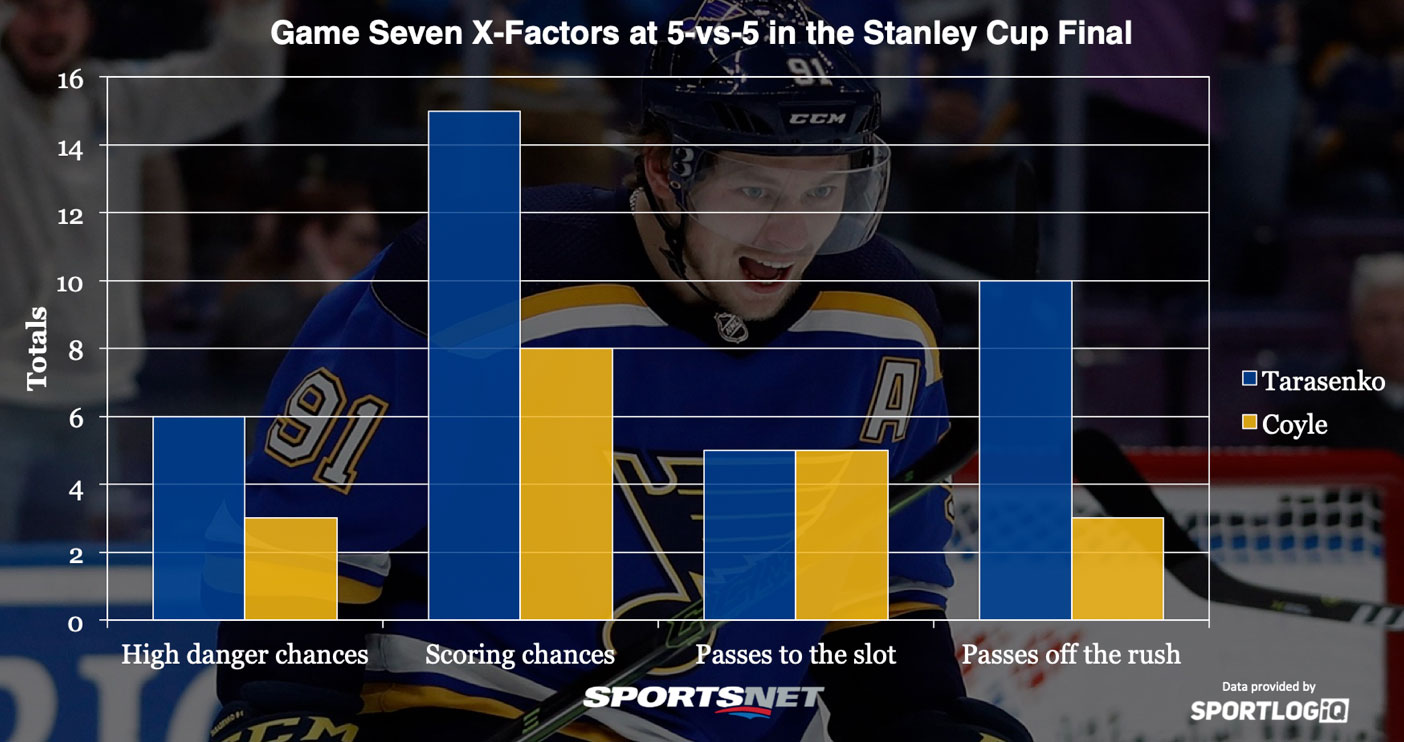 It's almost cheating to take Vladimir Tarasenko, but his three points (all goals) through six games in this series is shockingly low. The Russian sniper is leading all players in scoring chances this series, hitting his slot passes at about one per game, and leads all players in passes off the rush. He's tied with Jaden Schwartz for the most controlled entries among Blues in the Cup Final.
To top things off for Tarasenko, while he's on the ice the Blues have been controlling 73.3 per cent of the high danger chances at even strength, which is an absurdly dominant level of influence on the game. While he's known for his goal scoring abilities, don't be surprised if a Tarasenko pass results in a big Game 7 goal for the Blues.
On the other side of the ice, it's tougher to pick a single X-Factor for the Bruins because very few of them have been total packages in terms of shooting and passing. The one player who sticks out a little as a multi-dimensional threat is Charlie Coyle because he's had a hot hand all playoffs and continues to score momentous goals.
The Bruins haven't dominated while Coyle has been on the ice, but he's been adept at creating something out of nothing and it feels like there's still a little magic there on top of the solid individual numbers.
After looking at who could be the stand out performers let's view this through a different lens: who should each team be looking to exploit?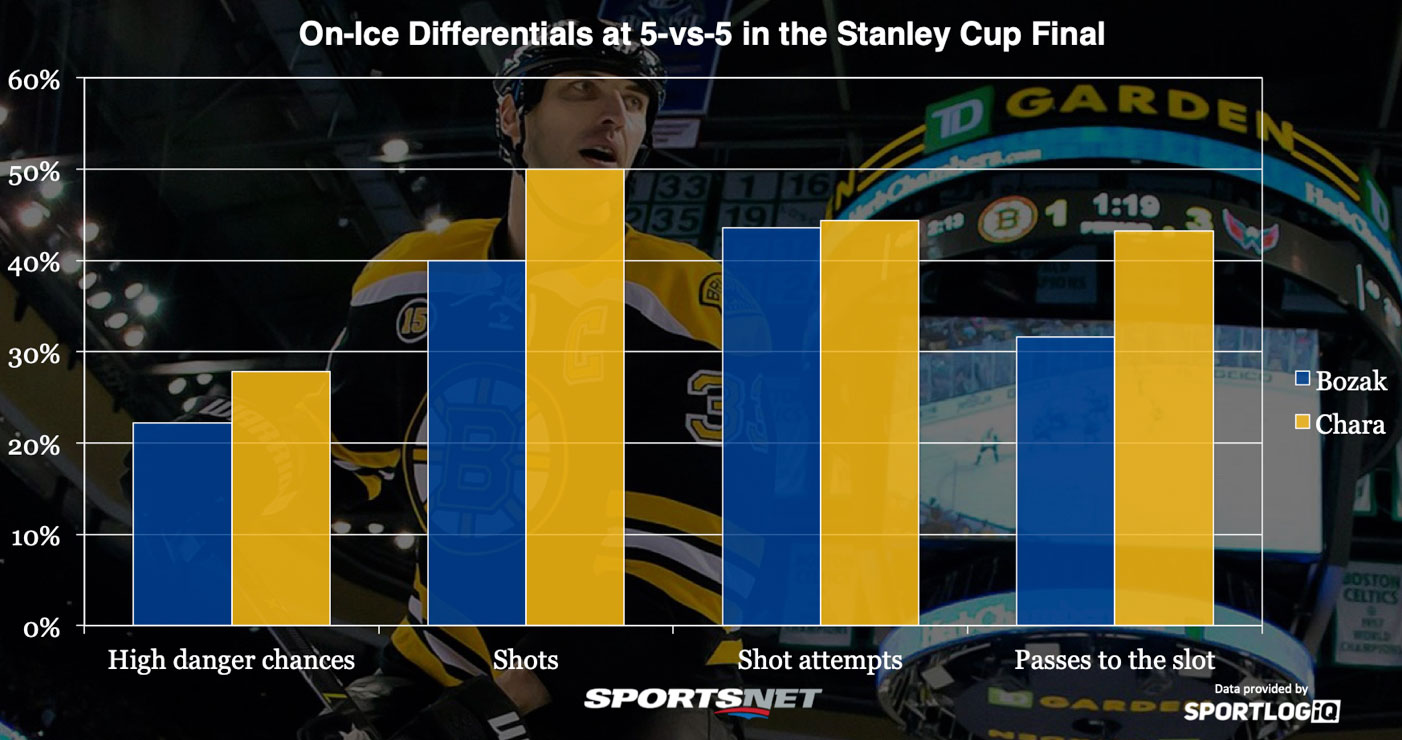 A well-timed missed call on Tyler Bozak's Game 5 trip put the Blues within a win of taking home their first Stanley Cup and Zdeno Chara's return with a broken jaw has inspired the Bruins. But the on-ice results for both players in the Stanley Cup Final has been less than stellar.
Chara specifically has a reputation for exerting a lot of influence over high danger scoring chances and passes into the slot, using his unique skillset based around his size and reach to prevent players from attacking the net from dangerous areas, but that hasn't been the case in this series.
Older and clearly hurting, Chara has the second-worst high danger scoring chance differential on the Bruins — ahead of only Brad Marchand surprisingly — and most of that is due to giving up extra chances, not failing to create them himself.
It's a similar story for Bozak, who has the worst high danger chance differential on the Blues. He's been part of a strong line that's contributed a lot to this playoff run, but the Bruins have run roughshod over him in this series.
Overall, Bozak's time on the ice has gone worse for his team than Chara's has for the Bruins, but Bozak plays less than 13 minutes per game, while Chara plays about 20. If the last game comes down to exploiting one struggling player it's more likely that Chara's play will hurt his team more simply due to ice time.
When it comes down to it, the keys for the Blues are to keep things at even strength and focus on tiring Chara out. For the Bruins, it's about forcing the Blues to take penalties with their speed and exploit St. Louis' struggling depth.
Either way, it should be a good one.