This weekend the NHL will celebrate the newest class of Hall of Fame inductees and they will all officially go in during a ceremony on Monday. Martin Brodeur and Martin St. Louis highlight the players who are part of this year's class, but NHL commissioner Gary Bettman will also be enshrined as a builder.
The 66-year-old has been on the job since February 1993 and has no plans to retire yet. On the horizon is a new TV deal to strike in the U.S. and another CBA to negotiate with the NHLPA.
Around NHL cities, Bettman is widely booed with every appearance – even Vegas fans booed when he showed up to help unveil the team's name a year out from the games starting. He's been at the head of the league for multiple work stoppages, including a 2004-05 season that was lost entirely, but he's also overseen vast economic growth and, many would agree, an on-ice product that has vastly improved over the past 13 years.
He's a polarizing figure to many hockey fans who mostly know him as the commissioner of their sport. But behind the suit is the human side of Gary Bettman, which was highlighted in the first episode of a new podcast called NHL Executive Suite, hosted by Deb Placey.
Bettman talked about his childhood, why he got into law, his family and some misconceptions around him. And, of course, the NHL commish talked about watching hockey.
Here are some highlights from the 40-minute interview.
From growing up as a child of divorce in the 1950s, to what kind of a sports parent he was, and how he handles the ever present boo birds, The Gary Bettman you never knew before, up now https://t.co/Dbj9tf7WLd
GROWING UP IN QUEENS
"I was living in a single parent household with my mother. My folks got divorced in the late-'50s when I was four or five years old. That was kind of unusual. In those times there weren't a lot of single parent households in the '50s and early-'60s. I didn't think anything of it at the time. When I think back on it I probably wasn't the best student in elementary school or junior high school. And there were probably good reasons for it that Sigmund Freud or his progeny could have a field day with. Ultimately it got me to a good place."
WHAT KIND OF A STUDENT WAS BETTMAN?
Do you assume Bettman was always a straight-A student, or a brain? He explains he wasn't always at the head of his class.
"In the New York City public school system at the time, so this would have been the early-'60s, they had a program called SP, special placement, in junior high school. And you had a choice of either doing seventh, eighth and ninth grade in two years or taking the enriched program. When I brought the letter home saying that based on the test they administered that I had made SP my mother's first reaction was to call the school to see if it was a mistake.
"I didn't really settle down until high school. My mother had remarried by then. In the middle of high school we moved to the suburbs. From there I went to Cornell. I guess it was in high school and then in college where I kind of finally started to figure things out."
WHY LAW SCHOOL?
"I don't know. I was always told my maternal grandfather, who I didn't know because he had a stroke and passed away when I was very young, was a lawyer. I didn't like science and I didn't have a family business to go into so that seemed like a nice path to be on.
"I think people always thought I was fairly argumentative so maybe that had something to do with it.
"I'm pretty good in math, very good in math. But I wasn't a fan of the sciences and language and that was one of the things that drove me to Cornell because I went to, ironically enough, the school of industrial and labour relations which was very focused on social sciences, was perceived to be one of the premiere pre-law curriculums and you didn't have to take language or science so that worked for me."
MEETING HIS WIFE IN COLLEGE
Bettman has been married to his wife, Shelli, for 43 years and they've been together since meeting at Cornell. He says they met in college because a girlfriend of one of his fraternity brothers was a friend of his would-be wife.
"The most important thing I did at Cornell was actually meet who would be my wife. I was a sophomore and Shelli was a freshman. I was all of 19 and she was 17 when we started dating and that was 47-plus years ago."
"When you meet the right person you know it, and Shelli has always brought out the best in me even back then, so to me it was always clear.
"We joke, and we've joked over the years, that we share a brain because out of the blue we could be in the car on a long trip and listening to the radio and I'll be thinking about something and she'll start talking about it. But she's extraordinarily smart, she's extraordinarily supportive and loving and she's very direct and very balanced. She's a psychotherapist by training and had a practice so she's pretty good at understanding the human dynamic."
BALANCING WORK AND FAMILY LIFE
Bettman talked about being a sports parent, with his kids being involved in tennis, golf, skiing and hockey growing up. He was asked, given the NHL's long and difficult schedule with all the on-ice action taking place at night, how he manages to balance work and home life commitments.
"In my case I probably have a little more control over my schedule. In other words, if I'm a coach or a player when the league hands you the 82-game schedule that's your schedule and that's it. I have some flexibility. I even have the flexibility, if I know there's a major life event like a wedding or something, I can make the league schedule fit that if I have to. But I don't do that very often.
"I try and balance it all together otherwise none of this will work because if I wasn't as happy as I am at home I doubt I could be happy at work and vice-versa. So instead of having them tug at each other and pull at each other I try to blend them. And if that means taking kids on trips, if that means taking grandkids on trips and being involved and providing the family the opportunity to do things that maybe are one of the perks of this job it kind of all works together."
HE'S A GOLFER…KIND OF
Bettman said one of his daughters, Lauren, is obsessed with golf and regularly beats him one-on-one. He said it's an activity he enjoys getting out to do.
"When we go away in the summer we'll go away with friends and go on a golf trip. To me, I enjoy being out on the golf course. I don't practice the game much. I just go out there and – I'm barely competent, but enough that I don't regularly embarrass myself, although occasionally I do."
BECOMING NHL COMMISH
As we all know, Bettman wasn't the most "traditional" pick to take over control of the NHL. He, like anyone, interviewed for the job and had to face questions from the likes of Mike Ilitch and Ed Snider. How did someone who worked in the NBA under David Stern approach this new opportunity from the NHL?
"I wanted to understand how this was going to work because I was at a league that was functioning pretty well at the time, I was working for somebody I could've worked for forever, I had a lot of responsibility, the pyramid was expanding but I was as close to the top as you could get and I loved what I was doing. I viewed this as a good opportunity, provided it was structured the right way and I was going to be able to do the things to help grow the game and modernize the business of the game that I thought needed to be done at the NHL level."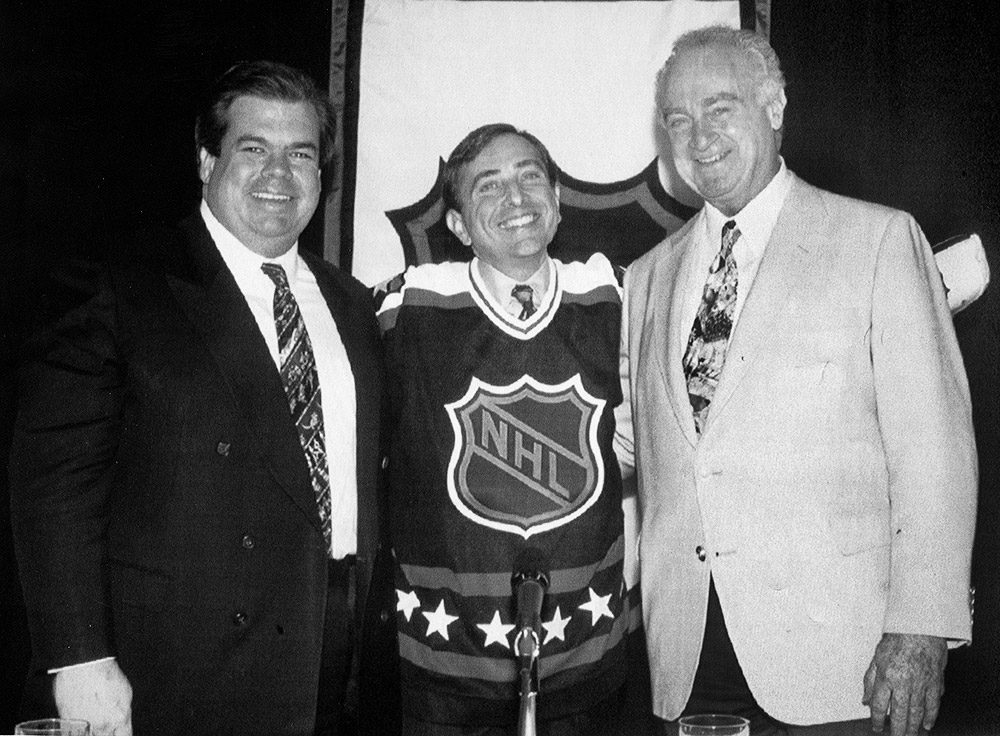 MISCONCEPTIONS?
Certain people and fans have an image of Bettman the person, which can often be linked to his work as the league's commissioner and the perception of the work he's done in that role. So what are some misconceptions he believes people can have of him?
"I think some people either have an image or an image has been created for them in terms of what I must be thinking or how I'm approaching something, which just isn't based on reality because very few people know exactly what I'm thinking and I'm OK with that.
"For somebody to suggest during a playoff round I want this team to win and not that team to win, or I like this team or I don't like that team, or I like this player and not that player. I don't have the luxury of doing that and I wouldn't, that's not me. I want us to have great games, I want them to be decided on merits and the outcomes are the outcomes.
"The same thing is true when I have to make the business decisions. I do what I think is right, I do my homework. Shelli's fond of saying, 'Some people paint pictures of you in articles or in books that have been written like you're difficult to get along with.' If you took the average tenure of my most senior executives who've been with me a long time it's probably between 15 and 20 years. People wouldn't hang out with me as long as they do if I was difficult to deal with, first and foremost starting with my wife!"
Senior Writer Ryan Dixon and NHL Editor Rory Boylen always give it 110%, but never rely on clichés when it comes to podcasting. Instead, they use a mix of facts, fun and a varied group of hockey voices to cover Canada's most beloved game.
MUSIC
"I like music in my head. I associate it with things. I find it relaxing and sometimes if I have to sign 500 things in the office, which occasionally happens, in a row I'll put on music in the background. But if I'm doing something serious I can't be distracted.
"Music's a great thing. It takes you to a time and a place. It's like some sort of candy for the brain, I suppose. Particularly since I like classic rock. I find that listening to The Doors or Crosby, Stills, Nash and Young takes me to a good place."
FAVOURITE FOOD
Of course the commissioner likes his food. He says he doesn't cook, though he has (had?) "one dish": spaghetti in meat sauce that he hasn't made in about 20 years.
He probably knows NHL arena food better than anyone, and though he wouldn't divulge his favourite spots specifically, he gave a peek into what he does enjoy.
"I'm easy, I eat anything. The one food I don't like is olives. To me, a barbecued hot dog and hamburger I would prefer to eat over anything else. Chicken fingers. I can tell you which arena has the best chicken fingers.
"When you go to St. Louis you want fried ravioli. The playoffs can be a very difficult time not to put on weight because if I'm going to a playoff game it means I've probably had a hectic day during the day, I probably skipped lunch and by the time I get to the arena there is the arena food, which I love."
HOW DOES BETTMAN WATCH A GAME?
There are many different ways people can watch a hockey game. Maybe you focus on your favourite player, or how certain guys play a position, perhaps to learn tactics to use yourself. You might look at systems, tendencies, or perhaps you just take in the overall game. Bettman described how he watches an NHL hockey game.
"I'm watching flow of what's taking place on the ice in terms of, 'Is the game entertaining? Is the puck moving? Is there scoring chances? And are the officials calling a good game?'
"When I'm doing something else or I'm watching on my phone it's more to keep an eye on if there's anything happening that's a problem. Because as much as I love our apps and the phone, you can't watch a whole game that way. I do have a room at home that has three television screens, but even watching three games at once isn't all that easy. But it gives you a sense of what's going on and whether or not there's a problem. And if there's a problem, either I'll see it or I'll get a call from the situation room in Toronto so I know what's going on."
DOGS
How does Bettman start every morning? By walking his dogs, of course.
"We have two dogs: Lola and Teddy. And they're both Golden Doodles and they're both pretty big. Lola is about 14 years old and she's getting up there unfortunately. Teddy is either four or five and is still acting like he's six months old."