More than half of the NHL's regular-season schedule has been played out, and 18 of the league's 30 teams are within nine standings points of each other. Parity has never been a bigger factor in the NHL, and with it comes an unpredictable last 30 or so games to finish the season.
One interesting way of looking at the rest of the season is to see which teams can expect boosts from star players who haven't produced at the level we've become accustomed to, and for whatever reason there are a lot of those this season.
Keeping that in mind, here are three big-time players I expect to get hot down the stretch and into the playoffs, should their teams make it.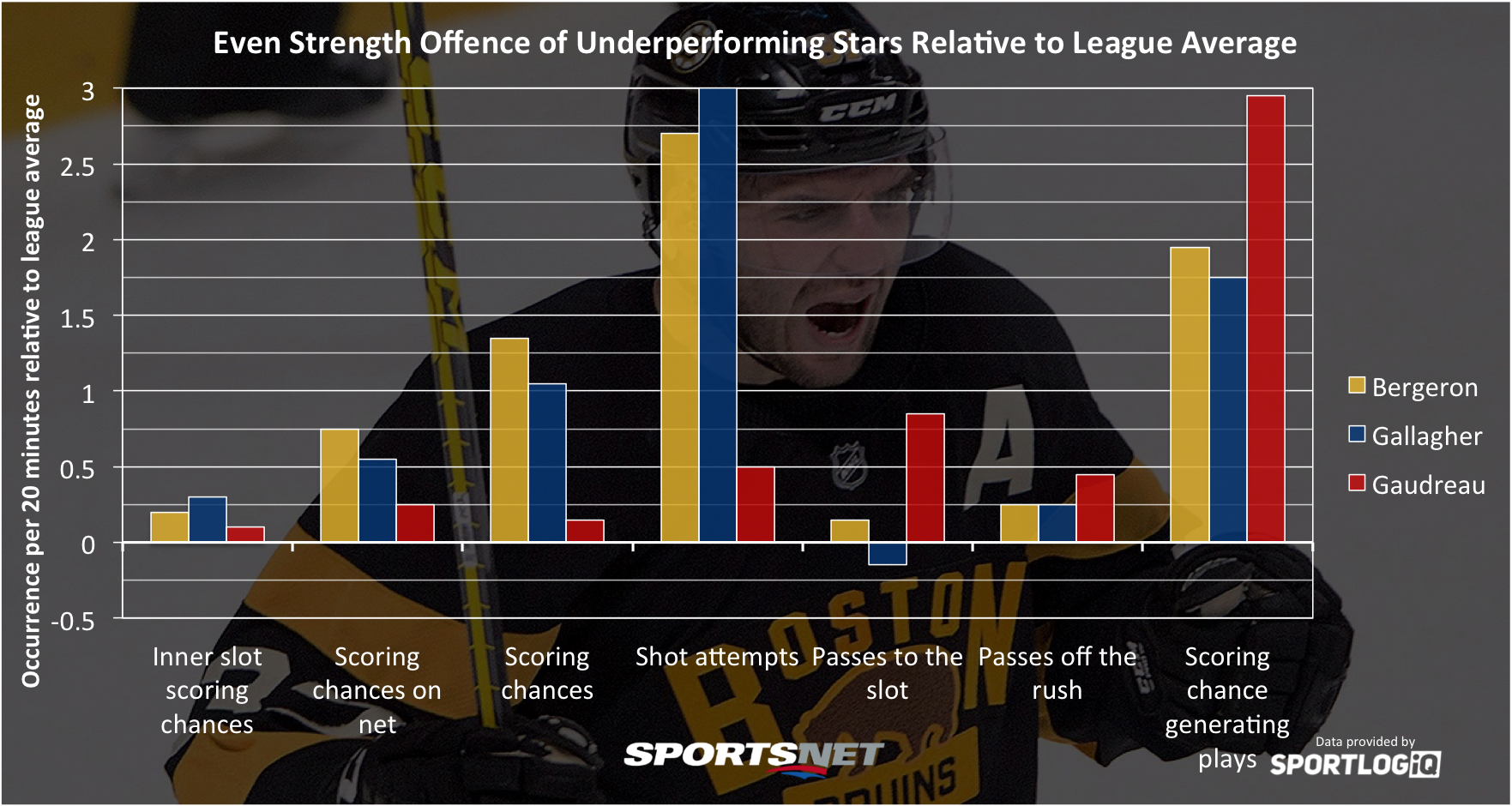 All three of these players are in the top-37 in the NHL in terms of creating scoring chances at even strength, but they rank just 234th, 95th and 135th respectively in points per minute among forwards this season. The issues each player is facing are different, so I'll go over them individually.
Arguably the best two-way centre in the NHL over the last eight seasons or so, Bergeron is producing just 1.18 points per 60 minutes this season, the lowest mark he's put up in 10 seasons. There's a possibility that at 31 years old his offensive game is beginning to decline, but I don't believe that decline has been nearly as significant as his lack of production this year suggests.
Bergeron's biggest change from last season at even strength has been dropping from one goal per hour to just 0.45, and that's despite his shot numbers climbing. And those shots aren't coming from the perimeter, as you can see in the above graph — he's rattling off scoring chances at a career-high pace.
In fact, Bergeron is fourth in the entire NHL in scoring chances per minute at even strength, bested only by Auston Matthews, Vladimir Tarasenko and Patric Hornqvist. Bergeron also gets a ton of those chances on net, so it's bewildering that he's only managed five goals at five-on-five this season.
Bergeron's playmaking is not as strong as his shooting, but it's still above average, which should lead to more than the paltry four primary assists he has at full strength this season, especially when playing with snipers like David Pastrnak and Brad Marchand.
Unfortunately for Bergeron, he's suffering from a trifecta of career bad luck at five-a-side hockey, a career-low 3.79 personal shooting percentage, a career-low on-ice shooting percentage of 5.52, and a career-low number of points on the goals he's on the ice for, just 54.2 per cent.
Bergeron has been obscenely snakebitten, but he hasn't let it get into his head at all — his level of play has only been getting better. He's bound to break out at some point, and it may have already happened, with his primary point production at even strength starting to climb since late December.
[relatedlinks]
Gallagher's lack of production has been in a different category than the others, because the currently injured Hab has actually been chugging along pretty well when he's played — he just hasn't scored goals. In terms of playmaking, Gallagher is about an average forward, slightly below average in connecting with teammates in the slot, probably because he's usually already in that position. He's quietly been producing primary assists near his career-high rate.
The frustration for Gallagher is that he's also been producing shot attempts, shots and scoring chances at a career-high rate as well, but he's been rewarded with the lowest shooting percentage of his career at even strength at just 5.21, way below his career average of 8.6.
Gallagher has also seen a career-low in on-ice shooting percentage at 6.29, but even with those percentages holding him down, he's nearly in top-line-production territory on a per-minute basis.
The problem for Gallagher this season — aside from a Shea Weber slap shot blowing his hand up — has been a lack of ice time due to competition from Alexander Radulov and Andrew Shaw. The former is understandable, but the latter is less so, especially when it comes to the power play.
Since Shaw's production has slowed down a little bit, when Gallagher returns he should see his ice time jump up, and his shooting percentage should regress as well. If that translates to the power play as well, Gallagher could be a huge difference maker come playoff time.
[snippet]
Only seven players in the NHL produce more scoring chances per minute at even strength than Johnny Gaudreau, which has led to two brilliant seasons for the young Flames star, but this season has been another story.
Whether it was adjusting to a new coach preaching a different style of play, his injury earlier in the year, or both, something has been off with Gaudreau in terms of point production.
Gaudreau's goal production and primary assists at even strength have been identical to his rookie season, but compared to last season he's cratered, and that's in spite of playing the best offensive hockey of his career. Gaudreau isn't a big-time shot-volume player, but he's posting career highs in shot attempts, shots on net and scoring chances this season, and it hasn't borne fruit yet.
One of the NHL's true shooting-percentage boosters, Gaudreau has gone from an on-ice shooting percentage of 10.07 at even strength in the first two seasons of his career to just 5.59 this season, nearly halving the number of goals he's on the ice for.
Whatever the reasons behind that unlucky streak, Gaudreau's play hasn't faltered — he's 10th in the NHL in successful passes to the slot, and 15th in successful passes off the rush. Being a playmaker, Gaudreau is a bit more reliant on the finishing ability of his teammates than pure scorers, but with the quality of chances he's setting up, you know he's going to catch fire soon, which might be enough to push Calgary into the playoffs.