Sixteen teams are headed for the NHL playoffs, seven of which didn't make it last year, should the standings remain the same. With that kind of turnover there's bound to be some interesting surprises, but what we wanted to focus on today were the biggest disappointments.
You could argue that the biggest disappointment this year has been the performance of the Tampa Bay Lightning, a true Cup contender the last couple years that now needs a series of miraculous events in order to capture a wild-card spot, but with the injuries that team has dealt with I don't think they can be called disappointing.
Stanley Cup Playoffs on Sportsnet NOW
Ready for playoff hockey? Stream every single game of the 2017 Stanley Cup Playoffs with Sportsnet NOW.
Same goes for the Florida Panthers, who over-performed last year and faced raised expectations that weren't realistic, then suffered long-term injuries to half their top-six forwards, Aaron Ekblad, and Roberto Luongo.
The two biggest disappointments this season have been out West, where the Los Angeles Kings and Winnipeg Jets are both way out of the playoffs, but the sorrow comes for different reasons.
The Kings missed the playoffs in a fluke situation two years ago due to going 2-8 in the shootout, but after making it last season only to get bounced in Round 1, this year feels like the end of an era. The core is still strong, but unlike Chicago, the Kings have had trouble replacing their depth players to stay effective, and it's haunted them.
They're still the most dominant Corsi team in the NHL the last three years, but with so few goals and just one playoff win to show for it, there's undeniably something missing. With this kind of failure for a team with high expectations internally, some changes are likely coming, but a panic firing of Darryl Sutter could set them back even further. The Kings face a tough test this off-season.
The Jets are another story entirely, and a more baffling one. Winnipeg seems to make some generally nice moves that never amount to anything.
With rookie phenom Patrik Laine joining the club this season and scoring 36 goals so far, there was bound to be some excitement around them. Add in a career year for Mark Scheifele, a breakout year for Nikolaj Ehlers, and the same consistent greatness we've come to expect from Blake Wheeler and Dustin Byfuglien, and you have to wonder where it all went wrong.
Most teams would kill to have the top-six forward group the Jets have, but looking up and down their roster it's undeniable than they have been less than the sum of their parts by likely the biggest margin in the NHL. This is a very good roster with a few inefficiencies, but all teams have a few.
Not having Bryan Little, Mathieu Perreault, Tobias Enstrom, and Jacob Trouba for about 20 games each was also a problem that held them back, though Trouba was a situation of their own making, so they don't deserve the benefit of the doubt there. They also lost Tyler Myers for all but 11 games, so there were injury issues to overcome.
However the biggest problem for the Jets has been the same problem they've had for their entire history since moving to Winnipeg (aside from 2014-15's outlier year for Ondrej Pavelec): Goaltending.
Earlier this year I did some research for Steve Dangle on Paul Maurice's goaltenders throughout his coaching career being a sad situation, and this season has been no different.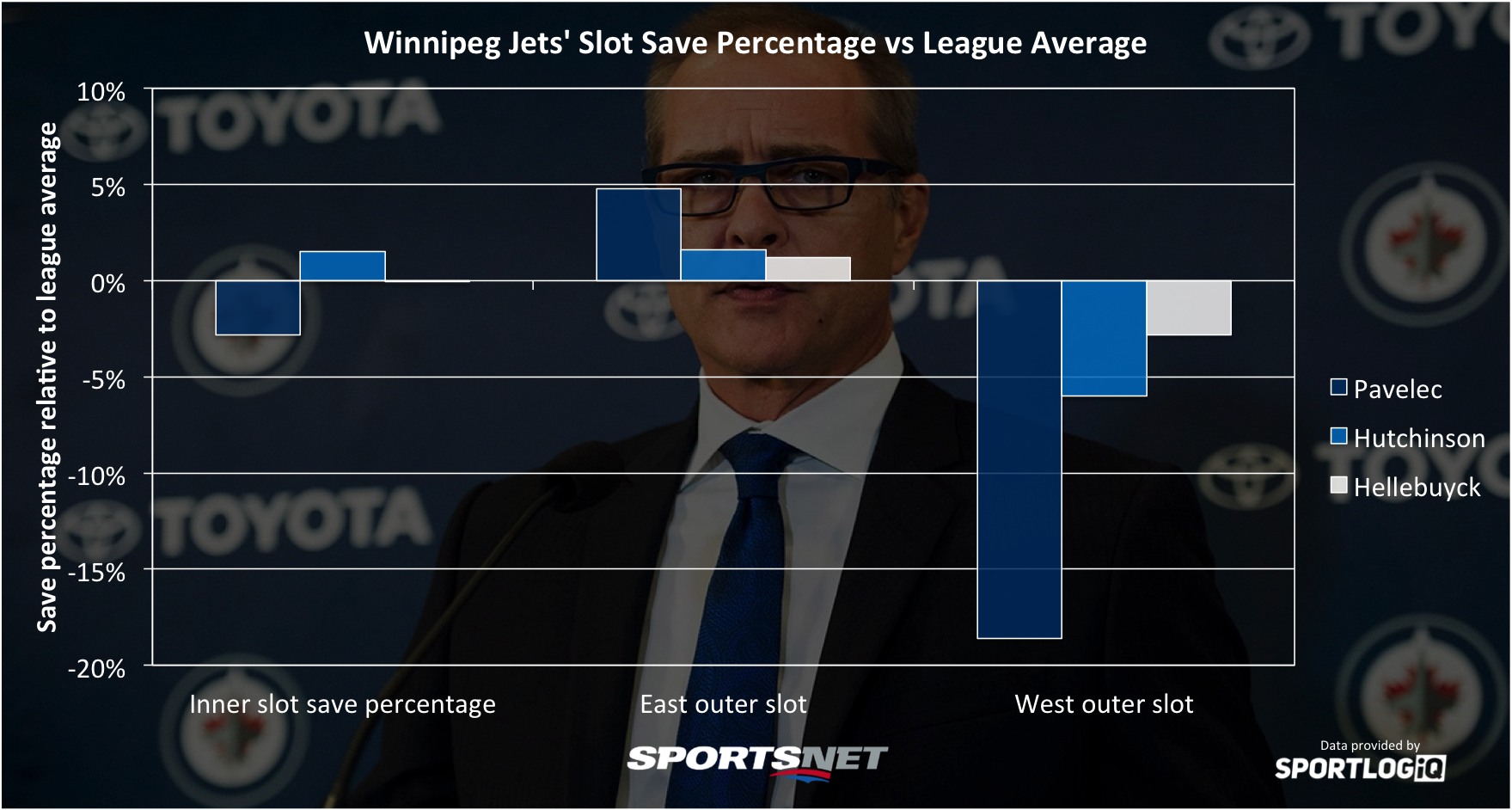 On the surface, this doesn't look completely disastrous, as the Jets' goalies are around average in the inner slot and above it in the East outer slot (left side of the ice). However, that huge dip on the right side is problematic on its own, and this doesn't take into context the expectations of making saves on these shots.
As it turns out, the Jets are the seventh-best team in the NHL at preventing those incredibly dangerous inner-slot shots, and seventh-best at preventing pre-shot movement in the slot area. That means the expectations for their goaltenders, based on frequency and degree of difficulty, is actually significantly above league average.
Play the Sportsnet Fantasy Playoffs Pool for your chance to win $5,000 cash if you are crowned the champ! It's FREE and easy to play.
Even disregarding the weak goals from the perimeter that their goaltenders have allowed this season, they've performed far below what should be expected.
Michael Hutchinson looks the best in this breakdown, but Connor Hellebuyck is the goaltender with the longest track record of success, and the Jets do have Eric Comrie in the AHL as a top goaltending prospect, so there's hope for the future. However, at a certain point you have to think some veteran stability would help the Jets' younger goalies, and Pavelec doesn't fit that bill.
There is no reason that the Jets should be expected to miss the playoffs next year, but they can't afford to sit on their hands here, something they've been all too willing to do for most of the time they've been in Manitoba.