Goaltending is an integral part of playoff success. Every fan has fallen victim to a goaltender getting hot for a couple weeks and dashing potential Stanley Cup dreams. We are only weeks removed from Petr Mrazek almost derailing the Tampa Bay Lightning's Cup run, and actually Jake Allen derailing another in St. Louis.
STANLEY CUP PLAYOFFS: | Broadcast Schedule
Rogers GameCentre LIVE | Stanley Cup Playoffs Fantasy Hockey
New Sportsnet app: iTunes | Google Play
It is important. The question is whether it important to have a great goaltender or just an adequate one. Even when a goaltender wins the Conn Smythe Trophy, he isn't necessarily integral to the success of the Cup winner. Jonathan Quick gets a ton of credit for the 2012 Los Angeles Kings Stanley Cup victory, but the Kings didn't need dominant goaltending to win. I recently referenced a stat by Philip Myrland called the Win Threshold, which essentially measures what save percentage a goaltender would need to produce to finish at .500 or, for playoffs' sake, make it to overtime. During the 2012 post-season, Jonathan Quick could have produced a nightly save percentage of .894 and the Kings would have played 20 overtime games.
What Win Threshold really indicates is goal support. And what it has shown over the past dozen seasons, unlike in past eras, is that spectacular goaltending is now rarely required to have sustained playoff success.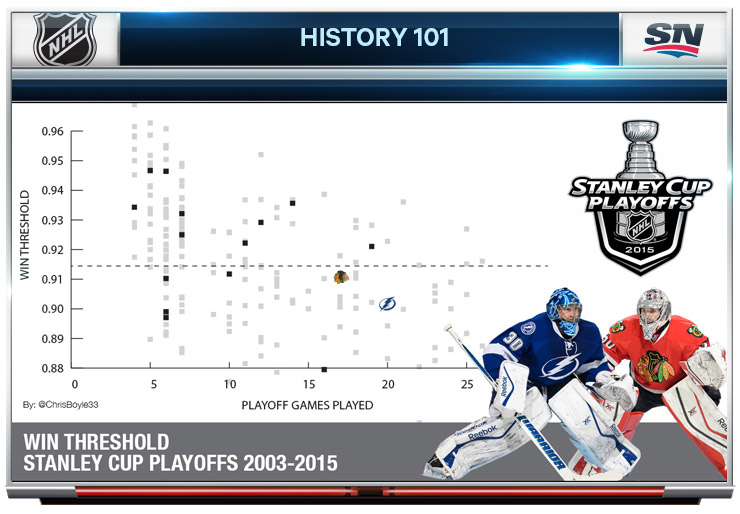 If you are leaning on your goaltender heavily, you are likely looking at a ceiling of 8-10 playoff wins at most. Only two goalies have been able to make a Cup Final with little to no goal support during that time frame, J-S Giguere in 2003 (.936) and Roberto Luongo in 2011 (.927) and they both lost game sevens. Of the other 22 goaltenders who have reached the Stanley Cup Final, not one of them required a Win Threshold above .916.
Ben Bishop (.902) and Corey Crawford (.911) fit into the latter category this year.
Neither goaltender has needed to be spectacular to push their teams into the Stanley Cup Final. In fact, both have had performances that place them in the the middle tier of netminders during these playoffs.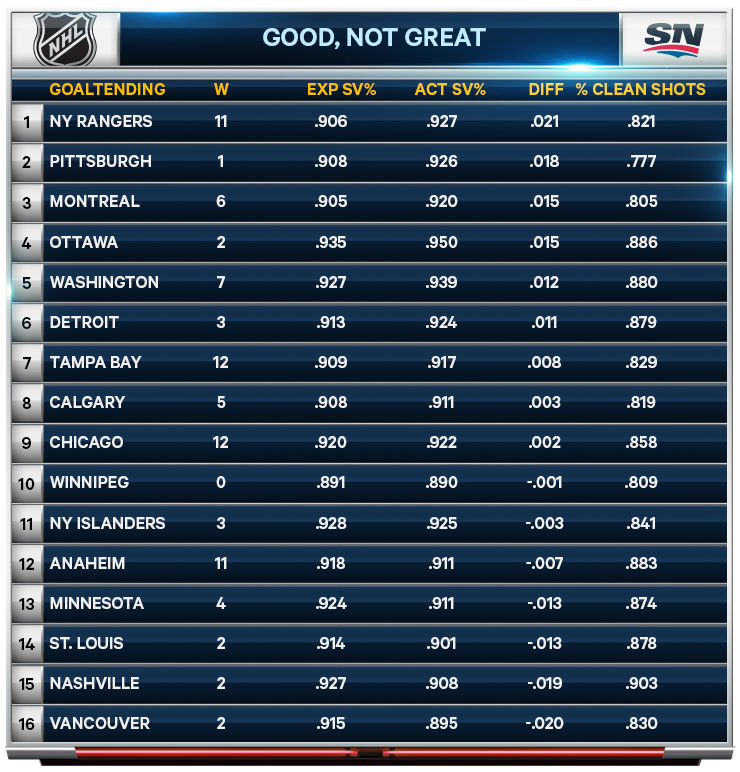 Both have struggled at times, but Bishop (+.009 above expected save percentage) has actually been very good for the majority of the playoffs. Crawford has been bang on the Osgood Line (0.000 differential) and the Blackhawks needed every inch of Scott Darling, the 6-foot-6 playoff saviour (+.007) during the first round versus the Predators.
Outstanding performances by Henrik Lundqvist, Carey Price and Brayden Holtby were not enough to carry their teams to long runs because their teams didn't provide adequate goal support or carry the play enough.
---


Download Sportsnet magazine now: iOS | Android | Windows
---
Bishop has struggled with perception issues because of a tendency to lose concentration on some long shots. This has manifested itself in poor tracking habits with his glove—leading to disastrous results and highlight fodder for the masses to consume.
While Bishop doesn't possess the technical dominance of Price or the anticipation of Lundqvist, his biggest plus remains his size. The sheer volume of net that he covers doesn't require him to square up to every shot, but the result is the an awkward way he appears to reach and moves to pucks, and the extended desperation leg stretches he uses when hbeaten laterally.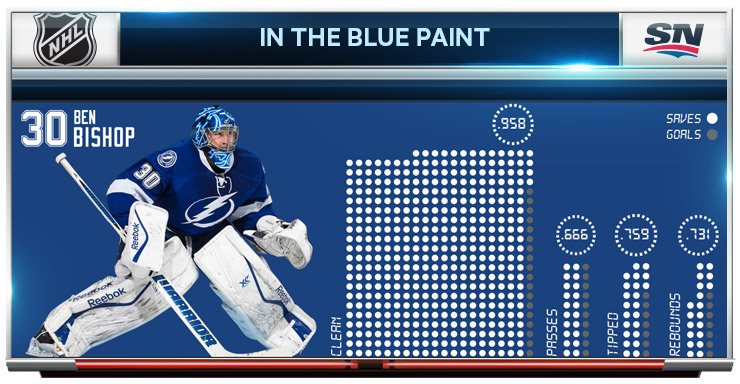 Like any goaltender, Bishop is extremely vulnerable to lateral movement and when protected from second chance opportunities he has been significantly above average with a .958 clean save percentage in the playoffs. His success is understandable considering his net coverage. If you allow him to feel comfortable with is backside coverage, he sets aggressive depths which are tough to beat at his size.
This will be something to watch during the Final because the Blackhawks through three rounds are scoring on 7.1 percent of their clean looks, way above the league average of 4.9. Bishop's size becomes a detriment if you can get him moving by opening him up and creating large holes. If the Lightning can't limit the lateral passing by the Hawks, they could be in trouble as Chicago has been finishing close to 40 percent of these cross-crease feeds.
Crawford has also struggled with inconsistency, highlighted by his tendency to react down and then out to pucks. Nashville's Pekka Rinne had similar struggles in round one, as Dan Stewart at InGoal Magazine pointed out nicely. While this does tend to create glove issues, Crawford's glove-hand weakness has been wildly overblown.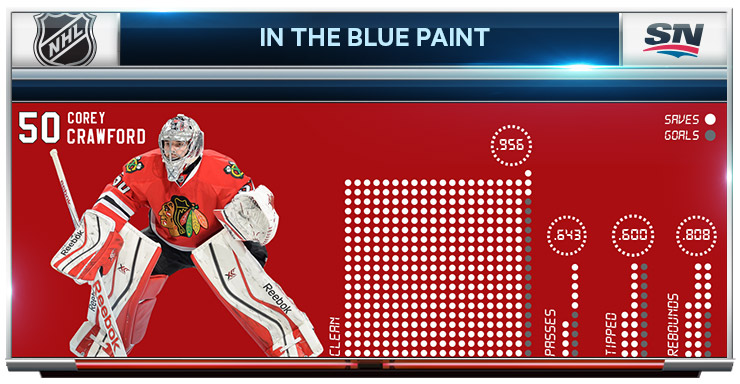 Chicago has done a good job of insulating Crawford, limiting his exposure to desperation backside recoveries. That's good, because he has been significantly below average on such shots over the periods I have reviewed. While the Hawks have done well to limit these high quality chances, the Cup Final presents the challenge of taking these opportunities away from the Lightning. They rank No. 1 in creating those chances (7.5 percent of their shots) in the Stanley Cup Playoffs and managed to abuse two of the leagues best in Lundqvist and Price through the first three rounds.
The Hawks and Lightning aren't here because of their goaltenders, they are explosive offensive teams that only need adequate net support to succeed. Neither team has a clear advantage in goal so the series will likely come down to who can isolate and exploit both goaltenders lateral weaknesses better.
Bishop and Crawford have been prone to explosive meltdowns, so in a small-sample Final it could make the difference. Both have been rather resilient during their teams' runs, and even though Crawford has the Stanley Cup experience, Bishop has played better.
I think Tampa will be able to exploit Crawford more than Chicago can Bishop and this will ultimately determine the outcome.