The NHL off-season got a jolt Monday with a surprise out of Washington: Head coach Barry Trotz will be heading elsewhere after handing in his resignation.
That's surprising on several fronts, not least of which is that we didn't know Trotz could resign in the first place – we'd been led to believe that his contract was about to expire. As it turns out, his old deal included an automatic extension that kicked in when the Capitals won the Stanley Cup. That new deal wasn't to Trotz's liking, and attempts to negotiate a new deal were unsuccessful, so Trotz walked away.
[relatedlinks]
That's a relatively rare occurrence in a league where coaches are far more likely to be relieved of their duties, often with a footprint on their behind. But it's been a bit of a theme this off-season, as Trotz becomes the third NHL head coach to voluntarily leave his job. In April, Dallas coach Ken Hitchcock announced his retirement. And a week later, Bill Peters resigned as coach of the Hurricanes.
Peters landed on his feet, taking the Calgary job within days. It seems safe to assume that Trotz will also find new work quickly. If so, he'll become the first coach in 24 years to leave a team he just won the Stanley Cup and take a job somewhere else.
Making the choice to quit an NHL job is rare. But it's not completely unheard of. So today, let's look back on 10 other head coaches who walked away from a job, and how that worked out for them. We'll start with that last Cup winner to do it, since it involves one of the great off-season soap operas in modern NHL history.
Mike Keenan, 1994
Imagine you'd just led an Original Six team to its first championship in 54 years. You're the toast of the town. What's your next move?
If you said "Find a loophole in your contract, declare yourself a free agent and announce you've just signed a five-year contract with a different team," then you and Mike Keenan would probably get along great.
The whole mess started in July 1994, just days after Keenan had led the Rangers to a Game 7 victory over the Canucks to finally put an end the "1940" chants once and for all. Rather than rest on his laurels, Keenan got to work checking the fine print on his contract. When he realized the Rangers had been a day late on a bonus payment, he publicly declared that his contract was null and void. Two days later, he'd signed a five-year deal to become the coach and GM in St. Louis.
Needless to say, the Rangers weren't thrilled. GM Neil Smith acknowledged the late payment, but called it a "clerical error" and the team went to court to try to prevent Keenan's jump. (The court filing referred to Keenan as a "faithless employee," and you have to admit they kind of had a point.) Gary Bettman became involved, in what was viewed as the first major crisis of his relatively young stint as commissioner.
Eventually, the Blues and Rangers agreed to a trade that sent Petr Nedved to New York in exchange for Esa Tikkanen, Doug Lidster and the rights to Keenan. Bettman approved the deal, but fined just about everyone (including the Red Wings, who'd also been negotiating with Keenan). He also suspended Keenan for 60 days.
Keenan got to work in St. Louis, assembling one of the most interesting teams in modern history. He also traded for Wayne Gretzky. Hey, speaking of which…
Wayne Gretzky, 2009
It would be hard to call Gretzky's resignation as Coyotes coach a major surprise, since there had been subtle signs that he was unhappy in Phoenix. Like, for example, the fact the Coyotes were weeks into training camp and Gretzky hadn't shown up yet.
The backstory here isn't all that complicated. The Coyotes had filed for bankruptcy earlier in the year, and an ownership battle was being waged in court between the league and Jim Balsillie. With Gretzky making a reported league-high $8.5 million as the team's coach (among other roles), the numbers didn't add up – especially given that he'd missed the playoffs in all four years behind the bench. When it became apparent that neither Balsillie or the league intended to retain his services, Gretzky stayed home and eventually announced his decision to walk away.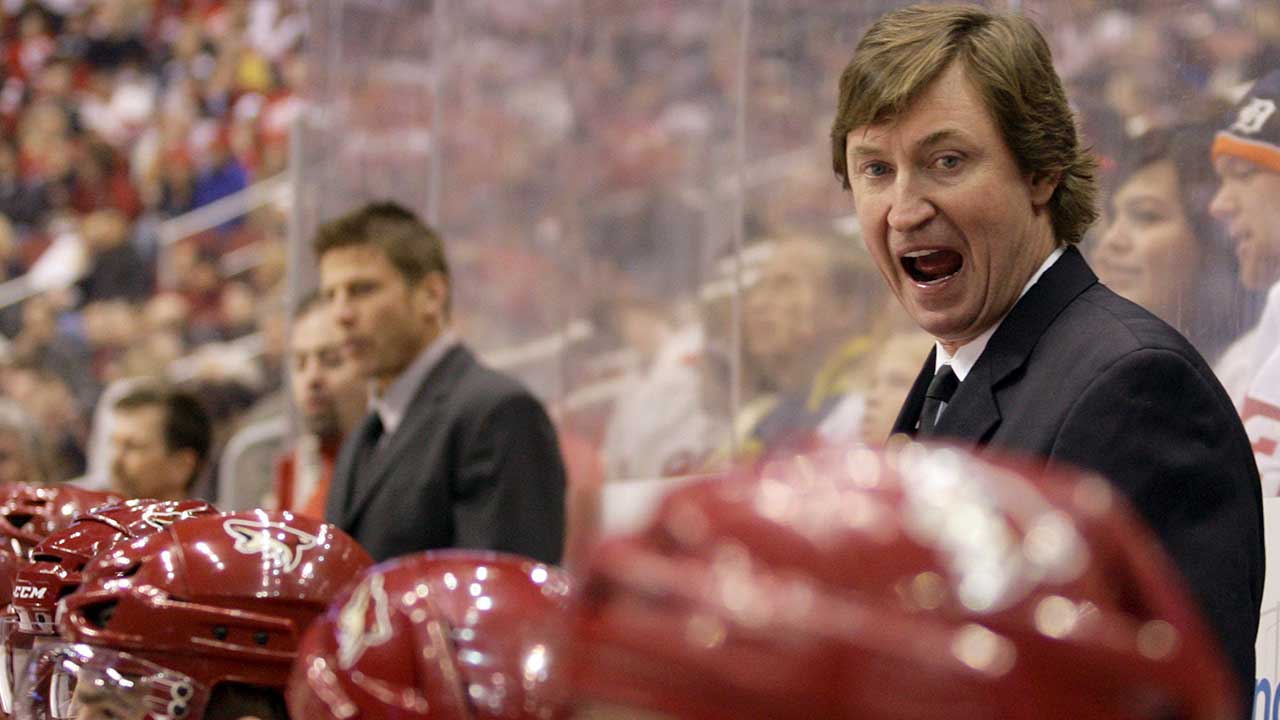 The Coyotes announced the hiring of Dave Tippett and moved on. Gretzky ended up in an extended battle with the league over money he was owed that dragged on for years. He never coached again, and at this point everyone has politely agreed to forget all this ever happened.
Patrick Roy, 2016
Gretzky isn't the only first-ballot Hall of Famer to bolt on his first (and only) NHL coaching job. Patrick Roy did it too, although under significantly different circumstances.
In Roy's case, there wasn't a bankruptcy case or a financial dispute behind the move. Instead, Roy's sudden mid-August departure was attributed to philosophical differences with GM Joe Sakic. Reading between the lines, Roy didn't like some of the players and Sakic wasn't eager to move them out to keep his coach happy.
Roy's decision took Sakic and the Avalanche by surprise, and didn't give them much time to find a new coach before camp opened. They ended up hiring Jared Bednar, but his late start contributed to a disastrous 2016-17 season. The team recovered in Bednar's second season, and today Avalanche fans may be glad the change came when it did.
As for Roy, he hasn't been back in the NHL since, eventually returning to the QMJHL's Quebec Remparts. Rumors of a role with the Canadiens' organization started almost immediately and will probably swirl periodically for years to come, but for now Roy's NHL days appear done.
Todd McLellan, 2015
This is one of those situations where the line between a resignation and something else can get hazy. Officially, McLellan and the Sharks "agreed to part ways" with a year left on his deal. That's often the wording used to fire somebody without calling it a firing, but in McLellan's case both the coach and the team made a point of stressing the announcement came only after he'd spent time discussing his options with his family and considering his future.
In the end, that future didn't include the Sharks. At the time, McLellan framed his decision as a response to what was widely assumed to be a major rebuild. That was a fair assumption, given that the Sharks looked like a team that was imploding. They'd blown a 3-0 series lead against the Kings in 2014 and then missed the playoffs altogether in 2015, and their best player had recently told the GM to "shut his mouth" and "stop lying." McLellan explained that he'd tried to "project and see where we would be at Christmas, where we would be a year from now, and what happens after that," and clearly he didn't like what he saw.
Of course, "a year from now" turned out to be a trip the Stanley Cup Final for the Sharks. By then, McLellan had landed on his feet in Edmonton, where he's still the head coach … at least for now.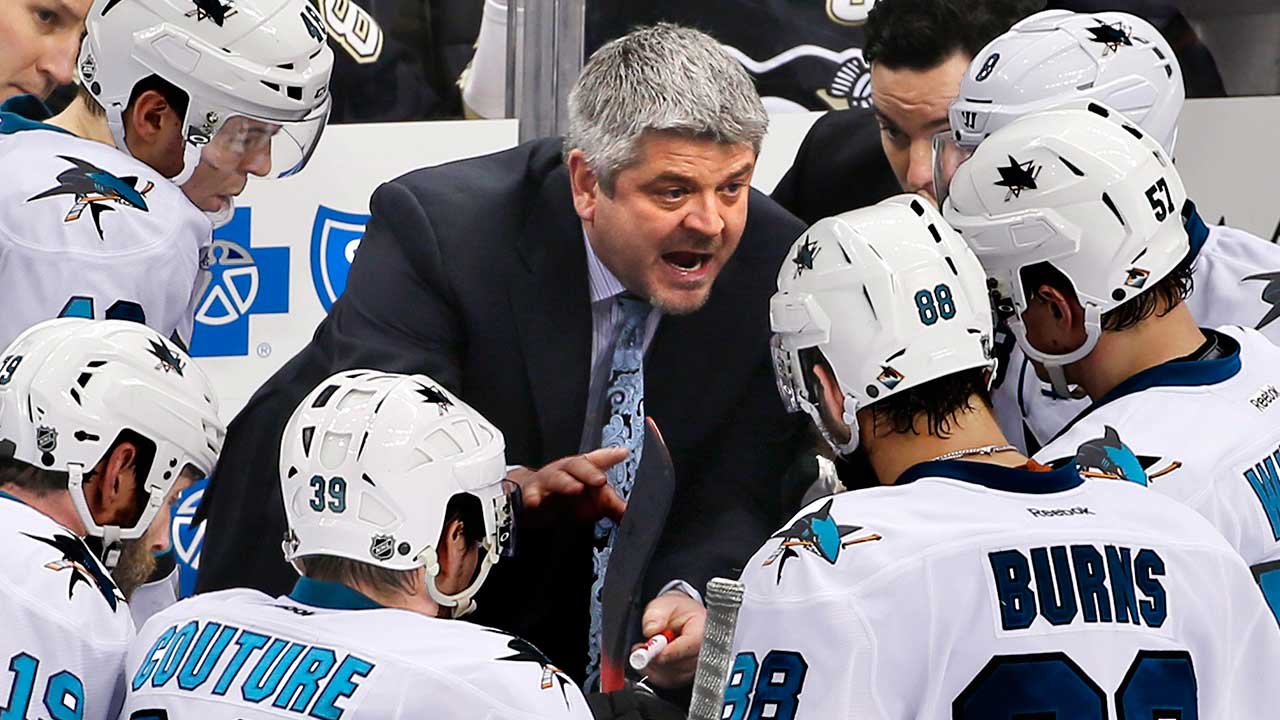 Brent Sutter, 2009
When Sutter announced he was quitting his job as the Devils head coach, he offered up a straightforward explanation. As he described it at the time, he was simply feeling homesick after two years in New Jersey, and wanted to head back to Alberta.
That raised a few eyebrows at the time, since the Flames job had just opened up thanks to the firing of Mike Keenan (who shows up kind of a lot in these stories). And Brent's older brother Darryl just happened to be the team's GM. Sure enough, Sutter ended up being named the Calgary coach by mid-September. Sutter insisted that he hadn't planned on taking the job at the time he resigned in New Jersey, although not many believed him. Either way, he needed the Devils' permission to make the move, and it was granted, because Lou Lamoriello is all about putting smiles on faces.
Sutter lasted three seasons in Calgary, hitting the 90-point mark each year but never making the playoffs. He was let go, rejoined the Red Deer Rebels and hasn't coached in the NHL since. The Devils replaced him with John MacLean, who lasted just 33 games. Time will tell if Bill Peters following a similar script this spring works out better for anyone involved.
Larry Robinson, 2005
Sutter isn't the only Devils coach to walk away during the Lamoriello era. Robinson gave up the job midway through the 2005-06 season, citing headaches and other health concerns related to the stress of the job.
It's possible Robinson remembered how his first stint in New Jersey had gone. After taking the Devils to the Stanley Cup Final in each of his first two seasons, he was fired midway through his third. With the Devils off to a rough start and knowing Lamoriello's quick trigger finger, Robinson may have decided it was better to go out on his own terms. He hasn't been a head coach since but did return to the Devils as an assistant (under Sutter) and later held the same role in San Jose (under McLellan).
And in case you're wondering, the list of Devils' resignations still isn't done – we could also include Jacques Lemaire, who actually did it twice, in both 1998 and 2011. Lemaire also resigned in Minnesota back in 2009, which basically makes him the reigning king of "You can't fire me, I quit."
[snippet id=3816507]
Marc Crawford, 1998
Despite being just 37 years old at the time, Crawford had already packed plenty of ups and downs into his four-year NHL career. He'd been the last coach in Quebec Nordiques history, won a Jack Adams, earned a Cup ring in Colorado, feuded with Scotty Bowman, and benched Wayne Gretzky in an Olympic shootout. All in all, a mixed bag.
In May 1998, he added another wrinkle: Walking away from one of the league's best teams. Citing a desire for new challenges (and quite likely unhappy with a reported one-year extension offer), Crawford resigned from the Avalanche with a season left on his deal.
He didn't take long to find new work, landing in Vancouver midway through the following season to replace (who else) Mike Keenan. The Canucks had to strike a deal with the Avs for compensation, agreeing to cough up cash and a draft pick.
Crawford would end up spending seven seasons in Vancouver, although his stint would yield only one trip out of the first round and may be best remembered for his role in the Todd Bertuzzi incident. He'd go on to coach the Kings and the Stars as well as in Europe, and is currently back behind an NHL bench as an assistant in Ottawa.
Dale Hunter, 2012
Trotz isn't the first Capitals coach to walk away from the job, although he had slightly more success than the last one. Hunter's time in Washington lasted just six months; he arrived as a mid-season replacement for Bruce Boudreau and guided the Caps to within a win of the conference finals.
That's not a bad start, but it was enough for Hunter, who always seemed to prefer his junior job running the London Knights. He announced his decision to quit the Capitals job once the team's season had ended, explaining that "it was the right thing to do." The Caps replaced him with Adam Oates, which didn't go so well, and then turned to Trotz, which went slightly better. For his part, Hunter returned to the Knights, where he remains to this day.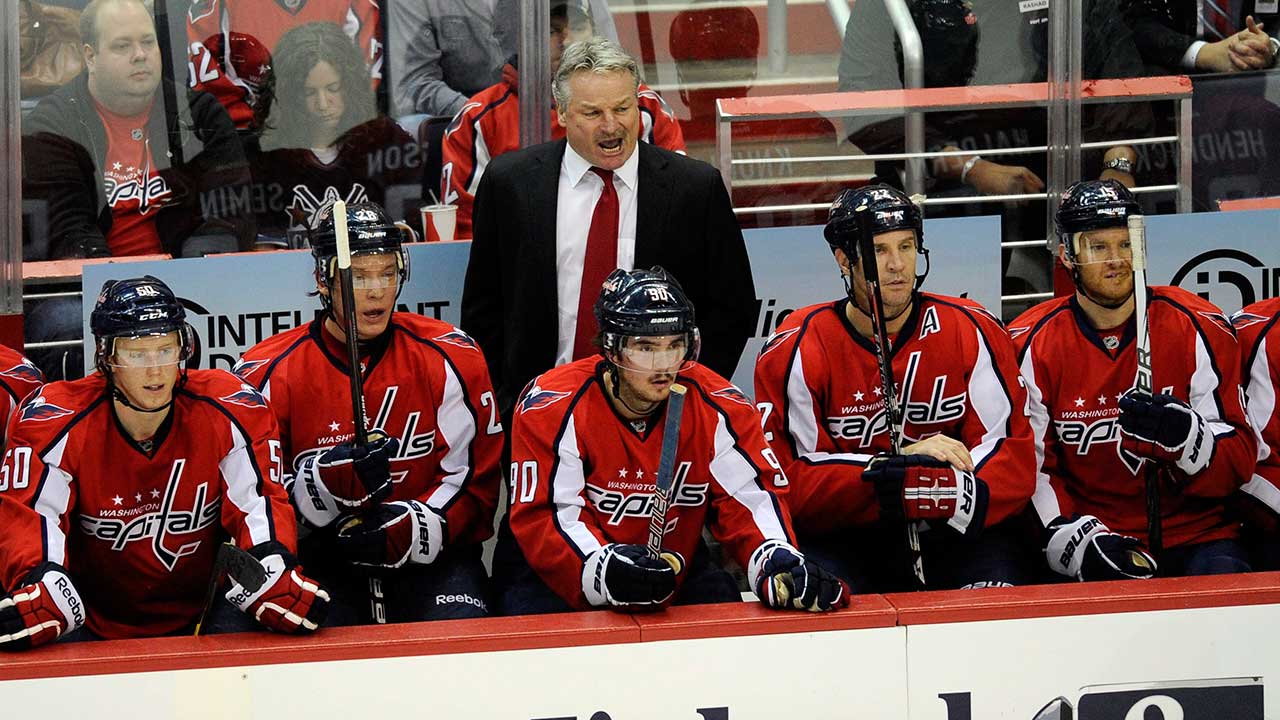 Mike Babcock, 2005 (and 2015)
Babcock is in his third NHL job, but he's yet to be fired. Technically, he's never resigned either. Instead, in both Anaheim and Detroit, he walked away from an expiring deal, choosing to hit the open market rather than stick with a team that wanted to keep him.
His departure from Detroit and subsequent arrival in Toronto have been well-documented; it had been widely assumed that he'd be leaving, and despite an offer to stay, the only real suspense was where he'd wind up. After a bidding war that reportedly included the Sabres, Sharks and Blues, Babcock chose the Maple Leafs and their record-setting offer.
The situation probably felt familiar to fans in Detroit, since it's basically how Babcock arrived in town to begin with. He began his career with two seasons in Anaheim, including a trip to the Stanley Cup Final in 2003. But with the lockout wiping out the last season of his contract, he found himself playing hardball with the Ducks. GM Brian Burke offered Babcock a mere one-year extension, reportedly at the same salary he had already been making, and gave him a firm deadline to accept it or hit the road. Babcock asked for more, and Burke responded with what he described as a "flat 'No' both times, with a considerable amount of emphasis and profanity."
It didn't take long for the Red Wings to pounce, and it's fair to say the switch worked out well for both teams. Babcock spent a decade in Detroit, winning the Cup in 2008. But Burke replaced him with Randy Carlyle, who won a Cup of his own in 2007.
Pat Burns, 1992
As we've seen, plenty of coaches have walked away from NHL jobs, and some have done it under unusual circumstances. But there may not have been a more shocking resignation than the one that played out early in the 1992 off-season.
Burns had been in Montreal for four seasons, he'd won at least one playoff round each year, and had guided the Canadiens to the Stanley Cup Final in 1989. The team had just finished first in the Adams but made a disappointing exit in the second round of the 1992 post-season, swept by the rival Bruins. There were rumblings that management was unhappy, although nobody seemed to really think that Burns' job was in any immediate danger; he had two years left on his contract, and GM Serge Savard had already said his coach would be back for another season.
Then came a shocker. Well, two. At a hastily called news conference in Montreal, Burns announced that he'd just quit as Canadiens coach. That was big, but what came next was stunning: Burns already had a new job, as the coach of the Maple Leafs.
That was a bombshell, especially back in the days before 24-hour news cycles and breaking updates on Twitter. As it turns out, Burns had made his decision four days earlier, reportedly after returning from a Jamaica vacation. That led to Meehan calling Cliff Fletcher about Toronto's opening, one that had remained unfilled for weeks and had been widely assumed to belong to Calgary's Dave King (who declined) or assistant Mike Murphy. When Fletcher found out Burns was available, a deal was struck within hours. Burns flew directly from his Montreal press conference to a second one in Toronto, beginning a relationship with a fan base that hadn't even known he was available when they woke up that morning.
We can chalk this one up as another move that worked out well for everyone. Burns was the key to the Leafs' turnaround, leading them on a long playoff run and winning the Jack Adams. But Savard and the Canadiens settled on a decent Plan B by hiring Jacques Demers, who guided the team to the Stanley Cup in his first season.