Sean McIndoe (aka Down Goes Brown) will be contributing to sportsnet.ca on a regular basis. Follow him @DownGoesBrown
We're closing in on awards voting season, which means we're already well into awards arguing season. And this year, the biggest argument so far has centered on the Norris Trophy for the league's best defenceman. Despite Erik Karlsson's gaudy offensive totals, there's a strong sense that this could finally be the year that Drew Doughty earns his first nod.
We can save the Doughty vs. Karlsson debate for another day. But there's an interesting undercurrent to this year's Norris talk, and it goes something like this: Doughty is just due. The guy has been one of the best defencemen in the league for the better part of a decade, and it's somewhat shocking that he hasn't won a Norris or two already. If the race is close, the thinking goes, he might deserve the trophy as a sort of make-good on all those previous snubs.
Putting aside the idea that it seems odd to be giving out lifetime achievement awards to a guy who's only 26 years old, the argument makes a certain type of sense. But only if you buy the central premise – that Doughty has been narrowly missing out on the Norris for years. Fair is fair, and maybe you really do nudge a guy up your list if he's continually posted Norris-worthy seasons, only to fall just short when the ballots are counted.
But has he? Let's take a look back through all seven previous seasons of Doughty's career and find out.
(All award voting data in this post comes from hockey-reference.com.)
2008-09
Norris winner: Zdeno Chara, who narrowly edged out Mike Green's 31-goal season in a minor upset to earn his only Norris.
Doughty's finish: No votes.
The case for Doughty: There wasn't one, which is what you'd expect – Doughty was a teenaged rookie, so the fact that he was even able to handle a regular shift at the NHL level was impressive enough. He finished fifth in the Calder voting, well back of winner Steve Mason, and was named to the all-rookie first team.
Bottom line: No Norris case here. But Doughty would get to that level quickly.
2009-10
Norris winner: Duncan Keith, winning his first of two so far. Green finished second again.
Doughty's finish: Doughty finished third in the voting, a stunning performance for a guy who was still 19 years old on opening night. He didn't come all that close to winning – he had 15 first place votes to Keith's 76 – but it was clear the Kings had something special.
The case for Doughty: It's tough to argue with the Keith pick in what would stand as his breakout season. He posted 69 points while averaging 26:36 ice time and posting excellent possession numbers, topping Doughty in each of those categories. The gap in voting reflects that, although you have to figure that at least a few voters also figured that Doughty's performance at such a young age meant that future Norris honours were inevitable.
Bottom line: Nobody would argue that Doughty had already peaked, although it's interesting to note that he's yet to come close to matching this season's 59 points. That's largely due to the Kings' transition into the league's top defensive team, one that's paid off with two Stanley Cups, but could be hurting Doughty's offensive numbers.
2010-11
Norris winner: The ridiculous Nicklas Lidstrom, who barely edged out Shea Weber to earn his seventh Norris at the age of 41. This one did feel like a bit of a lifetime achievement award, although Lidstrom still posted 62 points, second among blueliners.
Doughty's finish: He received just two votes, good for a tenth-place tie with Chris Pronger and Matt Carle.
The case for Doughty: Even as his ice-time and importance to the Kings' success increased, Doughty's boxcar numbers dropped significantly. He posted 40 points, well back of the league leaders, and voters seemed to forget about him.
Bottom line: Nicklas Lidstrom may have been a cyborg. Just throwing that out there.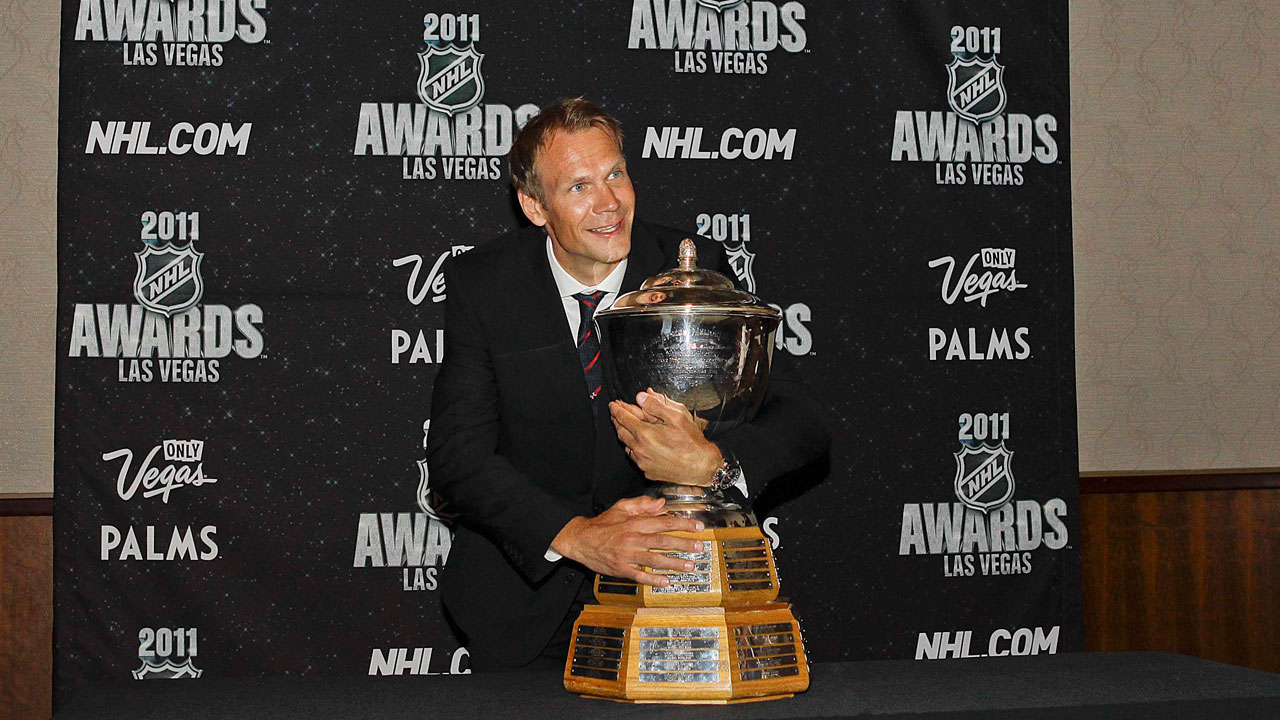 Detroit Red Wings' Nicklas Lidstrom with the James Norris Memorial Trophy. (Julie Jacobson/AP)
2011-12
Norris winner: Erik Karlsson, whose 78 points were enough for voters to ignore criticisms of his defensive game.
Doughty's finish: For the second time in his career, Doughty was completely shut out of the voting.
The case for Doughty: In his first season under new coach Darryl Sutter, Doughty's offensive numbers dropped yet again, this time to 36 points, trailing noted snipers like Kevin Bieksa and Michael Del Zotto. He also posted a minus rating for the first time since his rookie year, if you think that's important (you should not).
Bottom line: Keep an eye on that Karlsson kid, I have a feeling his name may come up again.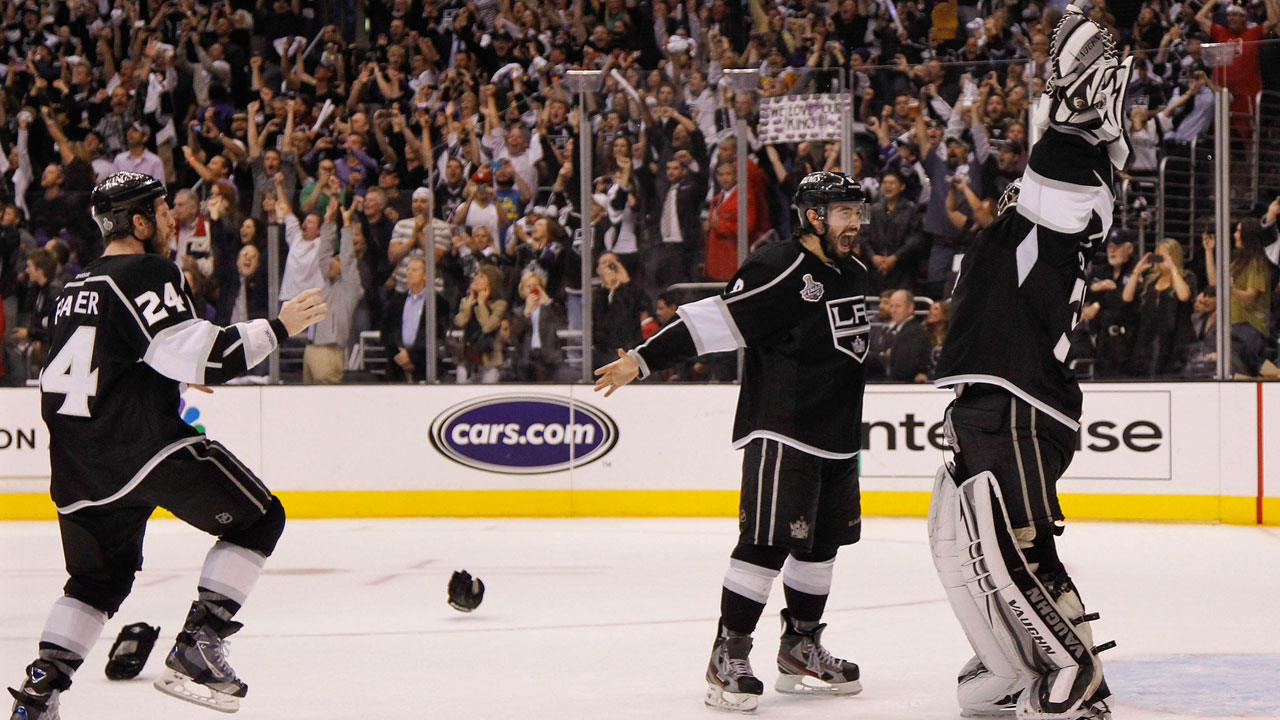 Drew Doughty, second left, won his first Stanley Cup in 2012. (Julie Jacobson/AP)
2012-13
Norris winner: P.K. Subban, who narrowly edged out Ryan Suter in an extremely close vote.
Doughty's finish: No first place votes, but his name showed up on a handful of ballots to earn him a ninth place finish.
The case for Doughty: This was the lockout-shortened 48-game season, but voters still went primarily for offensive numbers, as Subban, Suter and fellow finalist Kris Letang all topped 30 points. Doughty, meanwhile, stalled out at 22. But his role under Sutter was continuing to grow, as his ice-time topped the 26-minute mark for the first time, and he posted the best possession numbers of his career.
Bottom line: By this point, Doughty's place among the league's top blueliners had been well-established, but he's no longer in the "best defenceman in the game" conversation. That's being reflected at the Norris ballot box, where he's now at three years and counting without a single first place vote.
2013-14
Norris winner: Keith again, winning decisively over finalists Chara and Shea Weber.
Doughty's finish: In what turned out to be a six-player race, Doughty captured eight first-place votes and finished sixth, just behind Alex Pietrangelo.
The case for Doughty: This was a tough race to call, but it was still surprising to see Doughty finish as low as he did. (For what it's worth, I had him second on my ballot.) More importantly, he went on to post a fantastic playoff run, leading the Kings to their second Stanley Cup and narrowly missing out on Conn Smythe honours. That didn't help him in the Norris voting, which is done at the end of the regular season, but it boosted his reputation.
Bottom line: This was around the time that we started to see the first "Doughty might be the best player in hockey" arguments emerge. Despite his relatively lackluster finish in the 2014 voting, it felt like that playoff performance had sent Doughty into the off-season as the heavy favourite for the 2015 honours.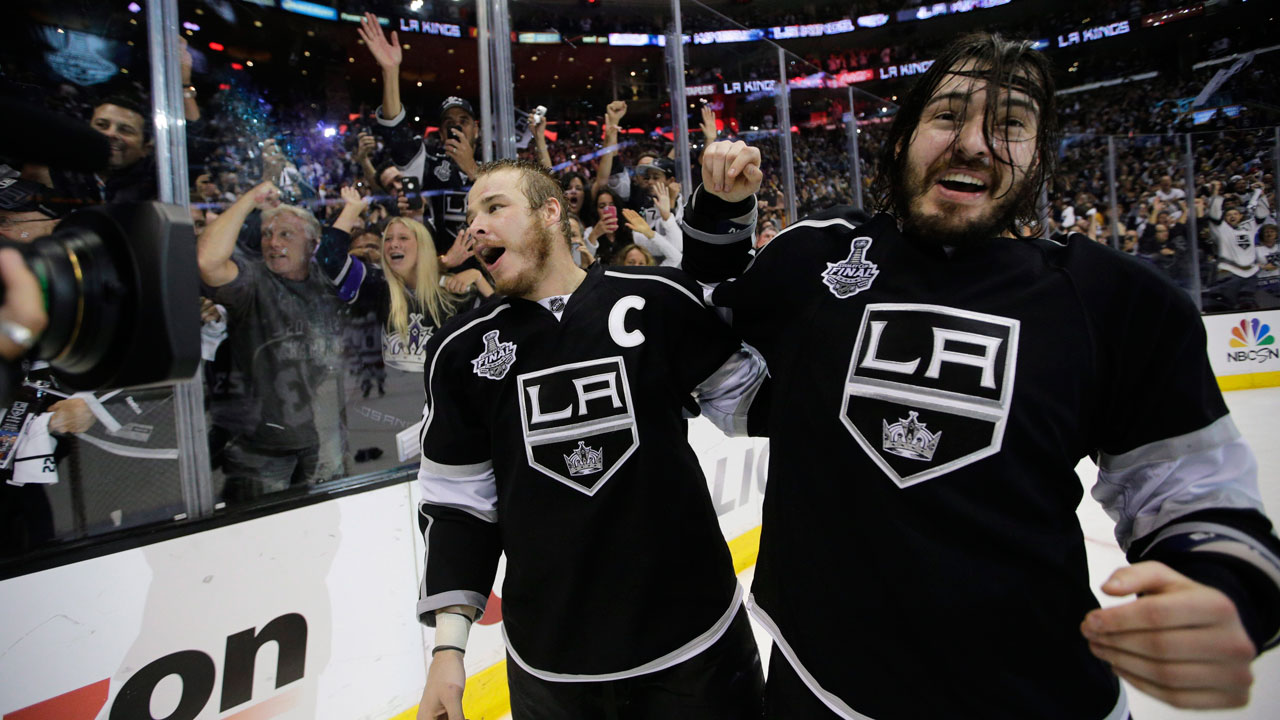 Los Angeles Kings' Dustin Brown, left, and Drew Doughty celebrate their 2014 Stanley Cup win. (Jae C. Hong/AP)
2014-15
Norris winner: Karlsson, in a close (and controversial) vote.
Doughty's finish: Despite earning more first place votes than anyone (53 to Karlsson's 44), Doughty finished second overall after being left off a few dozen ballots entirely.
The case for Doughty: And now we get to the big one – last year's vote, in which Doughty narrowly lost to Karlsson in a tight three-way vote with Subban finishing third.
If you want to point to a season where Doughty really did deserve the Norris, this is your strongest case. He got my first place vote (I had Karlsson third), and the fact that he was left off so many ballots was curious. Was this a case of that famed East Coast bias we hear so much about? Maybe, although it's hard to imagine that many voters were unfamiliar with Doughty's work after the 2014 playoffs. Strategic voting by Karlsson or Subban supporters? That seems like a stretch.
No, the simpler explanation is probably the right one here: Karlsson just had better numbers. He outscored Doughty by 14 goals and 20 points, and despite all the talk of well-rounded players and two-way games, Norris voters have always loved those big offensive outputs. (Well, almost always.) And while Karlsson's defensive game certainly had its share of holes when he won in 2012, he's made big strides in that area. In a league where puck control is so key, voters are starting to realize that sometimes the best defence really is a good offence. In a close vote between three very good players, Karlsson was hardly an indefensible pick.
Bottom line: It's not unprecedented for a player to win the Norris despite having fewer first place votes than an opponent – it happened in 1996, when Chris Chelios edged out Ray Bourque. But it's exceedingly rare, and leaving Doughty off a ballot entirely is a head-scratcher. If you're in the camp that say Doughty is due, 2015 is your Exhibit A.
It's also, as it turns out, pretty much your only exhibit. Despite an overall body of work that ranks right up there with just about any defenceman in the league, it's simply not the case that Doughty has a history of being snubbed for the Norris. He hasn't won yet because, at least up until last year, he's never had an especially strong case. And surprising as it may seem in hindsight, for the majority of those years, he hasn't had any case at all. That's what the numbers say, and the voters have agreed.
It's certainly possible that some of this year's voters decide that they got it wrong last year, and that sentiment coupled with some degree of Karlsson fatigue will give Doughty enough momentum to overcome the Senator star's massive offensive totals. That certainly seems to be the direction we're headed in, and the Kings are making the case loudly.
But if Doughty is going to win this year, it should at least be based on his body of work. While he's been excellent since entering the league as an 18-year-old in 2008, his lack of a trophy case full of Norris hardware isn't due to some sort of voting injustice. There's no history of near-misses and snubs here. Until very recently, the record shows that he just hasn't been good enough, and arguing otherwise is a case of revisionist history.