What's the greatest number in NHL history?
Most fans would call that an easy one. It has to be the No. 9 – that gets you Gordie Howe, Rocket Richard, Bobby Hull, Ted Kennedy and Johnny Bucyk, and we're not even out of the Original Six era. Mix in modern names like Mike Modano and Paul Kariya, and it's no contest. Sure, maybe you give some love to No. 4 (Bobby Orr, Jean Beliveau and Red Kelly), perhaps No. 7 (Phil Esposito, Howie Morenz, Ted Lindsay and a bit of Ray Bourque) or more recently No. 91 (Sergei Fedorov, John Tavares, Steven Stamkos). But in hockey, the No. 9 is iconic. It stands alone.
So since the basic version of the question is too easy, let's up the difficulty level: Which single number in hockey history would give you the best possible starting lineup? In other words, which number would yield the best group of a goaltender, two defencemen and three forwards?
Now things get a little more complicated, because hockey numbers aren't distributed evenly. For years, goalies wore No. 1, defencemen took most of the rest of the single digits, and everything starting around seven or eight went to the forwards. As time went on, other numbers – 30 and 31 especially – were carved out for goalies, meaning few position players wore them. These days, goalies are getting more creative and there's more overlap between the positions than there used to be, but still not all that much. And that makes finding the best single lineup a challenge.
For example, now No. 9 doesn't even get out of the gate – the league has never had a goaltender who wore the number. Teams No. 4, No. 7 and No. 91 are similarly out of luck when it comes to icing a full team. And Team No. 1 has the opposite problem: A ton of legendary goalies, but pretty much nothing else.
A few more ground rules before we get started:
• We'll be looking for a line of three forwards, but we won't worry too much about whether they played wing or centre.
• We'll only be able to go as far back as 1950, since that's where the hockey-reference.com jersey database that we'll be relying on cuts off. That actually works out well, since information from before then gets spotty and players (especially goalies) often swapped numbers, so we'll stick with modern times.
• This one's important: A player needs to have worn the number in more than one season, and you only get credit for what a player did when he was wearing it. You can't try to sneak Gordie Howe onto Team No. 17 or Rocket Richard onto Team No. 15 and expect to claim their whole careers.
With that settled, let the debate begin. Here are the best combinations I could come up with, beginning with the honourable mentions.
Team No. 72
Forwards: Patric Hornqvist, Erik Cole, Luke Adam
Defence:Mathieu Schneider, Alex Petrovic
Goalie: Sergei Bobrovsky
This one certainly isn't a great team, but it's a decent proof of concept for what we're going for here. These guys just barely scrape together a roster than can make our multi-season rule — even though Petrovic bailed on No. 72 once he became a regular a few seasons ago. As it is, we're left with a Vezina-winning goaltender and one all-star defenceman, but not much else.
That's not the worst way to start a team – build from the back end, and all that – but it would have been nice if Alexei Kovalev had stuck with the number for more than that one season in Pittsburgh. Ah well… here's hoping Thomas Chabot shows some loyalty once he's a full-time NHLer this year.
[snippet id=3317857]
Team No. 41
Forwards: Jason Allison, Brent Gilchrist, Nikolai Kulemin
Defence: Andrej Meszaros, Martin Skoula
Goalie: Craig Anderson
This is one of those numbers that's morphed over the years from being exclusively for depth skaters to an acceptable goalie's choice. We went with Anderson in net, but you also could have had Jaroslav Halak or Jocelyn Thibault. And while the five skaters in front of him don't seem like much to get excited about, they're probably at least a little bit better than you think – Kulemin had a 30-goal season, and Allison had some legitimately big years in the late '90s.
Team No. 34
Forwards: Fernando Pisani, Daniel Winnik, Darrin Shannon
Defence: Bryan Berard, Jamie Macoun
Goalie: Miikka Kiprusoff
That's not a bad back end. Kiprusoff was one of the league's best goalies for years (and could be backed up by John Vanbiesbrouck), while Berard and Macoun form a nice offence-first/stay-at-home pairing. There are plenty of other workmanlike blueliners to choose from, too, as No. 34 turns out to be a reasonably popular number for defencemen in the Gord Donnelly/Kurt Sauer mold.
Unfortunately, that plugger mentality extends to the forwards, so this group is downright weak up front. If they somehow made it to the playoff round, Pisani might light it up, but that seems like a longshot. So for now, the lack of talent at forward means this group aren't really contenders. Give it another season, though, and we'll see.
Team No. 32
Forwards: Dale Hunter, Claude Lemieux, Steve Thomas
Defence: Don Sweeney, Mark Streit
Goalie: Jonathan Quick
Well that certainly ends up being an interesting forward group – watch your back in the playoffs against those first two guys. (And we didn't even give them Rob Ray or Stu Grimson.)
As for the rest, the blue-line isn't great, especially since we miss out on Streit's Islander years. Quick will have his work cut out for him in goal, so here's hoping he's as good as Kings fans are always saying he is.
Team No. 39
Forwards: Doug Weight, Logan Couture, Doug Gilmour
Defence: Tobias Enstrom, Mike Lundin
Goalie: Dominik Hasek
This is basically a souped-up version of Team No. 72. It isn't deep, featuring just one Hall of Famer among the five skaters, and even Gilmour is only giving us his Flames years here. And the blue-line is a clear weakness, especially that black hole of a second spot – seriously, I almost dropped Enrico Ciccone in there.
Still, they'd have a fighting chance against any other team on our list just by virtue of having one of the best goaltenders of all time in the crease. Hasek once won a gold medal almost single-handedly, so he could help this team do some damage. In fact, it might make more sense to dress five forwards and just let Hasek fend for himself in his own end.
[snippet ID=3322139]
Team No. 29
Forwards: Nathan MacKinnon, Leon Draisaitl, Jason Pominville
Defence: Kenny Jonsson, Randy Ladouceur
Goalie: Ken Dryden
Number 29 has been considered a classic goalie's number since Dryden's days. But unlike Nos. 30, 31 or even 35, it's crossed over into the other positions often enough that we can put a reasonably decent team together.
That's about all it is – just decent – but it would be interesting to check back in a few years and see what this team would look like. The number has traditionally been the domain of depth players and tough guys, but these days it seems to be coming into fashion among some of the game's better young players. We've already put Draisaitl and MacKinnon on the team, and Patrik Laine and William Nylander will have a case in a few seasons. If we tried this exercise again in a few years, Team No. 29 just might take a run at the top five.
Team No. 40
Forwards: Henrik Zetterberg, Alex Tanguay, Marek Svatos
Defence: Mike Rathje, Kent Huskins
Goalie: Tuukka Rask
Number 40 is generally viewed as a goalie number these days, and rightfully so – we could have also gone with Devan Dubnyk here, and Robin Lehner is available as our emergency backup. But there's enough talent up front to put together a decent lineup, even if the blue-line is shaky and Zetterberg is the only true star.
Team No. 37
Forwards: Patrice Bergeron, Ryan O'Reilly, Chris Drury
Defence: Eric Desjardins, Brad Lukowich
Goalie: Olaf Kolzig
This team isn't quite as good as it looks at first glance – we're only getting the early breakout/pre-offer sheet fiasco version of O'Reilly from before he switched to No. 90, and Drury wore No. 23 in his best years in Buffalo. Still, that's a pretty good two-way forward line, and the blue-line and goaltending are both solid.
And sure, maybe you're nervous about having a longtime Capitals goalie if this team gets to the playoffs. Don't worry, if we need some magic we've also got access to Steve Penney.
[relatedlinks]
Team No. 93
Forwards: Doug Gilmour, Jakub Voracek, Ryan Nugent-Hopkins
Defence: Keith Yandle, Alexander Godynyuk
Goalie: Darren Puppa
Number 93 has two key disadvantages – it's a relatively recent number that players have only been wearing since the '90s, and it's almost always worn by forwards. Star forwards, sure, but still almost exclusively forwards.
Still, we manage to find one decent defenceman, although it's only Yandle's years with the Rangers. And we luck into a legitimate star in goal; Puppa may not have been a Hall of Famer, but he was a two-time Vezina finalist, and one of those came during his seven seasons wearing this number.
For the other blue-line spot, maybe we'll try to sneak in Petr Nedved or Mika Zibanejad in place of Godynyuk and just hope nobody notices.
Team No. 24
Forwards: Bernie Federko, Terry O'Reilly, Bob Probert
Defence: Chris Chelios, Doug Wilson
Goalie: Don Simmons
Two seasons from Simmons, including one in which he led the league in goals-against average, finds this team its goaltender. (They nearly claim Terry Sawchuk, but he only wore the number for a single season in Toronto before switching to 30.)
The rest of the roster is built around a very strong blue-line pairing, featuring Wilson's time in Chicago and Chelios' everywhere else. And we've got a reasonably good forward line that would be outright terrifying to play against. And yes, I'm giving Probert a spot over, say, Ryan Callahan or Dustin Brown. If you grew up in the Norris Division years, you'll understand.
Before we count down the top five, a few notes on a handful of near-misses:
Team No. 77: They're missing a goalie, but man would they be stacked otherwise. Victor Hedman probably can't even crack this lineup, with Ray Bourque and Paul Coffey ahead of him, and the forwards could include a combination of Phil Esposito, Jeff Carter, Pierre Turgeon and late-career Adam Oates. For some reason, 77 is the one high number that hasn't been clearly staked out by one position.
Team No. 92: They would have looked good up front, with Evgeny Kuznetsov, Rick Tocchet, Jeff O'Neill and others. They even have a goalie, Tomas Vokoun, although he falls short of our multi-season requirement. But even if Vokoun had stuck around, they would have been DQ'd for a lack of defencemen – Vladimir Malakhov is the only blueliner to ever wear the number.
Team No. 22: They'd be stacked, with Mike Bossy, Mike Gartner, Steve Shutt, Brad Park and maybe Dan Boyle to round out the starting five. And they came close to nailing down a goalie, as both Glenn Hall and Roger Crozier wore the number… but each for just a handful of games.
And now, on to our top five…
Team No. 23
Forwards: Bob Gainey, Eddie Shack, Brian Bellows
Defence: Oliver Ekman-Larsson, Alex Edler
Goalie: Al Rollins
Rollins just sneaks in, wearing the number for his first few seasons in Toronto before taking the traditional No. 1 in Chicago and New York. But one of those years was a Vezina season, so we'll happily take it.
The rest of the team fills out nicely, as you might expect from a number that's popular with both forwards and defencemen. It's not quite as stacked as some of the teams ahead of it, with just one Hall of Famer (Gainey), but it's a strong entry top to bottom. Thanks for showing up, Al.
Team No. 88
Forwards: Eric Lindros, Patrick Kane, David Pastrnak
Defence: Brent Burns, Nate Schmidt
Goalie: Andrei Vasilevskiy
Most of hockey's iconic double-numbers aren't in the running for this list. There haven't been enough 99s or 66s to fill out a roster, for example, and that otherwise loaded 77 team wouldn't have a goalie.
But Team No. 88 manages to round up enough guys … barely. You'd struggle to even fill out a second line for this team using our multi-season cutoff; our depth is basically Brandon Davidson, Peter Mueller and pray for rain. It's a bit of a top-heavy squad, is what we're saying.
But that top is as good as just about anyone's, featuring two MVPs and a Norris winner. And the team lucks into a decent goaltender who at least has some Stanley Cup Final starting experience. That's good enough to earn this team an unlikely spot in our top five.
(Now just imagine how good they'd be if this guy never switched numbers.)
No. 20
Forwards: Luc Robitaille, Bob Pulford, Dino Ciccarelli
Defence: Leo Boivin, Ryan (or Gary) Suter
Goalie: Ed Belfour
Number 20 falls into the sweet spot – it's popular with both forwards and defencemen while being low enough that it's assigned to more than just depth guys. And thanks to the influence of Soviet legend Vladislav Tretiak, it even shows up for a handful of top goaltenders.
If anything, you might expect this roster to be even better. It could be, if we loosened the requirements a bit – legends like Sid Abel, Jean Beliveau, George Armstrong and Bucyk all wore No. 20 for a few seasons, but they all had most of their success wearing other numbers.
Still, we end up with squad that features five Hall of Famers, more than any other team on this list. And you could even get it to six by swapping Chris Pronger in for a Suter, although you'd only be getting his Flyers years.
Team No. 33
Forwards: Henrik Sedin, Ziggy Palffy, Tony Amonte
Defence: Zdeno Chara, Dustin Byfuglien
Goalie: Patrick Roy
Only one current Hall of Famer has ever worn the number, but it's the guy you want to build a team around in Patrick Roy. Sedin and Chara will be joining him in the Hall someday soon, so our core is a strong one. The other two forwards aren't quite as impressive as they look, though – we're only getting Amonte's Ranger years and Palffy's Kings and Bruins stints.
Still, that's two 30-goal scorers alongside one of recent history's best playmakers. And with two giants on the blue-line and Roy in goal, we're guessing this team won't have to score much to win. They're just about the strongest team you can put together… except for one.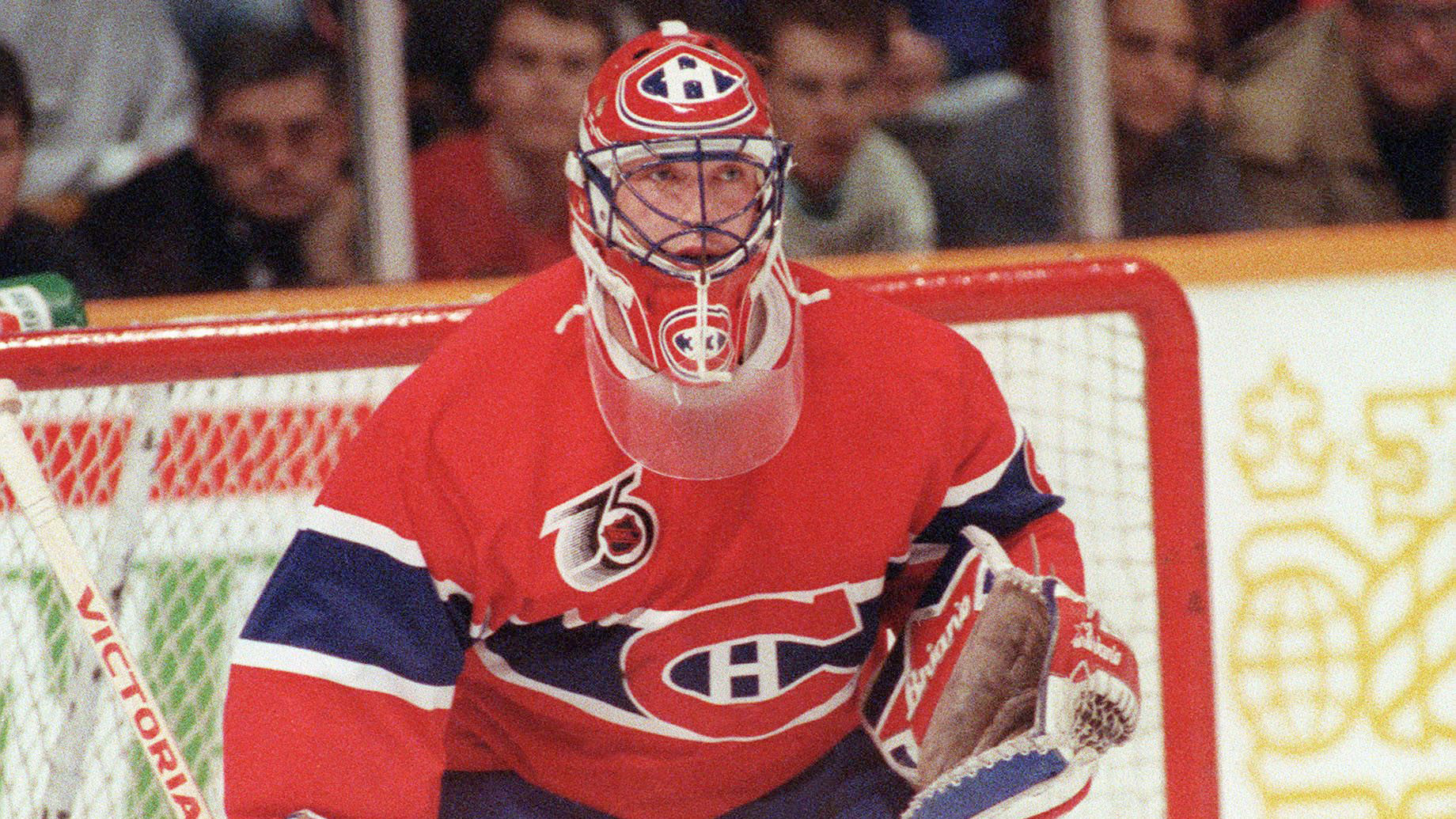 Team No. 27
Forwards: Frank Mahovlich, Darryl Sittler, Jeremy Roenick
Defence: Scott Niedermayer, Alex Pietrangelo
Goalie: Ron Hextall
Number 27 has generally been considered a forward's number, and we've left a few good ones off the team, including Alexei Kovalev and Reggie Leach. The second blue-line spot was tricky, coming down to a pair of current stars in Pietrangelo and Ryan McDonagh, with Dougie Hamilton and Justin Faulk maybe a few years away from joining the discussion.
Add it all up, and this team features two Hall of Fame forwards and one of the better two-way defencemen ever, so they'd score a ton – heck, even the goaltender was known for putting the puck in the net. That's good enough for them to take top spot in a hard-fought battle over Team No. 33.
(Now as for which of those teams would win the inevitable goalie fight …)