We're still waiting on an Erik Karlsson deal. We're still told that the Lightning and Stars are the frontrunners, but the rumour mill has largely gone cold and a deal no longer seems imminent. Some reports now suggest that Pierre Dorion could even end up holding on to Karlsson until training camp, if not beyond.
As far as the Senators and their fans go, no news may feel like good news. After all, conventional wisdom says that this is a trade they just can't win.
For one, there's the old adage about the team that gets the best player winning the deal, and that will be Karlsson. But more importantly, it's always been clear that the Senators are dealing from a position of weakness. They don't want to trade their captain, but they might have no choice. And as the old saying goes, when the league knows you're drowning, other teams start throwing anchors instead of lifejackets.
We've seen it plenty of times in NHL history, and the team that's forced into dealing a star typically gets taken to the cleaners. Think of Montreal trading Patrick Roy to Colorado, or the Oilers sending Mark Messier to New York, or the Flames all but giving Doug Gilmour to Toronto. Those ended up being some of the most lopsided deals in NHL history, but the teams making them didn't have much choice. That's the sort of situation the Senators may be headed towards, and it always ends in misery.
Well, almost always. Because while it's rare, there have been some cases in NHL history where a team was forced into trading away a superstar and actually ended up doing well on the deal. So today, let's offer up some optimism for Ottawa fans by looking back at six times that a team was backed into a corner and still found a way to come out even, or even ahead – and what the Senators could learn from them.
Eric Lindros to Philadelphia, 1992
The setup: We'll start with the most obvious example, and a blockbuster that reminds us that sometimes the best player in a trade doesn't end up being who you might think.
When the Nordiques drafted Lindros in 1991, they thought they'd landed their franchise player. Lindros was the most hyped prospect to enter the league since Mario Lemieux, and was viewed as a sure-thing superstar. But he didn't want to play in Quebec and went back to junior rather than sign a contract with the Nordiques. The team tried to play hardball, but after a full year had passed it became evident they'd have to make a trade.
The trade: This gets a little complicated, since the Nordiques actually ended up trading Lindros twice. They agreed to separate deals with both the Rangers and the Flyers, and it took a hearing in front of an NHL arbitrator to figure out which deal would stand. After five days and 11 witnesses, the ruling came down: Lindros was headed to Philadelphia, in exchange for Ron Hextall, Steve Duchesne, Kerry Huffman, Mike Ricci, the rights to Peter Forsberg, two first-round picks and cash.
The result: While he wasn't the next Lemieux, Lindros came reasonably close to living up to the hype. He won a Hart Trophy in his third season, and eventually made the Hall of Fame despite an injury-riddled career. But the Nordiques may have got the best player in the deal in Forsberg, and the rest of the haul helped them make a quick transition from laughingstock to Cup contender.
(For what it's worth, the Flyers would end up being backed into an unwanted trade of their own in 2001, when Lindros sat out an entire season to force his way out of town. That deal ended up being a bust.)
The lesson: With all due respect to Karlsson, it's hard to imagine a player ever having as much trade value as the 19-year-old Lindros did, so the Sens won't be getting anywhere close to that sort of windfall. But they do seem to be following one key page from the Nordiques' playbook by working to create a bidding war between two teams. If Dorion can maneuver the Stars and Lightning into an auction, he may be able to extract enough value to make the move work out. Just, uh, don't pull the trigger on both deals at the same time.
[relatedlinks]
Adam Oates to Washington, 1997
The setup: Oates had an interesting career, bouncing around the league over the course of nearly two decades and eventually playing for seven teams. After becoming a star with Brett Hull on his wing in St. Louis, he went to Boston and teamed with Cam Neely on the way to a career-year in 1992-93; his 97 assists that year were the most ever recorded by someone other than Wayne Gretzky, Mario Lemieux or Bobby Orr.
But by 1997, the Bruins hadn't won a playoff series in three years and were on their way to one of the worst seasons in their modern history. And Oates had had enough, unleashing a memorable tirade after a last-second loss to the Avalanche. He accused management of failing to bring in enough talent and ownership of being cheap – let us know if this rings any bells, Sens fans – and he capped it all off by saying "We're getting worse every year."
While that was true, Oates had violated the unwritten rule against making those sorts of complaints public. The Bruins stripped of him of his alternate captaincy and started actively shopping him.
The trade: The Bruins traded Oates along with Rick Tocchet and Bill Ranford to the Capitals, in exchange for Jim Carey, Anson Carter and Jason Allison.
The result: It was a classic rebuilding trade for the Bruins, with Capitals GM David Poile shifting into win-now mode after a disappointing season. It didn't work in the short-term; Oates initially refused to report without a new contract, the Caps missed the playoffs, and Poile lost his job. But one year later, Washington went to the Cup final for the first time.
At the time, Carey seemed like the main piece coming back to Boston; he was just 22 and had won the Vezina the year before. But he was a bust in Boston, and was out of the league entirely by 1999. (According to some reports at the time, the Bruins were offered Olaf Kolzig but decided on Carey instead.) Carter fared better, turning into a 20-goal scorer and going on to a long career.
But the big catch ended up being Allison. The 21-year-old had just 29 career points in parts of four NHL seasons, but he blossomed into a front-line player as a Bruin. He had 83 points in his first full season in Boston, and a career-high 95 in 2000-01.
The lesson: You don't have to hit on every young player to feel good about a trade and can even whiff completely on your blue-chip piece – as long as you make up for it by finding a future all-star.
[snippet id=3816507]
Dale Hawerchuk to Buffalo, 1990
The setup: At the time the best player in the Jets' NHL history, Hawerchuk had put together nine productive seasons in Winnipeg including winning the Calder and finishing as the Hart Trophy runner-up. But a rift with Jets GM Mike Smith had festered, and Hawerchuk ended up asking for a trade.
The trade: The Jets sent Hawerchuk and a first-round pick to the Sabres for Phil Housley, Scott Arniel, Jeff Parker and a first.
The result: This ended up being one of those trades that worked out reasonably well for both teams. Hawerchuk was very good in Buffalo, putting up four straight seasons between 86 and 98 points. For his part, Housley was a Norris finalist in his second year in Winnipeg and then racked up an eye-popping 97 points in 1992-93, which still ranks as one of the best offensive seasons from a blueliner in league history.
But the real key to the deal for the Jets was that swap of first-round picks. Winnipeg actually ended up moving down in the exchange, but they used their pick on Keith Tkachuk, who'd score over 300 goals in nearly a decade with the franchise. (In case you're wondering, the Sabres used their pick on Brad May.)
The lesson: Any Karlsson trade will presumably involve a first-round pick or two. Hitting on those can save the deal for the Sens, even if we may have to wait before we realize it.
[snippet ID=3322139]
Jaromir Jagr to Washington, 2001
The setup: Jagr was easily the game's most dominant offensive force, having won four straight Art Ross trophies. But the Penguins were facing a financial crisis, having already gone through a bankruptcy and facing an uncertain future. With Jagr making a reported $10-million a year, the Penguins just couldn't afford him.
As you'd expect, having the league's best forward hit the trade market sparked a major bidding war, with the Rangers, Kings and Stars all making their pitch. But it was the Capitals who came up with an offer the Penguins couldn't refuse.
The trade: The Pens sent Jagr to Washington for prospects Kris Beech, Ross Lupaschuk, Michal Sivek.
The result: In one sense, this is the rare trade where everybody lost. Jagr's production fell off a cliff in Washington, and less than three years later the Caps were shipping him to the Rangers in a straight-up deal for Anson Carter. To this day, the Jagr-in-Washington era is one of those "let's never speak of this again" things.
But the Penguins didn't really fare any better. All three prospects ended up being busts, combining to score just 13 goals in Penguin uniforms. Pittsburgh basically traded the league's top scorer for nothing.
So how does this deal wind up as a positive for Pittsburgh? Because Jagr's absence allowed them to hit rock bottom over the next three years. That landed them three top-five picks, which they turned into Ryan Whitney, Marc-Andre Fleury and Evgeni Malkin. More importantly, those three terrible seasons gave them the league's best odds in the 2005 Sidney Crosby lottery. When the ping pong balls bounced their way, the groundwork for three more Cups (and counting) had been laid. And none of it would have happened if they hadn't traded Jagr for a handful of magic beans.
The lesson: While we'll all declare winners and losers on a Karlsson deal the moment it happens, sometimes the long-term impact can take years to come into focus.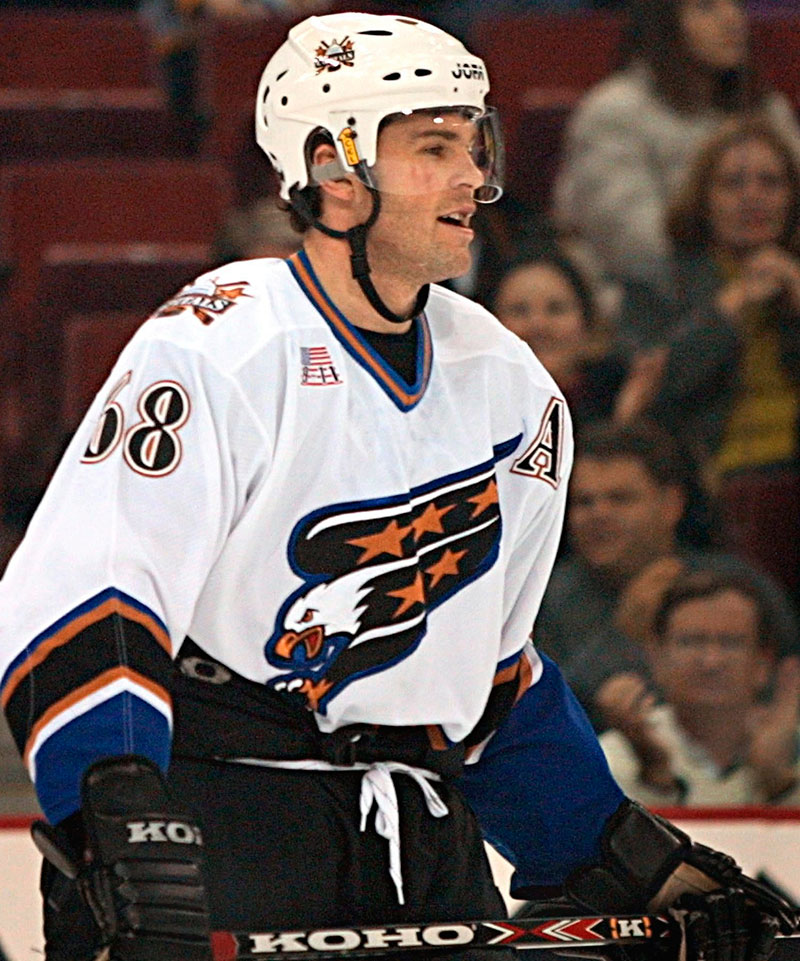 Denis Savard to Montreal, 1990
The setup: Savard had established himself as one of the game's top centres over the course of a decade in Chicago, racking up five 100-plus point seasons along the way. But he was facing a problem that more than a few NHL stars have run into over the years: Mike Keenan.
The notoriously combative coach had been making life difficult for Savard, and the rift had become public during the 1990 playoffs. The two butted heads, Savard was occasionally benched, and depending on which version of the story you believe, Keenan may even have kicked his franchise player out of the team hotel.
The Blackhawks still made the conference final, but by the time their run ended it was clear somebody was going to have to go. That ended up being Savard.
The trade: Chicago sent Savard to Montreal for 28-year-old former Norris winner Chris Chelios and a second-round pick.
The result: Savard had some decent moments in Montreal, but his production fell off to the point where he was a healthy scratch for much of the Canadiens' 1993 Cup run. His stint as a Hab lasted just three seasons, and after a detour in Tampa he finished his career back in a Keenan-less Chicago.
Meanwhile, Chelios had reportedly been causing headaches of his own in Montreal, but continued to dominate on the ice in Chicago. He won two Norris Trophies as a Hawk and was a finalist for two more before being dealt to the Red Wings in 1999 and going on to one of the longest careers in NHL history.
The lesson: No matter what you do, never trade a 28-year-old former Norris winner.
Wait, that probably doesn't make Senator fans feel any better. OK, let's close with one that will put smiles on some faces in Ottawa, as we look back on a disgruntled centre who was traded for young players and a high draft pick.
Matt Duchene to Ottawa, 2017
No! Not that trade involving a centre! Good lord, we're trying to cheer up Senator fans, not pour salt in their wounds. Let's go to the other Ottawa deal featuring a disgruntled centre being traded for young players and a high draft pick.
Alexei Yashin to New York, 2001
The setup: That's better.
Yashin had been the modern Senators' first real star and had finished as the Hart runner-up in 1998-99. But as far as he was concerned, that entitled him to a big raise, and when the Senators didn't offer one, he went home. He sat out the entire 1999-2000 season, which he believed was the last one left on his contract.
And it was… or it would have been. The Senators argued that because Yashin didn't play, he still owed them one more year. An arbitrator agreed, forcing Yashin back to Ottawa for the 2000-01 season. He sulked his way through that final season, but it was clear he'd never play another game for the Senators once his deal was officially up. The Sens had no choice but to trade the rights to their franchise player.
The trade: At the 2001 draft, the Senators sent Yashin to the Islanders for the second overall pick, young defenceman Zdeno Chara, and forward Bill Muckalt.
The result: Yashin got a massive new contract from the Islanders, then saw his production flatline. He was eventually bought out, and his deal only came off the Isles' books a few years ago.
Meanwhile, the Senators used the second pick on Jason Spezza, who quickly developed into a 90-point centre. That alone would have been enough to score the trade as a win, but they also landed Chara, at the time a big but raw blueliner who was viewed as a project. It's fair to say the project turned out well, and he developed into a Norris candidate in four seasons in Ottawa.
As for Muckalt, his Senators resume involved the rare feat of going a full season without scoring a single goal. Nobody cared, and to this day the trade that was spawned by the seemingly no-win Yashin situation stands as the best the Senators have ever made.
The lesson: If possible, the Senators should try really hard to trade Karlsson to Mike Milbury.