Raise your hands if you thought this would be the matchup in the Stanley Cup Final this season. Put those hands down, you liars.
It's true that both the Washington Capitals and the Vegas Golden Knights won their divisions, so you can't rightfully call them underdogs, but they kind of were anyway, right?
The Capitals came into this season with an objectively weaker roster than last season after losing Marcus Johansson, Justin Williams, Kevin Shattenkirk, and Nate Schmidt, while the Vegas Golden Knights are an expansion team. Yet here they are, against all odds, one of them about to win their first Stanley Cup in franchise history.
What's interesting about these two teams making it this far is they generate scoring chances in a remarkably similar style, at almost the same rates at 5-vs-5. The Capitals create 24.2 scoring chances per hour at 5-vs-5, while the Golden Knights create 24.3, meaning they're putting up nearly identical offensive numbers in total, but let's break it down to see how that offence comes about.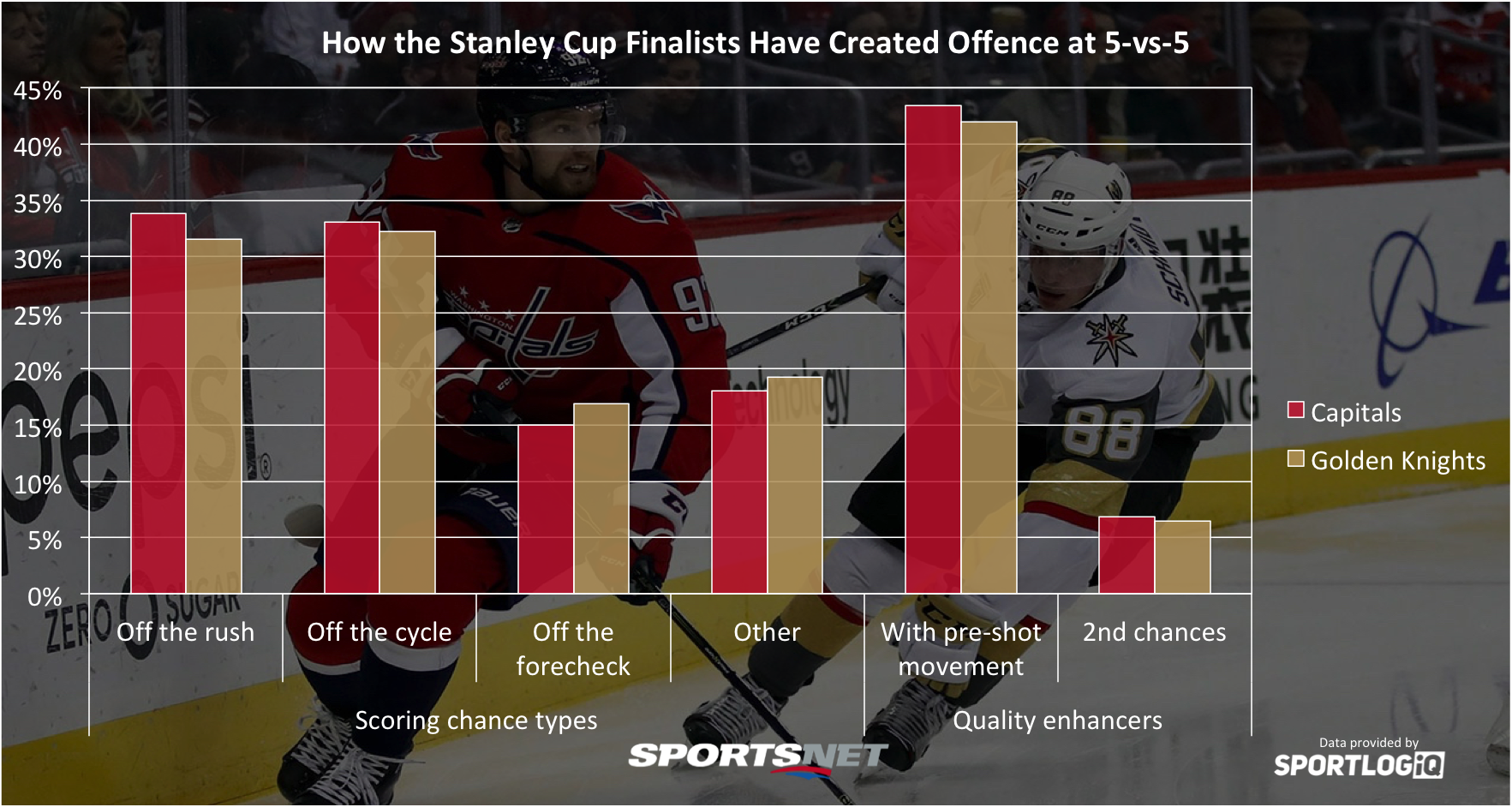 There are some slight difference in how each team generates its scoring chances, with the Capitals leaning a bit more on rush and cycle chances, while the Golden Knights are better off the forecheck, but it's remarkable how similar these two teams are, generally within 1 per cent of each other in each category.
The Caps being a bit better off the rush, creating a bit more pre-shot movement, and a tiny advantage in getting rebound chances leads me to believe they have the advantage offensively when things are even. They also have more weapons that can score from a distance than Vegas, especially that guy named Alex Ovechkin, who might be the best performing player remaining in the playoffs not named Marc-Andre Fleury.
Defensively though, there starts to be a bit more separation in not only how much offence is allowed by each team, but what each team is good at defending. The Capitals have allowed 21.9 scoring chances against per hour at 5-vs-5 in the playoffs, while the Golden Knights have been a bit better with a playoff-low 19.2 scoring chances allowed per 60.
Obviously that has contributed to Fleury's playoff-high save percentage of .947, but it doesn't account for all of it.
Defensively, the biggest contribution the Golden Knights have made to Fleury's save percentage has been to limit scoring chances against off the rush. No team is even close to their efficiency in this area in the playoffs, as they allow a full chance fewer per 60 than the next best team, just 4.11 against per 60 minutes in total.
The Capitals are no slouches in that department though, allowing the third-fewest rush chances of any team in the playoffs, so we're going to have a battle of the two best teams off the rush offensively, against two of the best three teams in defending off the rush.
The Capitals are a bit more vulnerable to being hemmed in their own zone off the cycle than the Golden Knights, while Vegas is a bit more vulnerable off the forecheck.
Surprisingly, both teams have allowed a lot of pre-shot movement in their scoring chances against, and the Golden Knights have been a little weak on collecting rebounds in front of Fleury, forcing him to make a lot of big saves on second-chance opportunities, which is where you really have to tip your hat to him.
This series reminds me a little bit of the matchup between the Jets and Predators, where each team was good at defending the other's main offensive strengths and led to some weird games and a long series. It's going to be interesting to watch the transition battle in this one to see which team is more effective at attacking off the rush, because that's where both have excelled most in these playoffs relative to their competition.
While the Capitals have a bit of an advantage in quality offence, the advantage the Golden Knights have defensively is a bit more significant, and as great as Holtby has been at times, it's been exceedingly rare for Fleury to have an off period, let alone an off game.
Because of that, I'm leaning Golden Knights in this one, but I can't say I'm confident in that prediction.