The Montreal Canadiens wrapped up their season on Hockey Night in Canada against the Toronto Maple Leafs with a loss. They'll now be forced to watch one of their oldest rivals brimming with confidence and loaded with talent head into the playoffs, as the Habs themselves carry out end-of-season interviews and are likely all too happy the season has ended.
It was a disaster of a season dating all the way back to the pre-season. But similar to the last time they bottomed out and missed the playoffs, not everything is pointing to the Canadiens being stuck in the basement for next year.
With that in mind, let's take a look at the good, bad, and ugly of this season for the Canadiens.
The Good
It's tempting to just post a picture of Brendan Gallagher here and say "next," and that might be a fairly accurate representation of the best of this Canadiens' season. But there are a few positive things team-wide that deserve some attention.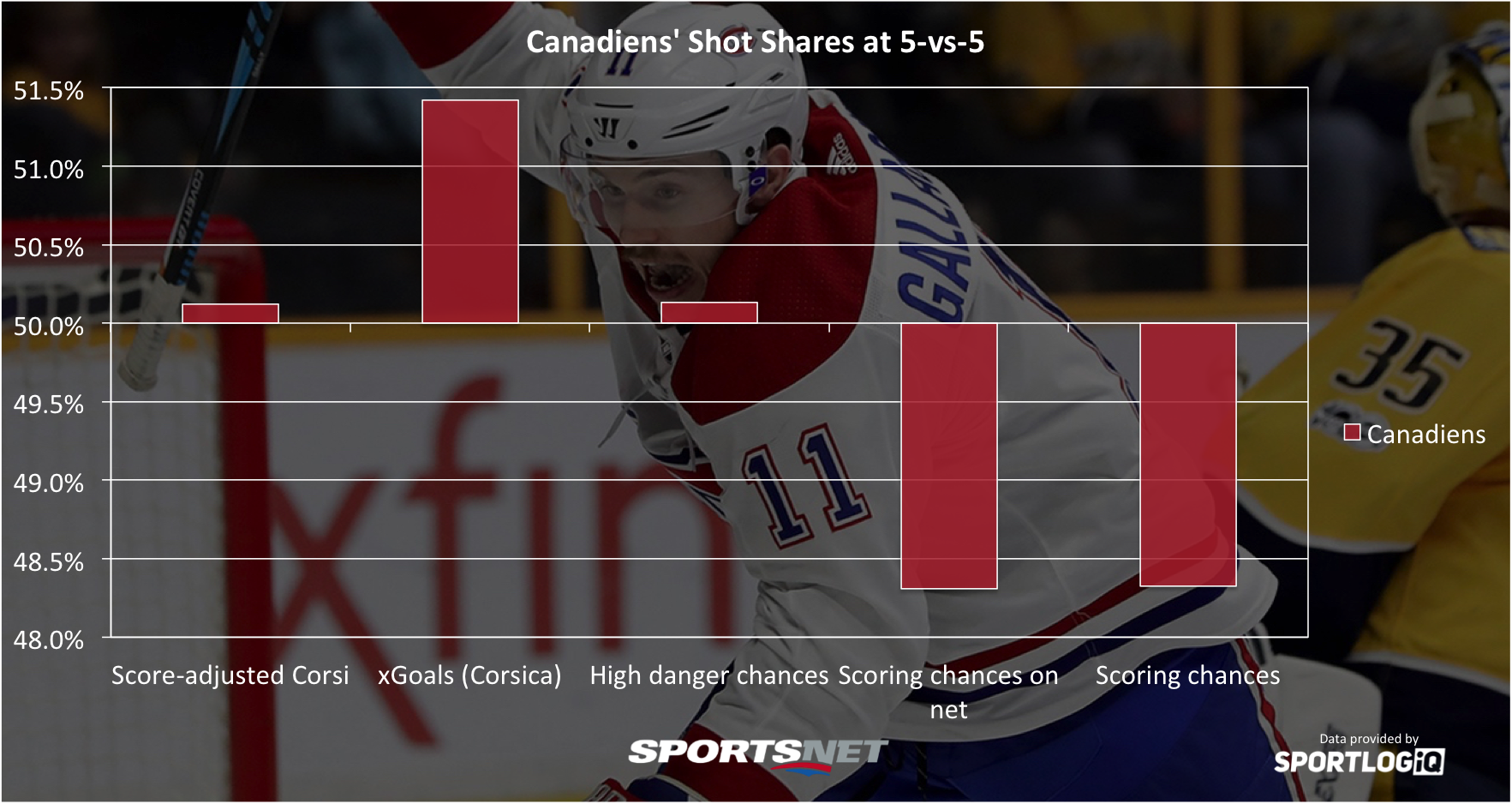 Looking at the Canadiens' shot shares this season, it's important to note they were running on fumes for the last two months as the team has lost some of their most important play drivers long term.
Even if you limit it to just losing Shea Weber for nearly 60 games, and Max Pacioretty for the last 18 of the season, teams without their top forward and top defenceman tend to fall to pieces in the possession game. Yet, the Canadiens hovered in respectable territory at 5-vs-5, only in the negatives in scoring chances on net and scoring chances.
That's a good sign going forward that this is a team, despite many weaknesses, that can at least compete on any given night once their roster is back to being healthy.
Gallagher, Artturi Lehkonen, and Phillip Danault are a trio of underrated, young play drivers at 5-vs-5 who have, along with Jeff Petry, kept the Canadiens afloat down a dismal stretch to end the season.
The Bad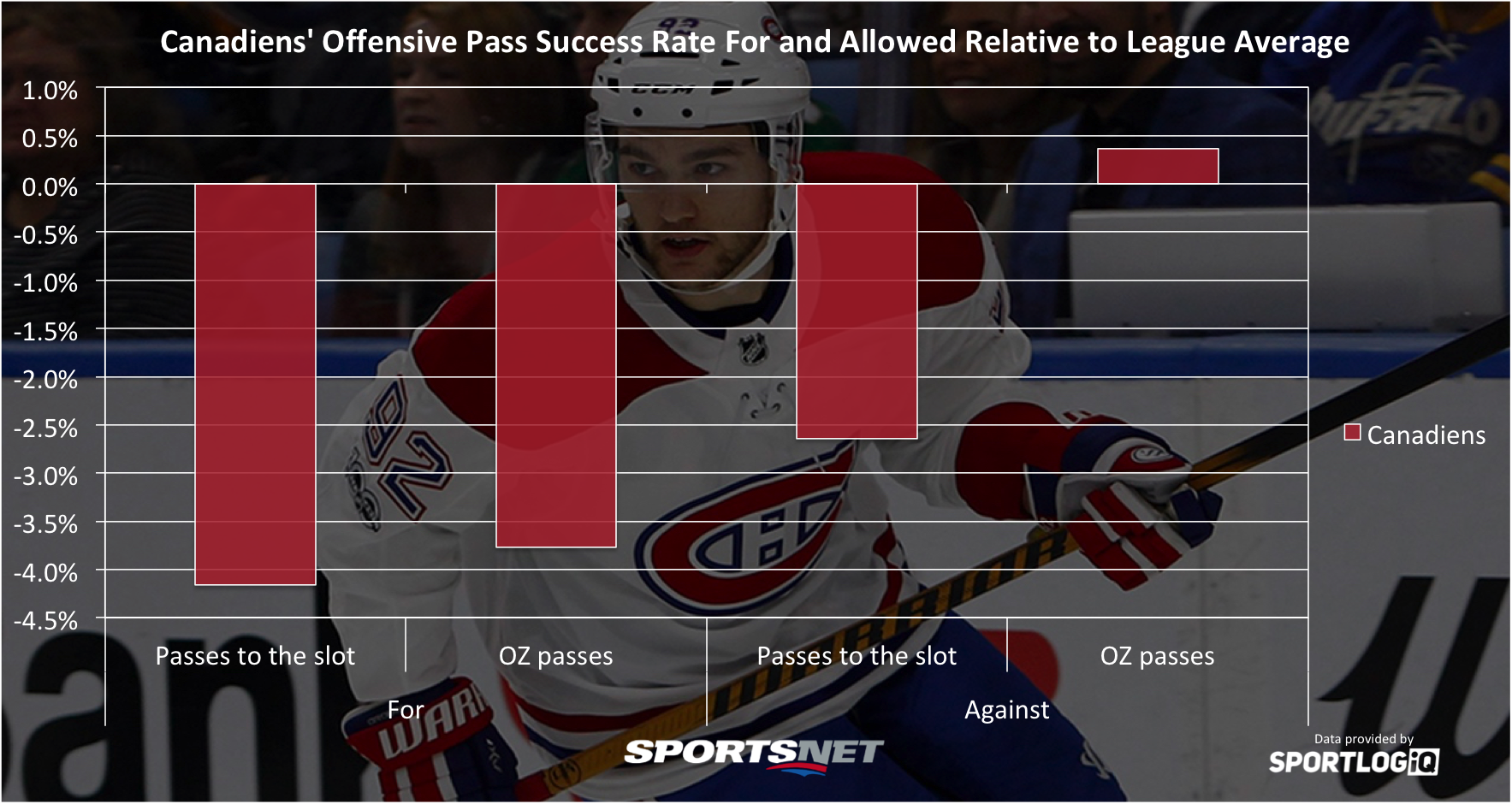 It's been a very long time now that the Canadiens have struggled to move the puck with passes into dangerous areas. To put these numbers in context, the Canadiens have the lowest offensive zone pass success rate in the NHL, the second-lowest pass to the slot success rate, and the second-highest pass to the slot success rate against.
That lethal combination of being exceedingly poor at penetrating the slot with passes, while also extremely poor at defending those same passes, has lead to tons of games over the last few years where the Canadiens outshoot and seemingly outchance their competition, but get outscored because their opponents were able to generate pre-shot movement and they weren't.
The best example of that is last year's first-round matchup against the New York Rangers. In shots and scoring chances, the Canadiens blew up the Rangers in that series. But they couldn't move the puck East-West, and Henrik Lundqvist was able to stay set for a huge majority of their scoring chances, and he dominated the series for the Rangers.
At the other end, Carey Price played an admirable series with a .933 save percentage, but the Rangers' ability to pick apart the Canadiens defence with passes led to far too many backdoor plays for him to overcome. Montreal lost in six games.
[snippet id=3974919]
To Marc Bergevin's credit, he tried to address this issue in the off-season by trading for Jonathan Drouin, adding a depth playmaker in Ales Hemsky, and he thought Karl Alzner was a defensive stalwart to help the defensive issues. Alzner was a miscalculation, Hemsky barely played and looked done when he did, and Drouin was forced out of his natural position due to a positional weakness in the roster.
Offensively, those low pass success rates likely come down to the centre position, at least in part. Drouin does a good job producing those passes. But despite his other strengths, Danault is not a playmaker and no one else on the Habs roster who played centre this year is an NHL centre of any offensive impact.
From the wing, the Canadiens are loaded with shoot-first players like Gallagher, Pacioretty, Lehkonen, Shaw, and Byron, with only two wingers being above average playmakers in Alex Galchenyuk and Charles Hudon. That's a balance that will need to be corrected if they want to unlock the most offence they can from this roster.
Defensively, the Canadiens have some players like Weber and Petry who are actually very good away from the puck, but they have a specific weakness in stopping passes into the slot.
Weber isn't as exploitable there as Petry, but neither are great at stopping those passes. You may have guessed it, but centres typically have a big impact on stopping those passes into the slot as well.
While Bergevin is likely dreaming of John Tavares, one player likely isn't enough to tip the scales for the Canadiens up the middle. They need three centres, with only the third line slot currently filled adequately by Danault.
The Ugly
There's no graphic needed for this one, it's Carey Price. Whether it's lingering injury, or the reported exhaustion he suffered from all season, the Carey Price we're all used to seeing didn't show up this year for any significant stretch.
Price didn't string together four straight starts of above league average save percentage at any point in the season, and he's looked wrong the whole campaign.
Typically the best skating goalie in the league, Price was betrayed by his skating all year, fell on shots that should be easy, failed on his side-to-side pushes and was caught out of position because of it.
[snippet id=3918715]
The lucky part for the Canadiens here is that it's unlikely Price will repeat this next season. There have been a few out there who propagate the idea that cumulative injuries have worn Price out early in his career, but he did not suffer any major injury this season that would have contributed to that, and he struggled right out of the gate.
If Price had looked this off last season after missing almost a full year due to injury, that might make some sense. But he was excellent last season, posting the second-best goaltender performance in the league.
The Canadiens' problems aren't about to be easily solved, but they're not quite as doomed next year as they've looked on the surface. The problem is they don't look capable of being a true contender, but a draft lottery could change that.
[relatedlinks]