There are plenty of trade rumours surrounding Calgary Flames defenceman Dougie Hamilton right now.
His ice time has picked up, he's playing on the first pairing with Mark Giordano, and Flames President of Hockey Operations Brian Burke claims there's nothing to the rumours — yet that hasn't stopped them from swirling.
The speculation around a potential Hamilton trade has brought up the question of what he's worth, specifically because he is a player that looks extremely strong analytically but one that Flames coaches haven't really trusted for most of his time in Calgary.
This season, he has been getting the fourth most ice time among Flames defencemen behind Giordano, T.J. Brodie and Dennis Wideman, and is skating just under a minute more than fifth-place Deryk Engelland — a player who is nowhere close to Hamilton's talent level. To compare, last season Hamilton got the fifth-most ice time on the team, with Kris Russell also ahead of him.
Hamilton didn't crack the top 20 when I ranked the NHL's best defencemen according to a variety of statistics, but landed at No. 37 in the league. That makes him an elite No. 2 guy, similar to Marc-Edouard Vlasic, Jeff Petry, and Morgan Rielly.
Hamilton's strengths lie in his offensive and transition ability, while he's a bit below average on the defensive side of the puck.
That would suggest that trading Hamilton would demand a king's ransom, but we have to look at the details too. So, how good has Hamilton actually been this year?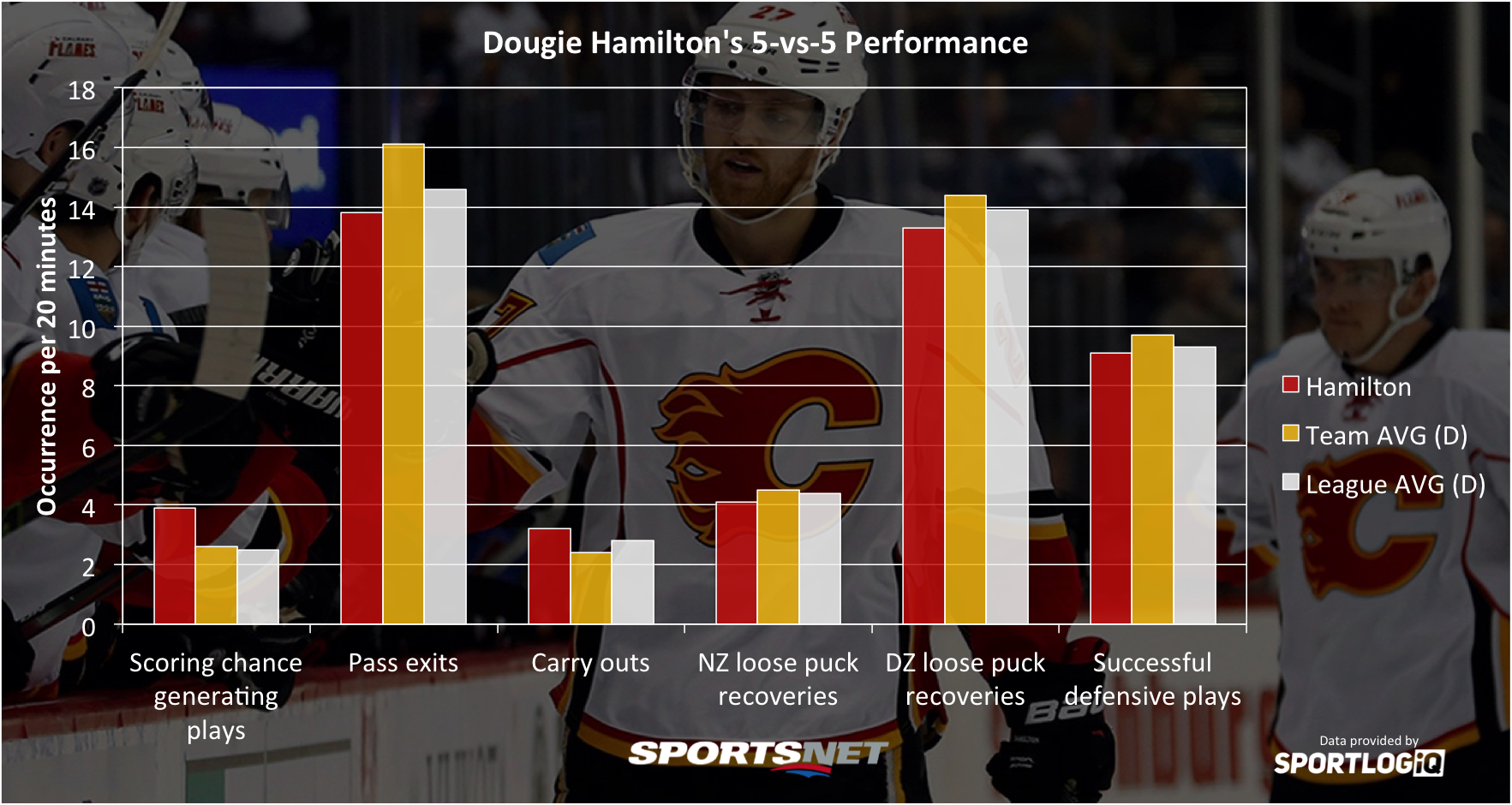 Hamilton has been above average in terms of generating offence, which would be expected with his team-leading (among defencemen) seven primary points at even strength. However, he has been below his personal expectations in a variety of areas.
Hamilton excels in skating the puck out of danger. His passing ability is likely the best on the Flames' defence, yet he hasn't been using it to exit the zone as frequently as his peers. Similarly, he's not getting on loose pucks very often, or stripping pucks from opponents.
Not everything is down for Hamilton, though. He is actually the top rearguard on the Flames in both raw Corsi at 53.75 per cent and score-adjusted Corsi at 53.16 per cent, and has the highest expected goal differential among defenders at 51.5 per cent according to Corsica.Hockey.
Unfortunately, while he has been on the ice this season, the Flames have only controlled 43.75 per cent of the goals — leading to Hamilton taking a lot of flack.
It's possible that his play is partially responsible for the low goal differential, but it's unlikely one player — especially one so talented — could make that much of a negative impact while maintaining top-end shot attempt differentials over a long period. In other words, there's some bad luck here.
Another possibility for Hamilton is that he simply didn't mesh well with Jyrki Jokipakka. The two of them were about even in Corsi together at 50.6 per cent, but were outscored 6-3. Since Hamilton has been paired with Giordano, the Flames' top pair has controlled 57.1 per cent of all shot attempts and outscored opponents 5-1.
Giordano being one of the NHL's premier defencemen does mean that Hamilton could be getting carried a bit, but he also faces the toughest matchups, so there's more responsibility as well.
My read on Hamilton is that despite slow starts defensively this year and last season, he has maintained the performance level of a top-end No. 2 defenceman throughout his career.
The Flames seem to have the right idea in challenging him to be better instead of punishing him, and if they do trade him, they'd better get something big.