Toronto Maple Leafs star Auston Matthews got a tattoo so, obviously, it's huge news in the hockey world. The Calder Trophy frontrunner now has emblazoned on his right arm a giant lion wearing a crown.
A tattoo artist named Bubba Irwin based out of Scottsdale, Ariz., where Matthews grew up, posted photos of Matthews and his new ink on Instagram late Monday and they began making the rounds online Tuesday.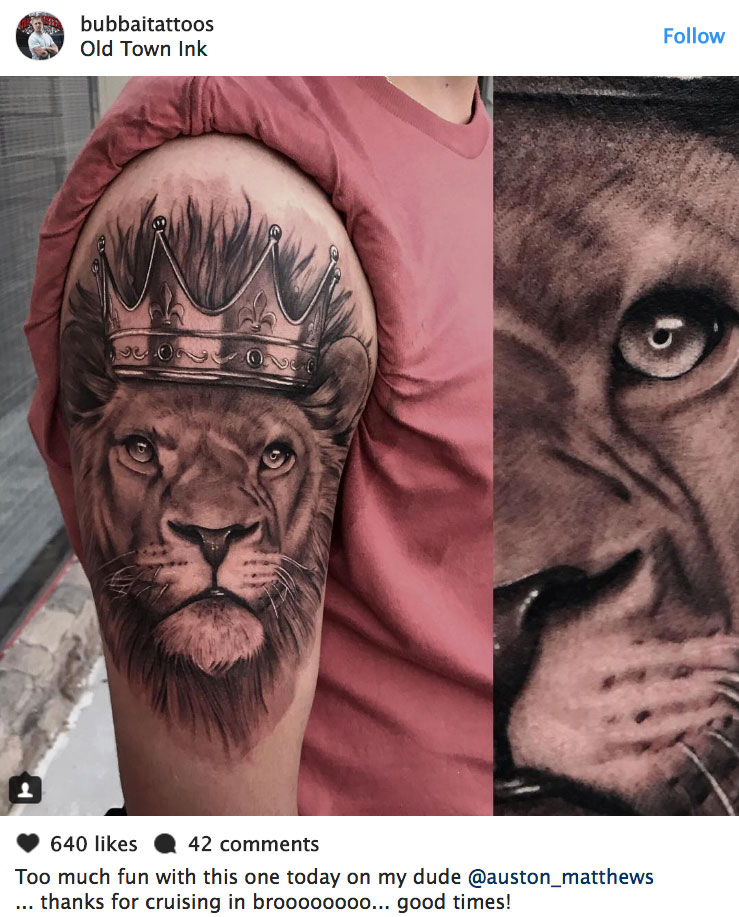 We can't confirm if this is his only tattoo but it sure is his "mane" one.
Now, the art may represent something very personal to the 19-year-old or could simply be something he thought looked cool.
Nevertheless it raises many important (read: not important whatsoever) questions, like is there a lion out there in the world with a giant Auston Matthews tattoo on their arm?
Might he be considering a return to the Zurich Lions, the team he spent the 2015-16 campaign with prior to being drafted first overall by the Leafs?

(Sparta Prague/Champions Hockey League/Getty)
Was he trying to steal Josh Donaldson's thunder? The Toronto Blue Jays star told Toronto Life he planned on getting a giant image of a lion wearing a crown except Donaldson wanted it on his chest.
Maybe he's a huge fan of Mufasa and/or Simba from The Lion King, or Aslan from The Chronicles of Narnia. Or, is he paying homage to Bailey, the Los Angeles Kings mascot?
So Auston Matthews got a @BaileyLAKings tattoo today….. #gokingsgo
Bailey certainly thinks so.
Honored @AM34 got a tattoo of me on his arm. Don't tell Carlton
Stay tuned to Sportsnet throughout the off-season for updates on this developing story.