The greatest single-game comeback in the history of the Anaheim Ducks begs a lot of questions, none more pressing than, "What the flock is a flappetizer?"
In a very important standings battle with the San Jose Sharks for the Pacific Division crown, the Ducks seemingly buried themselves 4-0 at home to the flightless Winnipeg Jets.
But when the tide shifted at the 17:44 mark of the second period — Nick Bonino scored — the Ducks piled momentum on top of momentum and stormed back for the greatest comeback in franchise history.
Anaheim outshot the Jets 25-6 in the third period. Corey "Clutch" Perry tied the game with a scant 22.7 ticks on the clock, and new guy Stephane Robidas scored 16 seconds into overtime, as the Ducks rallied from four goals down to defeat the Jets 5-4.
Five unanswered goals in the span of 22 minutes and 32 seconds.
"You're down 4-0 and you come back 4-4, now the pressure is on the other team because they gave up the lead," Robidas told reporters. "We just tried to play our game, and I got lucky and it went in."
The Ducks (106 points) now lead the Sharks (103) in the divisional race, plus they gave a game in hand.
Adding deliciousness to triumph, the Honda Center crowd not only witnessed a never-been-done, they also won a free flappetizer from a place that uses sex to sell chicken: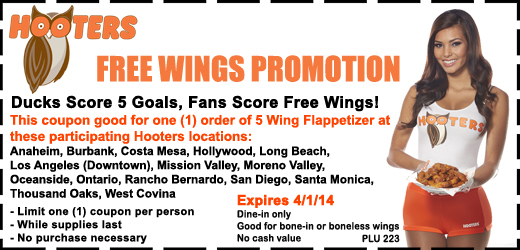 Winnipeg Jets coach Paul Maurice talks about what went wrong: