It's official. The Manitoba Moose have returned to the American Hockey League and they're sporting a sleek, new look.
Back in March the Winnipeg Jets announced its AHL affiliate, the St. John's IceCaps, would be relocating to Manitoba and return to the MTS Centre. At a press conference Monday, True North Sports & Entertainment confirmed the team would be rebranded as the Moose.
---
STANLEY CUP PLAYOFFS: | Broadcast Schedule
Rogers GameCentre LIVE | Stanley Cup Playoffs Fantasy Hockey
New Sportsnet app: iTunes | Google Play
---
"We are thrilled to have the opportunity to bring the American Hockey League back to Winnipeg," True North chairman Mark Chipman said in a press release. "Given the support that our fans have demonstrated for the American Hockey League and Manitoba Moose in the past, coupled with the interest our fans have in our Winnipeg Jets prospects, we have no doubt there will be a strong interest in our season seat campaign. It is with great anticipation that we look forward to showcasing the future Winnipeg Jets in an AHL environment, right here in Winnipeg."
The Moose were active from 1996 to 2011 in both the IHL and AHL — when they were the Vancouver Canucks affiliate — before being relocated to St. John's when the Atlanta Thrashers became the Jets.
With the Jets thriving in the NHL once again, passion for hockey in Manitoba is at an all-time high.
With a new team comes a new design, which, outside of the colour scheme, isn't too different from the old look. The new logos were modified by the original designer, David Mann.
It is quite different than this gem, though.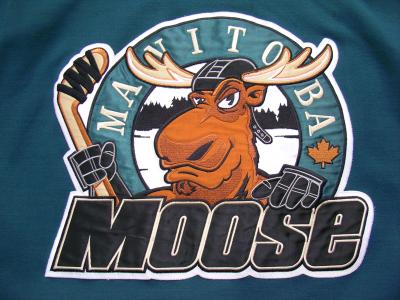 Forwards J.C. Lipon and Scott Kosmachuk were on hand at the press conference Monday to show off the new jerseys. As you can see, fans will have no difficulty seeing which NHL team the Moose are affiliated with.
---


Download Sportsnet magazine now: iOS | Android | Windows
---
Fans in St. John's aren't being left without a team however, because the Montreal Canadiens affiliate, Hamilton Bulldogs, are moving to St. John's and will be named the IceCaps.