The NHL season and the Academy Awards have basically nothing in common. One involves people getting dressed up to battle each other for one of the greatest trophies on the planet.
And the other is hockey.
Despite these differences, the NHL season does produce storylines and characters seemingly cut straight from Hollywood. This cast of characters help keep things fresh during the long season. Without them, the NHL would be just as boring as the second hour of the Oscars.
We at Sportsnet decided to award some of the best performances from this season with their own Academy Awards. The following winners really do represent the cream of the crop of NHL entertainers.
Best Actor in a Leading Role — Joseph Blandisi, New Jersey Devils
Every award has challengers, but Blandisi is a superb actor who puts his opponents to bed with his performances. Just look how he flops around. You can't teach this stuff.
Now most talented actors are what's known as one and done performers. Think Nicholas Cage, who won the Oscar in 1996 and really hasn't made a good movie since. Well Blandisi is not that guy. Less than a week after his first win, he comes back with an even more incredible performance. Talk about talent.
Blandisi did apologize on Twitter for his actions.
Best Supporting Actor — Artemi Panarin, Chicago Blackhawks
The NHL is known for its superstar goal scorers, those players who seemingly find the twine at will. But without the Best Supporting Actor, those goal scorers would have to work a whole lot harder to make a living.
Blackhawks rookie Panarin has emerged as the premier set up man in the NHL. Without him, it's safe to say Patrick Kane would not have a 15-point lead in the scoring race.
So far this season, Panarin has 35 assists, including 17 on goals scored by Kane (according to Hockey Reference.com). Panarin has been involved in 49 per cent of Kane's 35 goals.
And as the video below shows, those assists are pretty nice too.
Best Costume — Brent Burns and P.K. Subban, NHL All-Star Weekend
I had thought about giving this award just to Brent Burns for his Chewbacca mask, since that is the closest thing to a movie reference there is in this post. But P.K. Subban's Jagr costume was so good, the award had to be split.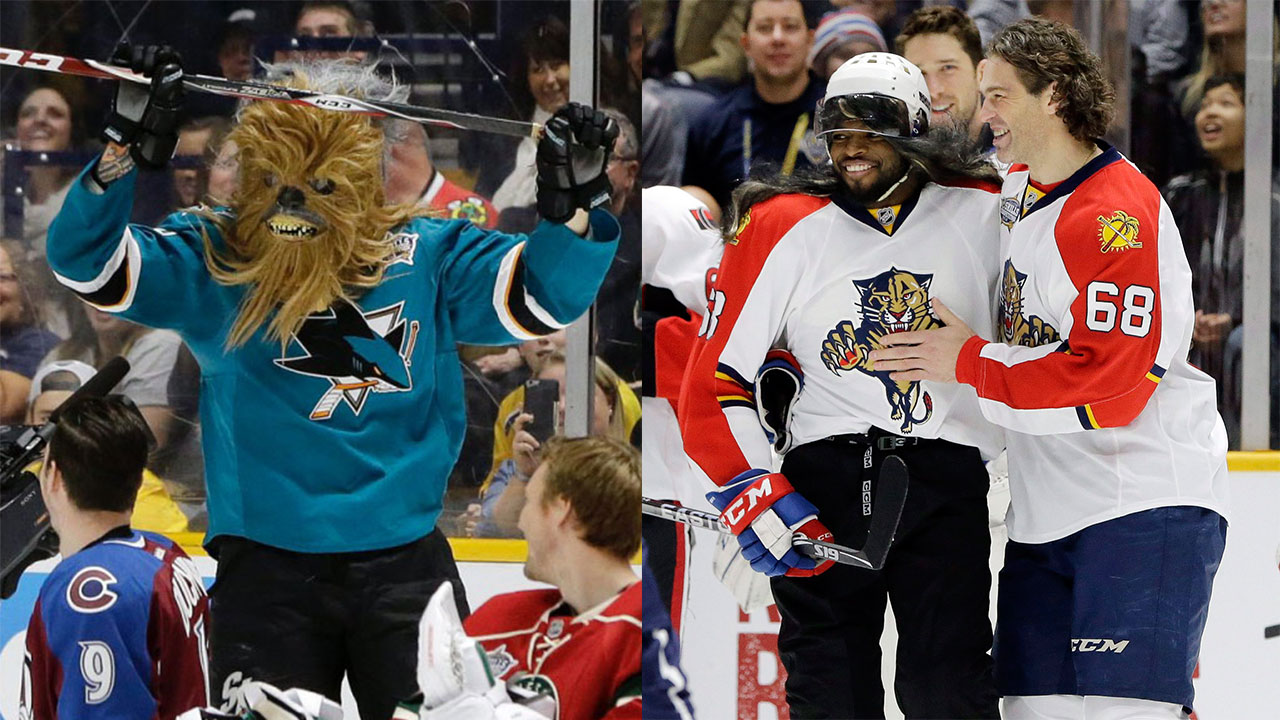 For all the John Scott love that All-Star weekend provided, Subban and Burns showed the hockey world that superstars can be fun too. It's no surprise those are the two players who did it, but it's still a rare thing to see hockey players poking fun at each other like this. For one small moment, the NHL was fun instead of all business.
For that, Burns and Subban deserve an award for sure.
Best Director — Paul Maurice, Winnipeg Jets
In the film business, the director is the leader, making sure everything runs smoothly. The actors are the stars, but the director is the boss. In hockey, this role falls on the coach.
The best bosses really get to know their employees, forming special bonds with them. So when one of them gets clocked with a huge hit and justice isn't served by the refs, it makes sense for the boss to be mad.
That is exactly what happened to Paul Maurice on Feb. 18, when his star rookie Nikolaj Ehkers was hit especially hard by Tampa Bay's Anton Stralman. That's all it took to set Maurice off, eventually getting a bench minor for his actions.
But what makes Maurice's performance extra special, and more deserving of an award than any of the many times Patrick Roy has gotten mad, is that it didn't stop with the one penalty. When the teams came back to start the third period, Maurice continued to yell at the referees until he was ejected from the game. After that, it was clear that Maurice possesses a passion and leadership quality that only the very best directors have.
Best Original Score — Let it go, Montreal Canadiens
The Montreal Canadiens season has been a roller coaster of emotions but there is one thing they can take solace in. Their terrible rendition of Let It Go is now an award-winning terrible rendition of Let It Go.
Like Burns and Subban's costumes, this video shows a side of hockey players that isn't seen enough. So when I call it terrible, I mean that in the nicest way possible.
And the fact that the players clearly do not care at all makes it both more awkward and hilarious.