ST. LOUIS — The St. Louis Blues played it close to the vest while Vladimir Tarasenko and Alexander Steen were out with injuries.
While waiting for one of the league's top goal scorers and one of the best two-way players to heal, they won a pair of tight 2-1 victories over rival Chicago.
"We were forced to do it," coach Ken Hitchcock said. "Injuries forced us to change and we had to play a more territorial game and check harder."
STANLEY CUP PLAYOFFS: | Broadcast Schedule
Rogers GameCentre LIVE | Stanley Cup Playoffs Fantasy Hockey
New Sportsnet app: iTunes | Google Play
Now, the Central Division champions can have it their way.
The No. 2 seeds in the Western Conference will still roll four lines with a game that seeks to wear down the opposition in their first-round series against the Minnesota Wild that starts Thursday night, but it's easier done with skill on your side. Tarasenko scored 37 goals, led the team in scoring and doesn't need much space. Steen, second in scoring, is relentless.
"They've got guys that play hard and play the system, but then to have those guys you know they can be game-changers," Wild forward Zach Parise said. "You have to know where they are on the ice."
Tarasenko missed five games and Steen six, both with undisclosed lower-body injuries. They dazzled playing on the same line when they returned in time for the regular-season finale against Minnesota. The timing was perfect on Steen's feed across the ice for a goal by Tarasenko and Steen also set up Jori Lehtera with an on-target backhand pass.
That kind of play means some peace of mind for a franchise that's had trouble this time of the year.
"You don't want to find out about yourself in the playoffs," Hitchcock said. "That's not a good feeling because you're trying to feel your way back and the game is at this furious pace. We gave them a lot of minutes, we played them in a lot of different situations. They were comfortable."
Steen is durable, leading the team in shifts per game, and he leads the team in power play points and assists. Last season he became a star with 20 goals in the first 24 games, trailing only Hall of Famer Brett Hull in franchise history.
"I wasn't really overly concerned whether I was getting a game or not before playoffs," Steen said. "The hockey stuff's kind of there, it's more timing and things like that. It was more antsy than anything else. I just wanted to get back."
Tarasenko is a dynamic scorer with speed and a signature power move to his left that buys time to get off a shot that goalies have trouble reading. His team-leading plus-27 rating also speaks volumes.
As impressive as it was for both in the finale on a line centred by Jiri Lehtera, who scored twice, Hitchcock anticipates a lot more come Thursday.
"They eased into it, got used to the circumstances of playing in a game again," the coach said. "But I think there's a whole other level they're going to play at and I think we're going to see it early."
The Blues have plenty of scoring potential on the top three lines.
---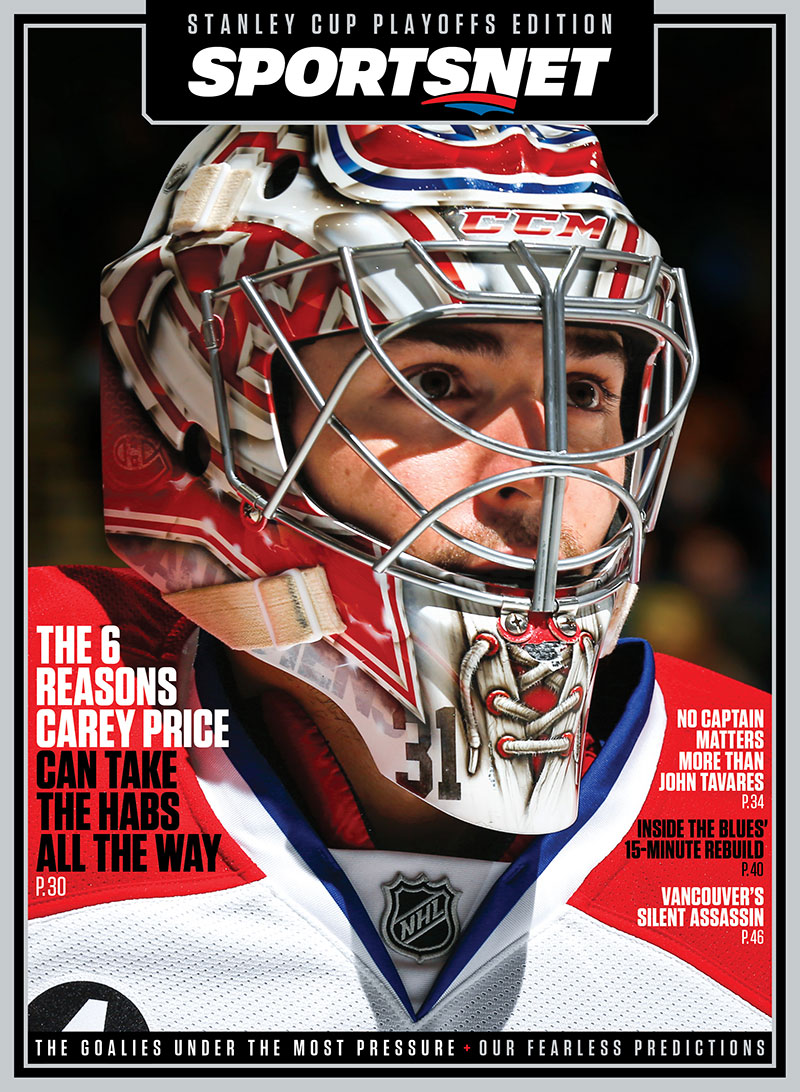 Sportsnet Magazine Stanley Cup Playoffs
Edition: The six reasons why Carey Price can take the Montreal Canadiens all the way. Download it right now on your iOS or Android device, free to Sportsnet ONE subscribers.
---
Behind Tarasenko (74 points) and Steen (64), there's pesky Jaden Schwartz, captain David Backes, T.J. Oshie and Paul Stastny for the Wild to worry about. Schwartz had 63 points and set a career best with 35 assists, Backes had 58 points and a team-leading 10 power play goals and Oshie is an all-around threat.
Stastny shook off early shoulder woes and stood out especially late in the season and had playoff success against the Wild while with Colorado, getting five goals and five assists in a seven-game first-round loss.
Plus, All-Star defenceman Kevin Shattenkirk and Alex Pietrangelo are threats from the back line.
"We've got a multi-pronged attack, that's for sure," Backes said. "We've been on the other side of that, where you pick your poison who your matchup line is against. We've got three legit threats every time they're on the ice."