The fact Daniel Sedin's overtime winner tied him with Markus Naslund for the most goals in Vancouver Canucks history (346) has been demoted to footnote status.
All discussion surrounding Vancouver's 3-2 sudden-death victory, which snuffed out the Florida Panthers' win streak at 12 Monday, is about the post-game melee and the words that sparked it.
First, watch the scrum, as called by the Florida broadcast team:

Now, let's rewind.
The bad blood began prior to the extra frame, when a Panthers player (not backup goalie Al Montoya, Sedin says) said something to the Sedin twins. Henrik and Daniel believe the comment was offside.
Both twins would not tell reporters exactly what was said or which Panthers player said it.
"It's unfortunate," Daniel said. "I don't really care, but it's unnecessary. Guys on our team are getting in a lot of trouble for the things they say.
"I want to keep it on the ice.
"He knows who he is. He stepped over the line, for sure."

"It's one guy, that's it," Henrik echoed. "It was inappropriate and it's something we hear a lot of. Somewhere, you need to draw a line. There's a line. It's something one guy will have to man up to.
"There's a lot of things that have been said about our team from other teams, but this was just a little bit extra."
So, what was said? And by whom?
Jason Botchford of The Province reports that tough guy Shawn Thornton, whose battles with the Canucks date back to his days with the rival Bruins, was the instigator: "It was something along the lines of 'same sisters,' which I took to mean 'you're still the same old sisters' from the way it was presented to me."
A source who was "a few feet" from Thornton told Sportsnet's Andrew Walker that the Panther said, "I have my name on two Stanley Cups. Where's yours? Where yours? Where's yours, Daniel?"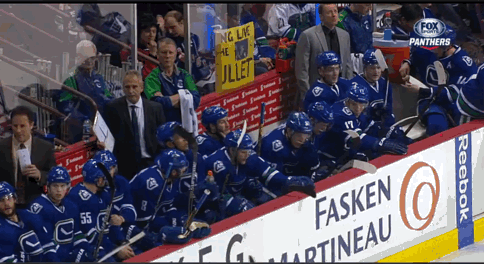 After Daniel beat former teammate Roberto Luongo in OT, he cruised by the Panthers bench, claiming victory.
When Vancouver's Derek Dorsett sees Florida's Alex Petrovic squirting water at his teammates, he skates to the opponents' bench.
"I skated over to intervene. Montoya took a cut at me. So I took a cut at him," Dorsett told reporters.
"I know something was said. [The Sedins] are two classy guys who carry themselves very professionally. They don't get too mad too often, and they were pretty mad there."
Luongo offered an explanation as well.
"One of their guys [Dorsett] came over to our bench and tried to punch one of our guys," the goalie said. "You have 60 minutes to fight anybody on our team that's willing and able, but he wants to do it after the game."
TVA reports there will be no suspensions as a result of the melee, but the conversation lingered into Tuesday.
"Interesting scenario when the shoe is on the other foot for the team, media and fans in Vancouver," tweeted former player Patrick O'Sullivan, who just weeks ago went public with an ugly chirp directed at him by Vancouver's Alexandre Burrows.
As the cherry on top of this sloppy sundae, Florida commentator Denis Potvin threw his own bizarre shot at the Sedins while calling the scuffle and called Daniel a "lowlife" for rubbing in the win.
"I see the Sedins are pointing fingers now," Potvin said on-air.
"Normally they only use those fingers to lick the peanut butter off of their bread."