BUFFALO, N.Y. — "We have a trade to report…"
Let's face it: Who wants to watch tonight's first round and see all 30 clubs draft in order? Toronto is taking Auston Matthews, Winnipeg will take Patrik Laine, and I'd be stunned if after all is said and done, Columbus doesn't select Jesse Puljujarvi.
But after that, wouldn't we rather have National Hockey League commissioner Gary Bettman speaking into the microphone at No. 4, than Edmonton general manager Peter Chiarelli?
"The Edmonton Oilers have traded centre Leon Draisaitl and the fourth pick to the Montreal Canadiens for defenceman P.K. Subban!"
Doesn't that get you going more than, "The Edmonton Oilers are proud to select, from the London Knights, Matthew Tkachuk."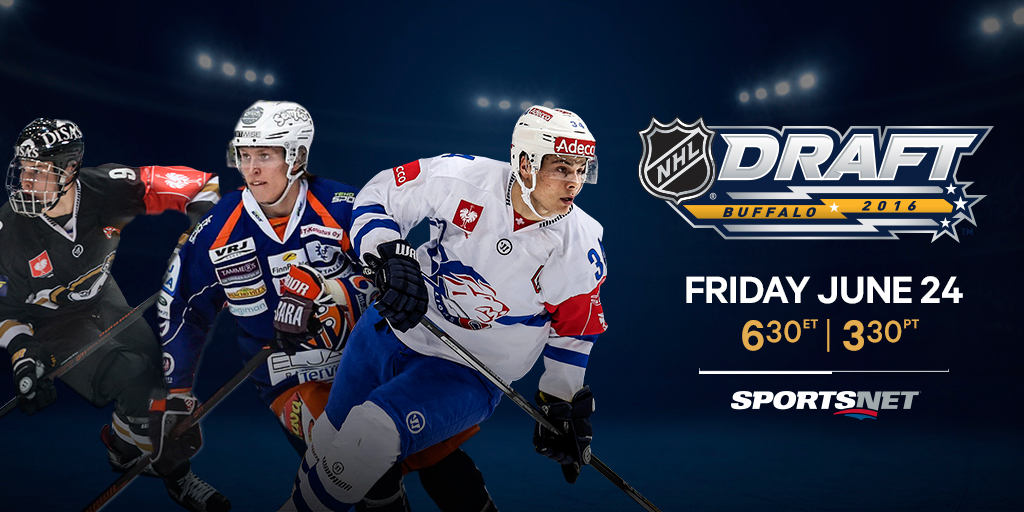 Or at No. 6: "The Calgary Flames have traded the sixth pick to Pittsburgh for goaltender Marc-Andre Fleury and the Penguins' 55th and 61st overall picks…"
OK, both those deals might need a little fleshing out. But the market is open, and Edmonton needs top-pairing defenceman as badly as Calgary requires a goaltender.
"They tell me it's good to have one," joked GM Brad Treliving. "We're in a bunch of different markets on that."
"It's no secret we're in the market for a defenceman," said Chiarelli a few moments later. "We're fully engaged and we've got a pretty high pick. It'll ramp up (Friday)."
Would he trade the pick?
"I am listening to offers for it. I wouldn't rule it out."
This is the perfect recipe for a stunning draft day: A GM with a history of making big trades (as Boston's GM, Chiarelli dealt both Phil Kessel and Tyler Seguin); a team that has lost for long enough and is ready to make significant changes to its roster; and a nice high pick that just happens to make francophone centre Pierre-Luc Dubois available to Montreal, or defenceman Olli Juolevi, if ongoing conversations between Montreal and Edmonton about Subban get consummated.
Chiarelli wants a right-handed defenceman. Vancouver, which picks fifth, has as many needs as Edmonton — just in different places. But GM Jim Benning may do his work on July 1.
"It's going to take a lot to get that No. 1 pick away from us," said Benning, whose pedigree is built on drafting savvy. Besides, he has his eye on pending unrestricted free agent Milan Lucic, a chase that will begin after the draft concludes.
"He's from Vancouver, he's been a good payer in the league for a long time. A unique player, a power forward. We would definitely have interest in him."
Then it was Kevin Cheveldayoff's turn in front of the microphones. He would barely speak Laine's name, but did admit that there have been plenty of GMs trying to lift that No. 2 pick in a deal.
"Lots of conversations," he said, "but nothing … I'm willing to step away from (making the pick for)."
As we awake on draft day, clearly the sexiest story out there is the growing willingness of the Canadiens to move their superstar defenceman before his no-trade clause kicks in on July 1. Benning would move his No. 5 plus much more to get his hands on a Norris Trophy-level defenceman.
So would approximately half the GMs in the NHL, roughly the number of teams without a genuine No. 1 blue-liner on its roster.
"How many true No. 1 D are there?" asked Chiarelli, not speaking specifically about Subban. "There are 30 teams and maybe there are 12 No. 1 D-men. To think you're going to get a No. 1 D (in a trade)? It's tough."
Should a deal of that magnitude go down tonight in Buffalo, it would be the continuation of a trend that saw Boston deal both Lucic and Dougie Hamilton in separate deals at last year's draft. Or 2013, when Vancouver moved Cory Schneider to Vancouver, a deal announced while the Devils were on the clock for the ninth pick overall.
Toronto still has 11 picks, including two each in rounds two, three and four. "The most difficult thing to do right now is move money," Benning said Thursday, yet surely Toronto is a place where a cap-cornered team could send a player under contract for draft picks in return.
Isn't that why Toronto hoarded all these draft picks in the first place? To augment their prospect pool with some players who can help right now?
That's why you'll be watching tonight. It's the only night all year when the hockey world wants to hear Gary Bettman talk.