The Toronto Maple Leafs stirred the NHL's trade frenzy pot Monday when they traded two draft picks (30th in 2016, a 2nd rounder in 2017) for Anaheim Ducks goaltender Frederik Andersen, a player long-rumoured to be a target for the 30th-placed Toronto franchise.
While the Leafs might have considered drafting a goalie with one of their many picks this June, this move appears to speed up the process of improving the club in the short term.
Toronto has a history of trading for help in the blue ice, and the results are…mixed. Take a long intake of breath and comb over the last few trades the Leafs have made for goaltenders.
One doesn't have to look past the current Toronto roster to see the last goaltender the Maple Leafs traded for with the hopes of making him a starter.
Jonathan Bernier, acquired on June 23, 2013 — almost three years to the day of the Andersen deal — was dealt to the Leafs from Los Angeles in exchange for goalie Ben Scrivens, Matt Frattin and a second round pick. The move seemed to represent a vote of no-confidence in James Reimer, whom the Leafs drafted. He came at an affordable price and began his career in blue and white admirably, but the team has struggled during his time with the club — leading to a low point last season when he was assigned to the AHL's Toronto Marlies for a conditioning stint.
With comments like that from GM Lou Lamoriello, it's perhaps evident that Bernier is not long for Hog Town.
2. Vesa Toskala
Has the blue and white yet been washed from this backstop's equipment?
When the Maple Leafs acquired Vesa Toskala from the San Jose Sharks on, wait for it, June 22, 2007, it was to create a tandem with another goaltender who had yet to impress (see below). In trading for the Finnish goalie, Toronto gave up a first, second and fourth round pick. They also acquired forward Mark Bell in the deal. San Jose used that first round choice to trade up and select Logan Couture.
Toskala famously said to reporters after being dealt to the Anaheim Ducks in 2010 that he would be changing the colours on his mask…"Hopefully soon…So I can wash that blue and white out of my gear."
Toskala's best season with Toronto was in 2007-08 when he played 66 games, posting a 2.74 goals-against average and a .904 save percentage.
3. Andrew Raycroft
If you're a Leafs fan and you've made it this far, condolences. This will end on a high note; we promise.
Outside of the Phil Kessel trade that cost Toronto the first round pick that ended up becoming Tyler Seguin, the deal to acquire Andrew Raycroft is likely the most talked about transaction the club has made over the last decade.
Toronto lost Ed Belfour to free agency in 2006 and needed a replacement. Toronto had been on an extremely productive streak with goaltenders going back to Felix Potvin and Curtis Joseph who preceded Belfour. General manager John Ferguson Jr. only had to deal away the future Stanley Cup champion and Vezina trophy-winning Tuukka Rask.
Rask, a prospect at the time with Toronto, was traded for Raycroft on — you guessed it — June 24, 2006, and one of the most lopsided deals in Maple Leafs history was written.
Raycroft, of course, came to Toronto with some pedigree. He'd won the 2004 Calder trophy as rookie of the year but was injured the following season and his numbers suffered greatly. He finished his tenure in the blue and white with a 39-34-14 record, a 3.17 goals-against average and an .890 save percentage.
The real poetry is that Raycroft still shares the organization's record for wins in a season with 37 (2006-07).
4. Grant Fuhr
The pattern of Toronto trading for goalies in late June ends with Hall of Famer Grant Fuhr.
When Trader Cliff — Cliff Fletcher — joined the Maple Leafs in 1991 as their new general manager, he promptly made two blockbuster deals. One was the 10-player deal that brought Doug Gilmour to Toronto from Calgary while the other was the one that brought Fuhr to the Leafs from Edmonton.
Fletcher traded Vincent Damphousse, Peter Ing, Scott Thornton and Luke Richardson for Fuhr, Glenn Anderson and Craig Berube on Sept. 19, 1991. Damphousse would go on to win the Stanley Cup with the Montreal Canadiens in 1993.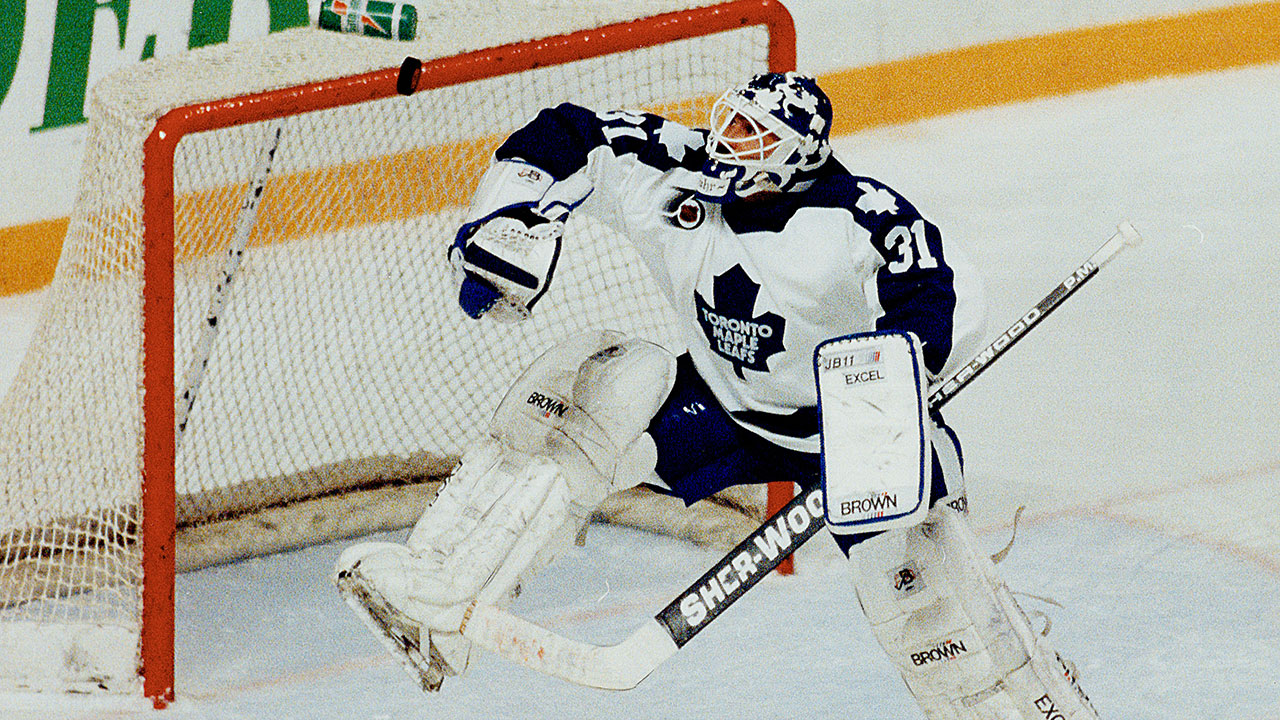 When Fletcher was hired in Toronto, it was seen as a move that brought credibility back to the organization after the disastrous 1980s. Acquiring Fuhr was partly a symbolic gesture, one that told the league that the Leafs weren't messing around anymore.
Fuhr's performance with Toronto was less than stellar — and he would go on to have extremely successful campaigns with Buffalo and St. Louis — but he helped groom a young Felix Potvin who took over for Fuhr full time in the second half of the 1992-93 season when the Leafs…well, you know.
We promised a happy ending to this tale and there's plenty to be optimistic about with regard to Andersen. But with the team's spotted history of trading for netminders, you just never know.