For the first time in a while I found myself nervous to be interviewing a professional athlete. I found myself endlessly analyzing my questions and rehearsing them out loud.
The athlete wasn't a current NHL star or former great. It was Jessica Platt of the Toronto Furies, the first transgender woman to play in the Canadian Women's Hockey League. My concerns included if I used the word "choice," would it imply that gender identity is something you decide and aren't born with? If I used the word "secret," would it imply that gender identity is something to be hidden and kept to oneself?
It also dawned on me that despite the fact it's 2018 I had yet to report on, or even meet, a transgender person. At least one that I was aware of. I simply hadn't heard many transgender athletes tell their story in the media.
But on Jan. 28, as I embedded myself with the Furies for their home game against the Calgary Inferno, I felt a little guilty to be covering a team, and more specifically a player that I probably wouldn't have been assigned to if not for the fact that they had announced that they are transgender.
Watch: Donnovan's full video feature On Jessica Platt

Transgender athletes deserve to be treated with respect and I was concerned I might not be doing that by simply giving attention to the off-ice aspect of Platt's story.
But what I came to realize after listening to Platt was that for her, if you aren't being 100 per cent authentic, to some extent you're being forced to live a lie.
And for Platt, that lie started at a young age.
"When I started to realize there was something different about me, that's when I really started to struggle," Platt recalls of her adolesence. "It was tough on the inside, but I always put up a good front. I guess I should have known looking back. Hindsight is 20/20. Around high school I really started noticing something was different about me. I didn't fit in with the typical male ideals. I didn't know where I belonged."
As a teenager, Platt began to feel uncomfortable in the locker room culture.
"Hockey has always been my passion since I first learned to skate out in the backyard when I was three," she says. "But as I got older playing hockey, I didn't fit in the locker room. I felt like I had to be someone I wasn't."
Because of that feeling, she quit hockey altogether. But after high school she researched transitioning and decided on hormone replacement therapy to identify as female, hoping that would be the liberation she had been seeking.
And when it came time to come out to those closest to her, she chose to do so with one person at a time.
"I'll love you no matter what you do," was her mother's response when told in person.
Unsure how her father would react, she informed him via email. Although initially taken aback, Platt says he took it well. And so with her family's blessing and encouragement, in 2012 she began her medical transition.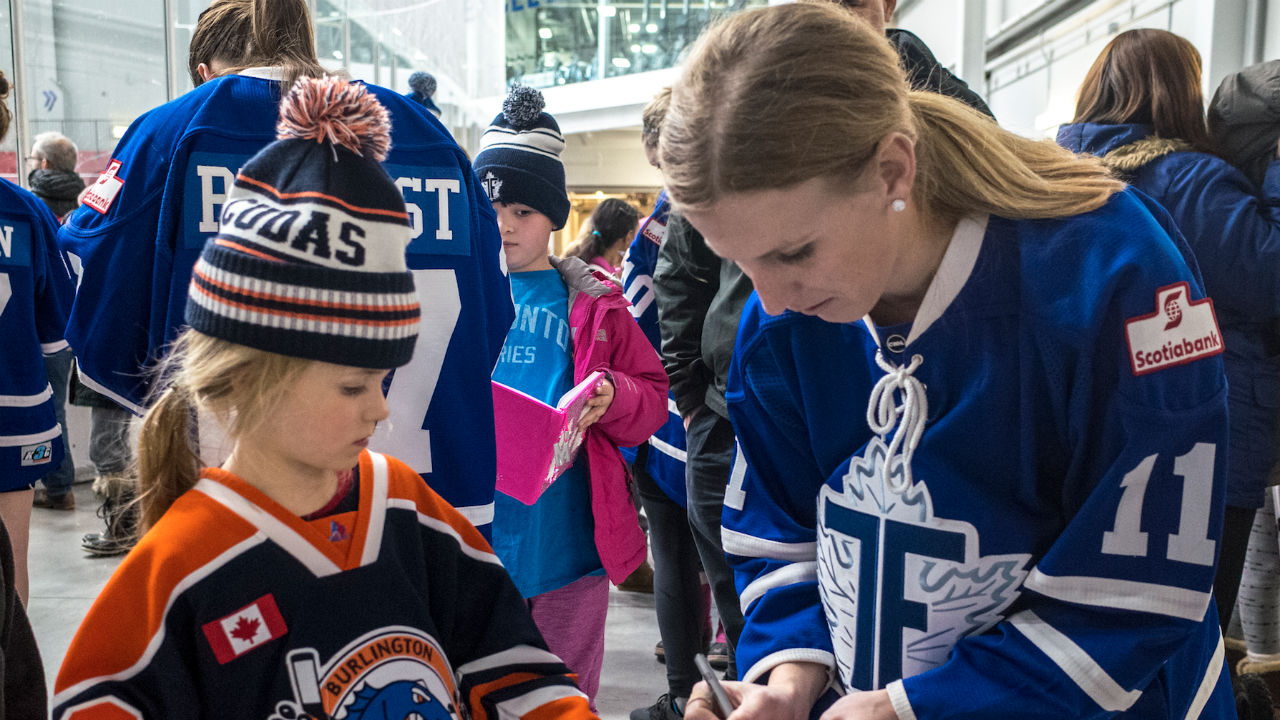 Platt's newfound confidence also gave her the motivation to get back on the ice, first by taking a job as a skating instructor in 2015. Soon after, she decided to give hockey another try, joining an adult recreational league in Waterloo, ON. From there, Platt became interested in more competitive female options and decided to take a shot at the CWHL. In 2016, she would be selected with the 61st overall pick in the CWHL Draft.
The next step was deciding when and how to come out publicly.
Wanting to begin the new year with a fresh start, Platt circled January 2018 on her calendar as the ideal time. The CWHL had been the first professional league to partner with the You Can Play Project. While preparing for her announcement, Platt consulted with American triathlete and transgender athlete advocate Chris Mosier and she exchanged Instagram messages with Harrison Browne of the National Women's Hockey League. Browne is also transgender.
They discussed, among other things, the criticism Platt was likely to face from those who don't feel it's fair for her to compete against other women.
"I would say that it's ridiculous," Platt says of that argument. "Going through all the changes I went through, I lost a lot of speed, strength. The reason why I'm here is because I worked so hard to gain my speed (and) strength back. I'm at the gym five-to-six days a week. I practice twice a week with games twice a week. I work so hard. It's all work ethic, really."
On Jan. 10, Platt came out via Instagram.
Prior to the announcement, the CWHL and CWHL Players Association provided Platt with private guidance. Following the announcement, they doubled down and posted public messages of support for her.
A private person by nature, Platt says she is sharing her story because as a child she struggled with not understanding what it meant to be transgender.
"I had no idea being transgender was possible," she explains. "Every time I saw it in the media it was perceived as a joke or negative. So it's not something you think you'd want to do.
"The vast majority of the messages I get are positive. (I hear from) lots of girls and guys who are happy to know they aren't alone. The negative ones are from ignorance, which is what we need to change with education and exposure."
Following her game on Jan. 28, a young adult woman who had been waiting patiently for a photo gives Platt a hug.
"You are so good for the LGBTQ community," the woman tells Platt. "We need positive reinforcement to be accepted widely and you coming out will help us all with that."
Platt's personal journey is indeed more important than her performance. Bringing her story to light helps breed understanding, which breeds empathy and compassion. Change may not occur for everyone overnight, but I suspect Platt isn't expecting it to.
She's been playing the long game her whole life.