It was a different time. When cable television meant you received the three American networks and not every sporting event was broadcast.
Wednesdays and Saturdays were sacred hockey nights. But Hockey Night in Canada was on another level, so much so, that what the HNIC announcers wore became a de facto medal, something worn by hockey royalty. To wear the iconic HNIC baby blue blazer meant everything. To anyone working in the Canadian sports media industry, wearing a baby blue blazer meant you were somebody.
Did I say "what the announcers wore?" Let me correct myself. It's what everyone on the HNIC production staff wore. That's what made it so special. When I started working for HNIC in 1977, I joined hockey's greatest team. Its most successful team. We won every year. It was a team that went to the all-star game every year and the Stanley Cup Final every May. I started working for Hockey Night in 1977. It was my first real job. It was my dream job. I had made it.
This Saturday, @RonMacLeanHTH, @CoachsCornerDC, & the #HockeyNight panel will wear these retro baby blue blazers on Hockey Night in Canada.

Want one? They'll be auctioned off after the show with all proceeds going to #HockeyFightsCancer.

Details https://t.co/MEF5ugp51c pic.twitter.com/8LOJcy2SRd

— Sportsnet (@Sportsnet) November 20, 2018
The pay when I started? Ten dollars a game. Cash. But that was far from the greatest reward of the job. To this day, I can remember walking into the HNIC offices waiting to see if I got a baby blue blazer. I waited three long weeks before receiving the call to go to a little shop on Yonge Street in Toronto to be measured for my blazer. It was such a important moment in my young life. The blazer made you feel bigger, better and smarter. It also meant respect in the hockey world. You see, wearing the blazer in any arena, in any city, became a calling card. Players would acknowledge you as they walked into the building. It meant a big name in the game would smile and nod at you, without knowing your name, but knowing you were part of something special. You were part of the tradition that is Hockey Night in Canada.
To this day, I have never had more fun, experienced more joy, or felt more pride than during the years I wore the baby blue Hockey Night in Canada blazer.
Wearing the blazer meant you were wearing the same polyester blazer that Danny Gallivan, Bill Hewitt and Dave Hodge had worn. In Montreal, the blazer connected a team that included our friends at La Soiree du Hockey. The great Rene Lecavalier, Gilles Tremblay and Lionel Duval wore the same baby blues as we did. We felt, in many ways, that were helping to unite the country, in English and French, with our singular team in a very divisive time. Ralph Mellanby, who brought the baby blue blazer to Hockey Night, instilled a pride of ownership in all of us. We were THE team. We wore the greatest uniform. On any night in the NHL, we were the third hockey team. The baby blue team. It was great branding. It was branding before branding became the norm. Perhaps the few that wore the blazer were just at the right place at the right time. When dynasties were prevalent in the game.
During my time at HNIC, Scotty Bowman's Canadiens, Al Arbour's Islanders and Glen Sather's Oilers conducted post-game interviews in their dressing rooms next to an announcer wearing the baby blue. It's an association that will forever bond us. And it was one that fans and viewers expected to see by each season's end.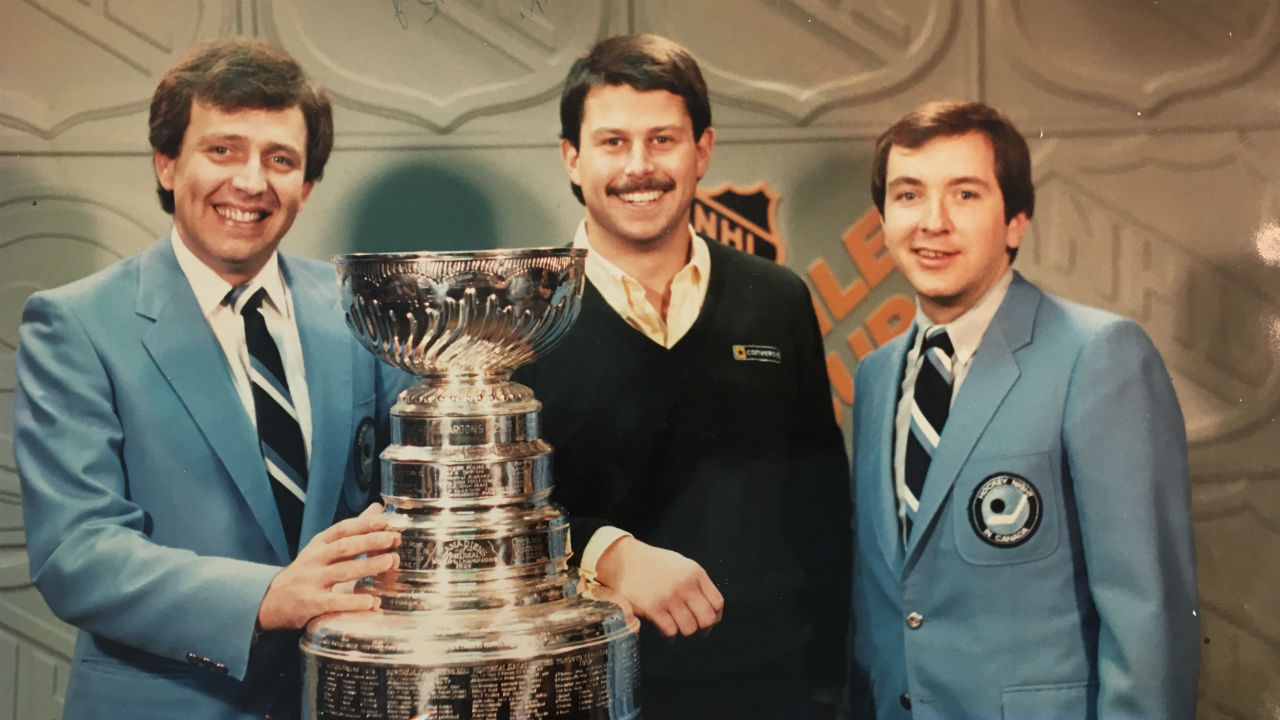 One of my favourite moments, that Don Cherry and I still laugh about, occurred in Boston during the 1978 playoffs. The Bruins had just won a playoff game against Montreal and my job was to wind through the halls of the Boston Garden to Cherry's small office to convince the coach to make a post-game appearance on HNIC. The press hoard around Cherry was 20 people deep. But when he saw me, or rather saw my baby blue blazer, Cherry yelled: "Boys, I see there's someone here from Hockey Night in Canada. They must need me on television. I have to go on National Television!"
Cherry and I then giggled all the way back to our makeshift studio at the Garden. He knew the power of the baby blue.
By the time I returned to HNIC, in 1994, the baby blue had been replaced. Perhaps for the better, as our business had become more fragmented and sophisticated, and the days of uniforms had been replaced by well-tailored suits. But there still isn't a Saturday that goes by that I don't think or talk about the days and the power of the baby blue.
I dare not tell you what happened to that blazer. My baby blue. Nor where it is now. And while I won't be wearing one this Saturday, I can tell you it was always worn with a pride that can truly never be articulated. The tradition, I hope, continues.