Maripier Morin is what those in the business might call a firecracker.
At ease as easily one might expect the host of a Quebec show called Menage a Trois to be, the Montreal native is also a Revlon model, a partner in a cocktail line, and the most quotable star of W Network's Hockey Wives reality show — a gig she landed by virtue of dating gritty Canadiens forward Brandon Prust.
Morin hadn't met us for more than a minute before she began describing a new poutine place she recently discovered offering spicy Portuguese chicken and chorizo that tops her hometown's gift to the world. It sounded like an amazing dish.
And as soon as she's done the interview, she said, she was excited to go off and eat French fries.
Filter-free, charming and insightful, the bilingual Morin is a standout on the series, which will air its third episode on April 1. In the debut episode, she looked at the camera and vowed that should he ever cheat on her she would snip off a certain, sensitive region of her boyfriend's anatomy before cooking and serving them to him.
She's has some fire, no question. But it's always delivered with a wink.
As we sat down with her at Sportsnet HQ on Friday to talk about the show and the life of a hockey wife, we had no prior knowledge of her connection to Toronto Blue Jays catcher Russell Martin.
Then she picked up the latest issue of Sportsnet Magazine and spotted Martin on the cover.
And away we go…
MARIPIER MORIN: Oh, Russ! He looks like he's lost weight.
SPORTSNET.CA: How do you know Russell Martin?
MM: He's from Montreal. He's been friends with one of my really good friends since kindergarten. It's funny because he was kinda hitting on me before I met Brandon. And when [Martin] signed his deal, I walk in my apartment and Brandon says, "Russ just signed–$82 million."
I just looked down. Bad life decision. [laughing] [Makes scale hands, weighing her options:] 82 million… 10 million… 82… 10. Oopsy.
SN: How big of a hockey fan were you before you met Brandon?
My mom's from Quebec City, so she was a Nordiques fan when she was younger, but as soon as they sold the team, she stopped. And my dad never watched hockey, never played, and both my brothers are musicians. I wasn't into the hockey thing growing up. I think I went to my first hockey game at 22 or 23 years old—I was super old.
I didn't really get the game. I was like, "This is so stupid." And I used to be a figure skater, and there's a big rivalry between hockey players and figure skaters.
SN: In Episode 1, you say hockey players have a bad reputation. What do you mean by that?
When you think about athletes, you think about guys that make a lot of money, that attract a lot of women. Everybody wants them to be ass—–, to be cheating on their wives. So you kinda believe it at one point; you think they're all like that. But once you meet them… I've met amazing guys in Montreal and New York. It's a reflection of society.
If you want to cheat, whether you're a hockey player or a teacher, you're going to cheat. There's good guys and bad guys in all life. Same with girls. I know tons of girls that are unfaithful—they're not my friends, though. [laughs]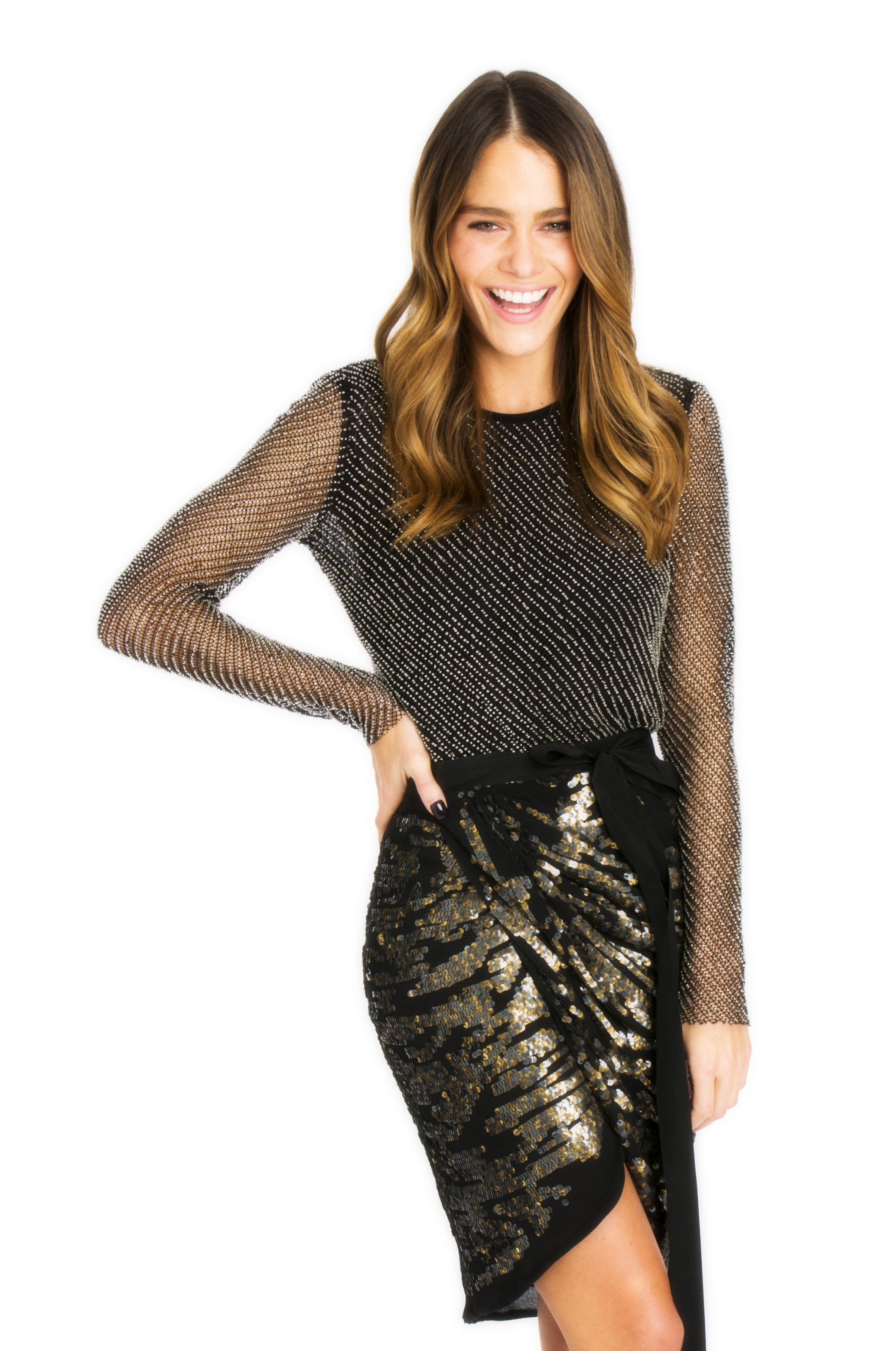 SN: Did you have reservations about dating a pro hockey player?
Yeah. I didn't take it seriously at first. He's from London, Ont., he lives in New York, and I'm in Montreal. How are we going to make this work? We found a way. I was travelling back and forth every weekend, riding the bus for two years.
Everybody was like, "Brandon, you're so cheap. Why don't you just put her on a plane?"
I was like, "No! It's so much cheaper and easier." I was living from downtown to downtown, and I liked it.
When you're in love, you always find a way to make it work. My vision changed a lot with the girls more so than the guys. My first year [as a hockey girlfriend] I was looking at the scene from afar. I didn't really want to be part of it because I didn't feel I belonged there. I thought I was so different.
But once you hit rough patches or you're just sad because you miss him, that's when you realize we all go through the same thing. You can relate to them, even though some of my best friends don't understand what I go through. Only a hockey girl can understand.
When I met Tiffany Parros [wife of George Parros], that's when my perception of a hockey wife changed. She's so inspiring. She has her own business, she has two kids, she's a good wife, she's fun, she goes out and has drinks. You can have it all.
SN: She comes off looking great on the show, too. Down to earth.
I was a little scared because she has a bitchy face…
SN: Whoa.
No, she says that herself. She's one of the greatest human beings I've ever met. She's kind, she's so generous. I've learned so much from her.
SN: What is some of the best feedback you've received from the first two episodes?
I was a little worried people would write mean stuff on Twitter because it's the easiest thing to write mean things on your computer. But it's the total opposite. I'm shocked. People are nice. They like our energy, Brandon and I as a couple. There's days we fight, that we don't like each other, but it's fun.
We come across like a happy couple that's supportive and makes each other better. That makes me proud.
SN: Some people on reality TV take issue with how their lives are edited. Have you been bothered at all by the finished product?
There's 10 couples, and we're only at two shows. So far I think they're doing a good job, but we'll see. I might have a different opinion later.
SN: What was your goal when you signed on to do the show?
I want to be a superstar. No, I'm joking.
SN: Plenty of people do get into reality TV for that very reason.
I'm a TV host in Quebec, and it's pretty hard to break into the English market, so I saw it as a good opportunity for my career. I don't think that's selfish because after Brandon's career, we don't know where we'll end up. Even during his career—he could get traded. We're lucky he's with Montreal and that's where I'm from, but it changes like this [snaps fingers]. I wanted to have more options as a couple.
SN: Do you watch every single Habs game?
I do. I'm a big fan now. I scream at the TV and get mad at the coach for not playing my boyfriend enough. I criticize the lines. But I do it all in my living room, not on social media.
SN: And he's a scrappy player. Do you get nervous when he fights?
Everybody asks me that question. No. Because he's good at what he does. He's got long arms so he can throw punches far from his opponents, and he's probably the best fighter in the league. I'm not scared when he fights; I'm scared when he steps on the ice. It's such a fast game. Guys are going so fast, they're not taking care of each other. They're doing dirty hits. The league is trying to change that, but it's still a dangerous sport.
SN: Who makes the Stanley Cup final?
It has to be against a West Coast team, right?
Yep.
Not L.A. because Doughty has two already. We're from London. David Bolland has two, Drew Doughty has two, Corey Perry has one. So it's our year. I'm going to say Montreal and… is Tampa Bay in the West?
SN: No.
Chicago?
"I scream at the TV and get mad at the coach for not playing my boyfriend enough."
SN: Do you watch the show with Brandon?
Brandon hates it because we do live-tweets, and it's really intense. I watch the episode before [it airs] so I can live-tweet it. So when I watched it with him, he got mad: "Watch it?" I was like, "No! I'm live tweeting."
He's like, "You're so crazy right now, I don't want to deal with you"—because I'm sitting in bed trying to respond to everyone tweeting. It's fun. It's cool to get feedback right away.
SN: What's the toughest thing about dating a hockey player?
When he's away. It's hard when he's not there. I work a lot, I have a lot on my mind. That's how we balance each other. When I'm stressed out, he's there and takes some pressure off me. And I do the same. I think we're a really good team.
But when he's on the road, I'm by myself and kinda lost. But that's a part of our life.
SN: Will you come to the Habs' final regular season game in Toronto?
No. I'm not allowed in the building. I got in a fight once.
SN: You're not allowed in the ACC? OK, what happened?
I'm joking. I don't go on the road. I went a couple weeks ago to L.A., and that was the first away game. Maybe I could do Toronto…
SN: What is your career goal?
I just want to last, honestly. It's such a tough market, and I just try to be as genuine and hardworking as possible. I just want things to stay the way they are.