Theo Fleury calls Jarome Iginla the greatest Calgary Flame of all-time.
He's not wrong.
Sidney Crosby is thankful for Iginla's playmaking, Lanny McDonald praises his ruggedness, Gary Bettman cherished tapping into his hockey IQ and Chuck Kobasew still loves tapping into "Iggy's" wallet.
Cory Sarich claims he almost fought Iginla over a video game, Ron MacLean delights over Iginla's birth date and upbringing, while Darryl Sutter says the hardest walk he ever made was alongside Iginla after they lost the 2004 Stanley Cup Final.
On the eve of Iginla's jersey retirement we asked around the hockey world for thoughts on the man whose No. 12 will be hoisted as part of a 40-minute pre-game ceremony at the Saddledome Saturday.
The overwhelming majority tipped their cap to his class and humility, something the best man at Iginla's wedding said was established at a young age:
Bill Russell, Iginla's best man:
"When we were growing up in St. Albert we weren't thinking he'd have a Hall of Fame career or get his jersey retired or play for the Flames – we were only thinking about the Oilers. But as we saw his career evolve we all knew there was something special going on.
With all his success, he was never above anyone else. He always has had time for people.
He was never a guy who talked about himself from a young age. He just went out and did it from junior high basketball to baseball. A quiet leader.
He's pretty big on principle. Even when we were younger and you made a bet – even $20 on tennis or hoops — you had to pay. Didn't matter what his bank account was compared to ours, he'd stay on you to pay because you had to play for money.
He's always been a diligent worker and he's passed that onto his kids as well. He has extremely strong values – what you see is what you get.
Whenever he calls, his first questions are always about our families."
Sidney Crosby:
"We're always going to have (the Golden Goal), so it's pretty neat. You can only thank him so many times for that pass. Again and again. It was so fun and so special. I remember during that tournament, going in, he told me 'keep your head up, we're going to get a big one.' He was right. It all worked out.
Just a great competitor. Had a lot of fun playing with him at the Olympics. Wasn't always easy playing against him, just the way he competed every night. He played a physical game, the way he shot the puck and was dangerous around the net. I think the biggest thing I'll take away is just a great person. Great teammate. Great having the opportunity to play with him for Team Canada."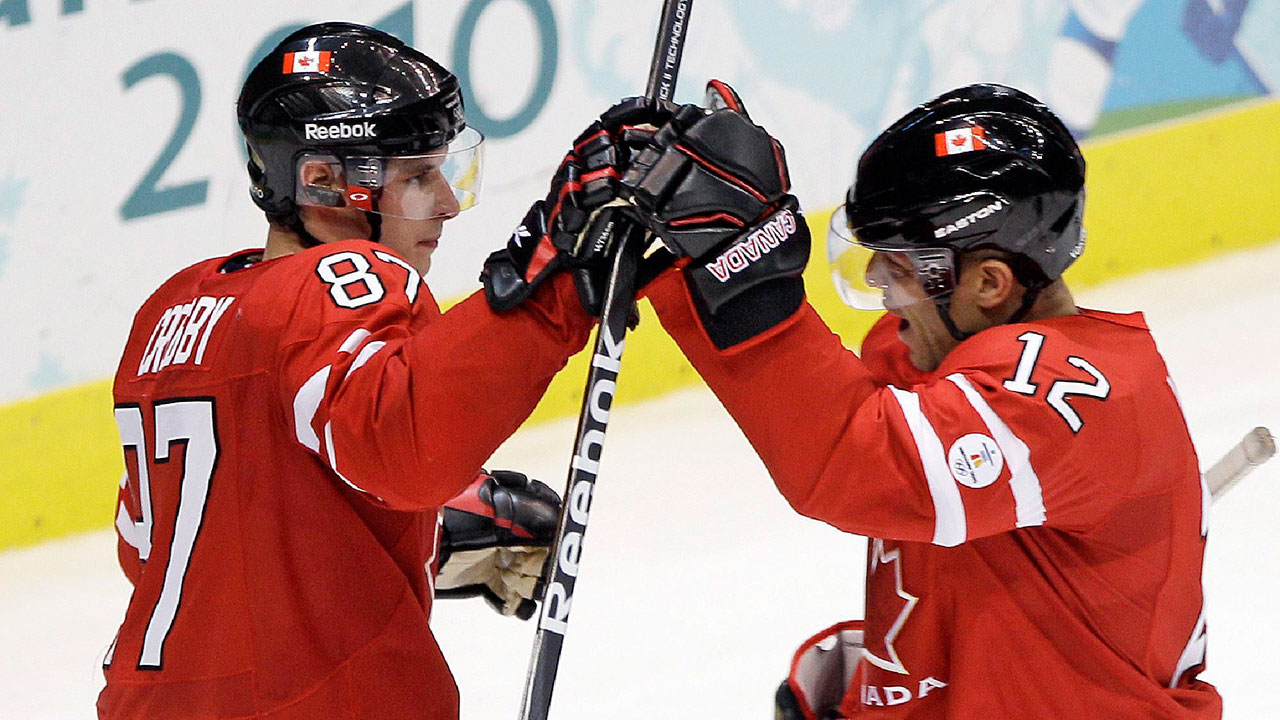 Darryl Sutter:
"One of my biggest disappointments, still, was when we lost Game 7 in the 2004 final and we were the last two walking out to the bus. I just remember how heartbroken Jarome was. He took it on himself and said, 'if I would have scored…' He just carried the world and team on his back.
He's a good man who stuck with a team that struggled for a long time. He was a superstar, and when you look at the character guys we had on that team, there were no other stars. It was a work ethic thing and that was established by Jarome.
I'd say Chelly (Chris Chelios) and Jarome are the two best I ever coached in terms of the way the game was played in that era of a hard and big, heavy game.
There was always the question of how he got along with coaches because he was a stubborn guy, but he was awesome. Even at the end of his career he still had that tenacity.
You think how the game has changed and you wonder how many winning goals he would have scored 3-on-3, although the only thing that would have frustrated him is that he wasn't great at breakaways or shootouts.
Now he's coaching and I heard he got kicked out of a game already!"
Brian Burke:
"I hated when my clubs played against Jarome. He was always a problem, usually in more than one area. He scored big goals at critical times. He fought, and dragged his teammates into the fight in the game. He led, he worked, he hit. He was a factor every night. I was afraid of him, and I wasn't afraid of many guys. I also admired him. He represented the league with such class. An amazing guy. I hope and pray there are always sweaters for players like Jarome in our league."
Gary Bettman:
"Jarome's skill and knowledge of the game are second to none. He is passionate and has always represented the game, on and off the ice, with dignity and class. He is also an independent thinker. Perhaps, it is all of these attributes that not only made him a great player, but made him a perfect choice to be on the original competition committee that indelibly and so positively changed the game in 2005."
Theo Fleury:
"There is no one in the history of the franchise that is more deserving of this honour more than Jarome. I will be watching with pride as he takes his place among the greatest Flames of all-time. Nobody epitomized what it is to be a Flame, both on and off the ice, more than Jarome. I'm glad to call him a teammate and friend. He is the greatest Flame of all-time."
[snippet id=4265503]
Ken Hitchcock:
"The bigger the game, the bigger he played. You knew if it was an important game he would be a major factor. Also, his sense of timing in what needed to be done was perfect, whether it was a hit, a fight or anything else."
Ron MacLean:
"My favourite thing about Jarome is his single mom upbringing, with Susan doing most of the heavy lifting with the help of her parents.
I love that he was born on Canada Day and the 2010 Olympics in Vancouver when Crosby screamed, 'Iggy' and 35 million Canadians heard it and a kid born on Canada Day made that pass for the Golden Goal. That's the crowning achievement.
I think of the fight with (Vincent) Lecavalier, his phenomenal junior career in Kamloops and I think of him making that Olympic team in 2002 when Simon Gagne couldn't make it to camp and Jarome got a call from Wayne Gretzky and he thought, 'are you kidding me?'
I also got to golf with him in the U.K. and got to see what an amazing gentle soul he was."
Cory Sarich:
"Their team was decimated by injuries (in the 2004 final), especially on the back end, but that didn't matter when they had a guy like Jarome in the lineup. He was the guy that we HAD TO key on. We figured if you could limit his chances or slow him down, the rest of the team would follow suit. Not so easily done. I have seen both sides of his competitive fire and there are not many guys that I have played with that have that internal drive. Seeing him drop the gloves with Vinny L. was an exclamation point on how bad he wanted it.
I have almost come to throwing punches with Jarome over a video game on the plane! I was his teammate! That should pretty much sum it up!"
David Amber:
"Fierce competitor. Winner. Leader.
The kind of guy you hope your kids grow up to emulate.
I would argue Jarome, with his class and presence on and off the ice, has done as much as anyone in the last 20 years to help diversify the game.
Jarome has been an exemplary role model for kids. He has been a significant figure, especially for minority children.
Next stop for Jarome, the Hockey Hall of Fame."
[snippet ID=3322139]
Lanny McDonald:
"Jarome played hard, he fought and was the ultimate warrior. How he played is a throwback to a guy like Cam Neely, but even more athletic.
Being traded for Joe Nieuwendyk wasn't easy, but he comes in and gets an assist his first game and scores in the second in the playoffs was magical. But it was how he stuck up for his teammates and what he did off the ice that sets him apart.
To score 525 goals for one franchise before moving on is just unheard of anymore. As fans of the game, especially here in Calgary, we should cherish the thought he is getting his jersey retired. He deserves it."
Al Coates:
"Jarome is on a special list of great athletes we have had the good fortune to have represent this city, province and country, both at home and internationally. When you are an even better person than you are an athlete, now that is saying something in this case.
"There were only two or three prospects in the whole league that fit the criteria that we had established as a return in this trade, a package of players without the A prospect was of no value for the future. Needless to say it was not popular at the time, but that is the job, it worked out well for both teams."
Craig Conroy:
"When you think of Jarome you think class act.
There were two different people: Jarome on the ice was a (jerk). He was all about winning. Off the ice he was humble, sweet, and a good person that never let anything go to his head."
Chuck Kobasew:
"Getting to play and be in a locker room with Jarome Iginla as a rookie in the NHL was a surreal moment for myself. There aren't many guys who have played this game that have the leadership, work ethic and determination that Jarome has. To learn from him and just watch how he conducted himself both on and off the ice was a privilege. Jarome was always a professional in all aspects of his life, and always treated everyone with respect. I never saw him turn away or walk past someone that wanted a picture or autograph and I really admired that about him. His competitiveness wasn't just on the ice, we had many a battles out on the golf course and he never really liked to lose to me (which happens often). We sometimes went days without talking after a serious match.
Jarome is incredibly deserving of the honour of having his jersey retired and I am honoured to have played with him and to be able to call him one of my close friends."
Marc Savard:
"I had the privilege of playing with Jarome in Calgary where we roomed together on the road. There is so much I admire and respect about him as a hockey player, but what stands out the most to me is what I learned from him off the ice. He is an incredible human; smart, humble and kind. A true class act. These characteristics have made him one of the most respected players in the NHL. I wish him nothing but the best in his future endeavours."
Peter Maher:
"The thing that stands out for me, despite all of his outstanding accomplishments on-the-ice was how Jarome never changed his off-the-ice demeanor. Yes, he hated to lose but was always obliging with we in the media and the fans regardless of the circumstances. And always with that smile.
In 2004, the night the Flames beat San Jose in the Saddledome to win the Western Conference Championship, when I left the building about an hour and a half after the game out to the back parking lot, it was raining, but yet here was Jarome signing autographs for young fans and also engaging with them asking how they were doing in school, etc. On a night to celebrate with teammates, which I'm sure he did, he put fans first.
When the team was on the road, on game nights, he'd come outside the hotel 10-15 minutes before the bus would leave for the rink, making time to sign autographs for fans gathered outside. Many times, the bus delayed departure waiting for him to finish signing."
[relatedlinks]