The Calgary Flames were supposed to be a bottom-feeder, a team more interested in the draft lottery than the post-season. Instead, as of the start of action Thursday, the Flames had run up an 8-4-2 record, good for 18 points and fourth overall in the NHL standings. No team has been more unexpectedly competent than Bob Hartley's squad, and it's worth asking exactly how it's all happening.
As with many positive surprises, the answer to that question starts in net, where Karri Ramo has been fine (2-2-1, .914 save percentage) but where reclaimed starter Jonas Hiller has been shockingly good (6-2-1, .935 save percentage). Hiller was added in the off-season after a late-season collapse with the Ducks, and he's playing some of the best hockey of his career. Ramo's difficult to get a read on because there was a five-year exodus between the first 48 games of his NHL career and his current stint, but it's easy to compare what Hiller is doing now with what he's done with other teams.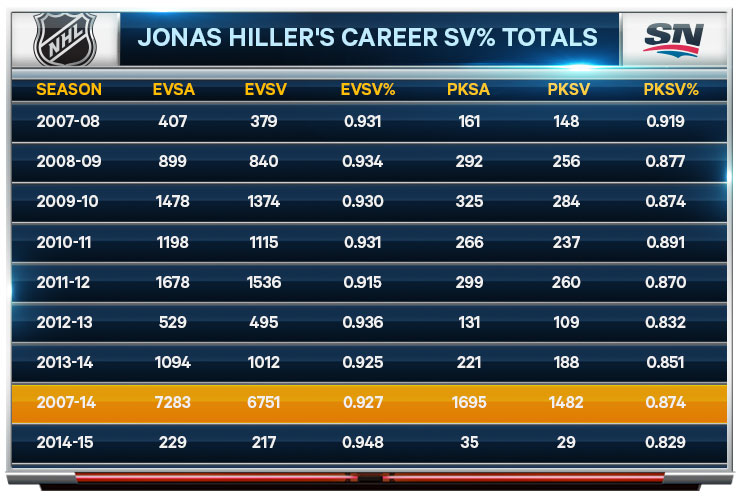 Obviously, Hiller's superlative play has been a significant factor in Calgary's success to date. The 32-year-old should be on the downswing of his career arc, and as good as Calgary's defence is it really doesn't compare with the Scott Niedermayer/Chris Pronger-led group that Hiller played behind in earlier NHL days. The smart money says he's on one of those hot streaks that good goalies go on from time to time, and that he'll cool down eventually.
---
More NHL on Sportsnet:
Subscribe: Rogers GameCentre Live
Rogers Hometown Hockey | Broadcast Schedule
Sportsnet Fantasy Hockey Pool
---
The trouble is that the difference between Hiller's numbers this year and his career average only account for three goals; if we further assume (somewhat problematically) that Ramo's really a .903 save-percentage goalie on natural ability, we can add a fourth, but that doesn't explain the Flames' play so far. After filtering out empty-net and shootout goals, Calgary is plus-nine on the year, so knocking three or four goals off their total doesn't even cover half the gap between them and the average, let alone make them the bottom-feeders virtually everyone expected.
So, where is Calgary generating these goals? Most of the team's advantage comes during five-on-five play.

The goals-against number is lower than we might expect because of the superlative play of Hiller, but what about the goals-for column? The Flames have one of the highest shooting percentage totals in the NHL at five-on-five at 9.47 percent, good for fourth in the league. Is that sustainable?
The answer might plausibly be found in two areas. It's possible that Bob Hartley's coaching style lends itself to more high-percentage chances, which in turn would boost shooting percentage. It's also possible that Calgary's largely no-name shooters are better at converting shots into goals than the NHL average.
In either case, we should find evidence in Hartley's past two seasons behind the Calgary bench. Unfortunately for this theory, the Flames are the very definition of average. In 2012-13, Calgary scored on 7.96 percent of its shots during five-on-five situations—that figure ranked 16th in the NHL. In 2013-14 it was 7.86 percent, 14th overall. The team couldn't possibly be more middle of the pack at converting shots to goals if it was trying.
It's also hard to make the argument that personnel changes have put Calgary over the top. The biggest shooting-percentage boost has come from returning defencemen, people like Dennis Wideman (17.2 percent), T.J. Brodie (16.7 percent) and Mark Giordano (12.9 percent). None of the 27 NHL blueliners with 10 or more goals in 2013-14 posted a better shooting percentage than either Brodie or Wideman; only two topped Giordano's 12.9 percent. Giordano led all Flames defenders in shooting percentage at 7.8 percent last season.
Mason Raymond is the most convincing finisher of the new forwards (he has five goals, all at even-strength, and a 20.8 shooting percentage), but he's presently shooting at better than double his career average of 10.0 percent, and the addition of Raymond is unquestionably offset by the departure of Mike Cammalleri, who has 241 goals and a 12.2 percent shooting percentage over a 677-game NHL career.
Young guns like Markus Granlund and Josh Jooris aren't the answer either to sustainability either, with the former shooting at nearly double the efficiency he's shown over his AHL career and the latter converting at nearly four times the frequency he managed in the minors.
So the answer is, no, this level of production is not sustainable. But the upshot of all this is that the Flames are currently enjoying an unreal stretch of pucks going into the net, converting shots to goals at a ridiculous 9.5 percent clip in five-on-five situations. The last two seasons strongly suggest that Calgary belongs a lot closer to the 8.0 percent mark, a number which would knock four more goals off their total to date.
But that's all in the past; more interesting is what the ramifications are for the future. For the sake of argument, let's say that the Flames continue to allow shots for and against at the same rate they are right now at even-strength. Let's further argue that Jonas Hiller plays two-thirds of the remaining games at his career average, that Karri Ramo displays the form he did in 2013-14 and that the Flames' shooting efficiency drops to 8.0 percent. What would that look like? In this hypothetical projection, Calgary would be out-shot 1,603-1,384 in five-on-five play the rest of the way, but they would only be out-scored 121-111.
That isn't a big fall-off; minus-10 at even strength over the remaining 68 games isn't good but it isn't "draft Connor McDavid" bad either. It's also likely to be offset by improved special teams. Under Hartley's watch, the Flames were a plus-five team between the power play and penalty kill combined in 2012-13 and plus three last season; if we assume that the Flames can do something similar the rest of this season, than—thanks to their hot start—they could well end the campaign with a positive goal differential.
Obviously, a lot can still go wrong. Injuries can wreak havoc with teams; so too can the cold stretches that are inevitable, when goalies are off their games or shooters are snake-bitten. But as crazy as this would have sounded even a month ago, the Flames' red-hot start to the season means that the playoffs are plausible, even taking regression into account.