Shayne Gostisbehere's point streak ended at 15 games Tuesday night, but it set a new record for longest point streak by a rookie NHL defenceman and was just five games shy of matching Paul Stastny's record of longest point streak by any rookie in the modern era. Making it more impressive is the fact Gostisbehere's streak was the longest by any defenceman since Chris Chelios in 1995.
The young Flyers defenceman has been turning heads all season, but he didn't start getting national attention or Calder Trophy buzz until the streak. He's shown poise with the puck beyond his years, but he's also benefitted from some nice bounces, scoring on 12.6 per cent of his shots on goal, which is a huge number for a defenceman. His linemates have scored on a high percentage of their shots as well.
So how good, really, is the one they call Ghost Bear?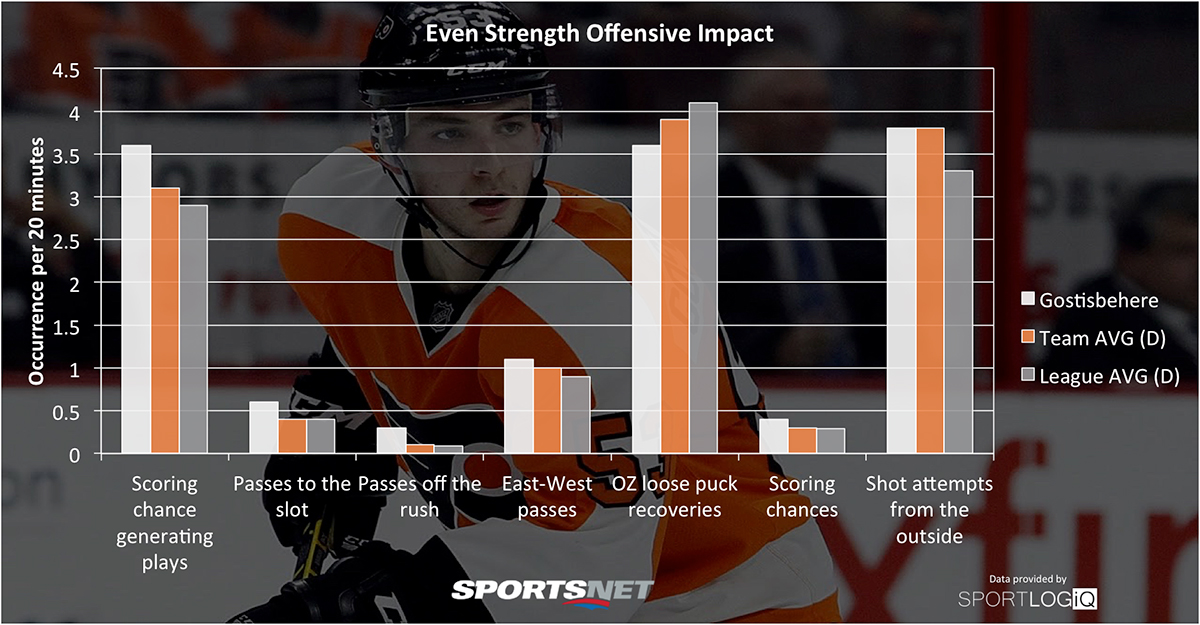 Offensively, there's a lot to like about Gostisbehere, he generates scoring chances at the same rate as John Klingberg, John Carlson and Tyson Barrie at 3.6 per 20 minutes, but is behind the elite class of Erik Karlsson and P.K. Subban, who are both above 5.
Gostisbehere generates his scoring chances with excellent passes, especially attacking off the rush, which he does at an elite rate. His modus operandi in the offensive zone seems to be to get the puck moving either East-West, or into the slot, which is exactly what you want a player to do to create offence.
He also generates more scoring chances than the average defender, though his shot rate at even strength doesn't stand out much from other Flyers defencemen.
But above just simply creating offence, Gostisbehere also creates opportunities for his linemates by driving the puck up the ice more often than any other Flyers defenceman, and it's not even close.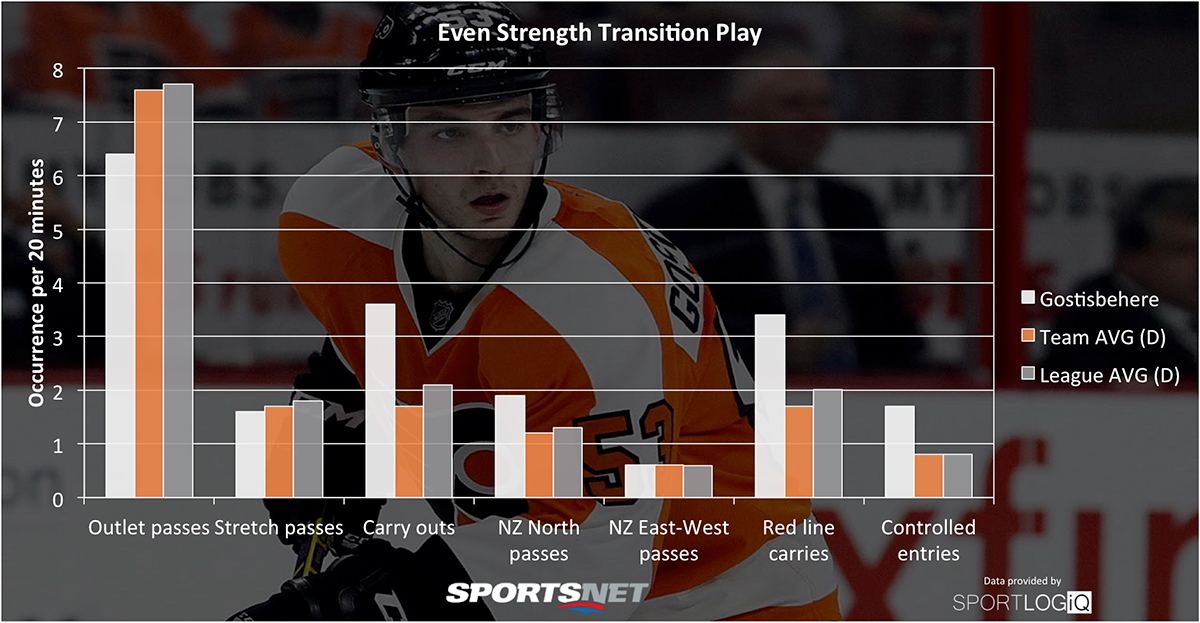 In terms of possession-driving plays, or transitioning the puck, Gostisbehere makes 19.2 successful plays per 20 minutes of ice time at even strength, two more than the next best Flyers defenceman (Mark Streit), and four more than the team average.
What's most interesting about Gostisbehere's transition play is that he doesn't do it overwhelmingly with defensive zone passes, like most defencemen do. Like most elite-level defencemen, Gostisbehere has huge puck carrying numbers, ranking top-10 in the NHL in controlled carry outs from the defensive zone, and top-15 in controlled entries.
Unlike most defencemen, Gostisbehere also makes more neutral zone North passes than stretch passes, which may signify that he prefers to make short passes to players in transition, rather than going for the long bomb.
Rookie defencemen are often a bit more hesitant than second- or third-year players, so we may see Gostisbehere flex his muscles even more in the coming years, which is great news for the Flyers.
Not only is Gostisbehere skilled, but he seems to be smart too. He has the lowest dump-in rate among Flyers defencemen, and the second-lowest dump-out rate to Michael Del Zotto. This is a kid to watch in the future because he has a real shot to join the NHL's elite class of defenders.