The Florida Panthers' epic winning streak ended in Vancouver on Monday with an overtime goal from Daniel Sedin, and their points streak ended two nights later with a blowout loss to the Calgary Flames. But the news surrounding the Panthers has been all positive of late, with one of the biggest stories being how 43-year-old Jaromir Jagr is somehow defying age.
Jagr often jokes about being old and tired on his Twitter account, but when the puck drops he ends up making younger players look old. His footspeed has slowed quite a bit, but his pure power in his lower body and amazing instincts for where to position himself allows him to create space for himself and his linemates.
With 32 points in 41 games, Jagr is on pace for a 61-point season, a big improvement on last season's 47 points. He is also already at 15 goals and on pace for his highest total since 2006-07. A high personal shooting percentage certainly helps boost those numbers, but no matter how you feel about analytics, don't you hope the puck keeps bouncing Jagr's way?
Beyond just offensive production, Jagr has been impressive analytically too.
In a lot of ways, the Panthers' forwards are very average offensively, but Jagr stands out in every way you want him to. Only Aleksander Barkov is involved in more scoring chance-generating plays and possession-driving plays.
It's the possession driving that's the biggest shock for Jagr, because you wouldn't expect him to retain his ability to transition the puck up the ice so well at his age, but he's just so crafty that he finds seams to either skate at his own pace, or find his younger, quicker linemates.
Over time, Jagr's shot rate is deteriorating as well, as he's producing nearly three fewer shots per 60 minutes played than he was in the lockout-shortened 2012-13 season, according to stats.hockeyanalysis,com. But it seems like the shots he's passing up are mostly from the perimeter and he's instead being more choosy and dishing to his linemates when he doesn't have something good.
If you look at Jagr's shot attempts this season, you can see that he's shooting a lot from close in. In the following graphic, the curved blue line represents the median distance from the net for all of Jagr's shot attempts, with the blue number representing the percentage of those attempts he gets on net. The other numbers represent the per cent of Jagr's total shot attempts from each area.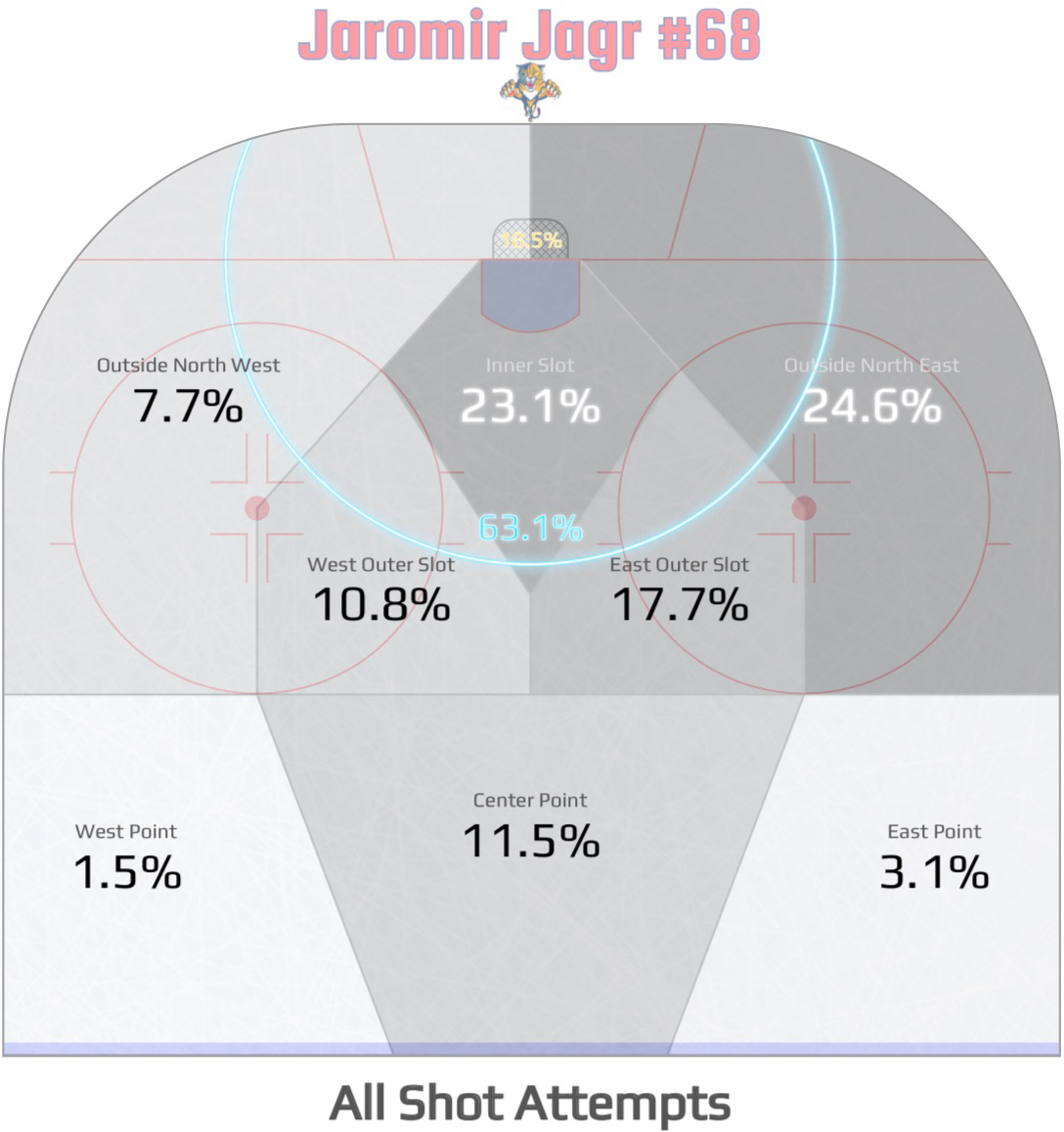 Surely playing with young, talented linemates insulates Jagr a little bit from the rigors of being middle aged, but it doesn't take anything away from what he's been able to do.
At this stage of his career, even though he's leading the Panthers in points, Jagr isn't their best forward. That honour belongs to the woefully underappreciated Barkov, but he might just be their second best, and at 43, that's absolutely amazing.