With the rag-tag group of players assembled for this year's edition of the Toronto Maple Leafs, it's no surprise that the team as a whole has struggled to produce goals. What has come as a surprise though, is the struggle Nazem Kadri has faced to produce at expected levels at 25 years old after he was finally given a chance to be the team's top centre.
Unlike Tyler Bozak before him, Kadri doesn't have an elite scoring winger to help him out, but his 28 points through 52 games have still been disappointing. However, we know from previous analysis that Kadri has been putting himself in good situations to score, even though his shooting percentage remains at a career low.
So where is Kadri hurting? Let's take a look.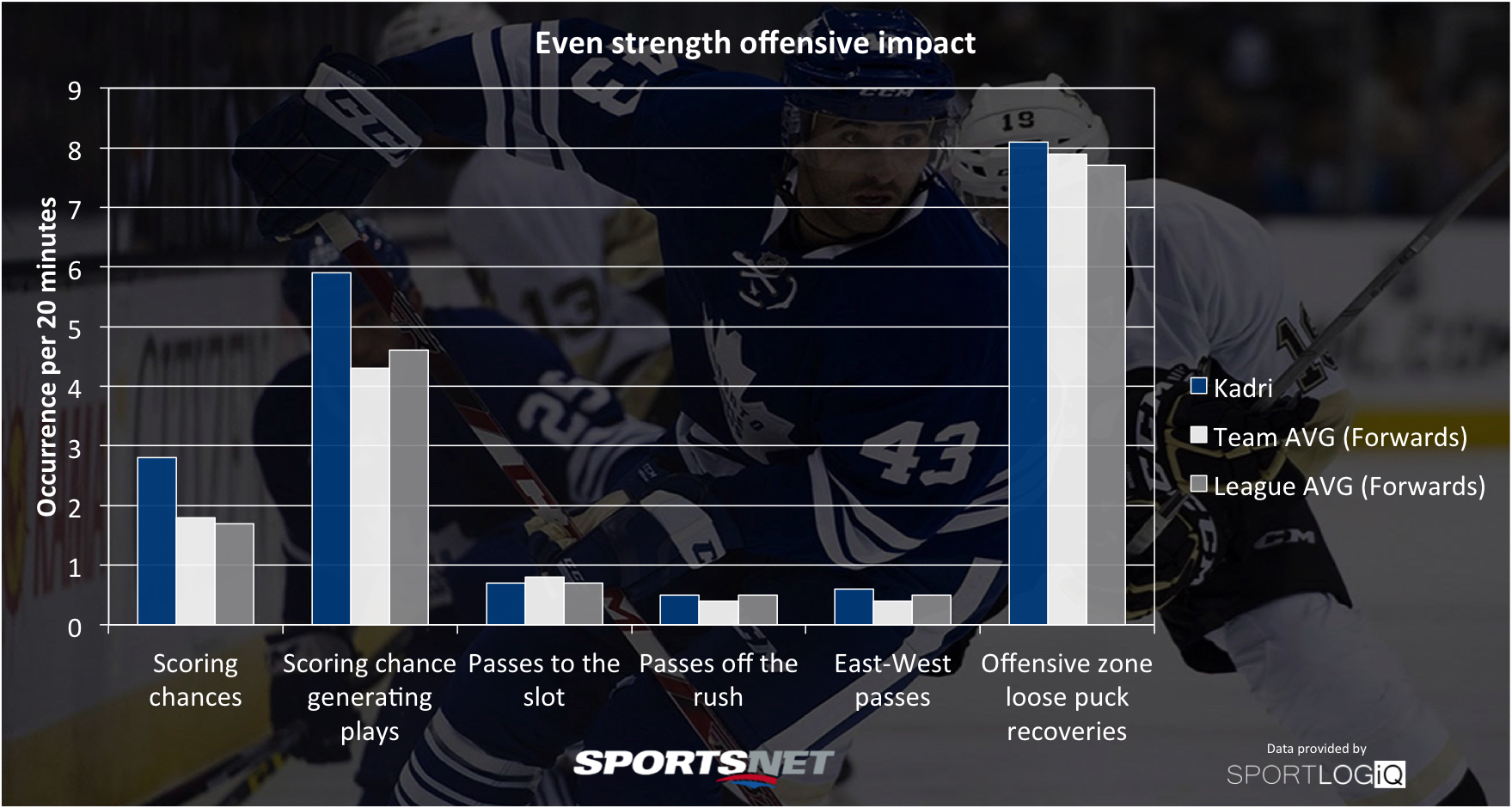 Kadri is one of the best players in the NHL at getting shots off in the scoring chance area, comparable to players like John Tavares, Jeff Skinner, and Brendan Gallagher. Normally you would expect this to lead to significantly more goals. Kadri is also among the best Maple Leafs players in scoring chance-generating plays, but most of that comes from his own shooting.
In terms of playmaking, Kadri has been essentially league average in getting the puck to dangerous shooters, or moving the puck East-West to create more difficult situations for goaltenders.
As a forechecker, Kadri is above average, but not by a lot. So in the offensive zone, Kadri's main strength is clearly as a shooter, and it would make sense to utilize him in that way.
Because of the sheer volume of shots Kadri generates, having a linemate that wins battles down low and has the ability to bang in rebounds seems like a necessity, and that is likely where a good portion of his assists come from. Mike Babcock has seemed to recognize that as well, as his two most common linemates are Leo Komarov and James van Riemsdyk. However, the second thing Kadri needs to be at his best has been missing; a playmaker.
Neither Komarov or van Riemsdyk are particularly talented passers, so the three of them as a line may work to an extent, but it doesn't maximize the young centre's talent. If the Maple Leafs want Kadri producing more goals, they will need to pair him with a player who can find him in dangerous areas, someone like P.A. Parenteau.
While Kadri hasn't lived up to his offensive potential this season, one area that he has dominated has been driving possession up the ice. Kadri ranks 10th in the NHL in possession driving plays per 20 minutes played at even strength, a mark made even more impressive by the fact that the Maple Leafs' forwards rank 22nd of 30 on a team level.
What kinds of plays drive Kadri's success?
A consistent mark of talented players is they carry the puck a lot, and Kadri is no exception. His biggest impacts relative to his team are exiting the zone with control, skating through the neutral zone, and entering the offensive zone. That ability to carry the puck successfully is a rare talent, something that breaks down defences and creates more scoring chances off the rush where shots are significantly more dangerous.
Kadri is also skilled with making outlet passes to break out, and is the Leafs' best forward at exiting the defensive zone with control overall.
Even if Kadri isn't creating as much offence as he is expected to, that ability to transition the puck allows his linemates to be more effective and there simply aren't many players in the NHL who are better at it than he is.