The following article was originally written ahead of the 2017 NHL Scouting Combine.
BUFFALO — The draft combine is the first opportunity for NHL teams to get up close to the top prospects in this year's draft.
They've been interviewing the teenagers this week, combing the medical reports and they'll be watching their every move in the physical testing this weekend.
Scouts and executives might have some connection with a few prospects before they arrive at the combine. Hockey is a small enough world that a fair number of the kids are the sons or brothers or extended family of those who play in the NHL or work in a team's front office. And some regional scout might actually reach out and contact a player of interest.
Still, going into the combine, what most scouts know about most players is what's in plain view on the ice and what can be summed up in a few lines on a two-page questionnaire that Central Scouting Service hands out to everyone in the incoming class.
With the help of a scout working anonymously, we've managed to get our grubby little hands on a few questionnaires completed by a few prospects, some heralded, some a lot less so, over the last few years. (Scroll down for a list of former prospect questionnaires).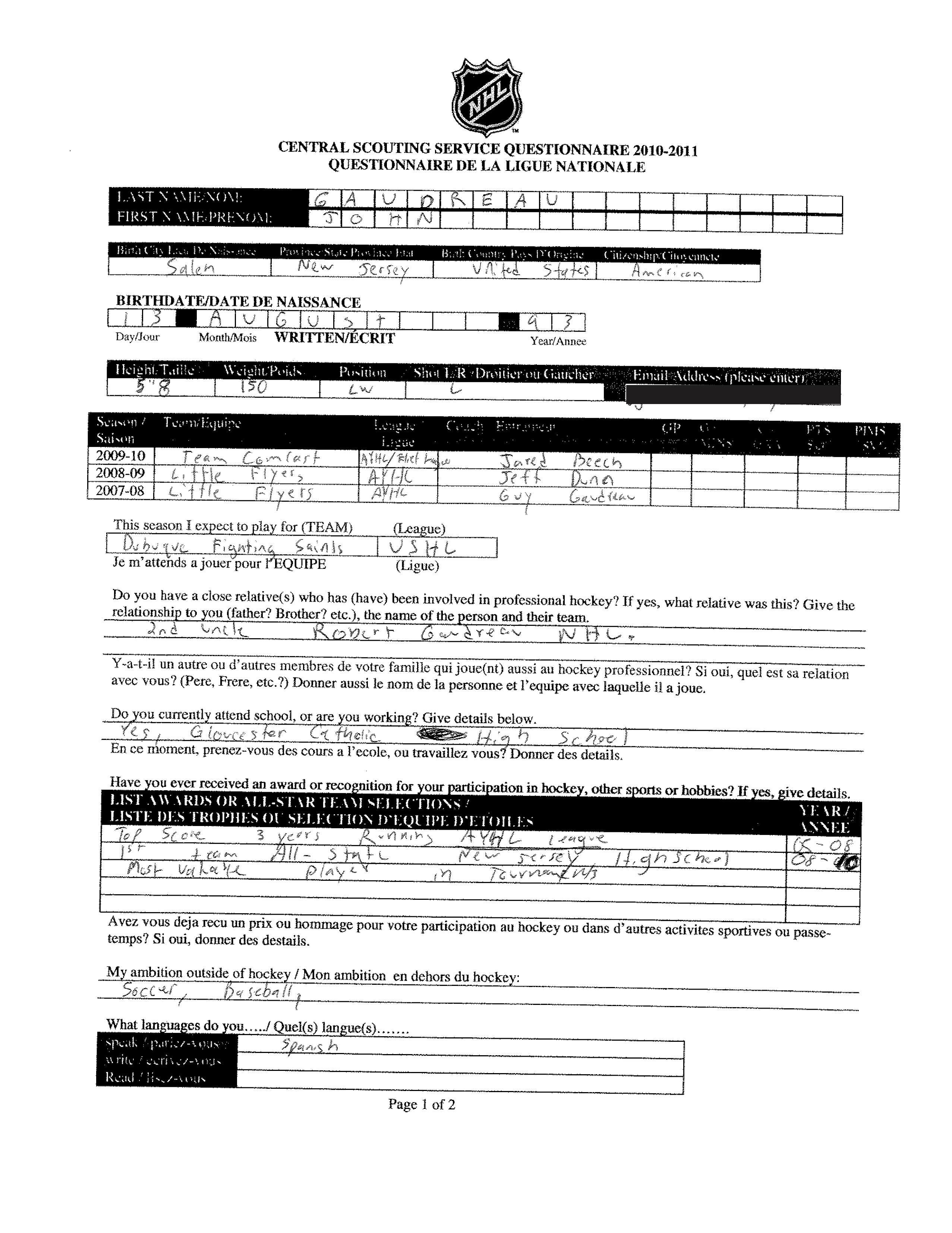 "Really, the most important things on there are the name of the kid's agent and the contact information," the scout says. "The rest of the stuff, well, I don't know what you can read into it. You know that when a kid is asked to list his height and weight, he's going to over-report. You know that a kid is going to say what a team wants to hear, which is pretty much like the combine interviews anyway."
In fact, on the questionnaire prospects are asked to list the strengths and weakness of their games and provide the players with compared skill sets and roles—an exercise that a lot of teams will grind prospects on during interviews.
"Again, a lot of kids will say what they think teams want to hear," the scout says. "But if you are interested in a player but unsure about him you want to get an idea if he has a realistic view of his game and what he's going to have to do to get to the next level and stick."
With European players you can get a sense of players who might have command of English and others who have work ahead of them.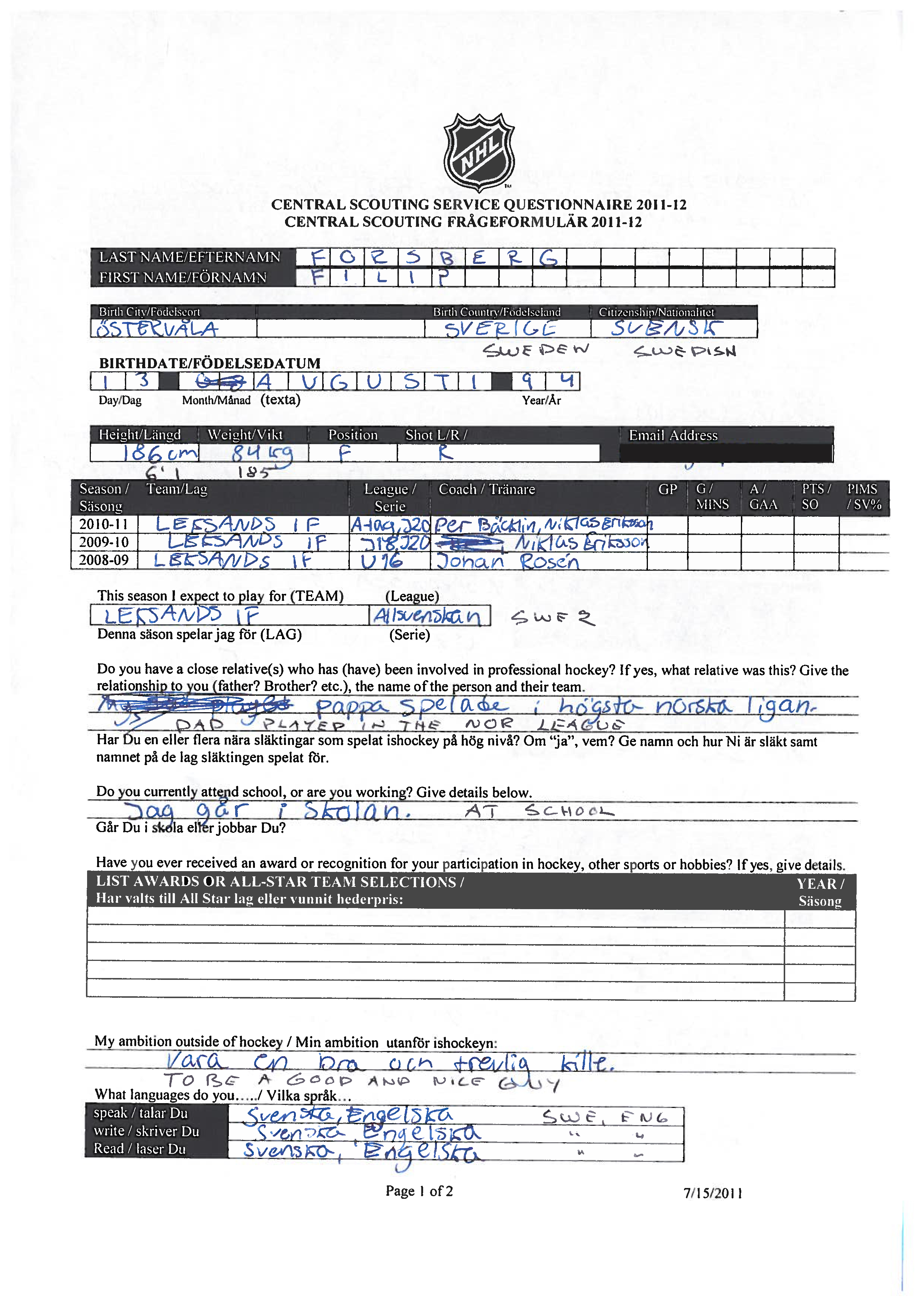 The one subject on the questionnaire that draws the widest range of responses is at the bottom of the first page: "Ambition outside of hockey."
Some players will list hobbies and past-times, like fishing, golfing or even hanging out with friends. A few will take a philosophical bent and drop in "be a good person." Many are more clearly goal-oriented and will list graduating high school or going to college.
Some will mention that they want to stay in the game, e.g. Zach Werenski listed sports management or kinesiology as interests. And then there are those who have a plan—a fallback plan if the game doesn't work out or a post-career ambition.
Central Scouting gets almost complete compliance with the forms.
Every one of the 100 North American skaters and the top 20 goaltenders have theirs on file. In fact there's well over 200 in North America alone—for those who aren't invited to the NHL combine, aren't drafted and aren't offered free-agent tryouts, this form is the only interaction they'll ever have with the league. And though they don't get to keep a copy as a souvenir they can take whatever satisfaction they can find in the fact that their hockey lives at age 18 are preserved in a pdf file in Central Scouting's database.
***
Here's a look at complete two-page questionnaires from Central Scouting Service for Aaron Ekblad, Filip Forsberg, Johnny Gaudreau, and Mark Stone.
Aaron Ekblad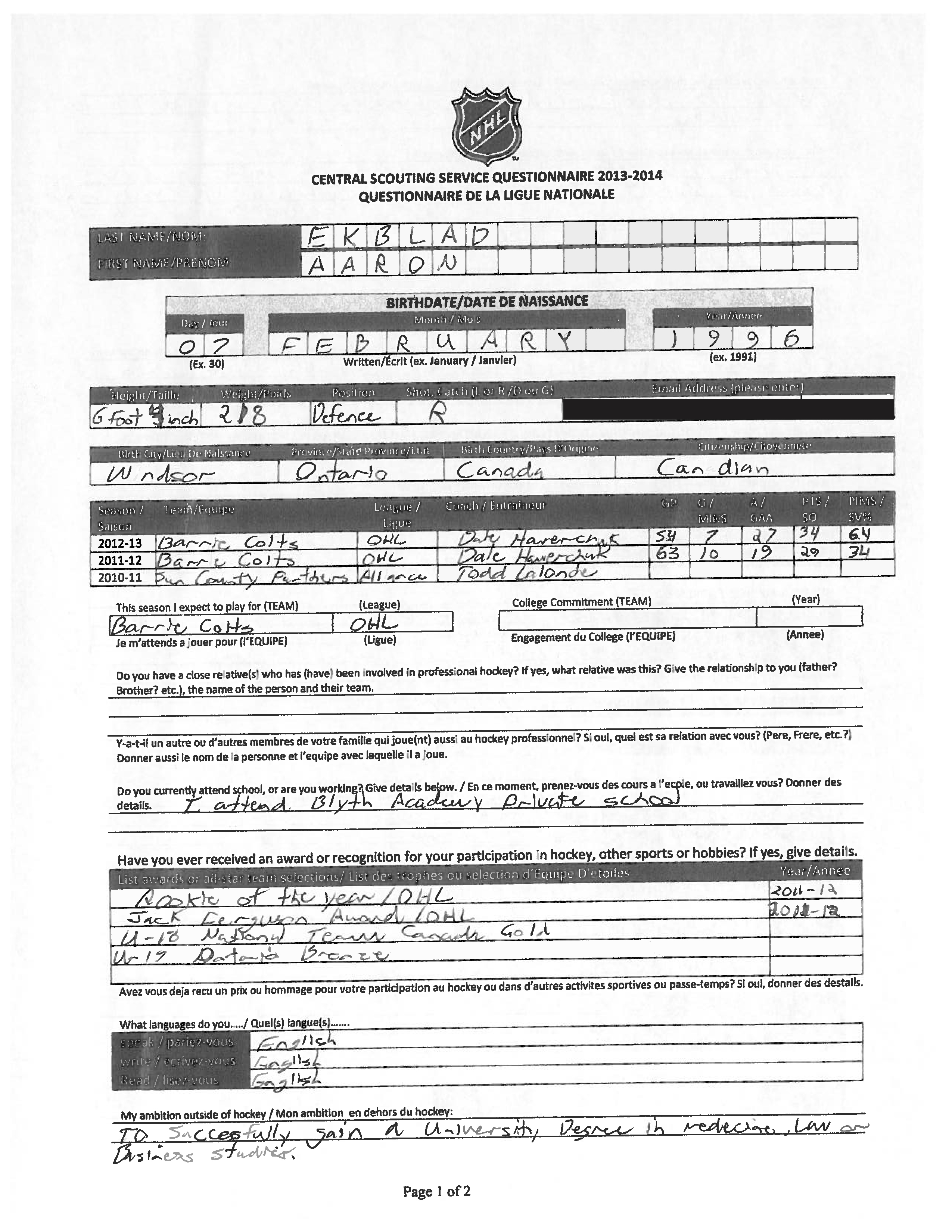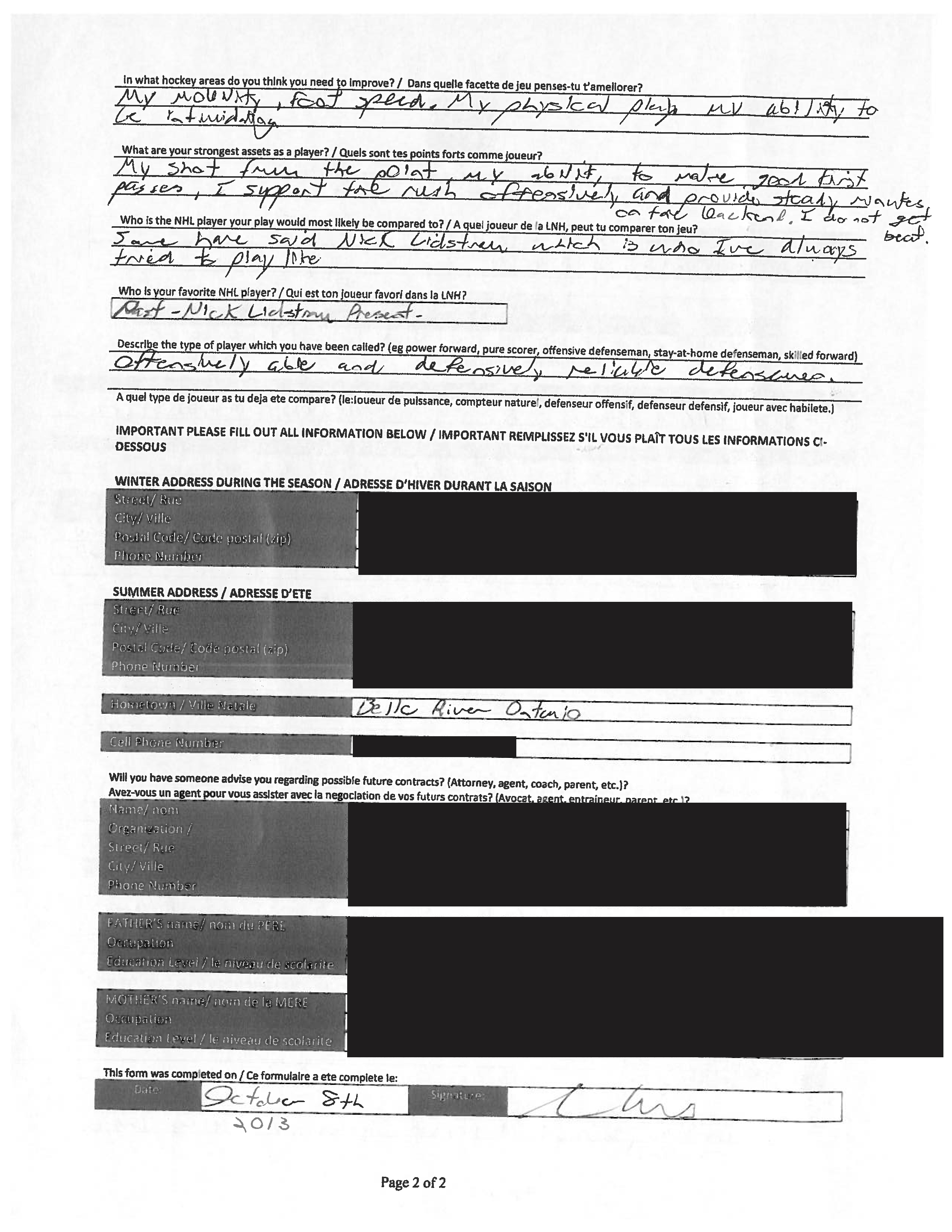 Filip Forsberg
Johnny Gaudreau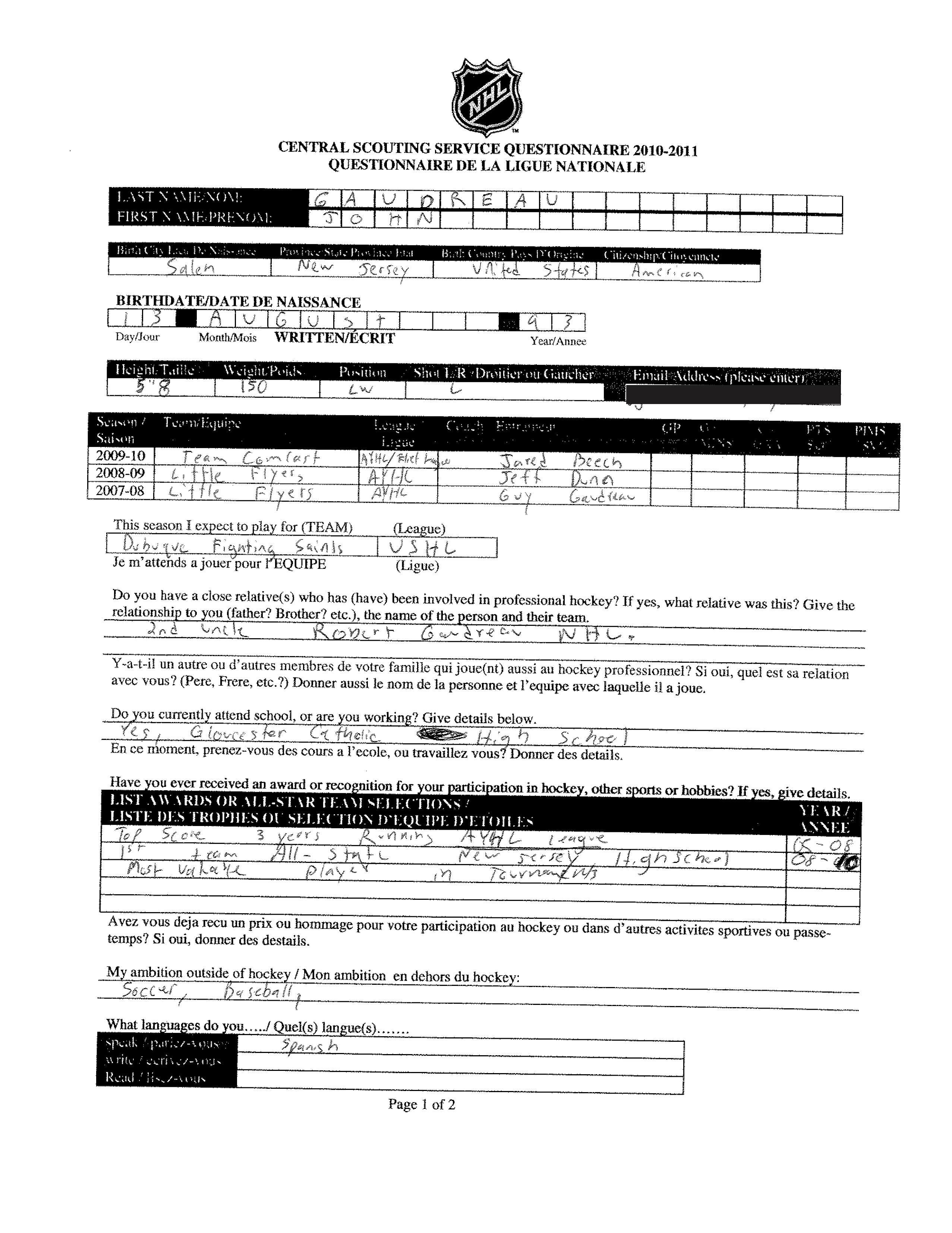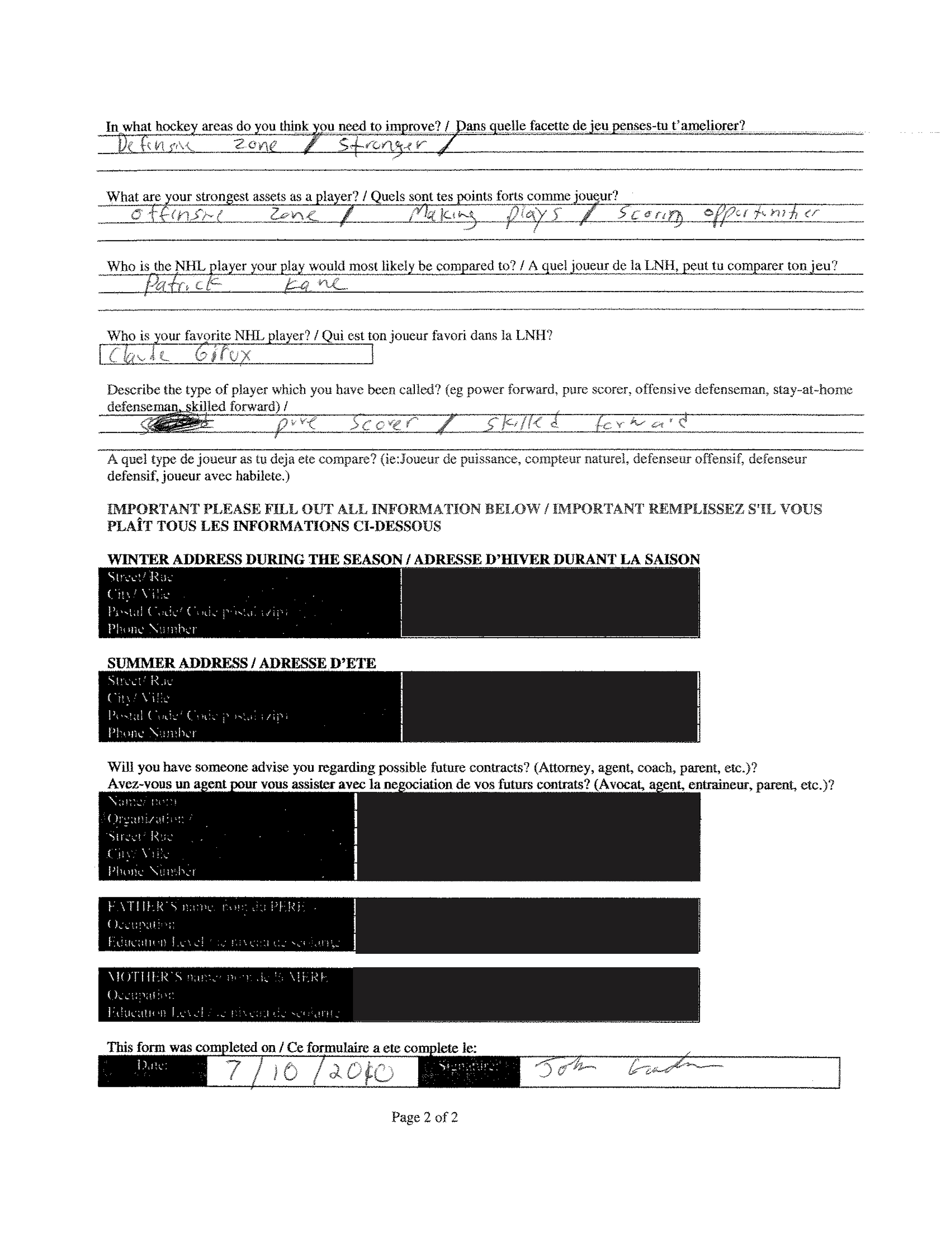 Mark Stone