MONTREAL — Truth is a moving target inside NHL arenas at this time of year.
Who did what. Who said what. Who thought what.
But the one fact we can safely sift out of L'Affaire Subban is that the Montreal Canadiens made out like bandits with this slash. Call it playoff savvy or good fortune, but the Habs emerged from Game 1 with a little more than a 1-0 edge over the Ottawa Senators.
STANLEY CUP PLAYOFFS: | Broadcast Schedule
Rogers GameCentre LIVE | Stanley Cup Playoffs Fantasy Hockey
New Sportsnet app: iTunes | Google Play
First of all, they're likely to face a team with Chris Neil in its lineup on Friday rather than Mark Stone. Bryan Murray wouldn't completely rule Stone out for Game 2, but it would be pretty stunning if he played after the Senators general manager revealed that the winger suffered a microfracture and ligament damage in his right wrist.
Then there is the matter of Subban, who sat out half of Wednesday's game because of the major penalty and game misconduct his slash was assessed. Normally that would be costly for Montreal, especially with leading scorer Max Pacioretty already out with a suspected concussion, but the Habs overcame the two goals scored by Ottawa on the Subban major thanks to a strong showing from the fourth line.
Given the circumstances, it couldn't have turned out any better for the only home team to register a victory on the opening night of the Stanley Cup playoffs.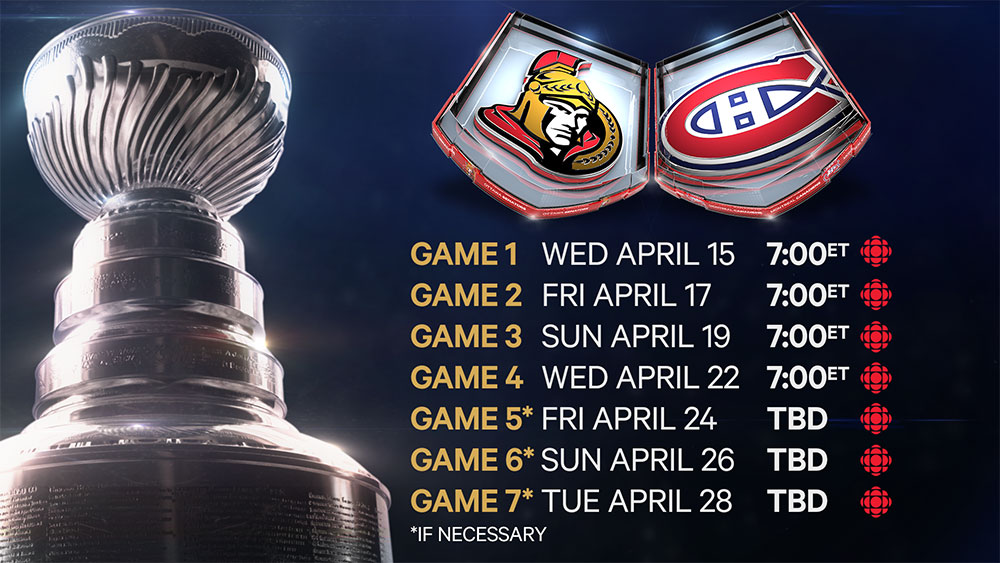 Ottawa lobbied hard to get Subban suspended, but couldn't convince the department of player safety to reconsider its initial view of the play. Murray shared the details of Stone's ailment with NHL disciplinarian Stephane Quintal on Thursday morning and claimed that Subban had threatened the Sens budding star before injuring him with the well-placed two-handed slash.
Subban denied there were any threats made, but couldn't hide from the fact it was a deliberate play. This was not in the heat of a battle or a retaliatory situation. The defenceman saw the NHL's fifth-leading scorer since Jan. 1 heading towards his net and seized on the opportunity to send a message.
"Listen, I've been slashed a lot harder than that," said Subban. "I've probably seen many slashes harder than that. I don't think that it was that hard of a slash. First of all, I didn't even really look at where I was putting my stick."
It struck the area just beyond Stone's glove. The player was in and out of the dressing room three times to get treatment and has "no mobility at this point at all," according to Murray.
Should the 22-year-old make another appearance in this series, he's not likely to be the same player that had 35 points over the final 31 regular-season games. His most dangerous weapon is his shot and a wrist injury will obviously impact that significantly.
"Best player in the National Hockey League the last two months," said Senators coach Dave Cameron. "Or as good as any."
You can understand their frustration at seeing him go down, especially in the manner it happened. It's a big blow for a team that has overcome more hurdles than most to reach the post-season.
The attitude inside the Canadiens dressing room was one of bemusement more than anything. Subban was irate when Stone returned to Wednesday's game — emerging from the tunnel behind the bench and throwing a towel before being talked down by athletic therapist Nick Addey-Jibb — and seemed to cast doubt on the severity of his opponent's injury.
"Well obviously there's a lot of emotions in the game," Subban said of his outburst. "I'm frustrated. Even after I slashed him I was pretty upset when he went down."
His teammates brushed off the notion that the slash on Stone was made worse by an alleged threat issued beforehand. The mind games are clearly in high gear.
"A threat gets uttered on almost every shift, especially in the playoffs," said Devante Smith-Pelly. "It's just our best defenceman in a battle with their best forward. I don't see it as anything more than that."
"This is playoffs," added Dale Weise. "Things happen."
This series has barely begun and already it feels like a lot has gone on. To recap: The Habs will have Subban in the lineup for Game 2 and possibly Pacioretty, who is nearing a return. The Sens will likely have Neil, a 35-year-old tough guy who last dressed on Feb. 14, rather than a dynamic goal-scorer — not to mention the added challenge of keeping their composure with the NHL monitoring things closely.
The impact of one play can alter the outlook of an entire matchup. No wonder the slash is all anyone was interested in talking about on Thursday.
"Really I can look at everybody else, I can point fingers, but it's on me," said Subban. "I made the decision to slash him there. I got the penalty, I hurt my team and I'm happy that the guys rallied. The story should be about the guys coming together and the great play from that (fourth) line. … That should be the story, it shouldn't be about me.
"But here we are."
From the Habs standpoint, it's a pretty good place to be.