On the eve of the 2010 draft, the St. Louis Blues' bird dogs were still barking about what to do with their 14th-overall pick. Jaden Schwartz and Vladimir Tarasenko were both on the team's radar, and the St. Louis brain trust was wrestling with the fact that they believed Tarasenko wouldn't make it past No. 5 if his name was John Smith. But could a team in transition take a flyer on a Russian prospect who might break for home if life along the Mississippi didn't suit him? Then again, what if Tarasenko fell to a division rival and tormented St. Louis every time he came through the Gateway Arch for the next decade? Some in the room argued they couldn't pass up that kind of talent, while others championed the safe play—leave the driver in the bag, lay up and make a great par with Schwartz. Before a divided House of Blues broke that night in Los Angeles, they came together for a laugh when somebody joked they should just figure out a way to get both guys. Yeah, wouldn't that be a hell of a way to solve this dilemma?
As GM Doug Armstrong and his hockey staff headed for the pillow after that meeting, there was no way they could have known that roughly 15 minutes at the draft table the next night would completely transform the complexion of the franchise. Five years after landing both of its targets, St. Louis is a league power, desperately searching for a way to punch through in the wicked Western Conference. If it ever happens, chances are linemates Schwartz and Tarasenko—the former a cerebral whiz in every aspect of the game, the latter an offensive machine the likes of which St. Louis hasn't seen since Brett Hull—will play vital roles. And should the Blues get their hands on the Stanley Cup for the first time in team history, all the front-office members who were there for that pivotal draft will likely share another chuckle, reminiscing about how it all went down.
MORE STANLEY CUP PLAYOFFS: | Broadcast Schedule
Rogers GameCentre LIVE | Stanley Cup Playoffs Fantasy Hockey
New Sportsnet app: iTunes | Google Play
St. Louis was in an interesting—and not altogether pretty—state at the end of the 2009–10 season. On the ice, the Blues were scuffling, having missed the playoffs for the fourth time in five years. In the front office, Armstrong was taking over the reins from Larry Pleau, as had been the plan when Armstrong joined the organization's hockey operations department two years earlier after nearly two decades of helping build the Dallas Stars. Pleau, headed for semi-retirement, wanted the 2010 draft to be Armstrong's show, even though Armstrong wouldn't technically become GM until a few days after the event. Armstrong had already put his mark on the franchise, acquiring goalie Jaroslav Halak from the Montreal Canadiens shortly after the season ended.
With the goalie issue settled, Armstrong set about deciding what to do with the team's first pick. Like every organization that had seen him play, the Blues were tantalized by Tarasenko's talent. Even as an 18-year-old, the stocky right-winger had proven capable of producing in the Kontinental Hockey League. The fear, though, was the same as it was with all Russian players at that time—if this kid can make boatloads of money at home in a fledgling league trying to gain clout, how sure can you be that he's all in on playing in North America? As a GM, it was Armstrong's task to never lose sight of the big picture. Scouts, however, aren't asked to fixate on the forest, just the trees.
"It was a split room, because the scouts' job is not to assess the risk of the player coming over," Armstrong says. "Their job is to assess talent."
Based purely on skill, St. Louis had Tarasenko among the top handful of players in a draft that saw Taylor Hall and Tyler Seguin go one-two to the Edmonton Oilers and Boston Bruins. But knowing every team would be flummoxed by the same questions they were, the Blues figured Tarasenko would still be on the board when their turn came up at No. 14.
They also felt comfortable assuming a slightly undersized Saskatchewan boy who didn't play major-junior hockey would fall that far, too. Schwartz had obliterated the United States Hockey League as a 17-year-old, registering 83 points in 60 games with the Tri-City Storm to become the youngest league scoring champion since 1982–83, but at five-foot-10, he didn't possess the profile of a can't-miss forward prospect. What St. Louis put a lot of stock in, though, was his off-the-charts hockey sense and maniacal focus. The Blues also got a glowing report from coach Dale Derkatch about Schwartz's time with the legendary Notre Dame Hounds program in Saskatchewan. Having considered all sides of the equation, Armstrong made his call: If the rebuilding Blues had just one first-round pick, they were spending it on the surest thing. "If we were going to miss, it was going to be on a player who didn't perform to the ability we thought [he could], not, 'We never saw the guy because he never came to North America,'" Armstrong says.
But deciding what to do with the pick he did have didn't stop Armstrong from dreaming about what he could do with one he didn't. The encounters he'd had with Tarasenko—including an in-depth chat in Los Angeles just before the draft—stuck with him, and around the time the Minnesota Wild selected Mikael Granlund ninth overall, Armstrong began to make some calls, hoping a team that had seen its preferred player taken would be willing to listen. "They don't know what you're thinking, I don't know what they're thinking, I just give them a concept," Armstrong says.
In his mind, the idea was clear: If he could wrangle another pick, he'd take Schwartz with the first selection and hope Tarasenko was still there when the second one came up. The Blues also had a logical bargaining chip in Swedish defenceman David Rundblad, the squad's first-round selection in 2009, who was a bit redundant since the organization already had right-shooting D-men Erik Johnson and Alex Pietrangelo in its ranks. But St. Louis failed to strike a deal before it was time to tell the world they were nabbing Schwartz with their first pick.
The next selection brought about a wave of excitement because it belonged to the hometown Kings. Armstrong may not have known it in the moment, but he, too, should have been amped the second L.A. snagged big defenceman Derek Forbort 15th overall. Forbort was the last available prospect in a group of five the Ottawa Senators—holding the 16th pick—wanted. With nobody he really coveted left, Ottawa GM Bryan Murray became amenable to a trade. Rundblad had obvious appeal because he'd been the 17th overall pick just 12 months prior and was that much closer to being NHL-ready than anybody Ottawa was going to draft that day. With a one-for-one deal consummated fairly quickly, the Blues marched back to the stage and called Tarasenko's name. If the men making the choice were thrilled to be back at the podium, the youngster being chosen was positively giddy. Tarasenko knew that the general reluctance to take Russians meant that no matter what assurances he offered about his intentions, it was unlikely that his draft position would reflect his actual potential. That's why, when he got to pull on the Blues sweater, his smile was so wide it nearly grazed the cheek of Armstrong, who was on Tarasenko's left for one of the toothiest photos of the day. "I was so happy somebody picked me in the first round," Tarasenko says.
Half a decade later, there's still more than enough happiness to go around St. Louis over those two picks. Since starting out as rookies together in the lockout-shortened 2013 campaign, the skilled pair has added a different element for a big, grinding team that, in addition to having some goaltending issues, has also struggled to find goals at crucial times in recent post-seasons. Schwartz netted 25 goals as a sophomore last season, and the left-winger could easily have pushed for 30 this year if he hadn't been sidelined for seven games with a broken foot around Christmas. He'll never dazzle with ridiculous hands or blinding speed, but Schwartz makes the right decisions all over the ice. He reminds Armstrong of Jere Lehtinen, another hockey player's hockey player he had in Dallas when the team was a consistent Cup threat near the turn of the century. "Just a really good all-around player who makes everyone he plays with better," says Armstrong.
While Schwartz has the kind of nuanced game that GMs and coaches warm to over repeated viewings, Tarasenko is about as hard to appreciate as a burger and a beer. Generously listed at six-foot, he's essentially a sawed-off version of his countryman, Alex Ovechkin. Like Ovie, Tarasenko—a stout 219-pounder—is equally content to go around or through you, depending on his mood. "He has a big body, he can hit," says former teammate Roman Polak, now of the Toronto Maple Leafs. "If you try to run the guy, he can kill [you]."
---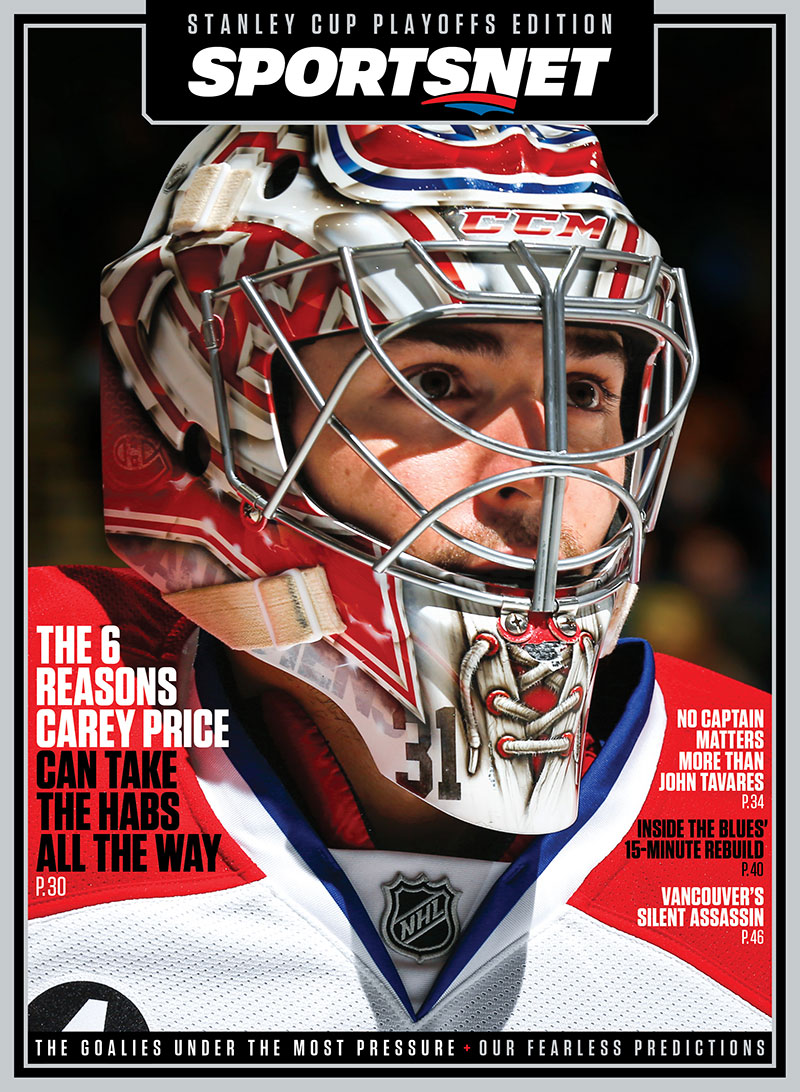 Sportsnet Magazine Stanley Cup Playoffs
Edition: The six reasons why Carey Price can take the Montreal Canadiens all the way. Download it right now on your iOS or Android device, free to Sportsnet ONE subscribers.
---
As valuable as that physical edge is, it's Tarasenko's unique offensive gifts that give St. Louis—a team that's lost to either the Kings or Blackhawks the past three playoffs—hope of getting over the hump. If there's any question Tarasenko deserved to go near the top of the 2010 draft, consider that of all the players selected that day, only Hall and Seguin have a better points-per-game mark in the NHL. Tarasenko made a name for himself early this season by going coast-to-coast against the New York Rangers for what might be the goal of the year.
His most consistent weapons are the wrist and snap shots that leave his stick like there's an eject button in the knob. "There are very few guys in our game who can score in a variety of ways and from distance," Armstrong says, "and Tarasenko is one of those players."
For much of the year, Schwartz and Tarasenko have played together, making it that much easier to connect the dots to another Western Conference duo. "I'm hoping this has the same happy ending as the Getzlaf-Perry year for Anaheim," says Armstrong, referencing the 2003 draft day, when the Ducks snagged cornerstone players and 2007 Cup champions Ryan Getzlaf and Corey Perry with the 19th and 28th overall picks, respectively.
A fairy-tale conclusion is also on the mind of Tarasenko, whose desire to play in the NHL with the Blues once prompted him to take a 13-hour train ride for a 60-minute meeting with Armstrong at the 2012 World Championship in Finland. The GM wanted to touch base with Tarasenko—who was finishing his fourth KHL season—about his North American timeline. About seven months after that face-to-face, Tarasenko was in St. Louis, and everything that's happened in his adopted home since has validated his decision. "I will feel even better if we win the Stanley Cup some day," he says.
Imagine the smiles we'll see if that happens.