Last night's last-second heartbreaker highlighted the struggles of a Montreal Canadiens team that cannot score. Since Andrew Hammond stopped handing the Habs freebies, the Canadiens have managed nine goals in seven games; their shooting percentage "clipping along" at 3.7 per cent.
The Canadiens were expected to ride the percentages they managed in the regular season and get possession whipped, but the reverse has occurred. Unfortunately, a lot of the analysis has trotted out the old crutch that most fans hate—"bad luck." Possession has become the proxy for playing well, but possession doesn't really hold as true in the small-sample-size playoffs compared to the full 82-game season. And even with large samples there are outliers thanks to our lack of proper measurement tools. At this point, we can't account for these data/knowledge gaps.
The Habs have been carrying possession, but what does that mean? In the first round versus Ottawa, Montreal won the possession battle in four of six games, but they were outplayed overall and once Craig Anderson entered the fray, could not score. The same has held true through three games against Tampa Bay.
The problem is the Canadiens continue to dominate the exterior of the offensive zone, but their commitment to creating offence in straight lines has limited their creativity. Possession doesn't discriminate against low-quality opportunities, but creating an expected goal total based on location and whether it is high quality (green) or low quality (red) can weed out some of the statistical noise that points to strong performances where one might not exist.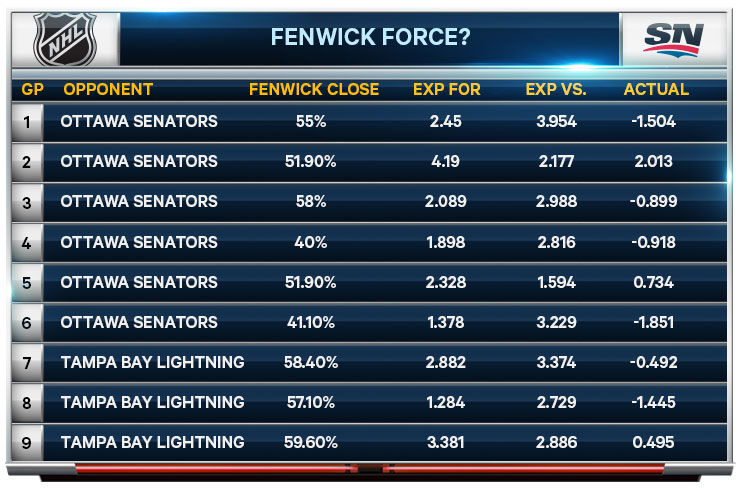 The Canadiens have consistently won the shot battle, but all those shots haven't resulted in more goals. Not because they're unlucky, but because of poor execution.
There is no doubt that shot counts are very influential and help form our perception of events. I looked at every shot from the Canadiens' playoff games entering Wednesday night, removed all common shots from offence and defence and plotted the remaining. What we see is the difference between what they've produced offensively versus what they've surrendered defensively.
Of their shots, 147 have an expected save percentage of .975 or better, while they've surrendered only 99. If we look at the mapped differential, we can see where these 48 shots are plotted and why the Canadiens continue to struggle to score. They are trading exterior volume for interior quality.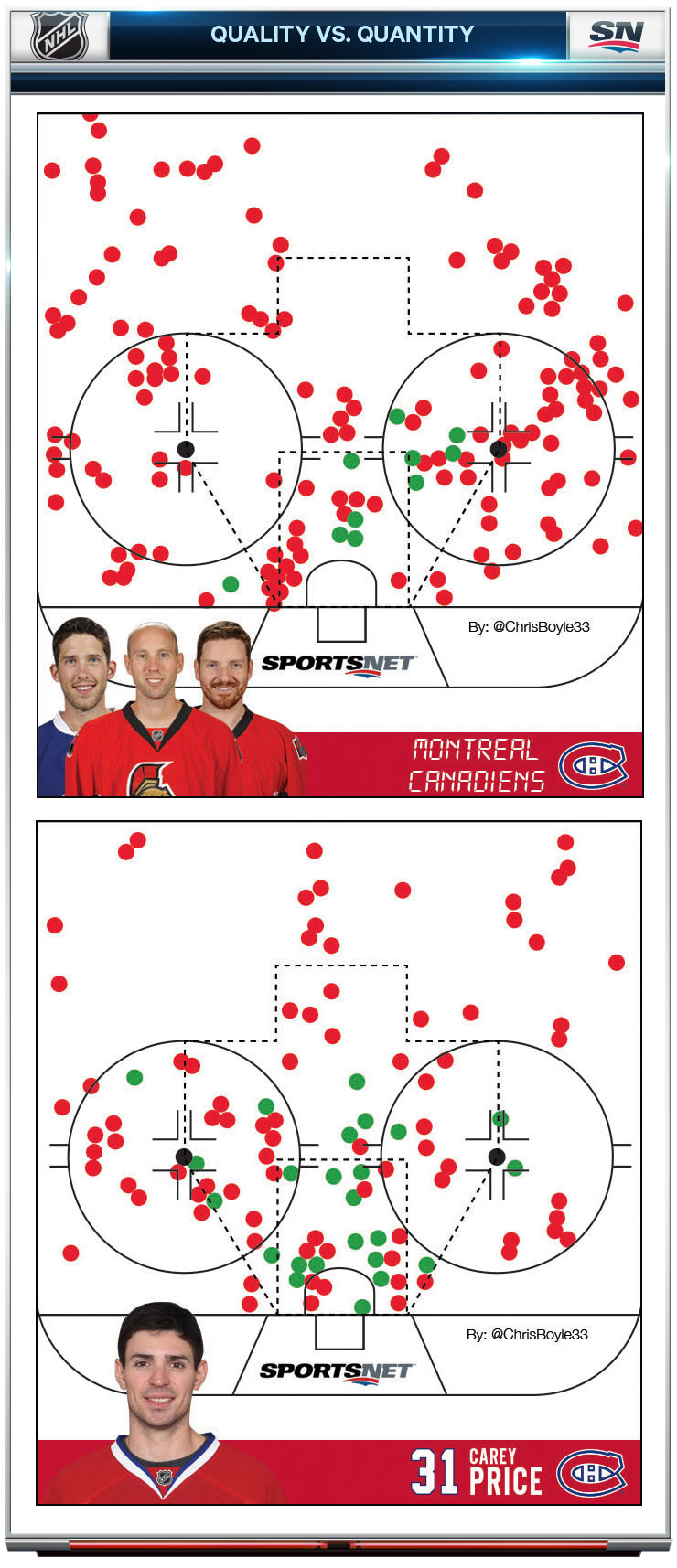 This was evident when I reviewed the first round and measured clean looks against movement. The Canadiens were the secondd-worst team in creating offensive movement in the round one. The same problem is evident when we measure their power play and it's stunning lack of movement.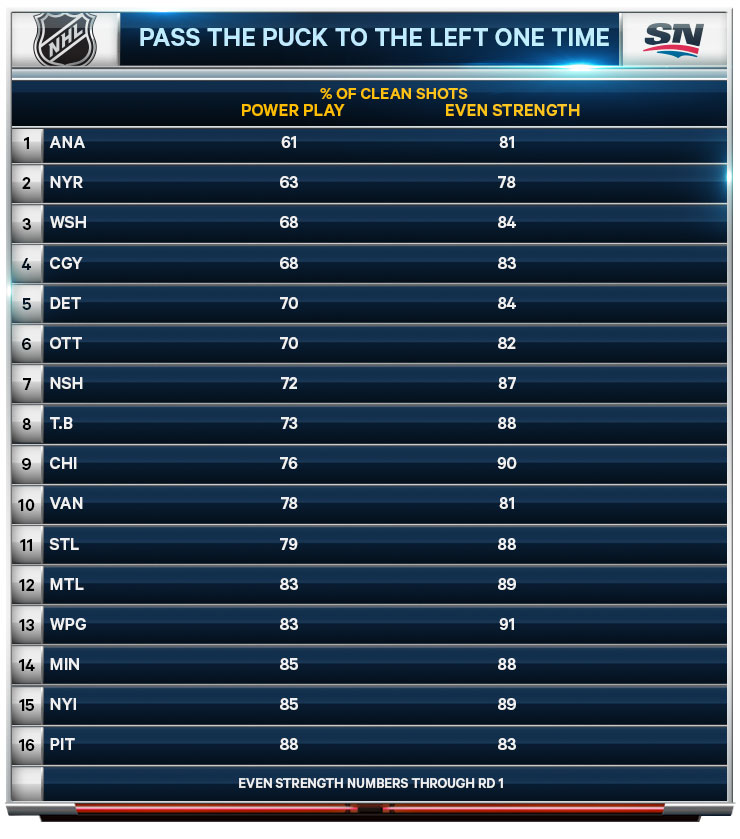 Through the first round, 62 percent of all power-play goals were the result of pre-shot movement (lateral, tips, rebound) and goaltenders who could set for a shot (red) had a .935 save percentage. When they couldn't (green) , that marked dropped dramatically to .695. As things stand now, the Canadiens are keeping company mostly with teams who have been eliminated or are about to be.
Their power play lacks the adequate movement and options essential for success. Their most diligent net-front presence is 5-foot-nine. It is tough to take away a goaltender like Ben Bishop's eyes when he has a nin-inch height advantage. The Canadiens connected on three lateral passes that resulted in shots on goal through their first eight games and their main play is trying to set up P.K. Subban for low-percentage one-timers.
Those factors are why the Canadiens' possession advantage hasn't resulted in goals and wins. They have been slightly unlucky, but entering game three, I had them at just over an expected shooting percentage of 6 percent.
With their backs against the wall last night, the Habs managed to put together their most inspired offensive effort of the playoffs since game two vs. the Senators.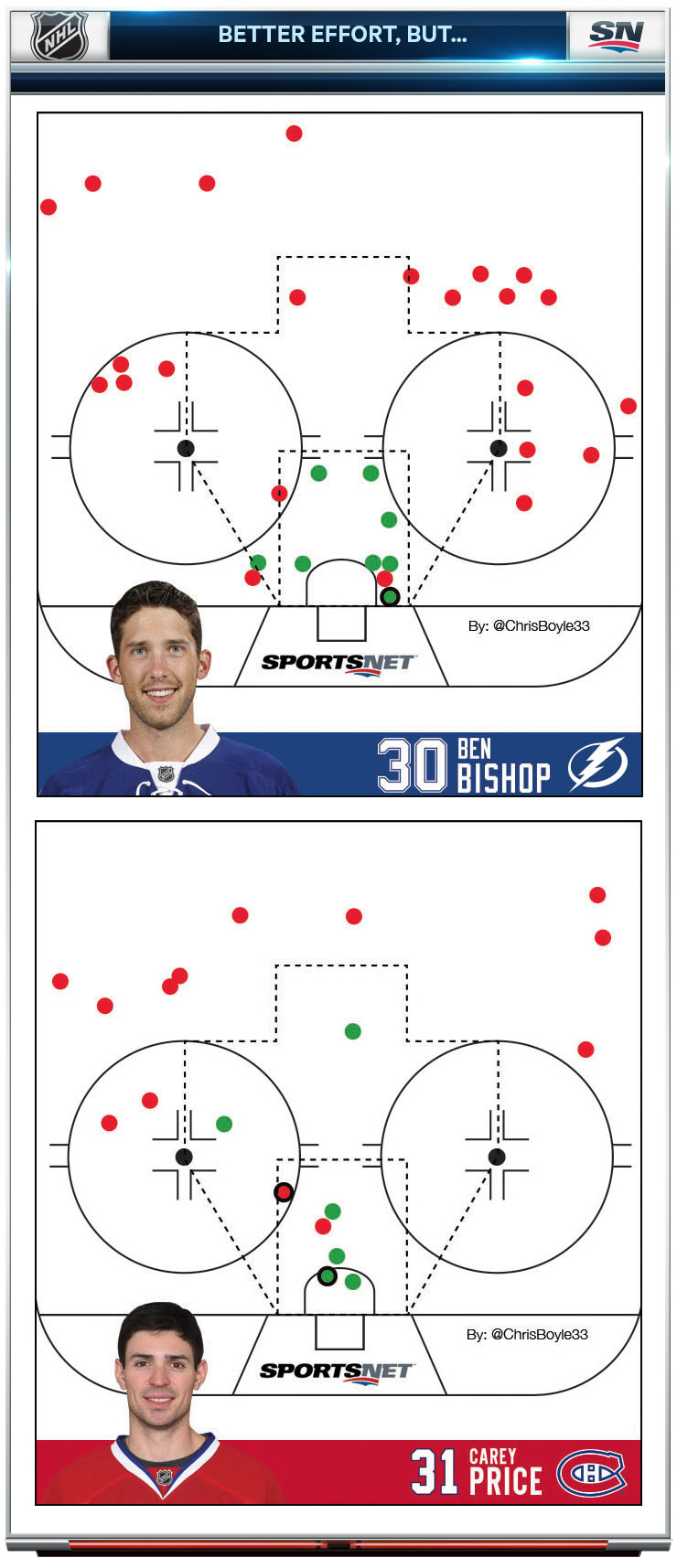 In game three, the possession numbers and overall volume matched the actual performance—Montreal produced offensive movement and did so in higher scoring areas than Tampa. Brendan Gallagher created havoc in front of the net with second-chance opportunities, Jeff Petry was activated and dangerous, and Montreal's offence created clean looks on just 74 percent of its shots.
But it was too little too late and the Canadiens left their season to chance with zero margin for error. The end result was a back-breaking last minute breakdown and a Tyler Johnson cross crease tap-in.
If the Canadiens consistently out-chanced their opponents and controlled possession, they would be able to survive shooting slumps and poor luck without relying on Carey Price to save the day. But they relied too much on factors beyond their control; playing safe and uninspiring hockey that lacked any semblance of creativity. Their forwards filled lanes like plastic hockey players on rods, putting pucks on net and hoping for bounces and their all-world goaltender to save the day. It isn't a route to sustainable success.
The Canadiens weren't unlucky, they were safe. Safe doesn't win you Stanley Cups.