For a long while, Daniel and Henrik Sedin were two of the best offensive players in the entire NHL.
From the 2005-06 season to the lockout-shortened 2012-13 season, the twins were over a point per game, registering 1,253 points between them. Both struggled in the 2013-14 season, but rebounded significantly last year, and continue to play extremely well early this season.
---
WATCH THE SEDINS TAKE ON THE BLACKHAWKS AT 10:00 ET SATURDAY ON CBC
---
What's most impressive about the Sedins' longevity is that Daniel has lost his ability to be a high percentage shooter. Over their peak, Daniel scored on 12.9 per cent of his shots on goal, whereas this season and the last three he's scored on just 8.3 per cent. That gap represents a 30-goal drop over 222 games, or 11 fewer goals every 82 games.
The reason for Daniel Sedin losing that finishing ability is up for debate, but the overnight nature of the drop in his shooting percentage from the 2012 to 2013 seasons, with a fierce elbow to the head from Duncan Keith in the playoffs in between, suggests that it's injury related.
That could be a complete coincidence, but either way, both brothers deserve credit for being able to remain effective with a full third of Daniel's goal scoring disappearing.
In a young man's league, two 35-year-old players aren't the kinds of stars that get a lot of press, but the Sedins remain two of the most impressive players in the game.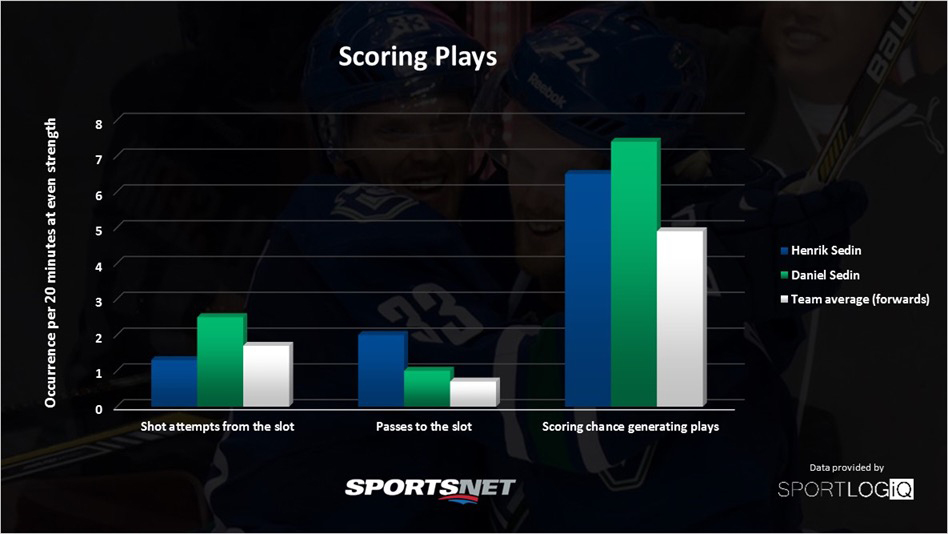 More than just compared to their own teammates, the Sedins still compare well across the NHL in terms of creating offence. Daniel is generating the 27th-most scoring chances in the league, while Henrik successfully passes to the slot more often than almost anyone, ranking fourth there, even with a relatively poor success rate of just 31.5 per cent.
What this means is that Henrik is attempting to find a player in the slot 6.2 times every 20 minutes at even strength, a staggering number, and easily the most in the NHL.
Because both Sedins are constantly working to create high-quality scoring chances, they rank among the best in the league in successful plays that lead to scoring chances. Daniel is a little ahead of Henrik overall, ranking 12th in the NHL in scoring-chance-generating plays, while Henrik ranks 30th.
The Sedins aren't just still first-line players at 35 years of age, they're both top-30 forwards in the league. If Radim Vrbata's shooting percentage rebounds a little bit, don't be surprised if the Sedins knock on the door of a point per game production once again.