Let's face simple facts, there's no way the Edmonton Oilers can replace a player like Connor McDavid. Not only was the injured rookie phenom already second on the team in points, he was second on the roster in scoring chances created per minute played, and getting better every game.
But how exactly is McDavid's absence going to be felt, and what can the Oilers do to minimize his loss as much as possible?
McDavid's biggest impact on the Oilers was in the offensive zone, with the rest of his game way above average for an 18-year-old, but not game-breaking overall. The smart money is on Leon Draisaitl moving to centre to take over McDavid's spot, but the question is whether that line can continue to generate scoring chances at the same pace without McDavid around.
Although personally measured scoring chances are extremely important, we can also measure scoring chance creation, which by Sportlogiq's definition involves any play in an unbroken sequence of successful plays that results in a scoring chance. This way, every player who was involved in creating the scoring chance gets credit, not just the shooter. By this metric, McDavid is already bordering on elite in the NHL.
There are two main ways McDavid has been generating high-end scoring chances, his own shots from the slot, and successful passes to the slot. So the question is who on that line can step up and fill the void?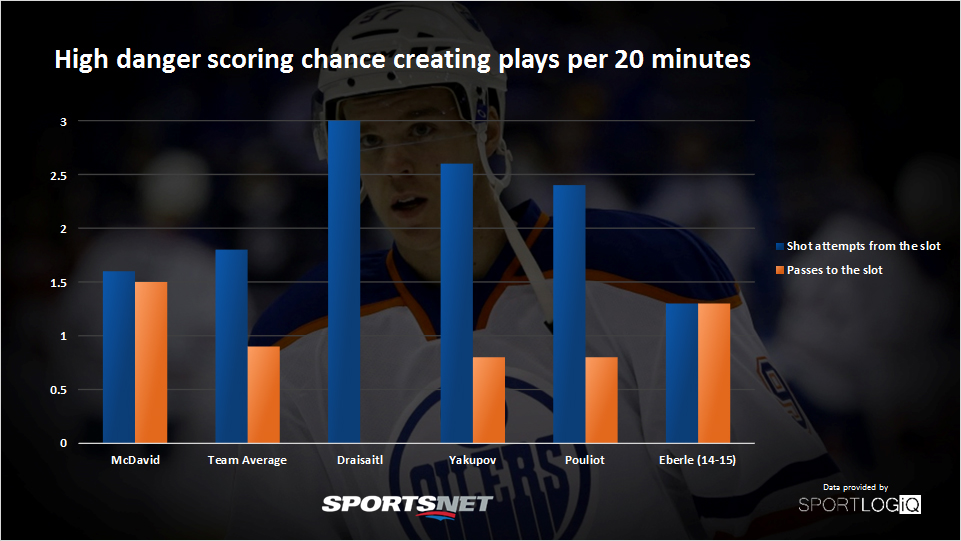 McDavid's biggest impact on scoring chances is his elite level playmaking, where he is second on the Oilers in successful passes to the slot per minute played after Taylor Hall, and first on the roster in offensive zone pass completion rate at 69.4 per cent, which 7.3 per cent higher than team average.
Fortunately for the Oilers, Draisaitl has been tearing defences to shreds when it comes to generating scoring chances, producing as many per minute played as prolific scorers such as Jeff Carter and John Tavares. It's a miniscule sample size, but a good sign nonetheless.
The problem that the Oilers have is no one on that line has demonstrated an ability to make plays at near the rate McDavid can, with Draisaitl playing a pure finishing role so far.
It's possible Draisaitl will change his game and be the playmaker for Nail Yakupov and Benoit Pouliot, but the best bet the Oilers have to make up for the McDavid gap is likely the injured Jordan Eberle.
Last season Eberle completed passes to the slot at close to the same rate as McDavid, and while it's expected he would join Hall and Ryan Nugent-Hopkins on the top line, with McDavid out long term, it might make a lot more sense to have Eberle play with Draisaitl and Pouliot as the setup man. He even has some of McDavid's stickhandling ability.
This would allow Yakupov to move up with Hall and Nugent-Hopkins, forming a line that could insulate Yakupov's weaknesses and allow him to be a secondary finisher until McDavid returns.
The Oilers are undoubtedly going to feel the loss of McDavid when it comes to offence, but Eberle's return could soften the blow, and allow them to hang around until the young superstar is healed up.
Of course, with Eberle now expected to return Friday, this all hinges on him being able to play at the same level as last season right away.