Vancouver Canucks defencemen Ben Hutton and Chris Tanev have become very familiar with one another.
The two young defenders – Hutton is a 22-year-old rookie, Tanev is still a relatively young 26-year-old – are roommates in Vancouver, a situation that came about when Tanev's prospective roommate Frank Corrado was waived and claimed by the Toronto Maple Leafs in September.
"I had an open room," Tanev explained in a conversation with Sportsnet last week. "Then, when (Hutton) made the team it made sense. He's an awesome kid."
"He thought I was an alright guy and asked if I wanted to move in with him, and I took him up on the offer. It seemed like an alright idea," said Hutton.
In recent weeks, the two roommates have, in addition to their living situation, shared the same defensive pair. They insist they're not getting sick of each other yet.
"We get along super well, we're both super easy going guys," Tanev said. "He's easy to live with, easy to play with."
In a Canucks season that has often been hard on the players, the fan base and on the eyes, the play of Tanev and Hutton stands out as a major bright spot. Since the club's No. 1 defenceman Alex Edler went down with a broken fibula in February, Hutton has been elevated to the top pair and has excelled.
Over the 171 minutes in which Tanev and Hutton have shared the ice at even-strength, the Canucks have managed to control better than 52 per cent of all shot attempts. On a team that has spent far too much time playing without the puck and surrendering high-quality scoring chances in bunches, the Tanev and Hutton pair have successfully held top competition at bay.
It may well be their off-ice familiarity that has keyed their on-ice success.
"We're not afraid to talk on the ice and talk about the game at home too, which helps," Hutton said of the chemistry the two have formed.
"Just working together, we're talking at all times, whether it's him telling me to stay up, or telling me to hold the line while he comes into support. We talk on the breakout because I feel like that's where we're strong, and if we can do that well we won't spend much time in our zone."
Breaking out of his own end of the rink is where Hutton has really stood out in his rookie season.
The 2011 fifth-round pick ranks in the top-30 among regular NHL defenceman by carryout rate — a metric that counts up the number of times a defenceman skates the puck out of their own end — according to Sportlogiq. Hutton also ranks in the top-50 among NHL defenceman by controlled zone entries by Sportlogiq's data, a solid indication that he's excelled at transitioning the puck from one end of the rink to the other while maintaining possession.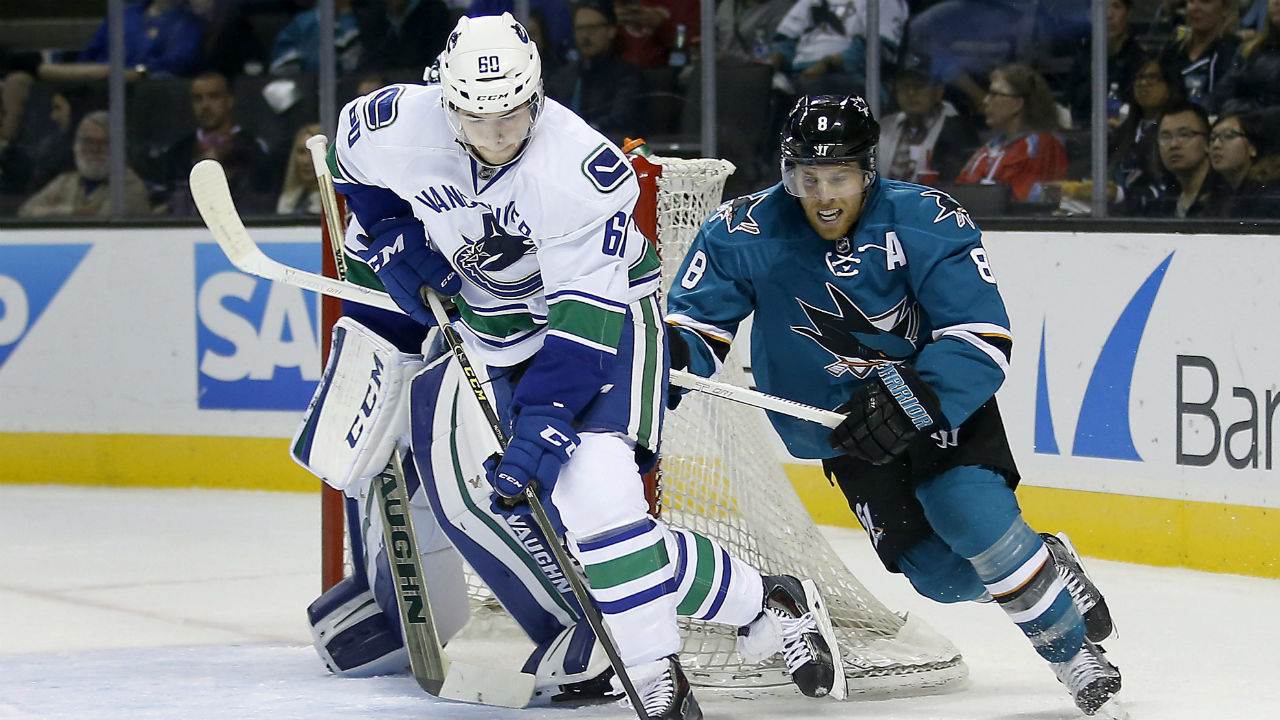 In his own end, meanwhile, Hutton is reliant on his sharp stick work to separate opponents from the puck. Along with teammate Dan Hamhuis, Hutton is among the NHL's elite stick-checkers, according to Sportlogiq's 'successful stick checks' metric.
"He's got a really good stick and he's really poised with the puck," Tanev says of partner. "When he gets the puck, we're usually breaking out."
As for what Tanev brings to the pair – aside from the cushy living situation and veteran wisdom – he's emerged as an elite, if still under-the-radar, defensive defenceman at the NHL level.
Even though the Canucks have played permissive defense throughout a disappointing campaign, it's astounding how rarely opponents have the opportunity to score when Tanev is on the ice. Of the 183 NHL defenceman who have played at least 1000 5-on-5 minutes over the past two seasons, Tanev has had far and away the largest impact on limiting the rate at which opponents get off unblocked shot attempts relative to his team, according to hockeyanalysis.com.
Though Tanev doesn't play the physical game that traditionalists generally associate with an elite defensive defenceman, he's a ridiculously persistent shot blocker and he almost never gives the puck away. Among high-usage defenceman in the NHL this season, Tanev ranks fifth in the league in passing success rate behind only Drew Doughty, Niklas Kronwall, Cam Fowler and Tobias Enstrom.
"He makes it so easy, he's unreal," Hutton said. "He gets back to the puck, he breaks it out so well, he's so strong defensively and his position and support for his partner is unbelievable."
It's no great secret that the Canucks have a long way to go in restocking their team with high-end talent. That Tanev and Hutton have credibly held down a top-pair role over the past nine games is an enormously positive sign. There aren't many commodities more difficult to find, after all, than affordable, young, top-four defencemen.