As players who are gifted with the ball—typically midfielders—age in soccer, soccer people sometimes talk about another midfielder serving as their legs. The idea is that, while the player might still have his touch on the ball, he's not able to chase opponents to the extent that he once did. A younger player, less gifted with the ball, can do that work for him, enabling the team to keep the more skilled guy in the lineup, kicking the ball to other people.
Jarome Iginla is at the point in his career where he needs someone else to serve as his legs. Truthfully, he's been at that point for a while. If we look at his Corsi% numbers, a pattern emerges.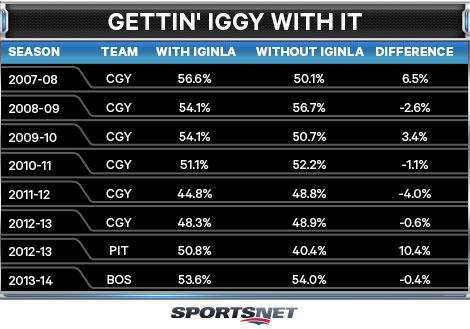 The last big year you can really see a positive difference with Iginla on the ice was 2009-10. I'm discounting his numbers in Pittsburgh—they occurred in a small sample with him spending more than 60 percent of his time with Evgeni Malkin. The Pens are also a weirdly top-heavy team. I'm inclined to think that Iginla's gaudy number is a function of Malkin's genius and Pittsburgh's abysmal depth.
Iginla played a second-line role last season with the Bruins. Truthfully, a 53.6 percent Corsi% as a second-liner is phenomenal. As in Pittsburgh though, you have to ask whether it was Iginla driving the bus or whether he was a passenger on a bus driven by others.
Fortunately, Boston's had a fairly consistent second line the past few seasons. If we focus on 2011 to 2013, the two constants have been David Krejci and Milan Lucic, both of whom spent about 80 percent of their time playing with each other. They did extraordinarily well, too—when the Bruins had both of those players on the ice, they had a 56.4 percent Corsi%, which is an incredible mark for a second line.
With Nathan Horton and Tyler Seguin having left Boston last summer, Iginla slotted in beside Lucic and Krejci. Both played nearly 88 percent of their 5v5 minutes with Iginla. Both saw about a three point drop in their Corsi% from the previous seasons. Now, it could be argued that the Bruins got worse this year and that's why their Corsi numbers went down. It's hard to sustain that theory if you look at the data though. From 2011 to '13, the Bruins put up a 53.5 percent Corsi% when neither Lucic nor Krejci were on the ice. Last year, that number bumped up to 54.6%. The Bruins were still a very strong team.
All told then, the most likely source of decline in the Corsi% put up by Krejci and Lucic would seem to be Jarome Iginla. It bears mentioning that despite the decline in Corsi%, Lucic and Krejci both saw the Bruins score an incredible percentage of their goals when they were on the ice. They were, however, the beneficiaries of a high PDO (sum of on-ice shooting percentage and save percentage), which is exceedingly unlikely to repeat.
On a great possession team, you can find guys to, in effect, serve as Iginla's legs. He doesn't drive possession anymore, but the hands are still there. In the right place—on a great possession team—you can incorporate him and expect to do well with others doing the possession work for him. Your possession numbers won't be as high as they might be with another player but Iginla's still a pretty gifted finisher.
All of which makes Colorado a pretty curious landing spot for Iginla. The Avalanche are seen by people who pay attention to the numbers as one of next season's hot candidates to fall off badly. They finished only five points behind Boston in 2013-14 but, unlike the Bruins, they aren't a great possession team—they're a bad one.
The Avs did not have the best time of it as free agency opened July 1, either. They lost Paul Stastny, their only forward to post a Corsi% north of 50 percent last year, and they weren't able to make any significant upgrades to the defence. Absent some significant internal growth, it's hard to see them improving in terms of possession. Outside of a Nathan MacKinnon turning into a possession monster overnight—which, as amazing as he is, seems unlikely—it's hard to see the Avalanche being a very good in that department.
It doesn't seem like a very good situation for Iginla, precisely because Colorado can't provide that which Boston did: Players who can drive the play up the ice and create the opportunities for Iginla to use the skills that time has yet to rob him of. If the Avalanche can't provide Iginla with legs in the way of possession numbers, expect to see a lot of stories next year about him suddenly getting old. It won't really be the case—he's been old for a while—but it's easier to disguise your limitations on a great team than it is on a bad one.