Surely there are worse places to spend three weeks of spring than in Paris or Cologne.
The vast swaths of the hockey world no longer in contention for the Stanley Cup are descending on those beautiful European cities, twin hosts of the 2017 IIHF World Championship, which kicks off Friday.
Canada has a chance to extend its dominance, plenty of emerging NHL superstars will be creating highlights, and Olympic implications hang in the balance.
"It's a big deal to all the rest of the hockey world except for Canada and the U.S.," says Sportsnet's Paul Romanuk, who has called many a world championship medal game.
"Just because we don't think it's a big deal doesn't mean it's not a big deal. Anybody who's ever been there or played in it will tell you it's a big deal."
Here are 10 reasons the 2017 edition of the tournament is worth your attention.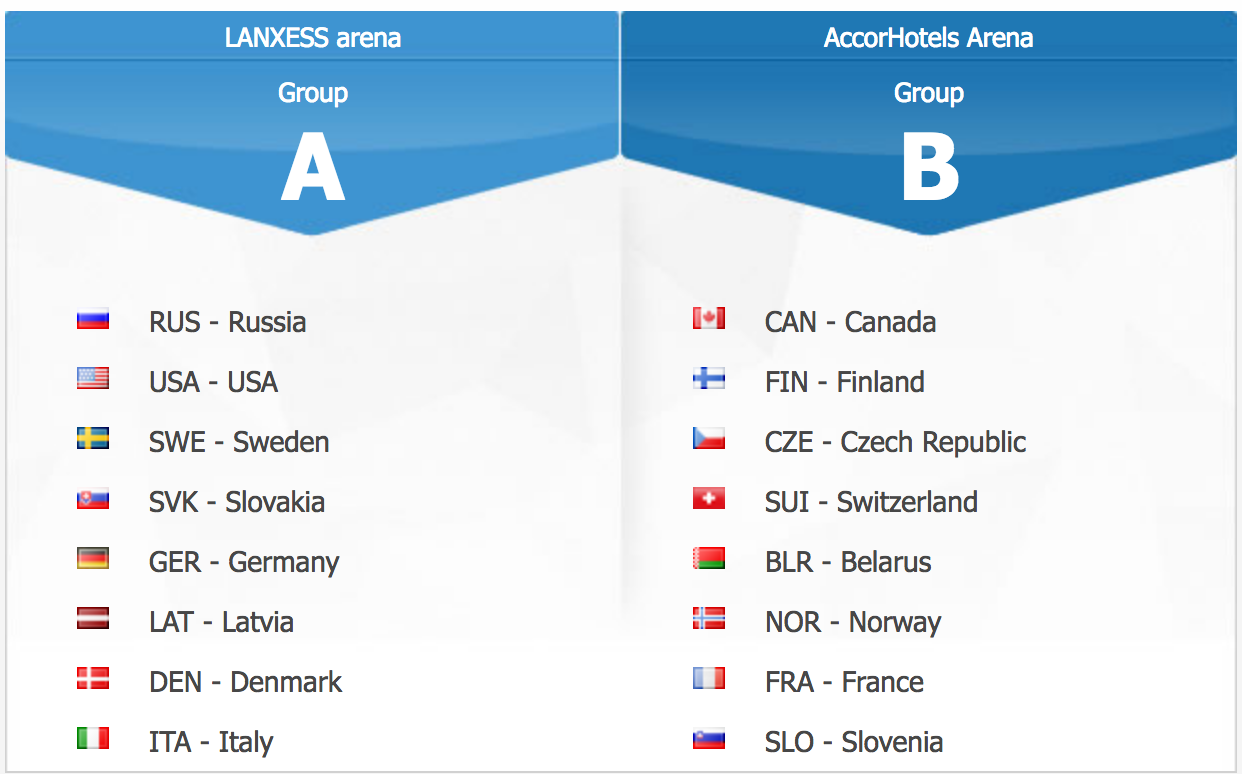 Team Canada swings for three-peat
Blessed with the likes of Sidney Crosby in 2015 and Connor McDavid in 2016, Canada claimed back-to-back world titles after five consecutive years without even medalling.
Not since 1952 has Canada completed the three-peat, but with four lines of skilled forwards and a favourable draw—Group B does not include Russia, Sweden or the U.S.—coach Jon Cooper's NHL-heavy squad enters as the country to beat.
"[Matt] Duchene, [Nathan] MacKinnon, [Ryan] O'Rielly—you start adding these guys up who have won for Canada before," Cooper told Sportsnet 960 in Calgary. "We've got a lot of good ones going, and we're really excited."
Canada cruised through its lone exhibition game, defeating Switzerland 4-1 Tuesday, and will begin its gold-medal defence Friday in Paris against Jakub Voracek and the Czech Republic.
Check out Canada's roster:
Jack 'n' Johnny
So, this is fun. Jack Eichel and Johnny Gaudreau were deemed too young to help an American national squad that struggled so mightily at September's World Cup of Hockey.
Not only did both Team North America graduates agree to join Team USA at the worlds, but they're playing on the same line. Prepare yourself for highlights aplenty as two of the best puck-handlers in the game work their magic against looser-checking competition on the wider ice surface.
USA Hockey had recently been sending college kids and fourth-liners over for this tournament, so it's nice to see marquee names like Gaudreau, Eichel, Jimmy Howard, Noah Hanifin and Dylan Larkin participating this time around.
"The challenge is to get everyone on the same page as quickly as possible," head coach Jeff Blashill told the Detroit Free Press. "You want to try to develop chemistry before the first game, and then build from there."
An encore for Maple Leafs rookies and other young NHL stars
The list of NHL studs coming into their prime that are representing their respective countries overseas is unusually deep.
Sure, American Auston Matthews took a pass. But the Toronto Maple Leafs have sent two of their wonder rookies, sniper William Nylander (Sweden) and puck-hounding playmaker Mitchell Marner (Canada).
In addition to the aforementioned Gaudreau and Eichel, Boston's David Pastrnak (Czech Republic) will deliver an encore to his 34-goal campaign, and Tampa's Nikita Kucherov should be the most-watched Russian.
Finland's Sebastian Aho (Carolina) and Jesse Puljujarvi (Edmonton), Russia's Artemi Panarin, Canada's Brayden Point (Tampa), and Sweden's ridiculous D core — John Klingberg (Dallas), Victor Hedman (Tampa), Oliver Ekman-Larsson (Arizona) — are just a few of the other skaters to look out for.
World Championships on the SN App
Get all your news, live scores and stats from the 2017 IIHF Hockey World Championship.
Hangin' with Mr. Cooper
Coach Cooper's thoughtful scrums had become a fixture of the Stanley Cup playoffs for three years, but with his Lightning being the biggest surprise non-qualifier this spring it's nice to see Canada hire the dual citizen to lead its young group.
"It takes a bit of the sting off not making the playoffs. You're still in hockey mode," explained Cooper, who was born in Prince George, B.C., and lives in Florida.
Listen to his full radio interview below. Canada's bench boss gets the spirit of the thing, how with all of the individual leagues wrapping up play, this is the hockey event in Europe. One that consumes a continent through a prolonged seven-game round-robin and an intense crossover medal round featuring the top four teams from each group.
"Over there it is a big deal," Cooper said. "That's why the tournament is so long, because people come from all over Europe. They embrace it. The crowd is really energetic."
Jon Cooper with Ryan Pinder
April 26 2017
Late additions to the rescue
The worlds never fail to bring some will-he-or-won't-he? intrigue. Once Round 2 of the Stanley Cup playoffs wrap, several countries could benefit from a mid-tournament boost if eliminated NHL stars decide to delay summer vacation for a couple more weeks.
Interestingly, Washington Capitals stars Alex Ovechkin and Evgeny Kuznetsov have reportedly turned down Russia's invite already.
Flyers and Jets fans, eat your heart out
As has become the norm, Colorado Avalanche fans will see their best players — Nathan MacKinnon, Matt Duchene, Gabriel Landeskog, Calvin Pickard and Tyson Barrie — suit up. And the Lightning are well-represented, too.
But Team Canada is especially loaded with Philadelphia Flyers—not a surprise considering Ron Hextall is the club's general manager.
Philly's Sean Couturier, Wayne Simmonds and Claude Giroux each scored in Canada's tune-up game versus the Swiss. Brayden Schenn and rookie Travis Konecny are also wearing red and white, and Flyers coach Dave Hakstol serves as one of Cooper's assistants.
Giroux was named Canada's captain Thursday.
"This team has bonded quickly, so the guys are having a lot of fun together. Now it's time to turn it up a notch against the Czechs," said Cooper Thursday.
"That's a tough one right out of the gate for us. We've had three or four practices and a game — not a lot of time to prepare — but we're looking forward to playing for real."
As for the Jets, no fewer than seven Winnipeg players will be at the tournament. Canada brings Mark Scheifele, Josh Morrissey and Eric Comrie; Jacob Trouba, Andrew Copp and Connor Helleybuyck rep the U.S.; Nikolaj Ehlers is one of Denmark's most dangerous threats; and KHL prospect Ivan Telegin will patrol the wing for Russia.
"I need to be playing games," Scheifele told us before jetting to France. "I look at it as, those guys are getting better than you by playing playoff hockey, so you have to get better. Getting the chance to wear the maple leaf, you can't take that for granted."
Bob Hartley sighting!
The 2001 Stanley Cup winner former head coach of the Calgary Flames will guide Buffalo's Zemgus Girgensons and Team Latvia in the tournament.
Who knows? If Hartley can work some magic with the underdog Latvians, he could regain consideration for an NHL comeback. It worked for Ted Nolan.
Hartley already has a job offer on the table from Switzerland's HC Fribourg-Gottéron but is waiting to see if more opportunities roll in after the worlds.
Mike Babcock is watching you
The head coach is flying over to help scout a few players the Maple Leafs have their sights on. Matt Duchene? Jacob Trouba? Noah Hanifin?
We kid, but the worlds do serve as unofficial GM meetings, as trade seeds get planted here. Watch out for rumours.
Olympic implications
Especially since 2018 is an Olympic year, it's worth noting that performance at the World Championship directly affects seeding, qualification and bracket placement for the PyeongChang tournament.
"Doing well in the World Championship adds to your ranking internationally," Cooper explained. "Right now we're No. 1, and there are perks to that."
Who will seize Canada's crease?
As strong as Canada's forwards are, not one goaltender is a bona fide NHL No. 1.
Avs backup Calvin Pickard and Flames backup Chad Johnson should duel for the starter's gig, while 21-year-old Jets prospect Eric Comrie, who won gold with Canada's under-20 team in 2015, stands third on the depth chart.
Pickard and Comrie will each enter contract years in 2017-18, while Johnson becomes an unrestricted free agent on July 1. A standout performance by one this month could curry favour with their current team or attract outside interest.