Over the weekend, Sportsnet's Elliotte Friedman reported that two-time 50-goal scorer Ilya Kovalchuk was considering a return to the NHL after spending the last half decade in the KHL. He added that there would be "significant interest" in the 34-year-old.
As there should be. Kovalchuk was a formidable player when he left the NHL, and he's remained remarkably productive over parts of five seasons with St. Petersburg. The league's recent history is filled with examples of top players returning to North America after years in other leagues and picking up right where they left off, and there's every reason to think that Kovalchuk can do the same.
The most recent such example is Alexander Radulov, who was lured back to North America by the Montreal Canadiens this season after eight brilliant years in the KHL. Not only did Radulov put up 54 points in the regular season for the Habs, but he was far-and-away their most productive forward in the playoffs. He led the team with seven points in six games; his six even-strength points were three times as many as any other player on the roster.
Moreover, Radulov was a gamble in ways that Kovalchuk isn't.
Kovalchuk had a long and successful NHL career, while Radulov left after his first 50-point season, despite the fact that he still had a year left on his entry-level contract with Nashville. Kovalchuk put in a gritty, productive performance to lead the underdog New Jersey Devils on a surprise run to the Stanley Cup Final in 2012. Radulov was suspended by Nashville for violating team rules during an underwhelming playoffs as he grudgingly completed his contractual obligation the same year.
[relatedlinks]
The only real advantage that Radulov has over Kovalchuk is age. Radulov joined the Habs as a 29-year-old. Kovalchuk will be five years older than that if he signs with an NHL organization this summer.
That's where another recent precedent can shed some helpful light. When Jaromir Jagr left the New York Rangers at the age of 36 in 2008, it was reasonable to assume that his NHL career was finished. Even though he produced well in three years overseas, it was also reasonable to wonder if he still had the speed to play North American hockey when he finally returned at age 39.
Six seasons later, he's still putting up points in the majors. He's nowhere near as fast as he was a decade ago, but there's more than one way to have an impact and he's shown that a six-foot-three, 230-lb winger with scoring ability will be in demand even as the wheels start to go. Kovalchuk's no Jagr, nobody is, but he has the same size and much the same knack for putting the puck in the net. He's also five years younger than Jagr was upon his return.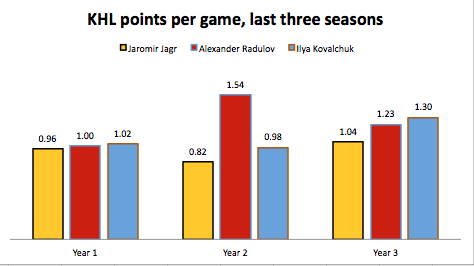 Comparing Kovalchuk's last three seasons to the final three KHL campaigns of Jagr and Radulov leaves no reason to think he'll be a lesser player upon his return. Kovalchuk outperformed Jagr in terms of points per game in all three seasons, and Radulov in two of them, including the one directly preceding the latter signing with Montreal.
As encouraging as those examples are, it's best to look at some broad empirical data rather than solely at a handful of cheery anecdotes. In this case, the best way to do that is to compare the performance of past players who have actually gone from the KHL to the NHL.
Analytics pioneer Gabriel Desjardins was the first to publicly compile this information back in 2004, and he found that players retained 88 per cent of their offence when moving from what was then the Russian Super League to the NHL. His work was updated by Rob Vollman in 2013, who found that number had fallen to 78 per cent retention for players coming from the KHL to NHL.
My admittedly unscientific approach has been to go down the middle. Vollman's work is more recent, but is drawn from a smaller number of players. Desjardins' work is older, but benefits from a larger dataset. Splitting the difference leaves us estimating that Kovalchuk will retain 83 percent of his KHL offence in the NHL.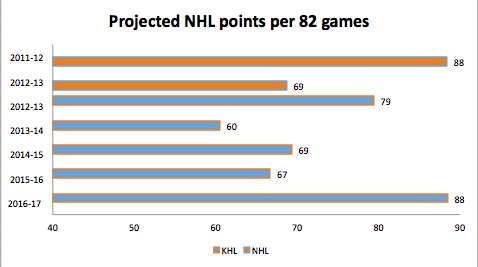 The chart above includes totals for Kovalchuk over his last two NHL seasons, prorated for an 82-game schedule. It also includes five seasons of KHL work, adjusted down to 83 per cent and then prorated over 82 games. The transition looks pretty realistic, and has similar totals for 2012-13 when he played in both leagues.
If Kovalchuk returns to the NHL this season, he'll be leaving the KHL on something of a high note. That 88-point projection is probably an outer marker given that it's better than what he managed in any of his other years with St. Petersburgh. A cautious GM might dismiss it as an outlier, and instead expect a performance more in line with his previous work, projecting him to score somewhere in the 60-point range over a full NHL season.
That kind of projection fits neatly with what Radulov and Jagr actually accomplished. Both players scored 54 points in 70-odd games in their NHL returns. A 60-point season would be a modest improvement on that, and in keeping with Kovalchuk's superior KHL work.
The median first-line forward this year scored 58 points, so a 60-point season would be above-average production for a first-line player. That should make Kovalchuk a very attractive asset to virtually every team in the league. Even now, there aren't many players who can drive offence the way he can, and even fewer who bring his combination of size and established playoff performance.
If he's serious about returning, there should be no shortage of suitors.