As goaltenders are forced to further shave down the size of their equipment, the NHL is facing a mini-mutiny from the position. Though deputy commissioner Bill Daly does not believe these concerns "are really reflective of a large majority of goaltenders," the ranks of unhappy keepers seems to be growing.
Brian Elliott, Ben Bishop, Sergei Bobrovsky, Matt Murray, Casey DeSmith, Connor Hellebuyck, Laurent Brossoit, Braden Holtby, and James Reimer, have all made their concerns about the new chest protectors public. Even Carey Price, in a late-August interview with InGoal Magazine, expressed concerns that the tiny reduction in blocking area wasn't worth the increased exposure to pucks that could come with it.
[snippet ID=3322139]
Goaltenders know that when they complain, they usually get accused of making excuses, so the fact these 10 goaltenders have spoken out is a red flag that the new chest protectors aren't doing a sufficient job. Daly attributes the increasing number of complaints to a kind of dogpiling, where goalies "hear somebody else do it, so you do it too."
Contrary to popular belief, the NHL has been shrinking goalie equipment for at least the past dozen years. Pads were narrowed, shortened, then shortened again. Both glove and blocker had their total surface area reduced. Jerseys were required to follow the form of the goaltender's body. The height of the stick's paddle was trimmed. Pants were narrowed.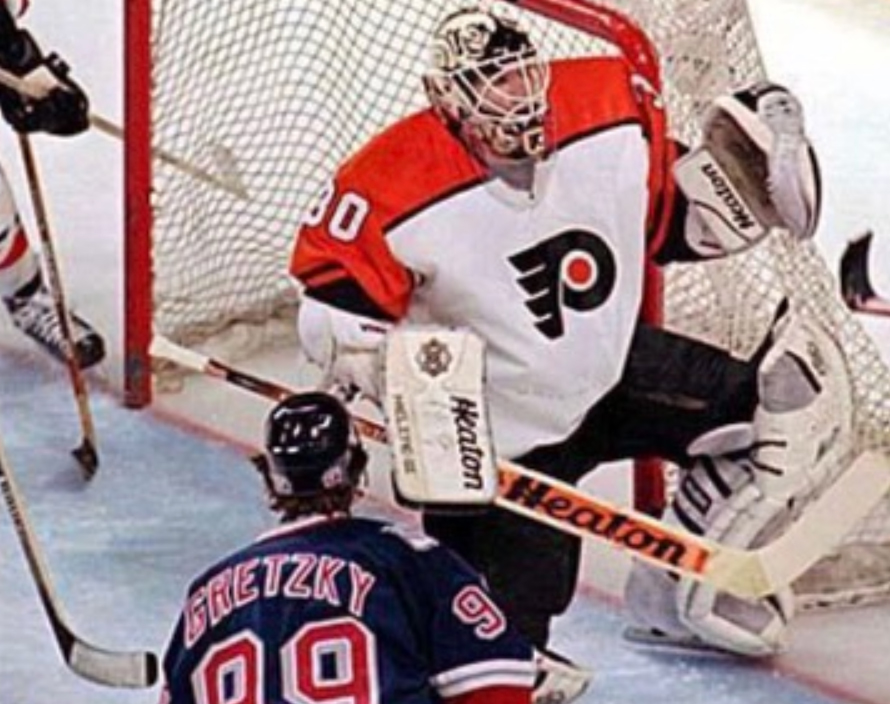 None of those changes were followed by anywhere near the volume of complaints we're now hearing about the new chest protectors.
In the NHL's attempt to increase scoring through 1,000 cuts to goaltending equipment, they've finally gone too deep.
The Real Affect on Scoring
Even putting protection issues aside for a moment, Price's comments on the very minimal difference in surface area should give us pause. Bishop also told ESPN that the chest protectors "don't measure smaller" and the side-by-side photos of new and old chest protectors provided by InGoal Magazine appears to support that claim.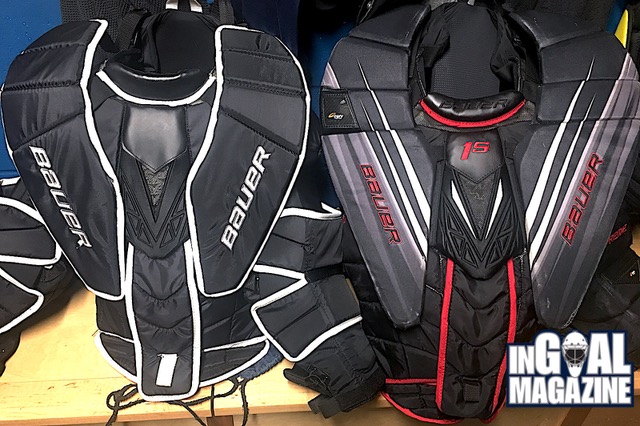 The idea behind the chest protector change is to decrease a goaltender's blocking area as much as possible to leave more room for scoring. The inches shaved from the arms and shoulder floaters haven't returned goalies to the skinny silhouettes they sported in the '80s, but it has left more room between the arm and body for pucks to squeeze through. Goals like this should be more common:
Of course, determining whether this goal can be attributed to the new chest gear or not is very, very difficult. The league could track the number of goals scored between arm and body (commonly known as the six and seven holes), and compare it to the number scored this way in previous seasons, as noted by Elliotte Friedman in his 31 Thoughts. This doesn't appear likely, however.
It's my suspicion that any uptick in goals due to the equipment wouldn't be large enough to affect scoring on a level that mattered. There are, however, several unintended effects that could have a greater impact, especially in the short term, than a slight reduction in surface area.
First is the adjustment period itself. NHL goaltenders commonly go through several pairs of pads in a season, have a few pairs of gloves on the go at any given time, and commission new masks for special events. This is not the case for chest protectors, which goaltenders tend to keep for years at a time.
[relatedlinks]
The chest protector affects a goaltender's entire stance, which is the basis for their complete range of motion. In a new chest protector a goalie can feel like a T-Rex — stiff arms propped out and uselessly unable to reach their own neck.
The effect the adjustment period can have on positioning and balance is significant, so goaltenders who are adapting on the fly in-season won't be in top form. The fact that a league full of goaltenders is going through this transition all at once is intensifying this fact.
The second unintended effect is the fear factor. Goaltenders frequently bruised from painful shots are likely to react like anyone else — they flinch. Old goalies will tell you it's possible to train yourself out of this natural reflex, but this requires sufficient practice. Until goalies have trained themselves out of it, or sorted out their padding to prevent the pain, it's going to result in more goals.
[snippet id=3816507]
The third unintended effect, and the only one with long-term potential, is a change in how rebounds come off the chest and arms. Goaltenders have commented that, while the chest unit doesn't look much smaller, it feels significantly tighter because the air gap between equipment and skin has been eliminated. The padding is no thinner, but shots hurt more because there is no space to dissipate the force of impact.
Because there is less cushioning space, pucks no longer hit the upper body and die. Now, a shot to the arms is almost a guaranteed rebound and will come off the goalie with more velocity than before. This, in turn, would lead to more scoring chances.
Rebound unpredictability is exacerbated by the angling and contouring of the chest protector as well. By attempting to decrease surface area by turning flat surfaces into rounded ones, and angling the chest and shoulders for a more anatomically accurate fit, the league has turned the goaltender from smooth brick into geometric chaos. Even pucks shot straight into the sweater's crest are no longer guaranteed gut-traps.
Goaltenders will learn to control rebounds off the new chest protectors to some extent, but the nature of the design means they will never be as effective as they used to be.
The Result
Once every goalie has identified the weak spots in their chest units and received their final (hopefully mostly painless) drafts from the manufacturer, it won't be long before they're once again wearing them as a second skin — comfortable and confident they aren't going to break a rib or clavicle.
At that point, whatever increase in scoring the current equipment is leading to will mostly evaporate. Having finally trimmed goalies to the bone, if the league wants to increase scoring from here, it will have to start thinking about other ways of getting there, like bigger nets, or smaller pucks.