"It's early."
That's a common refrain you've probably heard to this point when discussing struggling or overachieving players and teams. And it's true — it can take a quarter of a season to get a real handle on what's a fluke and what's a trend.
But as we cross that quarter mark on the American Thanksgiving weekend, it's not early anymore. The Nail Yakupovs of the league have cooled from red-hot starts while the John Tavares' (three points through his first seven games) have settled in and returned to form. Sure, we're still waiting for Sidney Crosby to find his groove and for Alex Ovechkin to start scoring again – both of which should happen – but it's unlikely either star has a career year now.
The Stanley Cup Playoffs are still five months away, but if we use recent seasons as a measuring stick, American Thanksgiving marks an important threshold for post-season hopefuls.
Since 2011, 78 per cent of teams in a playoff spot at the American Thanksgiving make the playoffs in April. Over the past four years, this is the breakdown of how many teams in a playoff spot at this point in the season stayed there at the end of it:
2013-14: 13/16
2014-15: 13/16
2015-16: 12/16
2016-17: 13/16
So if you're a fan of the Montreal Canadiens or Edmonton Oilers, it's not looking good. If you support the Vancouver Canucks, give yourself a high-five.
EASTERN CONFERENCE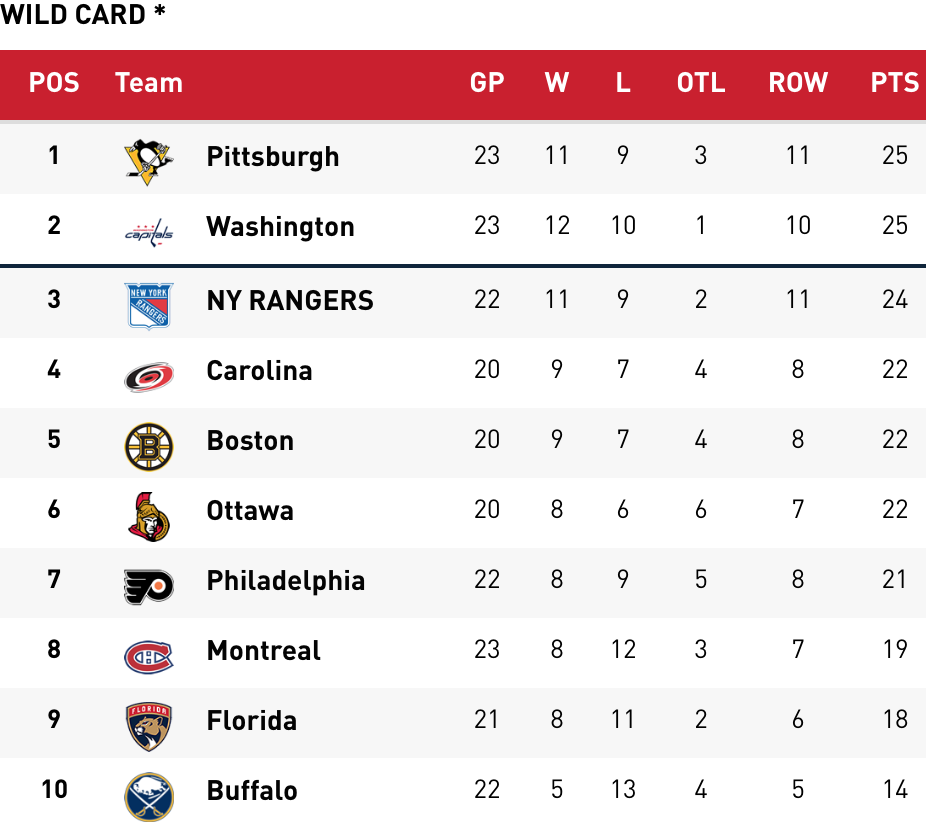 WESTERN CONFERENCE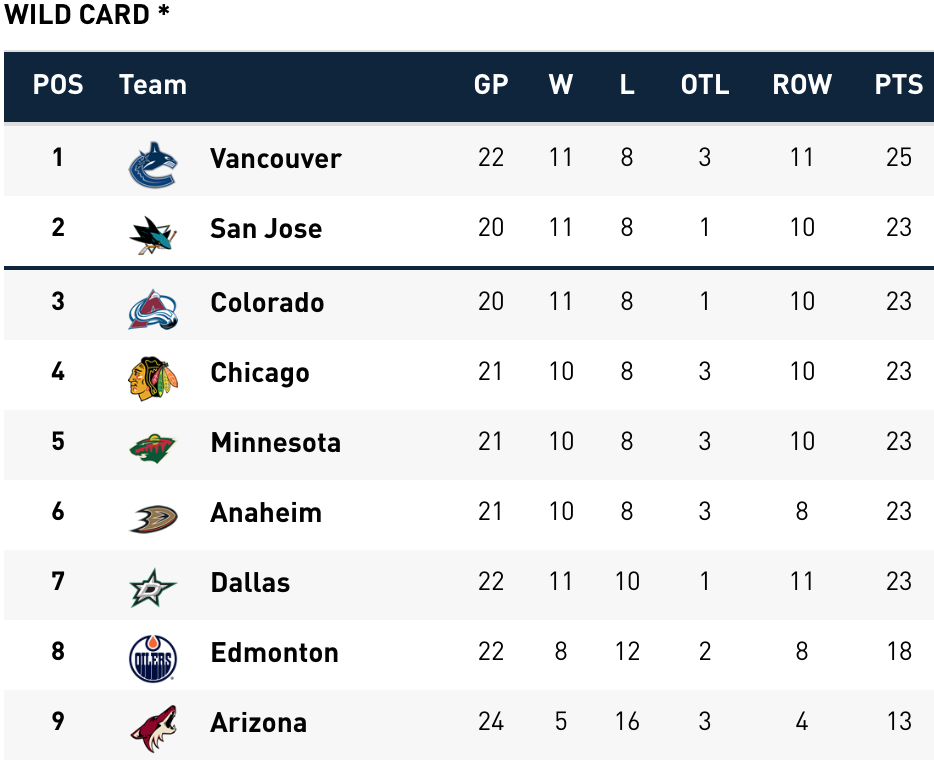 Now of course, a terrific or horrific start doesn't automatically lock you into or out of a playoff spot.
In 2015, the Montreal Canadiens set a franchise record for best start to the season with a 9-0-0 record and at American Thanksgiving they were first in the East at 17-4-2. At the end of the season, they missed the playoffs by 14 points.
And last season, the Calgary Flames were 9-12-1 at the American Thanksgiving and 11th in the Western Conference, but by the end of the season they reached the playoffs as a wild-card team with 94 points.
Still, the odds heavily favour the teams on the inside at this point in the season. When considering if that trend will continue, it's worth mentioning how close the races are, especially in the Western Conference where six teams all have 23 points and are tied for the second wild-card spot.
"With the parity that's in the league nowadays, I don't know if that rule really applies anymore," Calgary Flames winger Troy Brouwer told The Associated Press. "Usually at some point a few teams break away from the pack and the rest of them, because of the three-point games and everybody's playing so many divisional games, you never really gain a ton of ground on a team or lose a ton of ground on a team unless you're continuously losing divisional games."
Time, and more games, will tell us if this long-time trend continues in 2017-18, or if league parity makes it a moot point. But the data and the track record is there, so if you're not in a playoff spot on Nov. 23, 2017, you're fighting an uphill battle the rest of the season.
[relatedlinks]