It was an odd-number day, so the Vancouver Canucks played well. Something like that, anyway.
An erratic seven nights, which mirrors their erratic National Hockey League season, ended Thursday with a 4-1 loss to the San Jose Sharks, who won despite a season-high 44 shots by a Canucks team that significantly outplayed the home team over the final 40 minutes in California.
As is sometimes the case, the Canucks' biggest flaw is that they're still the Canucks – an evolving team that even on its good nights can still lose to a superior opponent.
Vancouver's intensity and execution, however, were dramatically better than they were in Wednesday's sloppy 4-3 loss to the Florida Panthers at Rogers Arena. Which followed the Canucks' outstanding 6-0 win Sunday in Dallas. Which followed a pathetic 4-1 loss Friday in Carolina.
Do you see a trend here? Yeah, the Canucks do, too.
They've talked all season about consistency, but have never been more inconsistent than they were the last seven days. Even the stock market has been less volatile.
Which Canucks team will the Boston Bruins see Saturday in Vancouver? If anyone knows, please contact Travis Green.
A weekly deep dive into the biggest hockey news in the world with hosts Elliotte Friedman and Jeff Marek. New episodes every Thursday.
SEDINERY
We've never understood the campaign to force-retire the Sedins because the Canucks, as general manager Jim Benning confirms despite an unprecedented batch of skilled prospects working their way towards the NHL, don't yet have players to promote who can replace them next fall.
But the 37-year-olds showed again Thursday they've still got game – better game than most players in the NHL. The twins and Thomas Vanek produced Vancouver's lone goal on a gorgeous passing play that went Henrik-Daniel-Henrik-Vanek-Daniel and gave San Jose goalie Martin Jones, who made 43 saves, no chance in the third period.
The trio worked the Sharks at even strength, controlling 75 per cent of shot attempts, and Daniel – we're guessing for the first time in his Hall-of-Fame career – even led Vancouver with five hits. Hopefully all those younger teammates were watching the Sedins closely because, playing for the second time in 24 hours after a bad loss, that was their leadership at its best. No wonder Benning wants them to play another year.
Want to livestream all 82 Canucks games this season? See how you can stream this + over 300 regular season NHL games with Sportsnet NOW.
NILSSON WITH AN 'L'
After a solid, 40-minute appearance Wednesday in relief of wonky starter Jacob Markstrom, backup Anders Nilsson got a rare start in San Jose. Nilsson was good right up until he let Marcus Sorensen's wrist shot from the top of the faceoff circle elude him short-side to make it 3-0 3:06 into the third period.
The 27-year-old, signed to a two-year, $5-million free-agent contract on July 1, is now 0-8 since last winning a game back on Nov. 30. The Canucks are going to have to solve the Nilsson problem this summer, because trading him this season is impossible the way he has played the last 2 ½ months.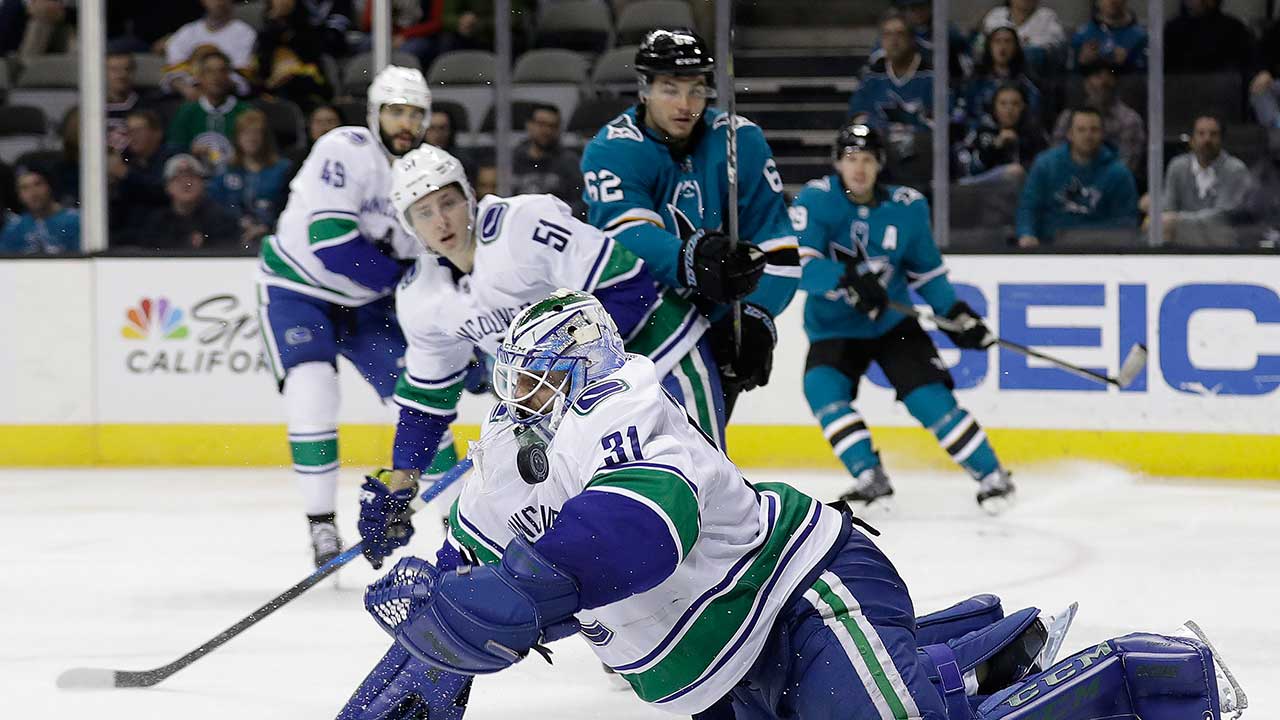 SWISS MISS
We'll see if getting scratched got Canucks winger Sven Baertschi's attention, but it certainly got everyone else's. Even by market standards, reaction in Vancouver to Green's decision to park his first-line winger in the press box was fierce and, generally, hostile. After all, Baertschi had two assists in the Canucks' loss to the Panthers.
But Green said he needed more energy from the 25-year-old and gave Baertschi's plum assignment alongside Bo Horvat and Brock Boeser to minor-league callup Nikolay Goldobin. The Goldobin part of the move made sense: he is a skilled, offensive player and if Green wants to take his measure, Goldobin needs to play in a prime offensive role.
Goldobin, alas, again failed to seize his chance and had a quiet game against the Sharks.
But beyond the Russian's suitability, there was method to Green's madness. The coach has said several times since Christmas that young players who have been in the NHL for a couple or three seasons need to keep proving they belong, and just making the best league in the world in your early 20s doesn't mean you're going to have a long career. Baertschi, who is in only his third full NHL season, fits that profile. If Green wants to get the attention of his team, scratching Baertschi is going to be a far more powerful motivator than, say, sitting out Jake Virtanen again.
Also, Baertschi has needed a kick in the pants before. He got going last season only after previous coach Willie Desjardins parked him for a couple of games.
That said, sitting out the fifth-leading scorer on a team that is 27th in the league in offence is always a questionable move. Goldobin's inert game and the Canucks' inability to score more than one goal made it look even worse.
Ryan Dixon and Rory Boylen go deep on pucks with a mix of facts and fun, leaning on a varied group of hockey voices to give their take on the country's most beloved game.
NOT LOUI'S FAULT
While Baertschi would have been in our lineup if Sportsnet were picking the team, the common argument in Canuck Nation that Loui Eriksson should have been the player sitting out is nonsense.
Eriksson's $36-million contract is awful – Benning's biggest mistake – and is probably only going to get worse. But the conspiracy theory that it's the contract alone that keeps Eriksson in the lineup is wrong; it's the contract – all that money – that actually drives the criticism of the winger.
By any measure other than his salary, Eriksson is a good third-line player in the NHL. He is smart and versatile, checks the opposition's best players, drives possession compared to most teammates, and contributes enough offence to be a significant secondary scorer. Unfortunately, he makes $6 million per season, not $2.6 million, and the overpaid in any profession are always resented. Of course people knock Eriksson and want to see him humiliated.
With fewer offensive zone starts and fewer offensive linemates than Baertschi has benefitted from, Eriksson went to San Jose with eight goals and 20 assists in 45 games. Baertschi has 12 goals and 26 points in 46. The Canucks control 49.8 per cent of even-strength shot attempts when Eriksson is on the ice, 45.99 per cent when Baertschi plays.
But he's getting $6 million this season while Baertschi makes do with $1.85 million. That's hardly Eriksson's fault.