TORONTO – Oh, to count the number of ways things nearly went off-the-rails for Nazem Kadri with the Toronto Maple Leafs.
There have been contract squabbles. Trade rumours. The time he was out partying, missed a team meeting and got a three-game suspension from president Brendan Shanahan. There was the Ron Wilson Era, with repeated gripes about Kadri's unwillingness to backcheck.
There was the time former Marlies coach Dallas Eakins opened AHL training camp by telling reporters that Kadri had scored in the bottom three to five per cent in body fat tests, calling his level of conditioning "unacceptable."
That last incident, in particular, stung the one-time/longtime top prospect in the organization.
"I was a little bit bitter," Kadri told Sportsnet on Wednesday. "Just because I felt like I didn't really deserve to be treated like that. Even if I had those kind of issues – with nutrition or in the weight room, whatever the case may be – that could have been handled internally.
"That was a bit offensive for me but I wasn't about to sit there and try to hide in the corner or cry about it. I wanted to do something about it."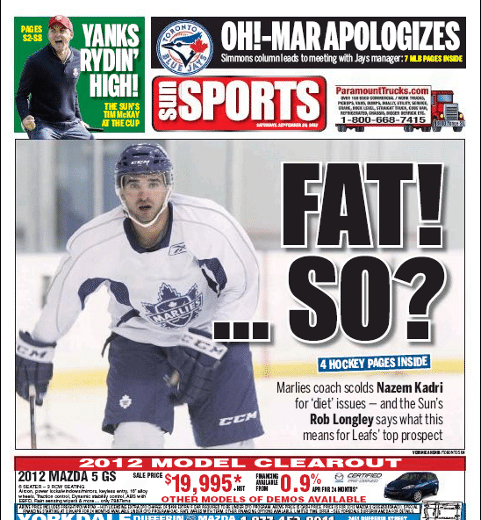 That helps explain, in part, why he is still here today.
Kadri is now 26, signed to a long-term contract and having a career season with 25 goals already. He also has points in 23 of the last 29 games while often drawing the toughest defensive assignments at even strength – finally securing Mike Babcock's trust, ironically enough, by taking his conditioning to a new level last summer.
"Light carbs, no sugar, lots of water to keep myself hydrated," Kadri said of the diet that helped get him there.
"As of right now, I feel great," he added. "I really don't feel like we've played 59 or 60 games."
He's clearly come a long way both on and off the ice, and incredibly he's done it without having to start over somewhere else. At times, it seemed inevitable that he was destined to become a reclamation project.
For as much of a hand as Kadri had in his own struggles, his career has included the same challenges a child faces while growing up in a tumultuous household.
This has been a particularly dark period in Leafs history. Three general managers, four head coaches and literally hundreds of teammates have come and gone in the eight years since he was called to the draft stage by Brian Burke in Montreal.
Looking back, the turning point for Kadri appears to be the spring and summer of 2015 – when he served the team-issued suspension before getting signed to a one-year, show-me contract inside the same few months where Babcock was hired.
His trajectory hasn't been the same since.
"I think we all, at certain points of our lives and careers, sort of have a growing-up moment," Shanahan told Sportsnet of Kadri during an interview earlier this season. "We're not all perfect people, we all make mistakes and the bigger question is: 'How do you respond to those?'
"I think that Naz has responded very well to all of the challenges that have been put to him."
The conversations around him have changed drastically.
There was even one of those recently between Kadri and Babcock after the centre told some reporters he'd like to become the sort of player who could win the Selke Trophy as the NHL's top defensive forward one day.
Babcock sought him out in the dressing room.
"I said to him, 'Do you really want to win that trophy? And he said, 'Absolutely one day I'd like to win that trophy.' Then I said 'Then we've got lots of work to do.' But if he wants to win it then I'm going to do everything I can to help."
The coach gives Kadri a say in which line he matches up against, and loved the result on Tuesday when he and linemates Leo Komarov and Josh Leivo dominated Winnipeg's Mark Scheifele-Patrik Laine-Mathieu Perreault trio.
Kadri also delivered a big hit on Ben Chiarot late in the second period – one that teammates said swung momentum in their favour while angering the Jets defenceman. Chiarot didn't like that Kadri left his feet before impact.
"It's not the right time or place to chase him down, but there will be a time down the line," Chiarot told reporters afterwards. "Might not be this year, might not be next year. But there will be a time where the shoe will be on the other foot."
For his part, Kadri merely brushed off those comments by saying Chiarot isn't the only opponent out there with a beef.
Watching him now, it's hard to believe Kadri was once the player in the middle of seemingly every Leafs firestorm. It's been quite a journey.
"Just persistence, man," said Kadri. "Just being able to not give up no matter how bad or good things were, I just always tried to keep an even keel. My family's been great, my teammates have been great – just whenever I had to vent to somebody or just kind of get some stress off my chest I was able to go to those certain people.
"I really think it kind of kept me grounded and was able to have me push forward."
Stream 56 Maple Leafs Games
Sign up for Sportsnet Now to get 56 Maple Leafs games plus every Hockey Night in Canada, Rogers Hometown Hockey and Scotiabank Wednesday Night Hockey game and the entire 2017 Stanley Cup Playoffs.
There are suddenly much grander views on the horizon.
The arrival of Auston Matthews has given the Leafs the bonafide No. 1 centre they've been searching for since before Kadri was drafted. It's allowed the veteran to be deployed in a manner more befitting of his skillset and ability, and left Toronto with a 1-2 punch down the middle capable of taking the team to greater heights.
"I'm proud of myself and I'm proud of all the people that stuck with me since Day 1," said Kadri.
"Good for him and obviously good for us," said Babcock. "He's now become a threat."