TORONTO — Long after she'd scored the game-winner, Zoe Hickel still had most of her gear on — including her skates, which were covered by a set of pink guards. Her helmet and gloves and stick were long gone, though, fired in the air in celebration while she was on the ice.
"The girls are loving it right now," the Alaska-born Calgary Inferno forward said from under the brim of a Clarkson Cup champions ball cap, of her teammates, who were whooping it up in the dressing room. "I haven't even gotten undressed yet because we're having such a good time."
When fellow Inferno alternate captain Brianne Jenner greeted the gaggle of media assembled at Coca-Cola Coliseum, she said Juno-nominated Shawn Hook was delivering a "private concert" in the dressing room. The champagne was flowing, too. "Might've spilled a bit," Jenner added, with a grin.
On Sunday, the CWHL's No. 1 seed put an exclamation mark on a close-to-perfect season that saw them down Montreal in the championship game, 5-2, for a second Clarkson Cup championship in franchise history.
When the buzzer went, the Inferno players spilled off the bench and piled atop goalie Alex Rigsby, who faced 25 shots in the final. Jenner used her jersey to wipe away tears, and her eyes watered again as she hoisted the Clarkson Cup over her head, with most of the 4,696 fans still in the stands to take in the celebration.
"This has been my family since I've been drafted into the league," said Jenner, who's been playing in the CWHL since 2015-16, when she won her first Clarkson Cup, and Calgary's first-ever. On Sunday, she and Calgary earned No. 2.
And what a game it was. A game-tying goal was called back early in the third period, Hickel scored twice for Calgary, Team USA star Brianna Decker wired one home and was named Clarkson Cup MVP, Ann-Sophie Bettez struck twice for Montreal and the league's best player spent the entire game on Montreal's bench.
No, Marie-Philip Poulin wasn't in this game — she couldn't play, due to a lower body injury — but the league MVP was one of its biggest stories, still. Poulin skated in the warmup, and spent the whole game standing on the bench, wearing her full gear. She leaned forward during the game, like a kid who couldn't wait to go on, a kid who never got that coach's tap on the shoulder. She cheered, she high-fived teammates, she clapped with her hockey-gloved hands. She sat on top of the bench during TV timeouts and waved at the little girls who were waving at her. And she didn't play a single second.
The captain was the last Montreal player off the bench when it was all over, slowly skating to join her teammates in the crease with goalie Emerance Maschmeyer while DJ Khaled's All I Do Is Win played over the speakers, followed by — you guessed it — Queen, with We Are The Champions, as the champs celebrated at the other end of the ice.
Poulin went around to each of her teammates and gave them a low fist-bump. The 27-year-old, who's probably the best player in the world, didn't play in Montreal's semi-final series, either — "day-to-day," according to her team. Poulin didn't address media after the game, and it's anyone's guess as to whether she'll be ready for the world championships, which kick off April 4, with the final on April 14. She had been doing to rehab two or three times a day, trying to get back in time for Sunday's final. It couldn't be done.
"She was heartbroken, that's for sure," said Les Canadiennes associate coach and former Team Canada star, Caroline Ouellette. "She's the type of player that craves those big moments, those moments where everything is on the line. She's our captain, she's our leader and she's the best player in the league, in my opinion, so it was a huge loss for us … In the end it was tough to play Calgary without Marie-Philip Poulin, and we would have needed everyone to play their best possible game from the start to finish, and unfortunately, we didn't have that."
It was probably Montreal's worst first period all season, in fact. As Bettez put it, "For sure we didn't play 60 minutes."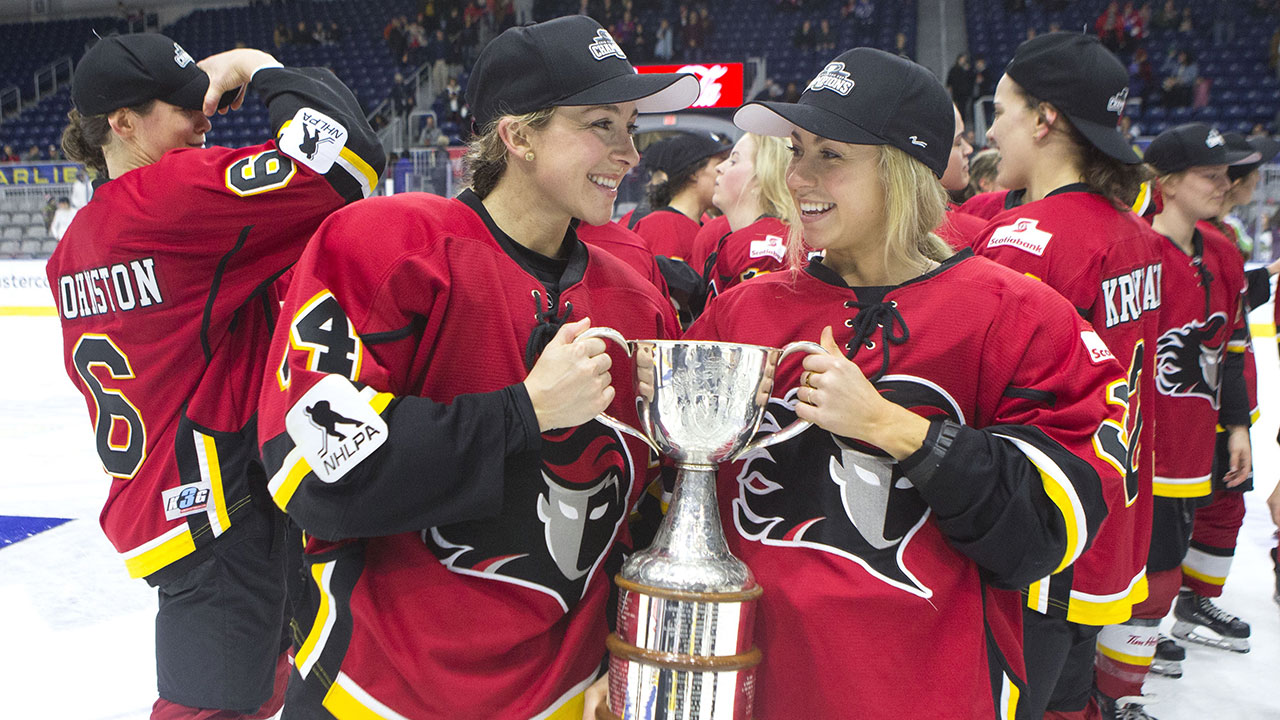 The Inferno jumped out to a 2-0 lead in the first, striking when blueliner Katelyn Gosling made a beauty fake shot pass to Hickel, who re-directed it past Maschmeyer. Inferno defender Halli Krzyzaniak increased that lead with about seven minutes to go in the opening frame, when her point shot through traffic beat Maschmeyer, blocker side.
In the second period, Montreal got some life, created some chances and started to look more like the team that finished second overall in the regular season. A Bettez backhand got past Rigsby, who on Friday won the CWHL's goalie of the year award, and suddenly Montreal was back in it. But Les Canadiennes couldn't hang on to that momentum.
Decker extended Calgary's lead back to two on the power play, with an absolute rocket from the right faceoff dot. As she put it: "I had a great screen in front and just had to feather it through and make sure I put everything into it." That she did.
But with a little more than two minutes to go in the second, it was Bettez who got Montreal back into the game, yet again, thanks to a beauty through-the-legs pass from linemate Hilary Knight, to make it 3-2.
Montreal seemingly tied things up in the opening seconds of the third, when Jill Saulnier put one in from the doorstep, but the goal was called back — the referees immediately whistled it down, after Knight fell on top of Rigsby. It looked like she was pushed by a Calgary defender, and as Poulin watched the replay on the jumbotron from the bench, she threw out her hands and shook her head.
"I have to see it again, but for me I feel like Hilary Knight was pushed and she didn't have a chance to get back up and move out of there," Ouelette said. "And to be honest, from what I saw up there I didn't think Rigsby could have moved in time to make the save. Obviously that's a moment where we could have tied the game right there."
Instead, Calgary extended its lead soon after, when Hickel scored her second on a feed from Rebecca Johnston, in close. Johnston added the empty-netter with 22 seconds to go, and that was all she wrote.
Montreal could have wondered 'what if' on a couple things, Sunday: What if they'd had their captain, who put up a league-leading 50 points in the regular season? What if that goal hadn't been called back? But, as Oulette put it: "Bottom line is we had to play catch-up the whole game, because we didn't start on time."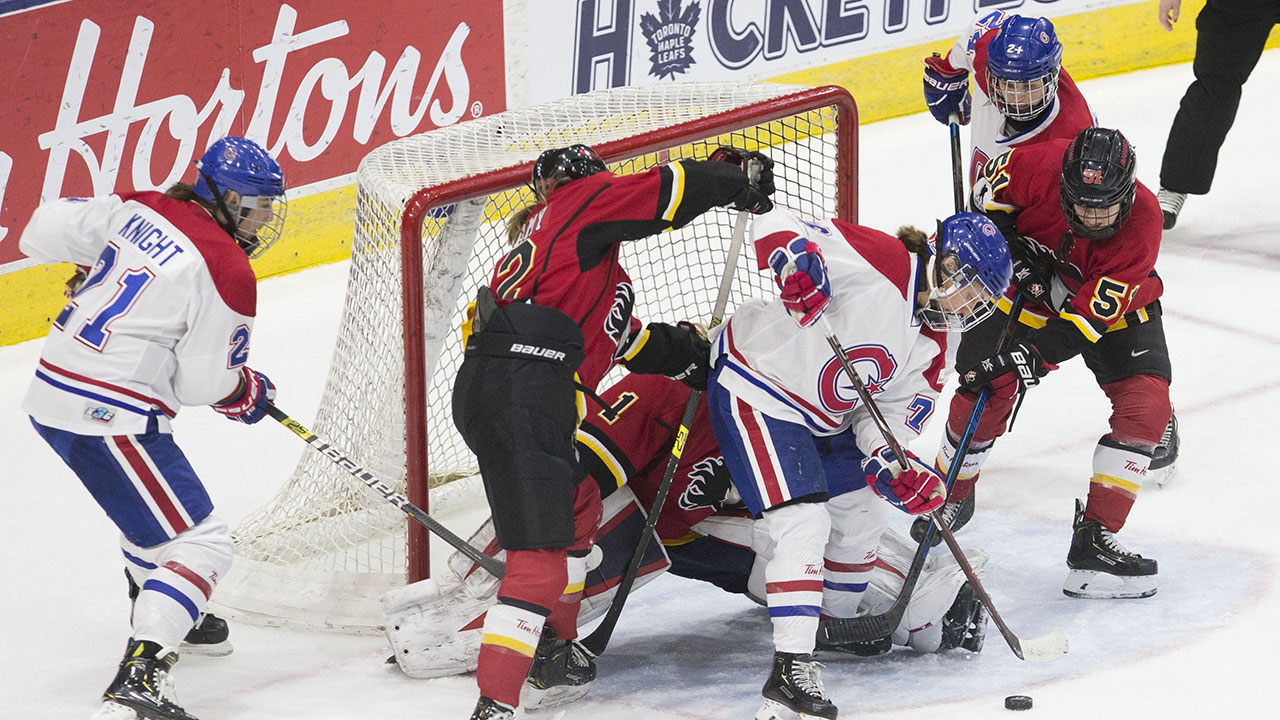 Calgary did, and the Inferno were no doubt the better team. They boast a league-leading 14 national team players and in the 28-game regular season, suffered just five losses. But though Calgary has been the league's best for most of the season, it's been quite a year for the Clarkson Cup champions. At the end of last season, their head coach, Tomas Pacina, resigned after winning the league's coach of the year award. Then, part-way through this season, his replacement, former Team Canada coach Shannon Miller, walked away while the team was 10-1-1.
"We went through a lot this year," Jenner said. "Lots of change to see our group, [but] it never threw us off course, all season. To see the way that our group rallied, to see the way we finished the regular season, on the road in China, and then having a bit of a test in the semifinals and that didn't throw us off, either.
"And then coming in tonight and delivering a winning effort, that's been us all year, just a team of professionals, and I'm really proud of them."
There's no doubt this Inferno team is tight-knit. As Johnston was doing her post-game interviews, Decker and fellow Team USA star Kacey Bellamy stood on top of a chair and hugged, to try to throw her off her game. Johnston laughed through her answers, then mugged for photos with Decker. In a couple of weeks, they'll be trying to crush one another at world championships. But for now, they're CWHL champions and teammates.
Like the North American teams, Montreal and Calgary have also developed a rivalry in the CWHL. These teams have met in the Clarkson Cup final three of the last four years.
"There's definitely a rivalry there, but in a couple days, a few of them will be my teammates and I'll be smiling," Jenner said, also smiling at this second. "But, it feels pretty good that Calgary got this one."
[relatedlinks]