TORONTO – At the same time the Stanley Cup final was being waged between two other teams last month, the Toronto Maple Leafs started making ice in their building again.
It had been six weeks since the last home game and would be almost four more months before the next one, but the pursuit of John Tavares was on.
So it was that the Leafs had Mitchell Marner come out of the June heat and take some twirls on a freshly-made sheet with the cameras rolling. Marner is a local kid who possesses plenty of film-friendly skills (alternatively they could just have used this) and had been identified as a big part of the potential pitch to Tavares.
At that point, the Leafs didn't even know if they would get an audience with the pending unrestricted free agent before July 1, but they were intent on not missing their shot if it came around.
"He hadn't signed back [with the New York Islanders] yet, so we figured we may as well start preparing so that we're not rushing to scramble something together on Monday morning at 11 when we're going in there at 3 o'clock," said general manager Kyle Dubas.
There isn't much of a playbook on how to navigate this kind of process in hockey. A handful of impactful NHL free agents have met with suitors like Tavares did last week – Brad Richards in 2011, Zach Parise in 2012, Steven Stamkos in 2016 – but it's nowhere near as common as you see in other sports.
As part of his preparation, Dubas studied what's worked best for NBA teams in free agency. He picked the brains of Toronto Raptors executives Masai Ujiri, Bobby Webster and Teresa Resch to glean what he could from their experiences. He decided to focus almost exclusively on what Toronto could offer Tavares as a hockey player.
That's where Marner came in.
Dubas and head coach Mike Babcock felt he would be the best fit for Tavares as a linemate and wanted to accentuate that in their meeting. Not only was the 21-year-old winger featured prominently in the video he was shown at the Beverly Hills headquarters of CAA Sports on June 25, he was among the Leafs players – along with Patrick Marleau and Auston Matthews – to call Tavares personally in the days that followed.
"I think Mitch's skillset and John's skillset [fit]," said Babcock. "Mitch is so quick."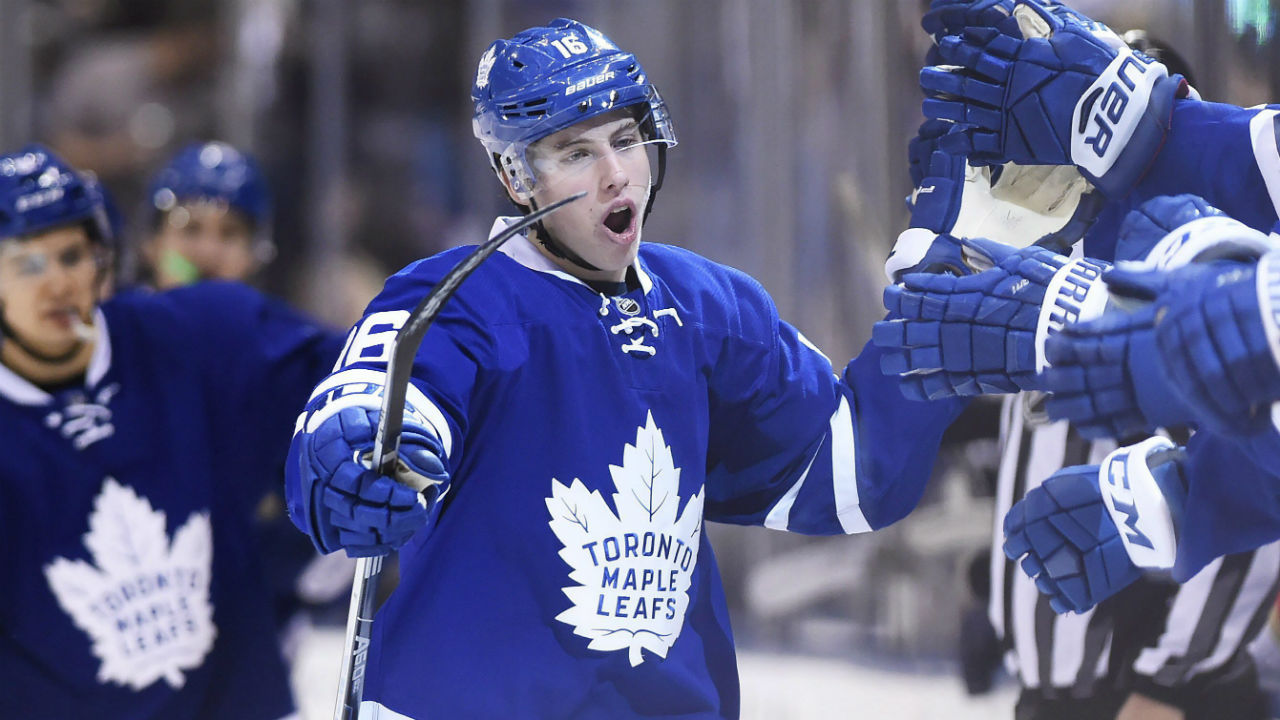 It's little wonder why Tavares was able to provide such a thorough scouting report on Marner after deciding to join forces with him. He'd had some time to closely examine what he would be getting in the dynamic right-winger.
There's no doubt, as well, that it had been brought to his attention that Marner scored at a 90-point pace in the second half of last season before putting up nine points in the seven-game, first-round loss to Boston.
"His speed, his ability to control the play, control games at times, his ability to move the puck and create time and space with his feet," Tavares said, in describing his new linemate. "It's extremely impressive."
It's a game-breaking ability he's never really had beside him while logging big minutes with Anders Lee, Josh Bailey, Ryan Strome, Kyle Okposo, Thomas Vanek, Matt Moulson, Brad Boyes and P-A Parenteau over the past seven seasons.
When Tavares sat down with Toronto, he was reminded that the team can basically roll out two No. 1 lines with him in the mix. He doesn't have to carry this group. Babcock is planning to go with Zach Hyman-Tavares-Marner on one line while pairing Marleau-Matthews-William Nylander on the other.
(Nazem Kadri, inarguably the NHL's top No. 3 centre, will have Andreas Johnsson and one of Connor Brown or Kasperi Kapanen on his wings.)
They weren't alone in being able to trumpet that kind of depth – Boston, Tampa, San Jose and Dallas also met with Tavares and would have looked great with him in their lineups – but the way the information was presented affirmed the deeply held notion that if he left the Islanders it would have to be for Toronto.
"Kyle drove the bus for us," said Leafs president Brendan Shanahan. "He took the lead. He had the vision."
Dubas demurred when informed of the sentiment held by his boss.
"I think really what was the definitive action was informing John of the players that he's going to play with," he said. "That's the most exciting part. Those players were great, they spoke with him as well, and it's really not about any of us. It's about the players."
As much as the Leafs had some built-in advantages during this process – a quality young team, being based close to where Tavares was raised and spends his summers – it was vital that they made a good first impression when they met with him and his fiancée, Aryne.
They needed to quickly establish a rapport. They were weeks behind Islanders GM Lou Lamoriello, who had dinner with Tavares and agent Pat Brisson in New York to start his sales pitch back in the middle of May.
That's where all of the advanced background work and preparation paid off for Toronto. Dubas flew directly to Los Angeles after the NHL draft concluded in Dallas on June 23 and had a full day to review and sharpen his approach before Babcock and Shanahan joined him for the meeting.
The word coming out of the room was that the 32-year-old GM delivered an impressive presentation.
"It's not about flash, it's about substance. It's about going there with a plan," said Babcock. "Not only did we have that plan, we had it built out for years to come. You're getting a guy to come to I think the greatest hockey city in the world, but your family's here. You want to feel safe here, you want to know you can do well here.
"Obviously we were able to show him [that] or he was able to feel that."
They notably avoided veering in a cheesy direction. There was no blue-and-white No. 91 sweater presented to him during the two-hour meeting, nor was there an overt appeal to the emotional aspects of coming home to win a Stanley Cup.
The Leafs correctly counted on those sentiments being stirred naturally inside Tavares as he worked through his decision. They didn't need to be force-fed to him.
"I don't think they wanted to hammer it home, but they recognized being from here [meant something] and tried to show the uniqueness of the opportunity and why the timing was right," said Tavares. "In our conversations it always just felt right. There just felt like a comfort level."
On the afternoon he signed the $77-million contract to join the Maple Leafs, there was no ice on the floor at the freshly renamed Scotiabank Arena.
But the boards were still up.