TORONTO — For those who haven't been paying attention, Brayden Point is an anomaly.
A third-round gamble who far exceeded expectations, and is now somehow a crucial piece on one of the most dominant squads in recent memory.
But for anyone who skated alongside Point in his early days and saw his earliest flashes of brilliance when he was just a 100-pounder darting through defenders with ease, this is simply the natural next step on a path that's been dogged by doubt at more than a few turns.
With his Tampa Bay Lightning about to begin an expectedly lengthy post-season run, Point closed out his third season in the big leagues with 41 goals and 92 points — sixth- and 12th-best in the league, respectively.
It's the finest season of his hockey career by a mile and, with restricted free agency and a massive payday fast approaching, it's one that will forever alter the 23-year-old's life.
Those 92 points are also the highest mark he's posted at any level in nearly a decade. The last time he topped it? Back in 2011, which happens to be the year Point first gave the hockey world a true glimpse of his elite potential.
It was then that a 14-year-old Point steamrolled his way through the Alberta Major Bantam Hockey League with the Calgary Bisons, dominating to the tune of 42 goals and 102 points in just 33 games — doubling the totals posted one year prior as a mild-mannered rookie.
"The first time I saw him, he was just a little kid trying to make it as an underage player for us," recalls Tyler Drader, head coach of the Bisons during Point's time on the squad. "I remember a dad standing in the corner saying, 'This kid's going to get murdered out here.' And I remember saying, 'Just watch this kid — he's going to go into the corner with a six-foot-two D-man and come out with the puck every single time.'
"Sure enough, that's what he did."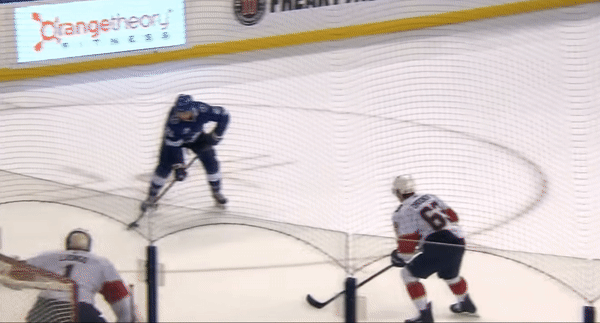 Point was no passenger in that rookie campaign, debuting as a point-a-game player and setting up a down-to-the-wire game winner to help the Bisons win the provincial championship. But it was in Year 2, when he came back stronger and fully acclimatized to the new level, that he truly went to work. With the 'C' stitched to his sweater, he led the Bisons to a league-high 27 wins through 33 games and the club paced the AMBHL with 217 goals — 31 more than the next team.
But it wasn't just offensive wizardry that allowed Point to have his way with the league. It was the pairing of that elite, prophetic on-ice vision with an insatiable desire to outwork the competition.
"I think it's the mental toughness that he has — he's always kind of had a little chip on his shoulder, that people doubted him and he's going to prove them wrong," Drader says. "As the game rises and the level of competition rises, he just becomes that much better. I'm looking forward to watching him in the playoffs because, again, he always performs in the highest stakes. In the provincial finals, big games, he was always the guy who made plays."
Arizona Coyotes netminder Adin Hill suited up with Point on that 2010-11 Bisons team. But his first look at the quick-footed forward actually came a few years earlier.
[snippet id=4558775]
"The first time I saw him play, I think I was eight years old. I was playing for Okotoks and he was on Blackfoot at the time. We were a pretty good team, we always did pretty well. We didn't play against any of the Calgary teams though and they were obviously the best team from Calgary. Yeah, I think they beat us 10-1," Hill says with a chuckle.
"I was in net there, and he put on a show, to say the least. I think off the opening faceoff he won it to himself, came down on crossbar, and I was like, 'Oookay.' He was a talented player."
It was a similar story when the two united in Bisons colours. And after watching Point wade through the fog of doubt that followed all diminutive stars in those days, Hill says he and his teammates were thrilled to see their captain claim the spotlight.
"He was always dominant growing up so it was good to see him get some recognition there and kind of take off and make a name for himself that year. He just kept his head down, worked hard and battled, fought through all the people saying he was too short, and proved everyone wrong."
He's still doing just that, with his blue-collar attitude turning him into a fringe Hart Trophy candidate on a Presidents' Trophy-winning squad. Count Hill among the unsurprised.
"I always thought he was going to make it," Hill says. "To this day, growing up, I feel like he was the best player that was ever on my team or against me. I didn't see anyone who I thought compared, who could take over a game and have vision for the ice the way he does."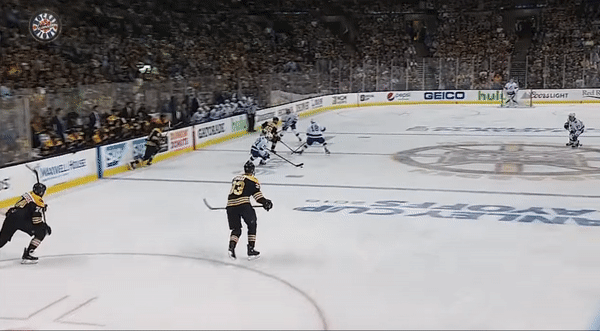 He wasn't always a shoe-in, though. Even after that big season with the Bisons, Point's name fell slightly in the WHL Bantam Draft, says Drader. Some were still unconvinced.
"I think people were still kind of wondering if he could do it at the next level, because at that time, he was very undersized," the coach says. "…Back when he was in bantam, everyone was drafting the 6-foot-4 kids that they thought would be big bruisers. Everyone thought he was going to get killed. Like, he was 4-foot-11 and 100 pounds."
But his size didn't stop him from taking his show to the WHL, to a pair of gold medal-winning runs with Team Canada, and — after being tabbed by GM Steve Yzerman with the 79th pick of the 2014 NHL Draft — to the beaches of Tampa Bay.
That it was Yzerman whose vision shaped the team's decision-making, and that Point's skill-set came packaged with that dogged determination, played no small part in him becoming a Tampa Bay resident.
"[Yzerman] always had that eye. He always knew a hard player to play against or a guy that was a little soft in the corners, would give up a puck rather easily," former NHLer Darren Pang, a close friend of Yzerman's since their teenage years, told Sportsnet recently.
"I'd ask him about this player or that player — he'd always say 'No no, watch that player in the corner. He'll give up the puck easy. Watch this player, his second and third effort is incredible. And you look at Tampa Bay's players and who they've scouted — if they're undersized, they're undersized, but they're competitive. Every one of them. They're competitive hockey players — they want the puck, they'll do whatever it takes to get the puck. … I would have to think that's been a determining factor in how he's evaluated so many of these players that maybe other teams wouldn't touch.
"He saw something inside them — their soul, their spirit, their competitiveness, their hunger. That's the way Steve was, the whole time."
[relatedlinks]