TORONTO – Milan Michalek stepped in front of reporters wearing a new team-issued hoodie and ballcap, and admitted that it felt a bit strange.
"It's a little different colour," he said Wednesday.
The veteran winger joined the Toronto Maple Leafs after spending seven years on the other side of the Battle of Ontario, part of the package sent this way in the Dion Phaneuf deal with Ottawa last week.
It was Michalek's initial reluctance to waive a no-trade clause that kept the nine-player deal from being finalized for a day, but after brief conversations with Leafs GM Lou Lamoriello and coach Mike Babcock, he eventually warmed to the idea.
"It was hard," said Michalek. "I'd been in Ottawa for seven years and we were all settled there."
And really, faced with the option of joining this team at this unsettling time, it's little wonder why it gave him some pause. There simply isn't much comfort to be found when an organization goes through the kind of full-scale teardown that has started in Toronto.
Think about it: Among the players that will suit up against the New York Rangers on Thursday night, there isn't one who can be totally sure he'll remain here beyond the Feb. 29 trade deadline.
Morgan Rielly is as close to an untouchable as you'll find on the current roster, and centre Nazem Kadri isn't likely headed anywhere either, but both of those players have built up enough of an institutional memory to know that anything is possible right now.
No wonder there was a slightly uneasy feel to the dressing room as the Leafs returned home following a four-game road trip without their former captain, Phaneuf. You had Michalek and Colin Greening occupying solo stalls at the end of the room rarely ever used beyond training camp, and could still find equipment belonging to Stephane Robidas – not seen here since late September – hanging in its place.
New faces, old faces, unfamiliar faces.
For someone like James Reimer, the organization's longest-tenured player, it's clearly been a strange experience to see so many different teammates come and go this last year or two.
"At one point it's exciting and sometimes it's, it's, it's … it is what it is really," said Reimer. "I think you just make it work and so you just try to be a good human and be a good teammate no matter what's going on.
"It's kind of hard to answer maybe."
In addition to the uncertainty that comes with the trade deadline, the Leafs have been dealing with a massive number of injuries. Babcock said that none of the seven players currently on injured reserve would return before Saturday and was vague when asked about the status of defenceman Matt Hunwick, who left midway through Wednesday's practice.
"We just gave him the boot," said Babcock.
Michalek is among the wounded, having fractured a finger in what proved to be his final game for the Sens. He's listed as "week-to-week" by the Leafs and stands out among his new teammates simply because he's under contract through next season – something 15 players currently on the NHL roster can't say.
So, yes, there's more than a little uncertainty floating around here.
Shielding players from that is basically like trying to block out the sun, but Babcock is doing his best. On the heels of Monday's 7-2 loss in Chicago, he reminded them that 18 of the final 27 games this season will be played in a comfortable environment at Air Canada Centre.
"I think we've looked after (the players) real good," said Babcock. "We talked about that today: If you play real hard and you get prepared and you stay determined and you play with structure … you can walk around town, go for breakfast, and life's good.
"People like ya. It's no problem."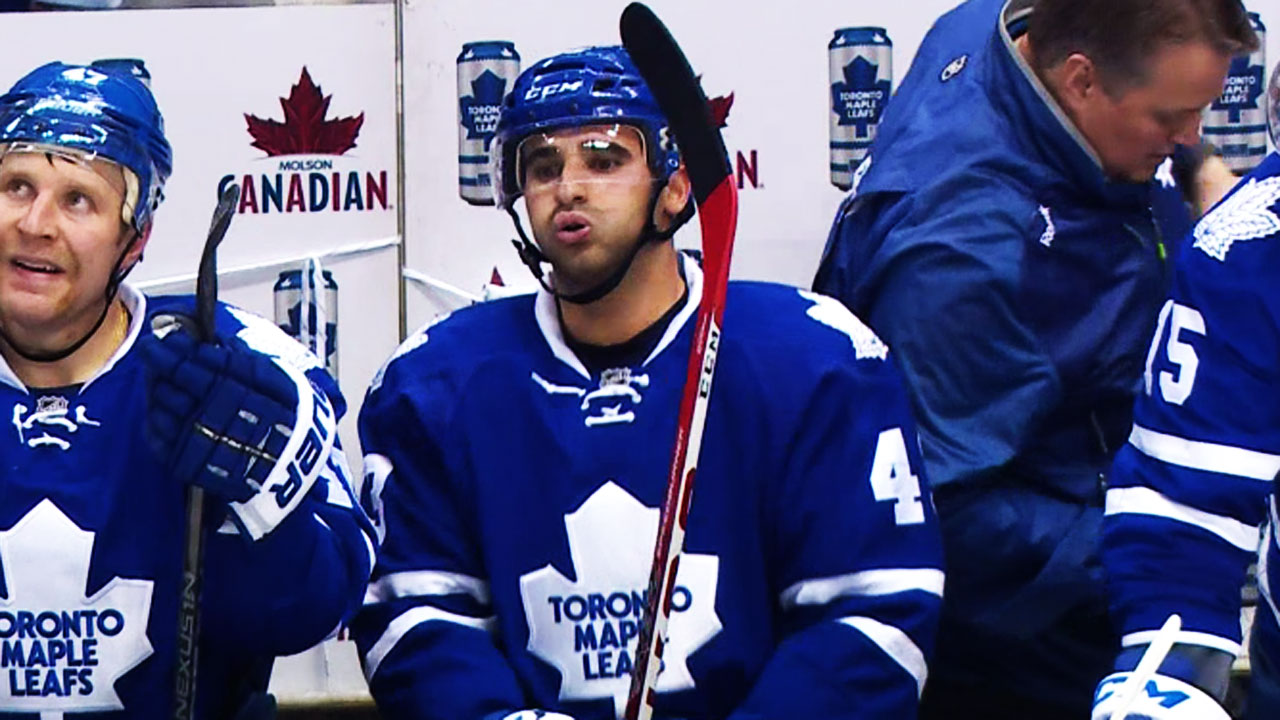 Maple Leafs centre Nazem Kadri. (Frank Gunn/CP)
There is a widespread understanding both inside and out of the Leafs organization about why they need to go through an aggressive rebuild. They are not the first NHL outfit to determine that the best way to get good is by first being bad.
But that doesn't change the fact it's an awkward place right now. The roster is a revolving door and there is no sense of permanence beyond Babcock.
Even Reimer, in the midst of a strong season where he's likely to set a new personal best for games played, acknowledges a certain lack of comfort. As a pending unrestricted free agent he, too, could be traded.
"You think about it like anybody," said Reimer. "This time of year – heck even if your name isn't being tossed around – you never know what's going on. It's a time of year when things happen, the unexpected happens."
In Toronto, there's simply no hiding from it.